If you live in Arizona, or you're visiting friends or family, you might be trying to find a day trip. Have you ever visited a ghost town? Full of history, mystery, and even paranormal activity, a ghost town might be one of the best day trips for families, couples, friends, or even a trip for you to take by yourself. Now you're probably asking, where can you find ghost towns in Arizona?
If you're here looking for where to find some of the best ghost towns in Arizona, you're in luck. Ghost towns are scattered throughout the state. Take a look at some of the many ghost towns you can visit and learn about why they were abandoned in the first place. 
Some of these ghost towns have active ghost sightings, and if you want to try your hand at ghost hunting, check out the beginner's guide to find out how to get started!
Kentucky Camp
Kentucky camp was a gold mine home to more than 500 residents from 1874 to 1886. The mine ran dry very early, and the population had disappeared almost as quickly as it had appeared. 
From 1904 to 1906, Kentucky Camp became the headquarters for the Santa Rita Water and Mining Company. That was until one of the owners was murdered by being thrown out of a window. 
It wasn't until 1989 that the U.S. Forest Service took ownership of the land. Now, Kentucky Camp is a popular location for mountain bikers, runners, and campers who want to rent a cabin with a view. 
Swansea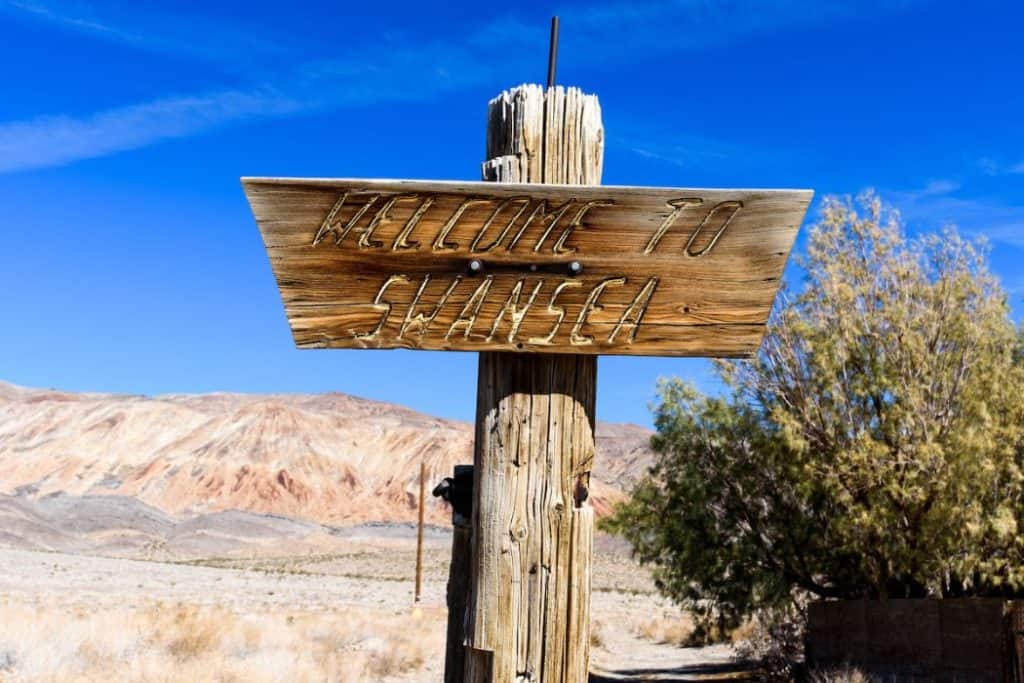 Swansea, Arizona was short-lived. Ore was discovered in the 1860s, but until a local railroad was brought in, nobody could easily access the mine. 
Once the railroad was built in the mid-1880s, Swansea boomed. They had built a car dealership, saloons, theatres, and an electric light company. 
Ten years later, the holding company hit a financial crisis, and Swansea started its fall. Even though a new owner bought the town, the Great Depression finally took hold and the town wasn't able to hang on.

Now Swansea is open to visitors. There are dozens of buildings you can enjoy, and it's even said to be one of the greatest ghost towns in Arizona!
Jerome
Jerome, Arizona is the underdog hero tale; close to disappearing entirely, the town rallied together and brought Jerome back to a thriving town. 
Jerome sits on top of an undersea volcano that formed 1.75 billion years ago. Because of this, Jerome was rich with copper and other minerals. The town's success meant investors wanted to create an environment the workers wouldn't want to abandon. Baseball fields, swimming pools, parks, saloons, brothels, and gambling houses were all built to keep the workers happy. 
These businesses, as fun as they were for the residents, also brought violent crime to the city. In 1917, almost 10,000 residents were evacuated from the city at gunpoint. Fewer than 100 residents remained in the city. 
In 1960, Jerome had officially become a ghost town, but the few remaining residents turned to tourism and managed to bring back a growing population. 
There are two reasons people come to Jerome or even decide to move there. The residents claim Jerome is the most haunted town in Arizona, bringing in thousands upon thousands of visitors every year.
The history is what keeps people in Jerome. Small town charm, fascinating history, and being able to say you are part of the renewal of the city means a lot to the residents. 
Oatman
If you've ever driven along Route 66into the Black Mountains of western Arizona and have been stopped by wild donkeys, congratulations, you found Oatman!

Oatman is named after Olive Oatman, a young girl who was traveling west to establish a Mormon community in California, was kidnapped by the Yavapai tribe and held captive for five years. She was finally released in the modern-day location of Oatman. 
Read Olive Oatmans incredible story here.
Sale
In 1863, gold was found in Oatman, and the population and gold exports grew. By 1941 (78 years later if you're following along) Oatman had produced $40 million in gold – $2.6 billion in today's market prices. 
Oatman's decline started during World War II when the miners were ordered to cease all gold mining, and instead mine for minerals. The success wasn't the same, and many residents chose to start moving away. As they moved out, they released the donkeys into the wild. 
The few remaining inhabitants needed a new way to keep the town afloat, and they did so by turning the town into a Route 66 tourist attraction. They used the old western charm, wild donkeys, and remote location to entice travellers.

Even today you can still visit Oatman where you can pet the wild donkeys, watch daily shootout reenactments, and catch some classic car shows. If you're in the area during Independence Day, you might even be able to participate in the Oatman Egg Fry where you try to cook an egg on the sidewalk!
Ruby
Ruby is the creepiest, most well-preserved ghost town in Arizona. Sitting in the middle of nowhere, Ruby resides close to the US-Mexico border. Miners were drawn to the area in 1877 when a gold mine had been found and was left abandoned in 1941. 
The remote location meant Ruby was the perfect location for crime. Staying out of the eyes of big towns with heavy law enforcement meant bandits, cow rustlers, and gangsters could come and cause mischief. Ruby is known for the infamous murders in the 1920s. 
Nowadays you can visit the remains of the town. There are several standing buildings, but most have started to fall apart. You can still see the school building, a post office, a jungle gym, and even some of the old mining equipment. 
Tombstone
Tomstone, Arizona is a little backwards with its views on death. Where we view death as tragic, Tombstone looked at it casually, and even humurously.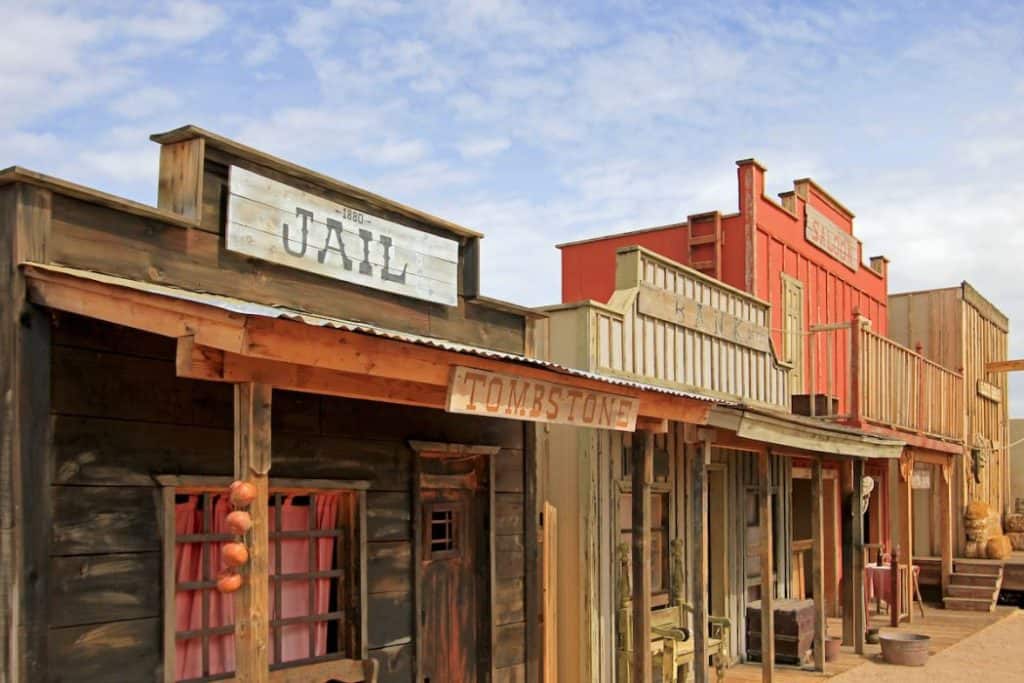 Gunfights, hangings, and murders were all very common in the old western town, and sitting on top of a hill is a graveyard. You might expect tombstones to be marked with names, birthdates, and death dates, but Tombstone decided to take a different approach.
Instead, you'll find sign that explains how someone died. "MURDERED", "Found dead in his cabin with bullet wounds", "Hanged", "Legally Hanged", and "Here Lies Lester Moore. 4 slugs from a .44. No Les. No More" are just some of the tombstones you will find. 
Tombstone is also home to the Birdcage Theater which served as a saloon, bar, theater, and brothel. Women were put in cages suspended from the ceiling. 
If you want a fun ghost hunting experience, this theater should be on your list! With over 26 recorded ghosts haunting the theater, your chances of documenting something spooky are very good. 
Vulture City
In 1863, prospectors found gold in Vulture City. Little did they know that this would become one of the most successful gold mines in Arizona. With 5,000 residents, Vulture City earned over $200 million in gold until the mine closed in the 1940s. 
You can visit Vulture City and take a two hour tour through the mine, and see the founder's original cabin. Outside the cabin is an old ironwood tree where eighteen men were hung. This makes Vulture City another great haunted ghost town to visit. 
Fairbank
Fairbank can best be described as Tombstone's smaller, less successful cousin that rides on Tombstone's success. 
Fairbank never really got off the ground. At its peak in the 1880s, there were only 100 inhabitants, and it it only survived as a rest stop between Tombstone and the rest of Arizona. When Tombstone went under, the railroad out there wasn't needed, and thus Fairbank wasn't necessary anymore. 
Despite Fairbank never really taking off, it makes this list because of the preservation of the town. It has been turned into a museum town by the Bureau of Land Management where you can explore the old buildings, take photos, and learn about the area's history. 
Santa Claus
The last place you would think to look for Santa Claus would be in the hot deserts of Arizona, but Nina Talbot thought that might add to the experience.
Not even the critic Duncan Hines (yes, that one) could bring in potential homeowners by saying this area was the best in the region. Realizing that her investment wasn't going to turn a profit, Nina sold Santa Claus in 1949, and by the 1970s Santa Claus had begun to fall into disrepair. 
You can still visit Santa Claus (the ghost town, not the Christmas-bringer), but it's not going to be as jolly as you would hope. Buildings are covered in graffiti, Santa themed items have been stolen, and even the pink children's train has been derailed. 
Wrapping It Up
There are so many ghost towns to visit in Arizona. To make it easier, this list was compiled of the best ones to visit.

The town's history, preservation, and paranormal activity have all been taken into consideration so this list can feature something for everyone. 
If you are wanting to go ghost hunting at any of these locations, make sure your equipment is fully charged before heading out; a lot of these locations are in the middle of nowhere!