Knitting is a classic hobby that is being newly encountered and re-imagined by a new generation of hobbyists.
There has never been a better time to get involved in this cozy and comforting hobby that you will return to again and again. 
You may have seen the larger-than-life arm knitting or stylish yarn-addict Pinterest boards and want to know more.
Knitting's endurance as a pastime stems from its original necessity for furnishing a household with warm clothing for the winter months.
It is also incredibly cheap and as long as you can create yarn from a material, you can more or less knit with anything. 
For a new hobbyist, nothing can beat the satisfaction of creating something yourself, and knitting delivers every time!
Projects abound for every age, skill-level, and taste. Plus, once you have mastered the basics you can experiment and create to your heart's content.
Don't fuss over dropped stitches, enjoy the pleasure of being able to be productive and creative wherever and whenever. 
So, join us for our complete guide to the wonderful world of knitting!
We have endeavored to cram in everything you will need to succeed in your knitting hobby, with loads of appetites and resources to motivate and inspire you to see this hobby through.  
Hands and knitting needles at the ready?
Let's go!
Grab Those Knitting Needles off Granny and Let's Get Knitting!
Yes, knitting is the hobby of the moment and the yarn crafts movement is gaining unstoppable momentum across the globe.
According to stats, almost 30 million Americans were knitting in 2016, with the vast majority being beginners or intermediate knitters (AKA newbies) accounting for almost 80 percent.
In the UK, Canada, Australia, and New Zealand, knitting is a firm favorite as a pastime beloved of all ages, and the craftsmanship with knitting and yarn is appreciated across the globe. 
From a distance, the frantic movements and clicking sounds of an avid knitter can seem quite daunting but the skill can be readily broken down into simple steps and mastered in an afternoon with focus.
From there, practice makes perfect, and as you use and extend your knitting skills you will see an improvement in the quality of your work. 
Trying out the various yarns, learning more about natural and synthetic fibers, and how clothing is created, are all part of the joy of this traditional handicraft.
Hoarders out there will love collecting elegant skeins of heritage wool or niche embellishments for projects. 
So, Just What Exactly is Knitting?
Knitting is a noun and a verb; you create knitting by knitting:  the art of deftly looping yarn to create lengths of fabric.
These loops or stitches are created one by one to create progressively lengthening rows or tubes of yarn. This can be done in a variety of ways including using implements called needles, your fingers and arms,  pins, or looms. 
Yarn used in the knitting process is usually made from a series of natural or synthetic interlocked fibers, but can also be made from solid materials, such as shredded plastic or fabric.
The knitted fabrics produced can therefore vary widely in composition, weight, stretch, and texture.
A considered selection of yarn for knitting projects can produce items that are warm or water-resistant, depending on the results you want to achieve. 
Variations in the type and style of knitting produce beautiful fabrics that can be purposed in different ways.
Most often knitting is used for clothing, such as jumpers, scarves, and headwear, but knitting can also be purposed for the creation of soft furnishings, bags, rugs, and more.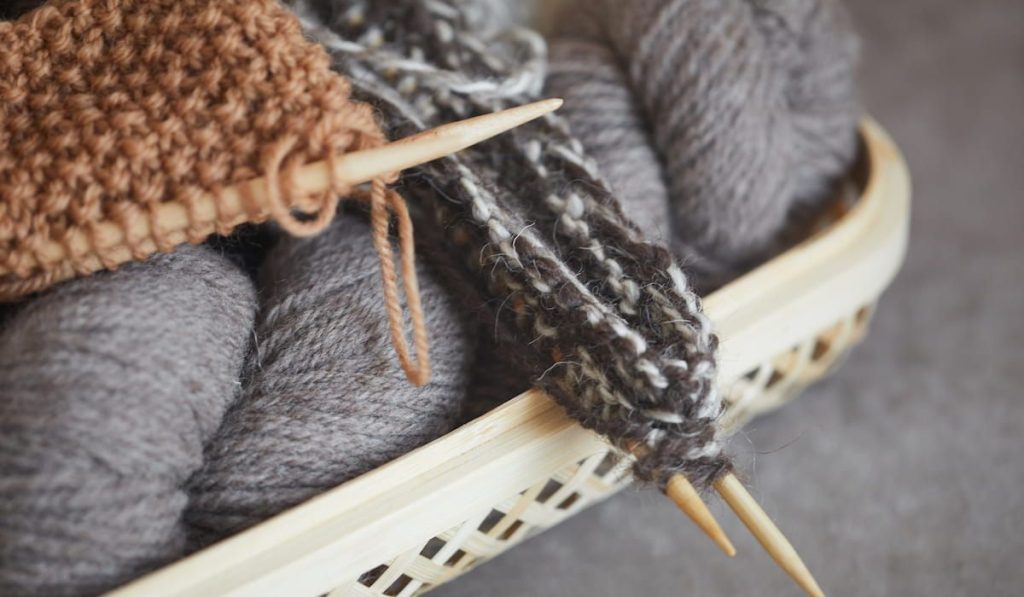 As with many creative pastimes the limit is your imagination and effort. 
As with many crafts, the precise origins of knitting are hard to pinpoint as evidence of industry with yarn crafts exist all over the world, most likely following the migration of shepherds and traders of wool.
According to the Victoria and Albert museum, hand knitting was first undertaken using implements made from bone, twigs, and ivory.
A famous example of early knitting is a rather smart looking pair of socks from Egypt, with North Africa and the Middle East having some superb examples of knitted fabrics. 
The word knitting can be traced back to an Old English word "cnyttan" meaning to knot.
The act of hand knitting using knitting needles became incorporated into the English language in the 16th century with "knitting" as it is now commonly understood being introduced from the mid-19th century. 
Knitting is again incredibly culturally diverse. If you follow the yarn you will find some beautiful and highly detailed styles of knitting evident in cultures across the globe.
It's not all women's work; both men and women are skilled artisans with knitting. For example:
Peruvian knitting is world-renowned, and skills passed through generations, producing knitted clothing and fabrics that are beautiful and distinctive. The rich Andean textile tradition is kept in bountiful supply by Llamas and Alpaca who are bred for their wool.
Knitting from Eastern Turkey is used to create some distinctively designed traditional items like socks and slippers that feature complex geometric patterns. The Turks have a long history of expertise with wool and traditional Turkish knitting techniques and stitches have been taken up around the world after being brought into Western Europe by missionaries. Turkish gloves can fit either hand and feature tassels on the fingertips. 
Kenyan knitting has been used as a creative medium for centuries after having been imported by Europeans and adapted and integrated into the rich textile arts of this East African nation. As with many cultures, the production of yarn is a prized tradition, and knitting is directed to a range of productive ventures.
Northern European knitting has a rich tradition, shared by the British Isles and the Nordic countries. Given the cold temperatures and love of Hygge, it is no surprise that the Scandi nations are some of the world's leading knitters. Brits also have been producers of high-quality yarns and classic techniques like Fair Isle, or stranded knitting. 
7 Reasons Why Knitting is a Fantastic Hobby to Take Up Right Now!
We think knitting is one of the best hobbies to take up, whatever your age. It has such a low barrier to entry that anyone can start completing a fantastic project in almost no time.
Here are some top reasons for unleashing your inner yarn addict. 
1. Knitting is a hobby that is versatile with lots of scopes.
Knitting only requires yarn and the tools to manipulate it. Beyond that, just about everything you do with your knitting hobby will be up to you. 
As a form of weaving to create a textile fabric, you will be able to use knitting to complete a range of projects from clothing like hats, cardigans, and jumpers to soft toys and even handy scrubbers for washing your dishes. 
If you are curious about how wool is processed you can go the whole hog and source fleeces and grade, card, spin and dye your yarn too!
Keep reading and we will share some ingenious first knitting projects further on. 
2. The satisfaction of working with your hands.
If you like the thought of keeping your hands busy, but sewing or quilting feels beyond you, knitting is a simple way of keeping yourself productive. 
Once you get into your zone with knitting you will find that you can relax and unwind while doing this pastime. 
Knitting is great for socializing too and you can talk with friends or fellow knitters in a knitting group while keeping those fingers on the move.
Best of all, you will have the satisfaction of completing some great knitted items to wear, gift, and share! 
3. You can use your knitting hobby to make your clothes.
Whether you are a fashionista or a prepper at heart, being able to knit your clothes adds major creativity and resourcefulness to your life.
It's great to be able to make one-of-a-kind items or the kind of warm heavy jumper that would cost big bucks at the store. 
Sure, it may take time to make clothing, but you can start by rocking a home knit scarf or beanie with the yarns you love.
Experiment, to find a style of knitting that looks great on you or perhaps make smaller pieces for younger members of your family. 
Once you learn how to read patterns you can start to knit the clothes you want, customized with the colors and embellishments of your choice. 
4. Become good at your knitting hobby and you could be tapping into major side hustle potential!
We may be looking at this from a mercurial angle, but if you know how to knit well and can produce beautiful, knitted items, you may find your work in demand.
People are always going to appreciate something unique and made with love. A prolific skilled knitter is therefore going to be able to not only generate a serious output of projects but potentially profits too. 
Take a look at Etsy, Ravelry, or some of the amazing knitting blogs we share below, and you will see that there is income to be made, not only from selling knitted clothing and accessories but also from designing and authoring knitting patterns too.
5. Knitting is one of the cheapest hobbies around!
Knitting is one of the few examples of a pastime where you can make something that looks a million bucks from items carried in your local dollar store.
Even if you have no yarn, you can shred up an old t-shirt and knit with that, so there is no excuse not to get started now. 
The affordability of knitting is one of the key reasons that it never fully goes out of style.
If you want to persevere at establishing some expertise in your new hobby, the price of yarn, knitting needles, and the other basics we share should not hold you back. 
6. Knitting is a hobby that travels with you and is easy to integrate into your day.
 You can get out your yarn and get a few stitches of your knitting in wherever you are. On the train, or soaking up the sun in your backyard, it's easy to do this simple portable hobby. 
Also completing your project requires patience, without a knitting machine you are going to take things one stitch at a time.
You can work on your knitting in any pockets of time you have as it does not need any space and it is the perfect detox from screen time before bed. 
However, you may find that knitting is strangely addictive and soon you will be devoting more and more of your time to your new favorite hobby, especially if you are in a hurry to finish that new pair of socks!
7. There is not a more satisfying use of your hobby than knitting for charity.
If you are looking for a way to give back, knitting provides the opportunity to share your hard work with those who are less fortunate.
Why not make an impact by knitting for charity?
The opportunity to exercise your skill is plentiful with participation in projects where you may be responsible for making a small part of a bigger object (like a blanket) or creating whole knitted items like octopus hats and cardigans for premature babies at the local hospital.
Here are some great US knitting charities you may want to knit for once you are up and running:
Afghans for Afghans is a US charity that works to create knitted blankets and clothing for the people of Afghanistan in a massive humanitarian effort that has touched many lives. Participant knitters can create individual panels or squares that are put together to create large warm knitted blankets. 
Binky Patrol produces comforters and blankets for children who are going through difficult circumstances, like illness or displacement. You can donate a complete knitted item or participate in a group knitting session to create a large output of these greatly appreciated items.
Knit Your Bit is an endeavor of the National World War Two Museum in New Orleans. You can show that you care by creating scarves that are then distributed to veterans all over the country. Knit Your Bit provides specifications on the kinds of scarves that would be most suitable for receiving veterans and you can send the vets a message of encouragement too. 
Warm-up America makes such a difference to families in need in the States. With economic challenges coming to the fore, the gift of a knitted scarf, hat, or blanket can make all the difference to a household budget. WUA lets participant knitters know what is needed and you can then create suitable items that they will collect and distribute for free.
I'm Sold! What do I Need to Start My Knitting Hobby?
It's great that knitting does not require complicated or expensive equipment to get started. We recommend starting with knitting needles and yarn.
As you progress with your hobby you will come across additional items that you will need, as well as yarns or extras to experiment with as you gain greater skill and experience.
Here are some common items that most hobby knitters have to hand:
Knitting needles are the workhorses of your knitting hobby and you will be using them again and again and again… They do not need to be expensive, but they do need to be taken care of.

Sitting on them or storing them badly will cause them to bend as well as damaging the points which can start to wreck your yarn.  They are made from plastic, metal, or bamboo.

Bamboo is a favored material as it is easy on the hands, but metal is good for beginners. They come in a range of sizes which are known as gauges.

You can work out which knitting needles are needed for a particular project by inserting needles into a gauge that may use American or Imperial sizing. 
A cable needle will be needed if you want to create cable-knit jumpers. Cable needles are double pointed with a kink in the middle to help keep your stitches from slipping off. 
Double pointed needles are used for working in the round, particularly when knitting socks, the traditional way. 
Circular needles consist of two short needle ends joined by a length of flexible nylon or plastic cord. They can be used to make beanie hats and other projects that require knitting in the round.
A ruler or tape measure is needed to ensure that your work is of the correct size and properly tensioned, especially if you are knitting from a knitting pattern. 
Stitch holders are little point protectors that prevent your stitches from falling off the needle if you leave your knitting in the middle of a row. There are also stitch holders that resemble large diaper pins.
A tapestry needle is necessary for providing a neat and tidy finish to a completed project. They are large, blunt-pointed needles with a large eye that the yarn can easily pass through. You can use the wool needle to sew and graft seams together, deal with holes or dropped stitches, and tuck in loose pieces of yarn.
Bobbins if you are working a colorful knitted pattern for intarsia designs, attachment of bobbins to the loose ends of yarn help you to keep track of your color knitting.
Crochet hooks are great for manipulating your yarn and dealing with dropped stitches. You can also use a crochet hook to cast off. 
Stitch counters are a helpful way of keeping track of the number of stitches used when following a knitting pattern. They are a bit like a pedometer and sit at the end of the knitting needle. As the needle moves, the stitch counter clocks the stitches and displays them so you can keep your place. 
Knitting bobbins can be used to introduce youngsters to handling and working with yarn. The technique known as French knitting involves creating lengths of knitting by wrapping the yarn on pins that are on the bobbin head. You can also use a knitting bobbin to create detailing and embellishments. 
Pom-pom rings make short work of creating pom-poms for your projects. They are also great for youngsters. 
A knitting bag is important for keeping all your hobby materials in one place and protecting them from damage. Knitting needles can also be wrapped in a fabric needle holder which keeps them straight and organized. 
The Wonderful World of Yarn 
For many hobby knitters, choosing and working with different yarns is one of the best parts of knitting.
You can never run out of types, colors, weights, and textures of yarn and they inform the type of knitting you want to do.
Visiting a knitting shop is a hobbyist's dream as you are surrounded by a kaleidoscope of color.
Beware – you may find that yarn can soak up a lot of your budget as buying yarn is very moreish. 
Nowadays most people can purchase well-spun and reliable yarn either at the store or online. Yarn is purchased either as a tidy ball or hank or skein that you will have to wind yourself.
The yarn is typically described by weight, to indicate the amount of fiber in it. The quality of the yarn will determine the longevity of the finished project and how well it copes with washing.
Here are some key types of yarn the hobby knitter will be working with:
Natural fibers are classic knitting fibers that come from plants, animals, and minerals like
Believe it or not, you can even knit with wool from sheepdogs!
Synthetic fibers are those made from petroleum products. They are usually cheaper than natural fibers, with polyester being a widely available yarn. They come in a range of colors and effects too.
Novelty yarn or fashion yarn delivers unique visual effects (such as glitter or a fuzzy finish). They can be used for detailing in designs or to create an item with a particular texture, such as velvety chenille. 
Smooth yarns are your classic yarns and can be made from natural or synthetic fibers. They are easy to handle and work with and will display your stitch pattern. 
Textured yarns have a distinct character when they are knitted. They can be flecked or fluffy like Mohair or marled yarns that give a tweedy effect. These may not be so easy to use for the beginner knitter. 
Styles of Knitting You May Want to Try as Part of Your Hobby
The key styles of hand knitting are usually based on the type of stitch used. You can begin to learn these classic stitch patterns over time, or you may encounter them as you follow a knitting pattern. 
Knit – the knit stitch is the most basic of stitches and is created by inserting a needle into a stitch and taking yarn from behind to bring it up and around the inserted needle.

The inserted needle can then be used to draw a loop of yarn through the stitch. Watch the tutorial below to get a better idea. 
Purl stitch is the opposite of a knit stitch with the yarn coming in front of and over the inserted needle before the loop of yarn is drawn through. The purl stitch tutorial further on shows this clearly.

By combining knit and purl stitches you can create a range of textures including moss stitch, barred stockinette, and crossed stockinette.
Lace stitch patterns are a diverse family of stitches that simply involve the patterned use of decreases and open increases.

Once you get the hang of that you can create some amazing effects and textures that will greatly enhance your knitting. Try lace patterns like zigzags, chevrons, and fans.
Ribs and cabling are the classic textured linear patterns that you get on jumpers. They often use Aran fiber for a bulky stand-out effect.

Cabling requires an additional cable needle and may take time and experimentation to master. Rib stitches are useful for adding elasticity which means that garments stretch and flex with the body as it moves. 
Helpful Tutorials from Around the Web to Help You Get Started with Your Knitting Hobby!
This selection of easy-to-follow tutorials for beginners from yarn barn Sheep and Stitch are more than enough to get you underway with your new hobby.
The knit stitch
Purling
Casting on
Basic garter stitch
Casting off
Cool Knitting Blogs for Ideas, Inspiration, and Tutorials
The Unapologetic Knitter – a very cool blog for those in the know. Follow Meaghan and her unashamed passion for curling up on the sofa with a few good skeins while the knitting needles do all the work.
The Fringe Association  – full of eye-candy for stylish modern knitting projects. Grab a cup of matcha and have a good read.
Brooklyn Tweed is a yarn specialist with a very informative website covering everything you need to create very cool contemporary knitwear by hand. 
5 Quick Projects for the Beginner Hobby Knitter 
Yes, these are variations of the theme of a simple garter or stockinette stitch, but despite their simplicity with great yarn and accuracy, you can achieve great results quickly!
1. A simple scarf
2. A beanie hat 
3. A baby blanket 
4. Leg warmers
Last Thing: Your Essential Glossary of Knitting Terms
If you head to your local knitting shop or haberdashery or take a look at a knitting pattern, you will probably come across a whole host of unfamiliar terms.
Don't let that dissuade you. Read on for a concise glossary of key knitting terminology to help you on your way as a hobby knitter.
Aran is a style of knitting design that takes its name from the Aran Islands of Ireland. This style is often worked in cream yarn, featuring textured detailing like bobbles and cabling. Aran wool or yarn refers to a yarn thickness that is heavier and more rigid than other yarns and easier to handle and work with. 
Argyll is a classic plaid knitting pattern used when knitting socks derived from Scotland.
The back of the work is the side of your knitting that is facing away from you as you knit.
Brushed yarn is the yarn that has been processed to raise its surface fibers during its manufacturing process. 
Casting on is the key process of creating the initial row of stitches needed for starting a piece of work, as mentioned earlier. 
Casting off also called binding off is a way of neatly and securely closing off stitches worked within a piece of work. 
The chart is a grid that is used to detail and instructs a motif or stitch pattern for a knitter to follow. It can be marked out on graph paper or included as part of a knitting pattern. 
Eyelets are a decorative detail that is used in lace stitch patterns.
Garter stitch a basic form of stitch pattern made by either whole rows of knitting or purling.
Gauge is the number of stitches and rows that are completed within a given unit of measurement, usually inches or centimeters. It may also be known as tension. Gauge is easy to overlook as a hobby knitter, but you will find it critical to following patterns and sizing garments properly.  
Intarsia is a knitting technique that works areas of color within a knitted design using separate balls of yarns that are linked together at each color change within the design.
Multiples are a group of stitches that form a repeat pattern along a row. Use multiples to create larger decorative patterns overall.
Panel a group of stitches that together form a self-contained pattern. 
Shaping is used to either widen or narrow a piece of fabric by using increases at the edges or within rows.
Stockinette is a classic stitch pattern that is made up of knitting on right-side rows and purling on wrong-side rows. 
Wrong side the side of a stitch pattern that is not visible when the item is complete. 
---
Rounding Up (or Should We Rather Say Casting Off)
We hope you have not been too exhausted by our tour of the fabulous hobby of knitting. All that remains is to have a go!
Read blogs, try out tutorials, and visit your local yarn store which is great for when you get things in a tangle.
Knitting is a great skill to have to hand and one that does not always have to be continuously maintained, but once you pick it up, we are sure that you will enjoy it so much that you won't want to drop a stitch!
---