When the Olympic season comes round do you enjoy the poise and athleticism of the gymnasts from around the world? Could you imagine yourself performing gravity-defying leaps, contortions, and balances? Or do you enjoy dance and rhythm and want to find a new way of keeping active?
If your answer is yes to any of these questions the exciting world of gymnastics may provide the perfect hobby for you!
Gymnastics is the perfect combination of sport and performing art, and outside of the lycra, sequins, and ribbons gymnastics is an excellent way of building muscle, core strength, balance, and spatial awareness.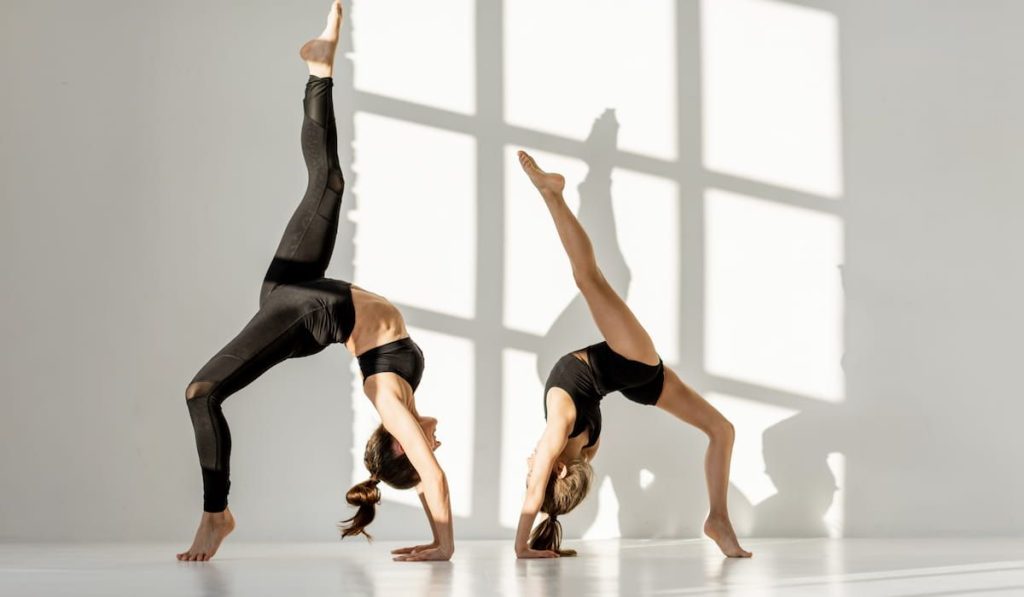 A big dose of determination and endurance is needed too and it's great for character building. Join a club and you will benefit from the social interaction and teamwork of training with others.
You may feel that a pastime with such obvious physical demand is a bit beyond you, but gymnastics is surprisingly broad with lots of opportunities to participate and develop at levels beneath the elite athletes.
It is often recommended that gymnasts start young but adult gymnastics is gaining ground as a credible way of keeping active, even into later years.
We think gymnastics is a great hobby for all ages and in this article, we will provide a helpful handy overview of all you need to know to get into this enduring sport.
Limber up and read on for a guide to the main branches of gymnastics and how children and adults can make this a hobby with legs!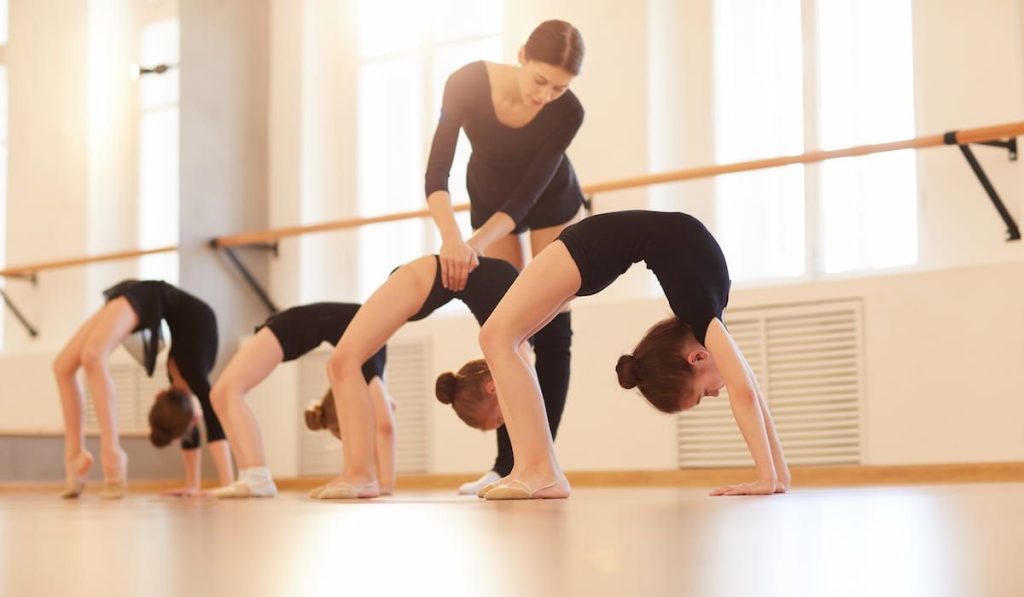 ---
So, What is Gymnastics?
Gymnastics is an athletic sport; a competitive physical activity that spans several distinct disciplines. The word gymnastics comes from Greek words meaning "to train or exercise". From its beginnings in ancient Greece, it has always been about the display of athleticism; demonstrating the agility and strength of the body in different ways. Participants are exercised in balance, agility, flexibility, movement, and endurance, with the execution of the movement being a focus of training and competition.
Gymnastics spans over eight individual disciplines for women and men. These include:

Men's Artistic Gymnastics (MAG)
Women's Artistic Gymnastics (WAG)
Trampoline
Tumbling
Acrobatic gymnastics
Rhythmic gymnastics
Aerobic gymnastics
Parkour
Each type of gymnastics has its own requirements and regional and global bodies oversee how it is practiced, provide rules, and convene competitions.
Gymnastics is a performing art and has always been about performance and exhibition. People are entertained by the demonstrations of physical prowess and agility. This goes back to the origins of gymnastics in ancient Greece. There, Spartans and Athenians would push their bodies to their limits to train for warfare and to discipline and train both body and mind. Between the 18th and 19th centuries, these physical disciplines were revived and moved to western Europe where they were used as part of military training. British and American participants soon followed with the establishment of the Federation of International Gymnastics in 1881. Development and standardization of what is contemporarily recognized as gymnastics closely followed the development of the Olympic Games with grading structures for competing athletes agreed and globally implemented.
7 Key Reasons to make Gymnastics Your New Hobby
There are lots of reasons to make a physical activity like gymnastics your hobby. It is a great investment of your time and effort as you will develop new abilities and skills and perhaps learn how much your body is capable of achieving.
Gymnastics is a great way of getting physically fit.  If you have been looking for a reason for getting off the couch, a regular gymnastics class could be the ideal addition to your routine. Gymnastics is thought to burn up to 300 calories per hour, in line with other forms of aerobic exercise. Not only will you burn calories, but the sheer range of movements, cardiovascular challenge, and endurance involved will also massively improve your tolerance for physical exertion.
Gymnastics will provide life-long gains in balance, muscle mass, strength, and flexibility. One of the best investments you can make in your body is building muscle, strength, and balance. These will place you at a great advantage as you become older and help prevent harmful falls and other mobility issues. Unlike static weightlifting, gymnastics exercises your muscles through movement and posture which yields natural, long-lasting results.
People of all ages and abilities can find a way of participating in Gymnastics! Gymnastics is more about what you can do than what you can't, and though many professional athletes started training from early childhood, you can start gymnastics at any age as we explain below. People with physical and mental disabilities can also not only enjoy but be stretched by training in the gymnastic disciplines as their bodies allow. Since 1985 this has been recognized by British Gymnastics with the disability gymnastics program focused on adapting the tasks of gymnastics to the individual needs of a disabled gymnast.
Gymnastics uses creative movement. If you consider yourself a good dancer or you have rhythm and an appreciation of music, you will enjoy many of the aspects of artistic and rhythmic gymnastics. Gymnastics is a great alternative to dance classes, and you will enjoy the expressive elements and opportunity to perform and entertain.
Taking part in gymnastics can reduce stress. Because you will be thinking about your movements and posture while doing gymnastics, you will have less space of mind for turning over worries. The release of endorphins is also known to make you feel good and the sense of achievement when you master a maneuver or routine will certainly be a positive point of your day.
Doing your gymnastics hobby with others or attending competitions is great for keeping social. For us, membership of a club is a great part of doing any hobby as it gives you a real reason to meet and engage with other people constructively. If you join a gymnastics club you will probably have the same group of people together in classes or work together as a team. Entering competitions or going as a spectator also allows you to meet new friends who share your interest.
Mastering skills in gymnastics is great for character building and a sense of achievement. This is one of the main reasons why parents select gymnastics as a hobby for their children. It's a great sport for goal setting and perseverance. Everyone can improve! For some disciplines, you will have to work with and rely on others and also be able to pick yourself up when you fall or injure yourself.
Let's Take a Look at the Main Gymnastic Disciplines You Can Try as a Hobby!
Artistic gymnastics covers the most well-recognized forms of gymnastics and probably includes the disciplines you would like to try or master. They are separated into men's and women's disciplines. We will focus on the scope of these disciplines as a novice or amateur gymnast.
Floor exercise is a popular discipline with all movements being performed on a 12-meter (40-foot) square cloth, foam mat, or specially sprung floor. Routines last just over a minute for men and around 90 seconds for women. Men complete a series of tumbling passes including cartwheels, balances, somersaults, and handsprings. Women's floor exercises are set to music and should be executed with an element of choreography. Maneuvers like the stag leap are beautiful to watch with a strong balletic element to their execution.
Uneven bars involve the performance of a timed routine of swings, circling, passes, and somersaults between two fiberglass bars. It often puts many beginners in trepidation because of the strength required to execute the maneuvers, so with attempting this discipline the first step is to build the required upper body strength.
Horizontal bar is a male discipline that also involves the execution of rotational maneuvers at height on a fiberglass bar. Gymnasts hold the bar with several specific grips and perform turns, postures, and dismounts that involve breathtaking rotations and flips.
Vault is a particularly athletic exercise that involves running and propelling oneself off a springboard onto and over a vaulting horse or vaulting table. The skills required to execute vault moves are typically broken down and learned in drills.
Balance beams are padded narrow beams that are raised to 125 centimeters (4 feet 1 inch) off the ground. This forms the 'stage' for a 90 second routine of balances, tumbles, turns, and poses. It is performed exclusively by women and girls. Beginners acclimatize themselves to the beam by learning to walk and turn on a low beam.
Pommel horse is a men's gymnastics discipline. You have probably seen the high-speed rotational acrobatics that can be performed on this leather-covered raised block with sturdy handles. It is considered one of the toughest men's events with single and double leg maneuvers that require particular levels of muscle mass and strength. Beginners usually start practicing the basic circular movements required on a domed mushroom, alongside strength training exercises like the pressed headstand.
Still Rings are suspended at a height of just over 5 meters from the ground. From there, male gymnasts demonstrate a range of strength movements and postures. The upper body strength requirements will need to be met to be able to use the rings for profitable training. More and more gyms are including these rings in their setup as they are great for building up the shoulders.
Parallel Bars is a male artistic gymnastics discipline that uses two adjustable parallel bars on which a demonstrative routine is performed. Movements performed on the static bars include static holds like handstands and L-sits and require significant upper body strength and conditioning.
Have You Got Rhythm (Gymnastics)?
If the dance element of gymnastics (and the glitter) appeal, you probably will enjoy performing rhythmic gymnastics routines, set to music, and complete with apparatus like a ball, clubs, hoop, and ribbon. This can be practiced and performed individually or in groups.
Participants wear special toe shoes that allow for grip and maximum flexibility through the foot.
With this form of gymnastics, the aim is definitely to put on a show, with competitive performances scored on their artistry and use of the music chosen.
How Could We Forget the Trampoline?
For us, trampolining is a pure delight, and we could do it for hours on end. However, beyond the exhilaration of feeling weightless, trampoline gymnastics is a discipline that requires structured training to be able to perform the complex combinations of somersaults, twists, and tucks, while maintaining good form.
Starting a Gymnastics Hobby as an Adult
It is important to emphasize that gymnastics is so much more than its markedly competitive image. It is an all-inclusive sport with adults of all ages and abilities capable of accessing a club and gaining the coaching needed to improve their abilities.
Take a look at the intriguing 92-year-old gymnast Johanna Quaas as a great inspiration!
Of course, if you are not young, your body may not be as flexible or as easy to condition as those of the springy youths that are often associated with the sport. But with persistence, dedication, and good supportive coaching, you will be amazed at what you can achieve.
A big part of your preparation to start mastering a gymnastic discipline in earnest will involve building and maintaining the strength and flexibility needed to perform the gymnastic movements and balances.
A typical adult gymnastics session starts with a thorough warm-up, progressing to the coach-led basic vault, tumbling skills, or floor work, depending on your level of ability.
At the end of the class, you must stretch thoroughly and cool down. Adults can then progress to uneven bars and rings if available at the studio you join.
Setting the correct goals is best done with an experienced coach who can develop a safe and progressive training plan that will help you clear some defined goals. Adult gymnasts fare best when they set realistic goals, the Olympics is unlikely to be on the horizon.
More and more gymnastics clubs are opening up to adult groups for floor work sessions or one to one training.
Beginning Hobby Gymnastics as a Child
Toddler classes do exist for gymnasts, but most coaches will want children to develop firstly enjoyment and then interest in gymnastics as a hobby before proceeding with a regimen of focused training.
This is usually around 6 or 7 years of age.  If you think you are raising the next Simone Biles, it's best not to be pushy but start learning about gymnastics with your child, through books, or watching the sport together.
Try offering them some of the rhythm gymnastic apparatus like the ball or hoop and enjoy listening to music and dancing together.
One of the best things about gymnastics is the sense of achievement your child will enjoy when mastering particular skills or goals. 
Keeping Injury-Free as a Hobby Gymnast
Gymnastics is one of the most injury-prone sports with high rates of overuse injuries occurring in junior gymnasts who train hard.
Just about everywhere in the musculoskeletal system is vulnerable to a gymnastics related injury, particularly the feet and wrists.
Protective equipment like hand pads, wrist supports, and appropriate footwear is advisable for your activity. Warming up and down and keeping supple is vital.
Do not try to continue movements or activities that are painful and be careful about using equipment unsupervised as you do not have someone to ensure you use the correct technique.
Are You Considering Competitive Gymnastics as Part of Your Hobby?
To begin to participate in competitive gymnastics, most countries have programs of training that will eventually lead to elite-level performance and potentially national and international competition.
In the US: The Junior Olympic Program and XCel Program cover many ascending levels of performance in gymnastics that leads to elite performance, with a strong emphasis on mastering basic skills safely.
In the UK: A performance pathway has been developed by British Gymnastics that partners with national coaches called the Talent Development Programme.
Gymnastics for All
GFA is an international initiative, spearheaded by the International Gymnastics Federation (FIG), that provides an opportunity for a highly inclusive form of gymnastics. It is non-competitive and the objective is to improve physical health, fitness and gain an appreciation of the world of gymnastics.
There are lots of opportunities to get involved, with skills such as tumbling and group performance being nurtured and a calendar of exhibitions, where routines can be demonstrated locally or nationally.
Learn more
South African Gymnastics Federation
---
Rounding Up
We hope that this guide to hobby gymnastics has left you motivated and ready to give it a try. Your next steps should include making contact with your local gymnastics club to find out about the disciplines they offer and get advice on what skills you can start to develop.
It is important to remember that mastering the movements and maneuvers involved will take time and effort. It may take a while, but consistent training will help you build the strength and confidence to succeed with gymnastics as a hobby!
---