RC cars have come a long way since the day of those old rickety speedsters that delighted children of the 1970s and 80s. A remote-controlled car hobby is a cutting-edge pastime, enabling you to build, race, and stunt amazing vehicles!
It is a cool hobby for anyone interested in racing, cars, and electronics and with new technologies and components having widespread availability online, you can create a performance remote-controlled vehicle cost-effectively. 
Enjoy the thrill of racing custom build radio-controlled cars, RC buggies, and monster trucks complete with humongous wheels and exaggerated suspension.
You can either race what you build or gain proficiency in racing some of the toughest ready-to-race RC cars around. With RC races, the limit is your imagination and you will enjoy racing your creations with other enthusiasts on a club or regional basis.
The best thing is, you can do it anywhere – whether you are using your living room floor, or dunes at the beach, radio-controlled cars deliver hours of real fun. 
In this concise guide, we will do our bit to introduce the newbie race to the world of radio-controlled cars. Let's take a look at what RC cars involve, why RC racing is a great hobby, the types of vehicles used, and how you can get involved.
We will also give you a heads up on some great resources to help get you started and learn more about your new hobby. 
---
Radio-Controlled Cars are a Classic Hobby that is Making a Comeback!
RC cars have proven an enduring hobby over decades and it's great to see a new generation of enthusiasts take up the pastime as well as long-time hobbyists develop expertise in building and racing these cars, integrating newer technologies and designs. 
Gone are those rickety old plastic cars with stuttering acceleration and low battery life. The newer generation of cars is far more refined in their design, handling, and performance with batteries that deliver hours of play from a single charge.
The radio control has also been enhanced making the control of these ingenious cars more responsive and in some cases complex. 
This means that RC cars are a hobby with a broadening scope and a thriving online and offline community of people building and racing these cars worldwide. 
What are Radio-Controlled Cars?
Radio-controlled cars, remote-controlled cars, or just RC cars are miniaturized model cars that are capable of motorized movement and are driven remotely using a radio frequency device, or in some cases infra-red connectivity with the car. 
They are used primarily for recreational purposes but there are examples of the military, law enforcement, and emergency services deploying high-specification versions of these cars (which overlap to an extent with robots) in certain hazardous environments. 
How Do RC Cars Work?
Remote-controlled cars are wireless, which was a real novelty when these cars first came out. Though the robustness and signaling techniques used by these cars have changed with time, the basic principles are still the same. 
All radio-controlled cars rely on a basic radio system for their remote control. Infrared variants operate differently. The basic tools of connectivity between the car and its operator are a joystick or hand throttle control transmitter and receiver that is installed with the car.
Both radio devices carry antennas that do the work of transmitting and receiving the radio frequency signal which is 2.4 GHz (the same as Wi-Fi) in contemporary RC cars.
The controller instructions for the radio car are encoded onto the carrier signal using several techniques and sent across to the receiver in the car that can unpack the instructions for electronic speed control and mechanisms that control motoring maneuvers like reversing and turning.
These control systems, called servomechanisms or servos, translate the radio signal into an electrical current which, in turn, is used to effect mechanical movement within the car.
History of Hobby Radio-Controlled Cars
The radio frequency technology required for the remote control of RC cars can be traced back to the physicist Heinrich Rudolf Hertz, a 19th-century discoverer of electromagnetic waves and inventor of the dipole antenna.
Subsequent advances in radio or wireless communication led to great 20th century advances in these technologies and by the 1950s, further progress toward a vast array of consumer products, of which the radio-controlled car was one.  
Proportional radio control was critical to making RC cars possible. This technology meant that the steering, acceleration, and braking of the RC car would be proportional to the amount of pressure applied to throttle control.
This was a much better arrangement than the more primitive bang/bang radio control used in RC aircraft or boats at that time.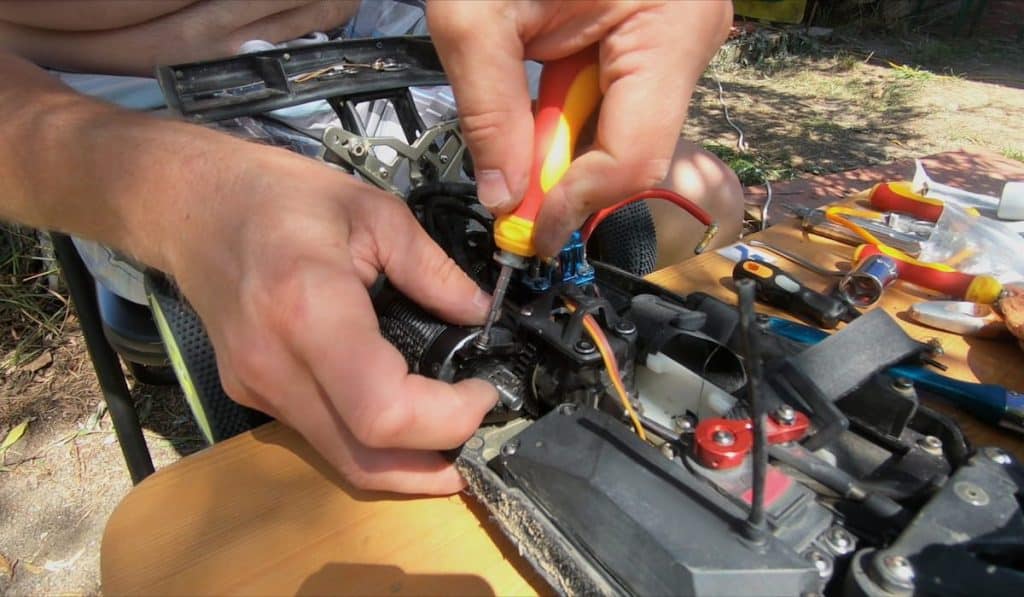 By the mid-1960s, the first RC cars were hitting the market, made in Italy by a company called Elletronica Giacattoli, which produced a popular scale RC Ferrari.
From there, a British company Mardave developed a nitro-powered RC car. Mass manufacturing then took off in the US as RC cars began to take over the existing slot cars market.
Companies like Delta and Scorpion produced 1/8 or 1/12 scale nitro cars with polycarbonate bodies. Scale electric cars transformed the market and dominated the 1970s and 80s as a toy of choice.
They were simpler to handle and maintain and electric motors and the decreasing size of batteries allowed the scratch-build market to flourish.
Japanese cars, like Tamiya, which were popular at this time, also produced highly detailed bodies which became collectible and continue to be so to the present day. 
Contemporary developments in radio-controlled cars have focused on the chassis, motors, and refinement of the radio control system with the introduction of telemetry to alert the car operator to engine conditions and battery power while the car is being used.
Off-road and performance RC cars with signature monster suspension and chunky wheels are also a mainstay of modern RC racing. 
Leading Brands for Hobby Radio-Controlled Cars
With the internet, it has never been easier to find a performance radio-controlled car. Their price will vary by size and specification with some models costing hundreds and even thousands of dollars.
Expect to pay at least $250 for a hobby-grade RC car, which is not a toy. Here are some of the top RC brands. 
Kyosho:  a Japanese model car company based in Tokyo. They also produce RC planes, boats, and helicopters. Many of their cars are collector items. 
RC4WD: this specialist manufacturer of RC monster trucks was founded in 2001 and has built up a solid reputation for kits, R2R cars, and performance parts.
Axial RC: Is a subsidiary of Horizon Hobby and produces various high-performance remote-controlled cars and building kits. 
HPI Racing: is known for RC cars with massive tires and giant suspension. Their monster trucks are also uncommonly fast with an HPI Savage monster truck holding the world land speed record for this type of RC vehicle at 74 miles per hour.
Traxxas:  is a very well-known RC car manufacturer creating high-spec electric and nitro-powered vehicles as well as drones and boats.
---
6 Fantastic Reasons Why Radio-Controlled Cars are a Hobby You Have to Try!
There are plenty more reasons why you should go out and get yourself a radio-controlled car ('cause it's good ol' fashioned fun for one), but here are six of the best:
1. A remote-controlled car hobby is great for all ages!
If you are not living alone, chances are someone, usually younger, is going to want to get their hands on your pride and joy. RC cars are so exciting that you will find that racing them will bring people together.
Children can be taught how they work and rudiments of racing, and perhaps seniors will appreciate building the cars as a tabletop project.
Taking cars out and racing them can also be a great family affair, so if you are looking for something that can involve everyone remote-controlled cars are a top pick!
2. Racing RC cars as a hobby will boost your hand to eye coordination.
As you master remote control racing, you will find that you will need to build responsiveness to get the best out of control.
The reflex actions needed to race your car around a tight bend or perform tricks are going to boost the neural connections between what you see and how your hand controls the car.
Also, youngsters certainly benefit from the concentration needed for this hobby and it can provide a welcome boost to their attention span. 
3. Building remote-controlled cars as a hobby will boost Science Technology Engineering and Mathematics (STEM) skills.
STEM subjects aren't so hot when they are in a dusty old textbook with a homework deadline. Building and racing a custom RC car will certainly bring them to life.
You will find yourself drawing from fields like electronics, mechanical engineering, and physics as you craft the perfect vehicle.
Building your RC race car is a great project which we recommend you try, as you work out how to enhance its design or repair and replace parts you will certainly be putting all those apparently mundane hours of science and math to good use. 
4. RC cars are the ultimate tinker-tastic hobby!
If you are one of those folks who have all sorts of tinkering projects littering your home, building a radio-controlled car will definitely exercise your skills.
There are lots of build-kits as we mention further on, but a scratch-build RC race car will be a totally unique and high specification vehicle. Engineering a winning race car will require assembly of all sorts of components with solder and perhaps a little metalwork or 3D printing thrown in too.
Use your remote-controlled car hobby as an opportunity to experiment, especially if your car design is not constrained by race rules. 
5. If you are an avid collector, RC cars may prove addictive!
Collectors of remote-controlled cars will enjoy scouring fairs, race meets, thrift stores, and the internet for box-fresh rare remote-controlled cars. Collecting classic and vintage RC cars is a niche hobby that you can pursue throughout your life.
These stylish racing cars with classic detailing are in demand and big brands like Kyosho die-cast model cars or Delta can exchange hands for hundreds of dollars. There is also a thriving market for the car chassis and parts.
Prices vary massively, but if you embrace your amateur sleuth you will begin to learn what you should be paying for these beautiful cars and may be able to make some cash by selling them on too. 
6. Scope for competitions
Hobbyists and amateur RC car racers who want to race their car on something other than carpet can take up racing and performing stunts at a local or regional remote-controlled car track.
These raceways are a great place to meet and race with fellow enthusiasts and they often convene competitive races, either locally or as part of a league. You will also get to put your RC racing skills to the test.
For many racing venues, you will need to become a member and perhaps also pay a fee to use the track and enter competitions. Rules for competitive racing vary and there may be particular specifications for the race cars you will need to adhere to. 
---
Types and Categories of Hobby RC Cars
Electric radio cars 
They are battery-powered and have powerful electric motors that provide the speed and responsiveness needed for a great driving experience. There are two key types of electric motors used in electric radio-controlled cars: 
brushed, and 
brushless motors. 
Brushed motors use an arrangement of round wire coils which acts like a two-pole electromagnet.  
Brushless electric motors receive their rotary power from a solid magnet and can generate more power, efficiently.  Electric motors are often preferred for RC cars because they are easier to replace and work with.
Fuel-powered remote-controlled cars, fuelies, or gassies 
They carry a small combustion engine on-board that can be powered by gasoline or nitro, a mixture of nitromethane, oil, and methanol.
Nitro cars use an earlier type of engine called a glow-plug engine, whereas contemporary fuel-powered RC car engines are adapted to use a combination of 2-stroke oil and regular petrol that can be obtained from the gas station. A glow igniter is needed to start the engine of a fuel car.
This component uses an electrical current to heat a probe in the engine cylinder head to a temperature that will ignite the fuel. Gas and nitro-powered cars will still need a battery onboard for the glow igniter, radio module, and lights.
On-road hobby RC cars 
They are designed to be used on level consistent surfaces like interior flooring, pavement, or tarmac. These cars are typically raced on cement or carpet tracks and will not perform at their best if the surface they are on is uneven.
On-roads are built for speed and their typically low chassis keeps them close to the road and very stable even when going fast.  They are non-suited to uneven surfaces, dirt, and grit, or stunts and jumping because they are so low. 
Off-road radio-controlled cars 
They are perceived as being more rough and ready and can be used on or off-road.
They are designed to be used in off-road settings, dusty, sandy, gravel-strewn surfaces, and are more like monster trucks and buggies with large, chunky wheels and enhanced suspension that can easily tackle any lumps and bumps or vegetation.
Toy-grade radio-controlled cars 
They are cars that most people encounter in childhood. You can get hours of fun out of them, but they do not reflect the full potential of RC cars. They are typically built for looks, with replica bodies from famous sports and racing cars, trucks.
Toy radio cars are mass-produced, and their components are often of inferior quality to hobby-grade or performance cars. They may be lacking in suspension with finely tuned controls.
However, some enthusiasts do collect and race these cars and with effort, some of their components may be able to be upgraded. 
Hobby-grade RC cars 
They are where the fun begins as these cars are designed not only for speed and performance but also lots of tinkering!
They can be readily dismantled for maintenance repairs and safety checks and parts like engines, chassis, wheels, and bodies can be readily sourced for upgrade projects or scratch builds.
Hobby-grade remote-controlled cars can be:
Ready-to-Run – RTR cars are plug-and-play performance RC cars that can be used straight out of the box. These cars are not toys and are capable of achieving speeds of up to 80 miles per hour. They require at most minimal assembly and are a convenient alternative to kit cars. 
Kit cars are sold in pieces and are assembled and customized by hobbyists, sometimes with an exchange of components or additional detailing.

They make a great sit-down project. They have varying degrees of complexity from Almost Ready to Run (ARTR) models to high specification kits for cars that can race at up to 95 MPH. 
Scratch-build cars are the ultimate project for the hobby RC racer as you will be building your car to your own design. It is not for the fainthearted and is usually the fruit of years of experience with kits.

However, the sense of achievement and satisfaction you will have from building your own car is well worth the effort, especially if you have mastered many RC car kits. CAD, 3D printing, and other rapid prototyping techniques have made it possible to craft a custom body for the car too. 
Radio-controlled car model scales
RC cars are scale models that are usually modeled after the proportions of real cars. Lower scale ratios mean bigger cars and larger ratios indicate smaller car proportions.
They come in a variety of sizes from mini-RC cars to standard radio-control car sizes such as:
1/12 scale RC cars are about 13 inches (33 centimeters) in length.
1/18 scale RC cars are approximately 10 inches (25 centimeters) in length.
1/24 scale RC cars are 7.5 inches in length (19 centimeters)
Learning to Drive Your RC Car
To put your RC car through its paces you will need to master the transmitter or radio that is used to control the car. It looks complicated but getting to grips with this device is key to getting the best out of your radio-controlled car.
Pistol-type transmitters use a wheel and trigger system that operates on a proportional basis: turn the wheel sharply and the car will turn sharply.
Your control will send its radio signal via one of at least two channels with channel 1 controlling the steering and channel 2 for throttle. Additional channels may be available to control lights, sounds, and other features. 
The trigger throttle can be moved in two directions to accelerate the car when it is pulled and to brake or reverse the car when it is pushed forward.
The rubberized steering wheel can be turned to turn the car in the same direction. 
Servo-reversing switches can be used to reverse the movements made by the car's onboard servomechanisms, to reverse the car, or switch the steering direction. 
Trim knobs can also be used to fine-tune the steering control and throttle while driving the car. 
Stunts and tricks for the RC hobbyist
Freestyle RC car driving is one of the best ways in which you can put a radio-controlled car through its paces and if you see the pros stunt their cars at shows you will find that the displays are breathtaking!
RC jumps and tricks can be learned; the key according to experts Traxxas is precision throttle control. If you are keen on performing flips, one of the best accessories you can purchase for your car is a set of ramps.
Depending on the size of your car, skate park ramps can be mastered too. Start small and remember that an airborne RC car traveling at speed can be a hazard to yourself or others. 
Gear and accessories for radio-controlled cars
If you are ready to get started with your new RC car hobby, these are just some key items you will need aside from an RTR or RC car-kit:
Pit bag
Hobby knives: can be used for cutting materials used in building your car or assembling a kit.
Nut drivers: to loosen or tighten the nuts on your car.
Needle-nose pliers are great for getting into small spaces, rather than using your fingernails, which can get painful. 
Curved scissors: Can be used to trim car bodies and detailed stickers.
Sprue cutter: is vital for working with injection-molded plastic parts for your car. You can use the cutter to trim those excess plastic parts off your components for a better finish. 
Chargers: a dedicated AC or DC charger is a prudent investment if you are going to be using your RC car a lot. Keep batteries topped up for the best performance of your car.
Batteries: for RC cars, lithium polymer or nickel-based batteries offer good run time for your car. Keeping spares on hand means that you can continue your session if a battery runs dry.
Motors: depending on your vehicle type you may want to source alternate electric or nitro motors as mentioned above.
Glow plugs are key to starting a gas-powered car. Quality of fabrication will determine the lifespan of the glow plug and a well-loved car will likely need replacement.
Fuel: If you are fueling your RC car, you will need to be able to safely and securely store the nitro/gasoline and oil needed.
Exhaust pipes:  can enhance the performance and tuning of a fuel-powered car. 
Radio system – transmitter control and receiver modules: these can be upgraded to newer digital models that have additional channels or better adjustability of steering and throttle.
Wheels are a big part of customizing your RC car and can be changed to suit the terrain you run your car on. They can be acquired unmounted or mounted to rims. 
10 Last-Minute RC Terms for the Newbie Racer
After run oil – an engine oil preparation that is put into the engine (a few drops) after use to prolong its lifespan.
Bulkhead – a critical component that is used to secure key components of the car like the suspension arms and shock plates to the chassis. 
CG or center of gravity – this is determined by how high the chassis parts sit above the wheels. Cars with a higher CG tend to be less stable and can flip when taking turns. On-road cars tend to have a low CG.
Downforce – is the effect of air on the surfaces of the car like the hood, windshield, trunk, and air dams. Downforce increases drag and slows down the car.
Expert class racers – are the world's best RC racers who are professionals with sponsorship. 
Hairpin – a sharp 180 turn on a track.
Ni-starter – another term for a glow plug.
Sand-bagger – a nickname for a decent RC racer who chooses to race cars at a level beneath their ability.
Unsprung mass – the mass of the RC car that is not supported by the car's suspension. This includes wheels and tires.
Winners circle – where every racer wants to be at the end of a race. Room only for first, second, and third-place racers.
Great Online Resources for RC Car Enthusiasts
To extend your learning about RC cars, we have included some links to great sites and organizations:
Best YouTube channels for RC car racing
Ultimate RC – great technical breakdowns and reviews of performance RC cars.
RC racing TV – hours of well-filmed, exciting race footage.
RC Overload – a very watchable channel for the RC hobbyist lifestyle. You'll return there again and again. 
Top forums for remote-controlled cars.
MSUK Forum – a leading UK-based RC forum with responsive members.
RC Universe Forum – this forum provides opportunities to buy and sell cars and parts.
RC car racing organizations to check out
Rounding Up 
After getting through this guide to radio-controlled cars, we are sure you are ready to start racing your hobby car. A great first step is to get an R2R, unpack and see how you get on with racing it.
By putting the time and effort to practice, you should be able to build some pretty good skills. As with most hobbies, commitment and perseverance is key to getting the most out of your radio-controlled car. 
Do you have any insights, advice, or tips on RC racing you would like to share with our readers? We would be delighted to hear from you! Share your thoughts in the comments section below.