Zumba is the perfect combination of fun and fitness that has changed the way the world looks at workouts forever.
This fun dance workout was founded in 1998 by an aerobics instructor called Alberto Perez in Colombia.
One day he was instructing an aerobics class and realized he had forgotten his regular music. He reached into his backpack and pulled out cassette tapes of salsa and merengue.
The participants all had smiles on their faces, although they were drenched in sweat. Alberto had found a way to make fitness fun. He later registered a company with two friends.
They called it 'Zumba', a word without any specific meaning but has become a popular choice for exercise, fun, and dance with people of all ages.
Zumba combines Latin American and international music with fun dance moves. The dance routines incorporate fast and slow rhythms at intervals to enhance cardiovascular health.
Zumba is a worldwide phenomenon existing in 180 countries, at 200,000 locations, and loved by 15 million people worldwide.
Why You Should Start Zumba
Zumba is popularly described as a dance party, and although that sounds like they aren't taking fitness seriously, that's the whole point. You want to exercise and have fun while at it; otherwise, it will be a drag.
Here are some of the reasons you should start Zumba:
It's So Much Fun
Zumba is the most enjoyable kind of exercise. There's no workout more fun than moving your body to the beats of hip-hop and salsa. It's energetic, upbeat, and fun.
You won't feel bored or overwhelmed. By the time your Zumba class is finished, you'll want more. Time does fly when you're dancing Zumba.
People generally smile and laugh during Zumba because they are having a good time. Other times it's because they look funny in the mirror doing a Zumba move.
It doesn't feel like a workout, and that makes it more fun. If other exercise hobbies aren't working for you, try Zumba.
Promotes Weight Loss
Weight loss is one of the fantastic benefits of Zumba. As long as you're burning more calories than you're taking in, you'll lose a significant amount of weight.
At full intensity, you can burn 350 – 650 calories in one hour of Zumba. Your clothes will start to fit better, and you'll feel and look healthier.
Relieves Stress
Once in a while, you may feel the emotional and mental pressure that comes with life's demands like work, school, relationships, or finances.
Zumba relaxes your mind by keeping you focused on the dance and away from personal problems and work issues.
Zumba stimulates endorphin production in the body, which suppresses stress-causing hormones. Furthermore, this dance will help you deal with the issues that cause stress.
It's one of the best ways to manage pressure, which subsequently improves your overall health. Physically, Zumba also relieves tension in your muscles.
Improves Flexibility and Coordination
Zumba helps improve your coordination, which you need as you get older since we tend to lose balance.
Most exercises require you to move certain parts of the body and not others, but Zumba engages both your upper and lower body. Over time you start to pick up routines quicker.
Zumba makes you more flexible by increasing the range of movements your joints and muscles can make.
A Zumba studio carried out a 3-month study where participants realized an improvement in flexibility from 6cm to 26cm. A sit and reach test proved these positive results.
Builds Muscle and Tones Your Body
Zumba targets several muscles in the body, including arms, hips, inner thighs, legs, calves, glutes, quadriceps, back, and abs. Working these muscles and more leads to total body toning.
While dancing to the beats, you can squeeze and flex specific muscles to strengthen and tone them.
Improves Your Heart Health
This popular hobby is a cardiovascular exercise that strengthens the heart muscles, allowing more oxygen to flow properly throughout the body and making the lungs more efficient.
Zumba movements will stabilize blood pressure, thus keeping your heart rate normal. The Journal of Sport and Health published a study comparing Zumba to salsa, another popular dance.
The findings indicated that Zumba is a better workout because it is a higher intensity and yields a higher heart rate response.
Improves Your Mood
Generally, exercise will cause your body to release mood-enhancing hormones that produce positive feelings, more so Zumba. The upbeat music and festive atmosphere make participants feel more optimistic.
Your mood affects other areas of your life, so it's essential to put it above any physical benefits in your workout, and Zumba is the best way to do this.
It plays a significant role in improving your confidence, motivation, and mental wellbeing.
Make New Friends
Zumba is a sociable activity and the perfect place to connect with people, whether you're an introvert or extrovert.
If you're attending a class more than once a week, you'll meet fun and interesting people who'll soon become your friends.
When you and your classmates are all having fun together, you create a bond and friendship. You'll look forward to every class just so that you can see your friends and dance together.
These friends can also become important networks that support your work or other projects.
Other Benefits
Customizable to your ability level
Good for any age
Builds body awareness, so you know what part needs more attention
Builds endurance
Work out from anywhere
Who can do Zumba?
Zumba is for everybody from months old babies whose parents want them to learn exercise benefits early to seniors who want to stay healthy and active, and everyone in between.
Persons with disabilities and pregnant women can also join in the fun.
Kids
Zumba has different programs for kids of varying age groups.
Zumbini (0 – 4 years old)
The kids do a 45-minute session supported by their parents. It combines dance, music, and educational tools for bonding, learning, and fun.
It stimulates their emotional development, nurtures their love of movement, and strengthens the bond with their parents.
It also develops their social skills, balance, and rhythm, and enhances their cognitive skills.
Zumba Kids Junior (4 – 6 years old) and Zumba Kids (7 – 11 years old)
The kids get to dance to their favorite music with kid-friendly routines plus games and activities.
The class also incorporates teamwork, leadership, awareness, memory, confidence, creative confidence, and self-esteem.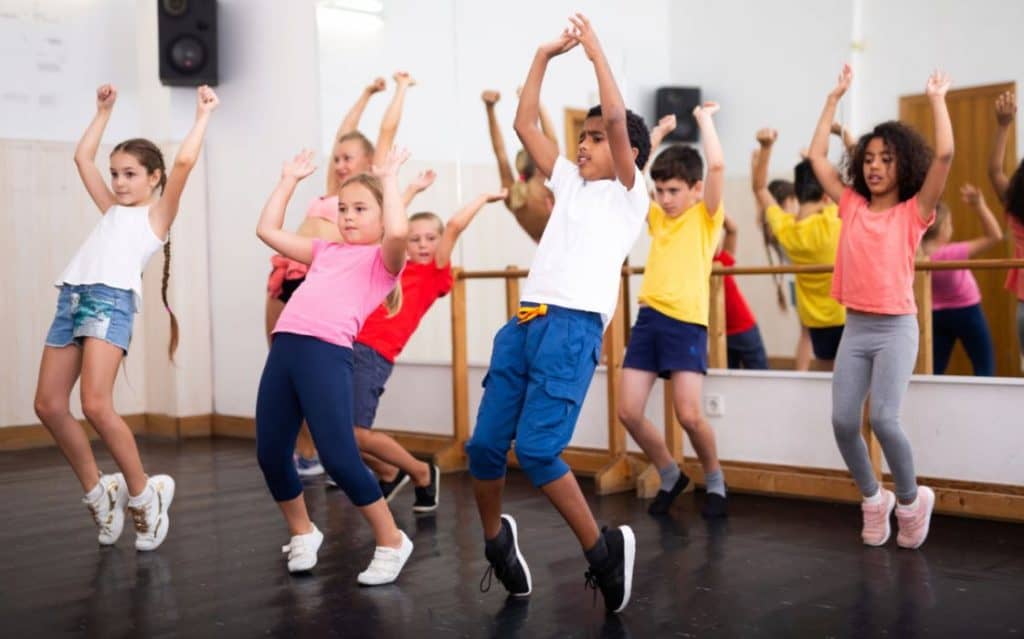 Older Children and Adults
Older children can take part in the standard Zumba program.
Adults can participate in additional programs, including Zumba Step, Zumba Toning, Aqua Zumba, and Zumba Sentao.
It's a great way to have fun, stay active, and make new friends.
Seniors
Older active adults have two special programs called Zumba Gold and Zumba Gold Toning. They both recreate original moves but with lower intensity.
Zumba Gold focuses on balance, coordination, and motion range, while Zumba Gold Toning focuses on muscle conditioning and lightweight activity using Zumba Toning Sticks.
Pregnant Women
If you were a fan of Zumba before conceiving, you could continue with it while pregnant because it's great for you and your baby.
Remember to speak to your doctor first. Depending on the nature of your pregnancy, your ob-gyn will either recommend that you go for it or take it easy.
Also, talk to your Zumba instructor so that they can modify the moves to suit your growing belly.
Even with a green light from your doctor, as your pregnancy progresses, low impact Zumba is the way to go.
Persons with Disabilities
Zumba provides the same benefits to persons with disabilities. Many Zumba moves require you to engage your entire body, but they can be modified for participants with mobility challenges.
While seated in a wheelchair, participants can move the upper body and still have fun and improve their health.
If you have diabetes, Zumba will help you shed excess weight and build muscle. It will increase your energy levels as your blood sugar goes down.
Be sure to talk to your doctor first and have frequent check-ups to monitor progress and change your treatment plan if necessary.
If you have arthritis, back pain, or knee pain, stick to low impact moves only as they are gentle on your joints.
What Equipment Do You Need?
The great thing about Zumba is you don't need expensive or complicated equipment like other activities.
All you need is comfortable gear, a towel, a water bottle, and items you might already have in your house.
Even if you had to buy them, they cost very little. You can show up for a Zumba class without much preparation.
Comfortable Workout Clothes
Your clothes must be comfortable enough for you to move in freely. They should be lightweight and able to handle sweat.
Cotton clothing with instant dry technology is most suitable for this high impact activity because it absorbs the moisture and keeps you cool at the same time.
Plain cotton will leave you damp with sweat.
High-Impact Sports Bra
This is an essential piece for women. You'll need a supportive bra to handle all the dancing and jumping that comes with those moves.
Why not get cute ones with bright colors and edgy designs?
Tank Top or T-shirt
Some women can go through the session with just a sports bra, but most prefer to cover up with a shirt or tank.
Make sure it's comfortable but tight enough not to get in your way while you're dancing.
Comfy Leggings
Find comfortable leggings with all-over compression. They hold your muscles firmly without that awkward jiggle.
There's no harm in picking out bright colors and bold designs to keep the exciting mood up.
The high waist leggings allow you to bend without feeling like they are slipping down your hips.
Good Shoes
Make sure your shoes can support intense dance movements. They should have sufficient cushioning and side-to-side motion stability.
They should also have minimal tread so you can easily change direction without stressing your ankles, knees, or hips.
Good shoes for Zumba include running shoes (with a low or worn-out tread), court shoes (for indoors), and dance sport shoes.
Zumba Toning Sticks
You will not need these for every class, but it's important to know about them. Zumba Toning Sticks are lightweight (1-pound and 2.5-pound), allowing you to shake them without any physical shocks to the body.
They are weighted with sand and are easier to hold on to than regular dumbbells. When you move your hands, they produce a rattling sound, which makes the workout more fun.
You'll also need a towel to wipe off sweat and a water bottle for your water to keep you hydrated during and after your workout.
Skills You Need
You don't need any pro dancing skills to join Zumba. Even if you have two left feet, you can have fun with this activity; no one will judge you.
As a beginner, all you need to do is move your body to the beat, have fun, and do your best to follow the instructor.
With continuous practice, you'll master those moves without a hitch.
Where to Go for Zumba Classes
Chances are high that you'll find a Zumba class nearby no matter where you live.
Zumba offers classes globally in 180 countries. You can take lessons with an instructor in the privacy of your home or at the instructor's studio.
Depending on the instructor's experience and location, participants will pay between $5 to $20 per class for a group session. Private lessons will cost more than that.
However, not everyone has access to a class, and some people prefer to work out in their homes' comfort. In that case, you can take a Zumba class online.
All you need is a smartphone or webcam on your computer. Remember, you don't need any equipment, so working out at home will be easy online.
The Zumba website currently has some Livestream training sessions by different instructors. Some require you to give them a donation for the class, while for others, there's a set minimum amount.
Keep in mind that these classes are live, so you cannot play them back. Once the lesson is done, they are gone.
The website takelessons.com also has live, interactive, and customized lessons for you with top-rated instructors to guide you on every step of your journey.
The classes are designed specifically for your style and pace, so no worries. Also, if you're not satisfied with a lesson, you'll get back your unused balance.
The average cost is $70 for a 60-minute class.
What to Expect at Your First Zumba Class
Going to your first class may feel intimidating, mostly because it's a new concept to you, but Zumba is anything but intimidating.
Nonetheless, it's good to know what to expect before joining your first class:
International Beats
You'll hear a fusion of international rhythms and various dance styles, including salsa, merengue, cumbia, samba, and belly dancing.
You'll also dance hip hop, Indian styles, and African too. In a Zumba session, different parts of the world come together.
Awkward Feeling
At first, you'll feel awkward because you're not familiar with the choreography, and that's fine. Go with an open mindset.
Many of the dance steps are repeated in various songs throughout the session, so by the third class, you'll have picked them up.
An Energetic and Noisy Crowd
Zumba classes are usually packed with participants from all walks of life. Some enjoy singing out loud while others are engrossed in the dance rhythm.
Usually, with fun dance moves comes excitement and possibly noise. This keeps the momentum up in the room and makes the workout enjoyable.
Various Options
Since it started in 2001, the original Zumba is still loved by most. Along the way, there have been other types of Zumba classes.
The Zumba Step focuses on sculpting your core and toning your legs and glutes by incorporating step aerobics.
Zumba Toning class emphasizes toning and defining your muscles in the arms, core, and lower body by strength training with Zumba toning sticks.
It makes you concentrate on single muscle groups so that you stay engaged. The lightweight tonic sticks produce a maraca-like sound that enhances rhythm and coordination.
Aqua Zumba is perfect for participants looking to have a high-energy workout with a splash in the pool.
It's a low impact workout that uses water resistance to tone those muscles. The impact on your joints is minimal, so it's a fun pool party.
Zumba Sentao focuses on the core but also tones the rest of the body. With the help of a chair, this workout combines strength and resistance training with dance moves to define your muscles and burn significant calories.
---
Get Moving
What's not to like about Zumba? Everyone wants to stay fit and healthy without feeling like it's hard work. Zumba gives you the best of both worlds.
It's hard to get such benefits from other workouts. Sign up today for this popular and enjoyable workout at a Zumba class near you or online and get moving.
---