The elegance and prowess of a beautiful horse is a breathtaking sight and if you have watched equestrian events at the Olympics, we are sure you will have been impressed by the masterful handling of these beautiful steeds and the strong bond between horse and rider.
Horses are probably the "original man's best friend" and it's easy to see why when you observe just how much these graceful animals can do.
Learning and gaining skills in looking after and riding horses make an excellent hobby and certainly provides some great life experience. 
Equestrianism has an air of elitism, but you will be surprised and delighted to find just how accessible and enjoyable it is. And far from being all top hats and glamour, you are more likely to find a horse enthusiast up to their knees in mucky straw and with a pitchfork in hand to muck out the stables. 
So, if you have always dreamed of making horses and ponies your hobby, we hope to give you a leg-up with this handy guide to starting equestrianism as a hobby.
Read on for great reasons to make horses and horse-riding your hobby, cost-effective tips for maintaining your hobby, and all the lingo you need to separate your tack from your spurs!
We hope you will find that it has something for everyone and opportunities to join an international community of horse enthusiasts that are only too willing to share their time and expertise. 
So… it's the Horse Life for You!
Equestrianism makes a great hobby for people who will enjoy getting the best out of both horses and themselves. It is a physical hobby and requires hours of training to learn how to ride and handle horses properly.
Controlling an animal by riding it is a nuanced skill, with great physical and mental benefits to be gained from riding horses regularly. Also, the equestrian community is welcoming, and you won't be short of organizations and individuals who are happy to share time and direction in helping you get started with horses.
Learning more about horses will help you understand if equestrianism is for you as it is a hobby that requires real commitment to be successful.
What is Equestrianism?
Equestrianism is simply horse riding or as the Americans call it horseback riding. It is a broad school and encompasses not only riding and driving horses but also the use of horses in artistic disciplines, sports, recreation, and day to day work.
For the hobbyist, equestrian passion spans spending time caring for horses at a livery yard or taking riding lessons, to mastering fine horsemanship disciplines like dressage or taking up competitive showjumping.
If you are not able to access horses, many horse enthusiasts enjoy studying the different breeds of horses or attending competitive events and shows featuring classic riding discipline like those of the world-famous Spanish Riding School of Vienna. 
Equestrianism also has local nuances, culture, and styles of riding depending on where you are in the world. For example, Western riding comes from the rich ranching traditions of Texas and other Western states in the US. In Europe, classical riding or English riding and dressage is highly esteemed and the horse-loving peoples of Mongolia have demonstrations of acrobatic prowess on horseback as part of the cultural rites of passage!
It's important to remember that horsepower isn't just for cars and horses have a long history of being used for agricultural work like plowing, towing, and driving that each come with a specific set of skills to be mastered.
Horses are Fascinating Creatures – Did You Know that They Walk on 4 Toes? 
The horse's feet are actually toe-like in anatomical structure, with the hooves being a strong thickened version of a fingernail. Equus Ferrus as the horse is known belongs to a family of mammals known as odd-toed ungulates that include near relatives like zebras and asses, and distant ones like the tapir.
For man, the horse has gained distinction due to thousands of years of breeding and domestication that has molded the species into the recognizable selection of breeds (at least 300 worldwide) found today. Horse breeds are divided into:
Hot-blooded breeds are horses that are either feisty and fast, such as those used for racing or rodeo, or breeds that are noted for their endurance. 
Warm-blooded breeds are horses that have been bred for specific purposes by interbreeding warm and cold-blooded horse breeds. 
Cold-blooded breeds that have been bred for strength and tend to be used in slow, heavy agricultural work. 
Horses are well adapted to run from predators or aggressors with undeniable poise and balance as well as authentic muscular power. A young foal will master his legs within minutes of being born and will reach maturity by age five with hopefully a lifespan of up to 30 years ahead of them.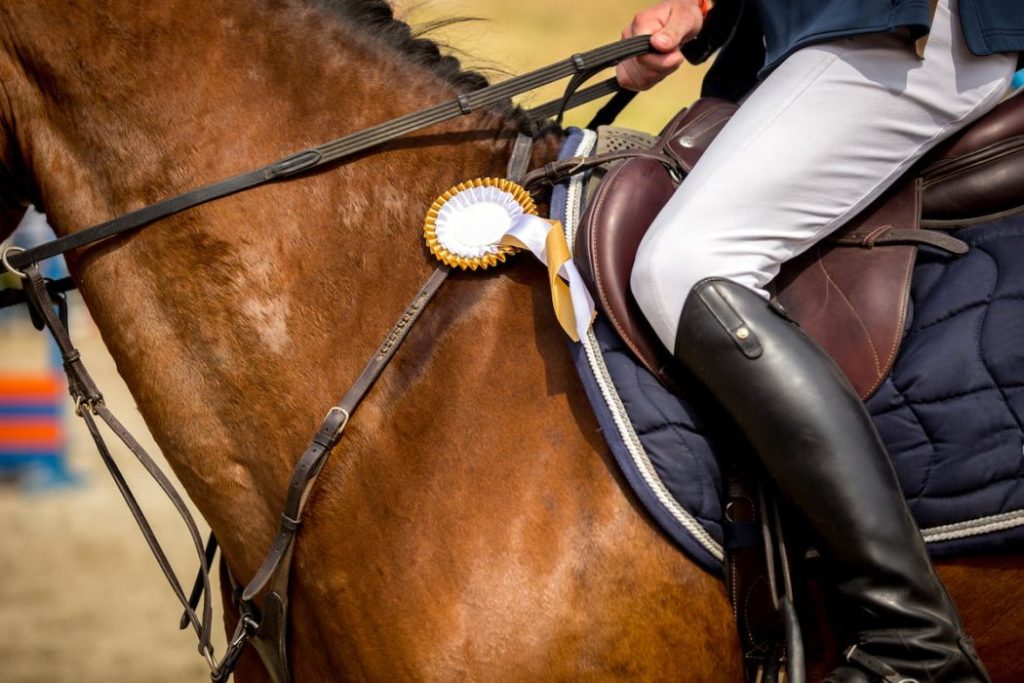 A Brief History of Equestrianism
It is thought that man has been riding, driving, and working with horses for almost 4000 years, perhaps more. They are found across the world but are known to have been extensively bred in the Near and Middle East where the horse soon overtook the ass as a traditional beast of burden.
It is thought that horses were put to the task of pulling wagons and carts before being ridden directly. Arabic art and history have a strong relationship with the horse, with racing, hunting, and breeding being equestrian pastimes in which Arabians excelled.
With the conquests of the great empires of history, the horse spread throughout the world, with a later flourishing of interest in breeding across Europe in the 17th and 18th centuries.
European settlers took horses with them to the Americas where they provided a great advantage in establishing transportation, agriculture, and trade for the settler communities.
The industrial revolution has a significant impact on the numbers of working horses and their breeds, but with a relative increase in prosperity, recreational equestrianism began to flourish, and by 1900, equestrian sports had been added to the Olympic Games as a debut event.
Today, the horse is more of a luxury acquisition than a household necessity, but the entertainment and sport that they deliver have a widespread following.
7 Reasons Why Equestrianism is an Excellent Hobby to Take Up
Some people only enjoy horses from afar, often because they are frightened of them or they are not sure how they could make horse riding work as a hobby for themselves.
Riding schools and equestrian centers as well as other experts are passionate about encouraging people to have a go at horse riding as they are confident that once you try you will be hooked!
If you think horses will be the perfect hobby for you here are some great reasons for immersing yourself in the wonderful world of equestrianism. 
All ages and abilities can appreciate interacting with horses as a hobby. 
Because equestrian pursuits are broad, there are all sorts of opportunities to enjoy horse riding. 
No matter what your age or physical ability, ways can be found of supporting your love of horses and riding as so much has been done in recent decades to make equestrianism more inclusive.
Younger children will be delighted by joining a pony club, which is a terrific way of spending time around ponies and horses and becoming used to them.
For families who are keen to enjoy time together with horses, carriage driving (which we take a look at further on) provides a relaxing group activity.
Horse enthusiasts who have physical or mental disabilities can thrive in this hobby with the assistance of organizations like the Riding for The Disabled Association (RDA) who have tapped into the confidence-building and sensory benefits of horse riding and endeavored to make this fantastic hobby accessible to all. 
---
Equestrianism is the ideal hobby for nurturing a love of animals
As we will learn further on, thriving in equestrianism is really about how you treat and care for the horses and ponies you will be working with.
If you enjoy animals and are looking for an opportunity to spend time with them regularly, horse riding and its schedule of training and care will definitely give you plenty of hands-on time with beautiful horses and ponies and learn what it takes to look after them well.
Owning or playing a part in the care and correct handling of a horse is very different from having a domestic pet. They may not be so furry or cuddly, but we are sure that over time the same bonds will be formed.
---
Hobby equestrianism builds responsibility and discipline
Learning the responsibilities and duties involved in equestrianism is, in many, ways more character-building than the riding experience.
Taking care of a horse is very hard work and even if you visit a riding school for lessons as part of your hobby you will be expected to do your fair share of the hard work.
Even young children can become adept at rolling up their sleeves and pulling on their boots to muck out the stables and provide fresh straw bedding and hay to eat.
Grooming and care of horses also cannot be neglected as if you overlook aspects of their daily care, they can become ill remarkably quickly. With equestrianism, you are really taking on a full-time job, which is why livery yards (where you pay someone to look after your horse for you) are so in demand.
Then there is the maintenance and care of your tack and knowing how to tack up properly. A horse hobby requires commitment and motivation, but as we learn further on, there are great rewards and satisfaction for taking up what often becomes a lifelong hobby.
---
Horse riding is a great physical exercise
Horse riding looks easy from a distance, but in reality, it is one of the most athletic workouts you can experience. Horse riding will get you fit! 
Equestrians are really athletes, as even a gentle canter works every muscle of the body, burning a whopping 700 calories in just one hour. With horse riding, the postural control and balance mean you are never really sitting on a horse.
Your body has to react and adjust to every movement of the horse beneath you and be primed and responsive so you can control and direct your horse safely and authoritatively.
When you start going for hacks (horse rides at a gentle even pace), you will feel the effects of your workout the next day!
---
Horse riding is one of the most amazing ways to experience the great outdoors
Horse riding is a fantastic reason to get outside. You cannot separate equestrianism from a love of the outdoors and horses are built to roam.
Once you become accustomed to the skill of horse riding you will be delighted with the distances you can cover on horseback. From galloping across sandy beaches to trying your hand at Western riding across open expanses, horse riding does unlock regions that previously may have been relatively inaccessible on foot.
If you love to travel, you will find that horse riding is a universal language, appreciated by cultures all over the world. Opportunities to ride may present themselves in places as exotic as the beaches of Lagos or mountain trails in central Asia.
---
Your horse-riding hobby can unlock the door to a thriving social and cultural calendar 
The more you pursue your equestrian hobby, the more you will come to see horses and horse riding as a way of life and fellow equestrians love to participate in demonstrations, competitions, shows, and other social meets.
In the UK and US, there is, understandably, a strong overlap between the equestrian events calendar and the agricultural year.
A glance at the British horse sets handbook The Horse and Hound lists annual equestrian highlights such as the Cheltenham Festival, Hickstead Derby Meeting, Badminton Horse Trials, and the Royal Windsor Horse Show. 
More on these to follow!
---
Horse riding is a lifelong skill
As with many hobbies and pastimes, starting in equestrianism is likely to lead to a lifelong love of horses. Even if you have to stop riding for periods, going for a hack will bring back familiar skills and activate your muscle memory. 
As you gain experience and confidence with these stunning animals you are likely to want to devote increasing amounts of your time and money to nurturing your equestrian passion.
For many young people who take up horse riding, the equestrian lifestyle may lead to a career working with horses at a livery yard or riding school. For others, owning a horse, along with the costs and commitment involved may be well worth it for a pastime you love.
What Does Hobby Equestrianism Involve?
Because equestrianism is so broad with many individual niches and special interests, you may take time to find the exact type of equestrian activity you want to focus on.
However, if you are an absolute novice, you cannot escape the need to learn how to ride a horse, so the first stop on your equestrian journey is likely to be a horse-riding school.
Learning to Ride
As a beginner, your first stop should be a riding school, where you can master the basics with approved instructors who are experienced in supporting new entrants into horse riding.
Riding schools usually charge a fee for the lesson that includes the use of the horse and hire of helmets, boots, and the horse tack that includes all the equipment needed to ride.
If one-to-one lessons are too expensive, you may be able to save money by participating in group lessons. One of the wonderful things about learning at a school is that the enclosed training paddock is carefully controlled so that there is nothing unpredictable to startle you or the horse.
Initially, lessons are usually no more than 30 minutes and typically involve basics like:
Mounting and dismounting the horse
Correct posture on the horse
Holding the reins
Walking and trotting
Steering and guiding your horse
How to stop
Key Equestrian Disciplines that You May Want to Pursue as Part of Your Hobby
As there are so many different equestrian sports and activities to try, it is well worth spending some time learning about them to see if they will be of interest to you.
The horse set are a social bunch, and you are likely to find equestrians of all kinds attending the lively calendar of local and regional meetings and events that take place annually all over the world.
Visit these to get a feel of what different equestrians can achieve with their horse riding, learn, and make contacts. 
Trekking may make you think of heading across the Himalayas with blankets and provisions, but actually, it is one of the simplest types of horse-riding you can take up. Trekking is a group activity designed for absolute beginners, who usually ride docile, steady horses that walk one-behind another on a planned journey that the horses have completed many times before. The horses may also be led by a trainer.
Hacking is a step up and requires autonomy from the rider. You will need to know how to control and direct your horse and maintain a good rising trot as you will be directing your horse. Balance is also essential as if you use your hands rather than your legs to balance you may yank on the reins. The choice of horse for hacking is important. Depending on where you go, you will require a well-trained, steady horse that is not easily started by motorists, machinery, or cyclists. You may want to start hacking in a group to build experience, and then progress to solo rides once you are confident.
Showjumping is a well-recognized equestrian sport that is likely to have developed out of jumping hedges and fences as part of hunting. It's an exhilarating demonstration of the physical capabilities, coordination, and cooperation between horse and rider which has made it a popular pursuit for hobby equestrians that are eager to build skills and compete. Many jumpers start young, with ponies, progressing to competitive showjumping where they will have to complete a set course of jumps, leaving the fences intact in the quickest possible time. Showjumping is not for the fainthearted, as fence heights can be up to 1.60 meters in height!
Dressage is a form of horse riding where horse and rider complete a set routine of choreographed movements. It can be performed competitively, for demonstration, or just for fun as you will find you will build a very close relationship with the horse you work with. Behind the glamorous tailcoats and top hats, the word dressage simply means training, putting in the hours with your horse to perfect control gait and movement. This develops the masterful horsemanship that is a joy to behold. You can start getting into dressage by regularly training with a horse to build obedience and learn routines. If you want to compete in dressage, this will involve performing movements with a standard rectangular area and being judged against set standards.
Cross-country or Hunter trials will test your horsemanship and endurance and you and your horse cover a long and sometimes arduous course that is riddled with various obstacles including jumps and water. It is usually undertaken competitively as part of Eventing which combines XC with dressage and showjumping over three days. Eventing is usually open to riders who are at least 12 years of age with no upper age limit. Within an eventing competition, points and penalties are accrued with the winner being the equestrian who has the fewest penalties.
Carriage driving or Horse driving involves driving a horse-drawn carriage, drawn by up to four horses. It is very accessible, and competitions permit the entry of anyone above the age of 14, irrespective of gender or whether horses or ponies are used. The type and size of carriage and arrangement of the driver, navigator, (and grooms) and horses will vary with the type of driving undertaken. Some of the main carriage driving disciplines include marathon, dressage, and cone driving. These carriage-driving disciplines are also combined in three-day eventing competitions. 
Polo is considered the sport of kings and traces its origins to the athletic equestrianism of ancient kingdoms in the Middle East. This elite team sport involves opposing teams of 4 players who, while mounted on horseback, hit a ball with a mallet. Often described as "hockey on horses", goals are scored by hitting the ball into the opponent's goal. 
Racing is of course a popular equestrian sport. Amateur horse racing is a growing pastime that is attracting a broad range of participants and has a lively calendar of events such as the British Goodwood racecourse. 
Essential Gear Needed to take up Horse Riding
There is a lot of specialist clothing and tack that is designed for eventing and other niche areas of equestrianism. Buying everything will prove both impractical and expensive.
As a novice, it is better to focus on being well equipped for all-weather basic horse riding and invest in items like competition wear like show jackets on an as-needed basis.
As most livery yards and riding schools provide saddles, tack, and even helmets, getting the right sort of clothing is a priority. This is because you will need to be warm and comfortable when you ride, able to balance and control the horse and have clothes that protect you from the continuous rubbing against the horse's body as it moves. Here are the key horse-riding items every hobbyist should have:
Riding hat or helmet is essential for all riders and should be properly fitted to the wearer to protect the head in the event of a fall. Many young riders start by using plain skull hats. Peaked hat silks and covers can be added for a pop of color.
Riding boots can be long or short and are a priority purchase as they will support your ankle in the stirrup when mounted and the small block heel prevents the foot from slipping through the stirrups. There are many excellent value versions available. Tall boots are great for protecting the legs and keeping clothes water and muck-free. 
Jodhpurs are classic riding breeches that provide the flexibility, comfort, and protection needed while riding. They are specifically designed to help you hold to the saddle and fold and bend in all the right places for a superior riding experience. If you do not yet have jodhpurs, some riding schools will recommend jeans, riding tights, or leggings. 
Jackets should be lightweight with perhaps a little padding to keep you warm if you go for an early morning or evening hack. Waterproofing protects against wind and rain. For equestrian flexibility is critical. Ensure that you have a full range of movement in your upper body and arms.
Fleece layers are a useful non-bulky option for keeping warm when riding or working around the stables.
Gloves are worn to protect the hands when holding the reins and can keep your hands warm in cooler weather.  Look for a quality pair of gloves which reinforce the hand against the effects of the reins and enhance your grip.
High-Viz vests may not be glamorous, but they are regarded as essential safety gear so that you and your horse can be seen by motorists if you are hacking near roads in poor visibility. 
Body protection is increasingly recognized as being beneficial to riders as it helps mitigate the effects of a fall. Many parents insist on their child wearing an air jacket as falls are a nearly inescapable part of riding horses and the protective padding will reduce impacts. 
Do I Need to Own a Horse or Pony for My Equestrian Hobby?
Thankfully owning your own horse does not need to preclude you from becoming an accomplished equestrian. For example, British Equestrian athlete Carl Hester went all the way to the Olympics on Utopia, a horse he did not own. 
Alternatives to owning a horse for your hobby include the purchase of lessons or hacks. Use of a horse in exchange for labor in a livery yard or participating in a horse-share scheme are other options if you are committed to this hobby. 
Horses and ponies are expensive and will vary in cost based on their age, breed and pedigree, temperament, and training. 
According to Horsemart, a healthy horse can cost anywhere between £500 and £40,000 ($670 to $54,000).
Horse and Hound magazine suggests that you should expect to pay between £2500 and £20,000 ($3355 to $26,841) for a healthy pony.
The costs of keeping your horse are likely to exceed the capital cost of the animal and are by far the biggest hurdle to horse ownership for many people. Owning a horse has ongoing expenses that include:
Rent for stables or livery – this is where your horse will live and receive day-to-day care if you cannot do it yourself on your property. Full livery, with your horse being exercised, mucked out and other essential duties will cost upwards of £150 ($200) per week.
If your horse has access to a field to eat grass you will save money, but stabled horses and those kept in during the winter months will need a supply of fresh hay. This will cost at least £10 ($13.5) per week.
Straw is also needed to keep your horse in clean fresh bedding. This costs between £10 and £20 ($13.50 to $20) weekly. 
Veterinary costs usually include insurance of £50 ($66.81) per year, with call-out costs of around £35 ($46.77) excluding costs of any treatment necessary. 
Along with tools and products for the daily care of your horse, farrier services, and potentially transport if you use the horse to compete, you can be faced with costs exceeding £10,000 ($13,000) annually, a considerable financial commitment. 
Learning More About Equestrianism
Even if you are not ready to head to a riding school for lessons, you can feed your horse hobby with books, videos, and trips to stables to learn more about them.
Children with a love of horses will benefit greatly from introductory books on equestrianism. These illustrated books usually provide a comprehensive guide to the different breeds of horses and how to ride and care for them. 
Visiting farms or stables to see horses and perhaps gain some hands-on experience with interacting with them is also useful. Doing the dirty jobs like mucking out stables is often rewarded with some riding time.
Going to horse shows, eventing competitions and races are also a joy to the hobby equestrian and will also feed your interest.
Equestrian Organizations to Contact and Join
International 
European
British
American
Horse whispering: last-minute key terms for the hobby equestrian
Bridle:  this is a buckled, strapped headgear that is worn by the horse that the reins are attached to so you can control the horse.
Canter: a pace of movement of the horse that is between a trot and a gallop. At least one hoof is on the ground at any time. 
Farrier: this is an equine professional who specializes in hoof care, including the trimming of hooves and fitting of horseshoes using blacksmith skills
Filly: a young female horse – usually under 4 or 5 years of age.
Green:  an inexperienced or untrained horse that may be difficult to ride.
Halter: headgear that is used to lead a horse. 
Hand:  a unit of measurement for horse height. One hand is equal to 4 inches (10.16 centimeters)
Mash: a tasty warm treat for horses that combines wheat bran or oats, apples, and carrots. 
Paddock: a fenced, grassed enclosure for horses, which is usually part of a riding school or equine facility.
Pony: a small horse that is less than 14.2 hands in height.
Stallion: a mature male horse that is over five years and uncastrated.
Tack: the equipment placed on a horse to ride it including saddle, bridle, bits, and reins.
Rounding Up
We hope that this guide to the hobby of equestrianism has motivated you to get out there and give it a try.
Thankfully, there are lots of opportunities to get up close to horses, even if you live in a city; most owners will be delighted to show and tell you about their horse.
With dedication and persistence, we're sure you will find a way to make equestrianism a thriving hobby and perhaps even a way of life.