If you are looking for something fulfilling to do with your hands, crocheting may be a good idea.
And no, it's not an older woman's hobby at all; there's a lot to be gained by taking up crocheting.
Read on to learn more about how you can take up the craft and get all the fantastic benefits of a crocheting hobby. 
What is Crocheting? 
Before we dive in, let's clear the air on what exactly crocheting entails, just in case you're not familiar with it.
Crocheting is a craft hobby where you use your hands to make different things like clothes, mats, pillows, and blankets.
By using a crochet hook, you can turn yarn into anything you want it to be. 
The technique involves knowing the right stitches and patterns to use to make your creations. 
Is Crocheting the same as Knitting?
While the basic concept might be the same, the two are very different. The techniques and tools used are not the same. 
Benefits of a Crocheting Hobby 
Here are some reasons why crocheting is a great hobby
You can do it anywhere
A crocheting hook is so small you can carry it with you wherever you go. You can crochet at home, on the bus, on your lunch break, or even at the beach.
It's a portable hobby; as such, it's perfect for people who don't have much downtime.
You can use it to fill up any gaps in your time without affecting the rest of your schedule.
What's more, you can do it in short spurts or for as long as you like. 
Caters to all ages
Crocheting is a perfect hobby for all age groups. You can learn to crochet at any age and carry on for as long as you can.
It's enjoyable and fulfilling, regardless of how old you are. 
You can introduce crocheting to your young kids to improve their fine motor skills. 
Great for the mind
Learning new stitches is a great way to keep your brain active.
What's more, trying to blend in the different stitches from memory boosts your memory.
It helps reduce memory loss and other related problems in old age. 
Fulfilling hobby
Imagine what it would feel like when you snuggle up and feel warm in your handmade blankets.
Awesome feeling, right? That's how you will feel when you start using your creations.
You can make custom-made scarves and jackets that are a reflection of your style.
What's more, you will get a wonderful sense of accomplishment from your handiwork.
Calming on the soul
Crocheting helps you to exercise a lot of patience.
Plus, doing the same stitch over and over again, allows your mind to stop overthinking and thus brings in some calm when you are feeling uneasy.
You can share your creations
Once you make your beautiful crochet pieces, you will have lots of gifts for your friends and family.
The best part is you get to custom make your gifts to be perfect for your friends. 
Moreover, you can share your pieces with the world (for a fee, of course). So, it can turn out to be a source of income. 
You will never get bored
There are so many different patterns you can practice. Play around with your creativity and try various stitches to create unique pieces.
Creative design
Crocheting is an excellent way to get creative. You can let your imagination roam as far as you can dare.
By experimenting with color and design, you get the most out of your creative genius.
Learning How to Crochet
To start your crocheting hobby, you will need to learn how to do it.
Whether you choose to take a class or self-teach is entirely up to you.
If you want to teach yourself at home, you can choose the following options:
Video tutorials
You can find videos on YouTube with detailed tutorials to follow.
Most videos will have a step-by-step process that will help you get the basics.
The good thing about video tutorials is that you can replay for as long as you like until you figure out how to get past a step.
You can also watch the same video over and over again until it sinks in. 
Online classes 
If you need a guided learning option, you can go for online classes. Here's a few places to get started.
Online classes give you the chance to learn from a tutor with a structured course curriculum, unlike watching random YouTube videos that, in most cases, can only teach one thing at a time.
With a course, you can follow a progressive learning order and master how to complete a craft.
Crochet books and patterns
If you are an adventurous go-getter, you can choose to read patterns and follow what's happening.
However, this is highly not recommended. You need to master the basics first before you start experimenting. 
Go to school
Going to a school or taking a physical class is another option you can take.
Learning in class helps you learn faster because you can have the teacher check your work and correct you.
The teacher will demonstrate exactly what you are supposed to do and help you hold the hook correctly. 
You can also interact with the other students to improve the learning process plus; it can get lonely if you are all on your own.
Search your area for crafting schools. Many of them will have crocheting lessons. It's also a good idea to find a crocheting guild near you.
They might have a class or point you in the direction of one. On top of that, guilds will have plenty of resources. 
There will also be lots of experienced crocheters, and most would be happy to help out a budding newbie. 
Learn from a crocheter
If you know someone who is into crocheting, you can ask them to teach you how to do it. It will cost you less than a class, and you might pick up more tips.
What You Will Need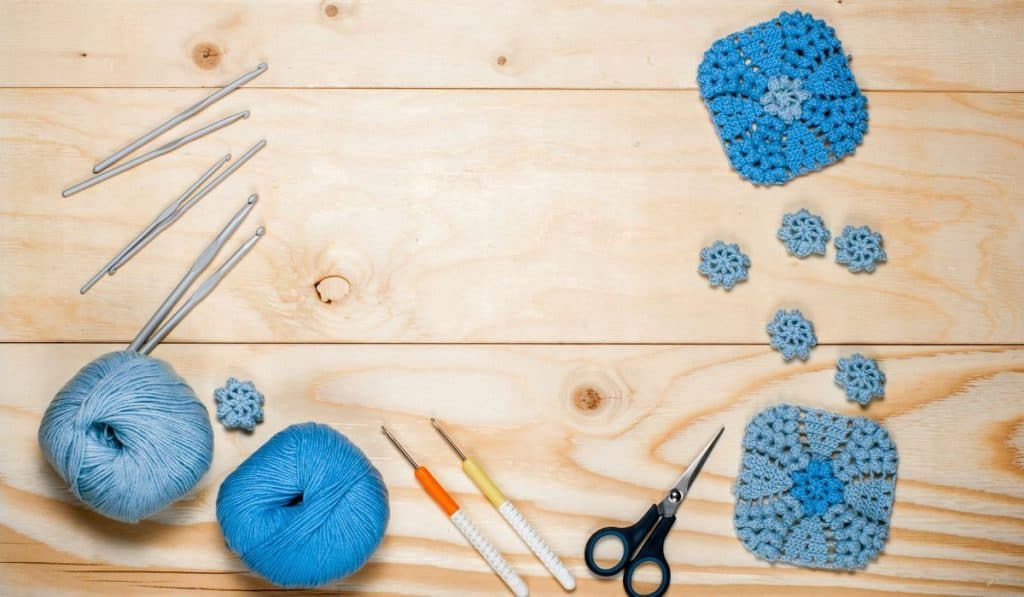 Crocheting is a relatively easy to start hobby. You won't need much to get started; just a few basic tools will do. Here's what you will require to get off to a good start.
Crotchet hooks
The crochet hook is the most basic tool you will need. It's a round bar with a pointy hook on one end.  
The hooks come in many assorted sizes. Each crochet hook size corresponds to a specific thickness of the yarn. 
You can get crochet hooks made from different materials. For example, you can find hooks in steel, aluminum, plastic, or bamboo.
The only difference between the crochets made from other materials is the crochet's feel in your hands.
It won't affect the yarn or the outcome of your design.
So, when choosing a crochet hook, you should be more concerned with the size than the material.
Some materials will be more expensive than others, so it's advisable to get a relatively cheap one as a beginner.
If you feel the need to get a more expensive one later, you can still do so. After all, a crocheter's arsenal is always full of hooks. 
When you buy crochet hooks for the first time, it's best to get a set with different needle sizes.
That way, you have a wider option of needles to use so you can experiment with unlike yarns. 
To get used to crocheting, it's a good idea to start with a moderately sized crochet hook – not too big and not too small either.
For example, a 5mm hook (size H8) will be a good starting point.
Once you get the hang of crocheting, you can try out smaller needles or larger ones to do bigger projects.  
It's best to avoid buying plastic crochet hooks. They won't last you as long since they are more prone to breaking. 
A steel or aluminum hook is a better investment. In the long run, it will be cheaper to buy a set of steel or aluminum hooks since you won't need to replace them. 
If purchasing a hook is not an option, or you prefer to DIY, you can make the hook yourself. 
Use readily available materials like wood or an old bamboo chopstick, or an old pencil or toothbrush to carve your crochet hook.
If you choose this option, you have to make sure you smooth it well to avoid yarn hooking on to the rough surface.
Yarn
There are many different fibers of yarn to use, depending on what you want to make. Each yarn will have a weight and texture different from the other. 
Choosing a yarn that's easy to work with, like wool, cotton, acrylic, is a good choice. 
You can also opt for crochet thread, though it's advisable to progress to this after your hands are deft enough with the needle. 
As an absolute beginner, working with wool yarn can help you learn faster. What's more, wool is easy to unravel when/if you make a mistake.
That way, you can use the same ball of yarn for practice and save yourself some money until you get the hang of the art.
Even if you decide it's not for you, you won't have wasted too much on it. 
Choosing a mid-weight yarn is the best option to start with. Why?
That's simply because you can manipulate it better with your mid-sized hook while learning the basic patterns.
If you choose a very thin yarn, it may be difficult to see what you are doing. Similarly, a very thick yarn will be harder to work with if you don't know what you are doing yet. 
A popular choice is number 4 worsted weight yarn. You don't need to get into the technical details of what this is; it's the same kind you use for knitting. 
Can I use the same yarn for weaving and knitting? Yes, by all means. There's not much difference in the types of yarn. So, you can opt for any knitting wool. 
Other odds and ends
You will need some other small tools like scissors, needles, and thread to perfect your designs.
This will help improve the finish of your designs. That way, they'll be more appealing to the eye. 
You can also buy some accessories like buttons or ribbons to make your crafts look more polished. 
To speed up your crocheting, purchase a crocheting ring. This goes on your index finger to help keep the threads even so you can work faster. 
When you are just starting, it helps to pace yourself when it comes to spending big on materials and accessories.
Choose a few cheaper materials to begin with; once you become a pro, you can start going for the more expensive yarns and accessories.
Is It Easy to Learn Crocheting?
Like anything new, you will have to put in some practice to get it right.
While it may be a bit overwhelming when you are just starting, it's not difficult at all.
Once you learn the stitches, you'll soon be able to produce many different patterns. 
It shouldn't take you too long to master. After you become proficient in some of the basic stitches and techniques, you will be able to create some crafts.
The basic techniques include:
Slip knot
Single, double, or triple crochet
Basic stitch
Granny square
Chain stitch
These give you the foundation you need. 
As with most other things, the only guarantee for success is practice. So, your best bet for learning faster is to put in the hours.
The best part is that crocheting is a fun activity, and you can carry your work with you wherever you are, so it shouldn't be too hard to practice. 
Where Can I Find Crocheting Supplies? 
Most online stores and guilds will have crocheting supplies in stock. You can buy all your supplies online. 
Buying a complete kit with a set of crochet hooks, needles, and yarn won't cost you too much.
It's a good starting point for a beginner – a once-off, purchase with all the tools you need. 
Can I Crochet Without a Crochet Hook?
If, for any reason, you don't have access to a hook, it's still okay. You can use nature's inbuilt crocheting tool— your finger.
Learning how to finger crochet is almost the same as regular crochet. You use the same techniques, and you can follow the same patterns.
The only difference is that you would need to use thicker yarn so your finger can get through easily. 
Tips for Getting Started
Start with simple projects
Don't look for jacket patterns just yet. Start with simple projects like scarves or place mats.
You can move on to the bigger things once you are up to speed with the crocheting techniques. 
Watch your tension
Crocheting too loose will make your work saggy, and it won't be nice. On the other hand, doing it too tight will make it look stretched.
You want your tension to be the right middle of the road pull. To get the proper tension going, don't pull the yarn too tight.
You also don't want to let it move loosely. So be careful to move your yarn consistently as you crochet. 
Use balls of yarn
When you buy your yarn, it's advisable to choose yarn balls rather than skeins (oval-shaped yarn) or hanks (ring-shaped yarn).
That's because there are fewer chances of getting your yarn tangled if it's in a ball. With a skein, it will start to lose shape when you start working and then get entangled. 
Therefore, to avoid any hassles- buy balls. 
Keep the cat away
We all know how much cats love balls of yarn. And they can playfully tangle your yarn or unravel your work quickly.
As a word of caution, when you want to work, keep the cat out of that room. 
An alternative if you have lots of cats, put your yarn in an empty box of wipes or tissues.
The box will cover your thread so that it isn't as attractive to the cats. Pull the wool out of the slot where the tissues come out.
Be comfortable with your craft
Crocheting, like any other art, is an eye of the beholder thing. Don't be restricted too much by patterns and stitches.
One of the reasons there are as many stitches as they are is that someone was not afraid to try something new.
So, go ahead and experiment with different ideas and styles. 
Join a community
Get a guild membership to find an online crocheting community to join. You'll learn so much more and meet lots of new people.
It will be easier for you to access to lots of resources, like patterns to work with. You can share in the fun of showing off your work. 
Tie your hair back 
Pulling your hair is no fun. That's why you should make sure it's tied back before you start on your crochet.
You wouldn't want to get it tangled up with the wool and crochet (ouch).
Don't throw away the scraps.
You are going to have lots of bits and pieces of yarn leftover. Don't throw them out.
You can use them to create some accessories for your work. Like pompoms, to decorate your scarves.
Keep your tools organized
Have a box or bag to store all your crocheting tools when you are done. This helps to avoid your yarn getting tangled or unrolling accidentally. 
---
Conclusion
And that's it, all you need to be familiar with starting your crocheting hobby. Now that you are in the know get your crocheting tool kit and get started. 
You'll soon be crocheting away, showing off your creations, and enjoying all the amazing benefits that crafting gives you.
---