There was a time when living in the wild, foraging for food, and starting a fire were the marks of the progress of an evolving species.
Humans have come from the basics of camping as survival to using camping as a stress reliever and getting back to nature.
Camping as a hobby is a low-cost fun idea that you can indulge in with your friends, your family, and by yourself.
It involves packing essentials, finding the best location, and setting up there.
You can camp as a complete activity or you can pair camping with other ventures.
For example, you can pair camping with cross-country motorcycling, backpacking, or on hunting trips.
You don't necessarily have to go to the deepest woods to explore camping as a hobby.
You can start small with backyard camping as you venture out. Let's check out why camping is a wholesome hobby for you.
What Is the Essence of Camping?
Camping offers you a getaway. It gives you the chance to get back to basics without most of life's little conveniences.
Camping as a hobby is an opportunity to bond with friends and family. It is also a chance to clear your head if you are doing it alone.
Camping might force you into isolation. And while the thought of it may be scary, it helps you dig deep into yourself to rediscover what's important as far as you're concerned.
Does Camping Have Benefits?
Camping as a hobby has many benefits both for your body and mind.
It can help you relax especially if most of your life is centered in an urban setting where you are mostly disconnected from nature.
These are some of the benefits you stand to get when you take up camping as a hobby.
Fresh air
Bhutan holds the distinction of being the only carbon negative country in the world.
What does this have to do with camping? Bhutan has some of the cleanest air on record.
This is because the country has dense forest cover.
Camping mostly happens in the woods. The trees provide clean fresh air that calms and soothes you.
For contrast, think about the air quality of cities such as New Delhi and Beijing where the condition of air is so bad that there are canned oxygen shops.
Waking up to fresh air is one of life's little joys.
Mental reset
We are glued to our devices and screens for most of the time. This harms our brain's dopamine centers.
The brain gets tired from the over-stimulation of the reward centers.
When you camp, you are likely not interacting with any screens.
Your brain begins to wean itself off dopamine dependency. Though you can camp for a few days, the reset helps you to think faster and clearer when you get back to daily life.
You may like it so much that you choose to spend less time looking at screens.
Re-connection
The modern lifestyle is convenient. However, it comes at a price. Most people have disassociated from nature.
Camping is a way to get back to basics. You see the beauty that is out of urban convenience.
The camping experience, whether you do it for a day or a week, has a way of making you appreciate nature.
Naturalists have found ways of making the most out of nature. They practice grounding, meditation in the wild, and sometimes water meditation.
Improving yourself physically
Unless your camping itinerary only involves sitting in a tent and coming out to cook in the wild and eat, camping is a great way to improve your fitness.
The wild has many activities you can do to get back in shape. Hiking and mountaineering is a favorite with campers.
Hiking does great things for your core, your endurance, and your lower body.
You can choose water sports such as rafting, canoeing, and swimming. You might have to walk from your campsite just to get firewood.
Better tasting food
Gourmet coffees, fast food, and cosmetic produce are the luxuries of an urban lifestyle.
However, when you pack for a camping trip, you only load the essentials. This means you get to cook outside.
Sure, you might have packed some canned food, but you don't have some of the luxuries you'd typically have at home.
You cook over firewood. Your coffee will taste different.
Taste is subjective. Still, every camper knows outdoor food tastes so much better.
Bonding
There is a reason why camping is such a favorite with friends. It renews bonds.
Being outside in the wild, telling stories over an open fire, and roasting your favorite snacks has a way of creating lasting memories.
These activities are also great for families.
Better sleep quality
You may not be in your cozy bed but with the right sleeping equipment, your camping experience might be one of the best nights you have had in a long time.
Sleeping in the open after an exhausting day of tough outdoor activities sounds like the perfect ending to a good day.
This is assuming you are sleeping in a safe area that is free from bugs.
Who Is Camping For?
Ideally, anyone can camp. However, sleeping in the wild is not everyone's cup of tea. It's an all-inclusive activity that you can do with family, friends, or alone.
Families
Camping can become a family thing. Plan out the family activity calendar to include a camping trip around the most favorable time of the year.
Summer is a great time to camp. The weather is great for most activities.
Spring is also fantastic since you get to experience nature blooming.
Camping as a family lets you do fun stuff such as fishing and nature trails. It is bound to bring you closer as a family.
It also opens up the chance to talk about family issues.
Couples
How about a weekend in the wild with your partner? It is great for personal bonding.
You get to know your partner and experience nature with them. You will both be away from your devices.
You can pay more attention to each other, which leads to creating intimate bonds.
You get to work as a team to create your ideal experience.
A successful camping trip for a couple is bound to be memorable to both parties.
You
Go camping by yourself. If you are looking for a break from the humdrum of office cubicles and city hassle, camping is a great reset button.
A lot of people who camp on their own get back to their normal life with a fresh mind and a revitalized body.
You might be lucky and bump into a set of other campers. It could be a chance to make some friends.
It can also open an opportunity to become part of a group of people with common interests.
A group of friends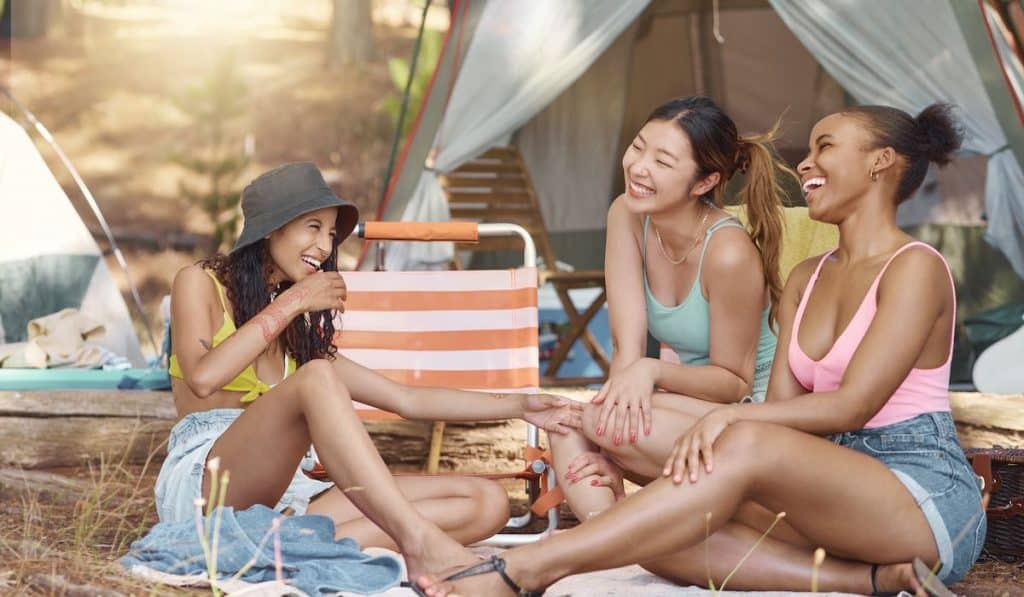 If you're starting camping as a hobby, make it a group activity.
Camping in a group lets you learn the basics of camping by watching other experienced campers.
Your group of friends can also include first-time campers only.
This way, you form a close circle of people with whom you share a common hobby.
Camping as a group of friends lets you explore nature more freely.
You can take on daring challenges when you know some people have your best interests at heart.
Group camping also leads to great memories.
Young adults
Away from the honor badges, camping is a great activity for young adults. Pre-teens gain life skills at camp.
There are seasonal camps that take groups with a common interest.
Math camp, band camp, or tech camp are all camping activities that blend camping and knowledge.
These activities go on to form a big part of those kids' memories.
They get skills in interpersonal relationships, working as a team, quick and critical thinking, and handling pressure.
Some of them emerge from camp with leadership qualities they use in the future.
What Do You Need as a Camper?
Camping as a hobby needs you to have quality camping gear. You can accumulate more specialized gear as it becomes more of a lifestyle.
However, get these basics as a starter.
Good quality tent
You need a comfortable place to rest after a day of outdoor activity.
A good tent needs to be big enough for 2 people if you are sleeping in it alone. This leaves you with some room for your gear.
Check for common things in a tent such as a mudroom, extra pockets inside the tent, fly roofs, and inner lining.
These are all inclusions that will make your tent more comfortable.
When buying a tent, always get a bigger one than the number indicated.
For example, if you have a 6-person group, get a tent that can accommodate 8 to 12 people.
A tent should also come with the tent set up equipment. A mallet, extra pegs, and a puller will help you set up fast.
Sleeping bag and sleeping pad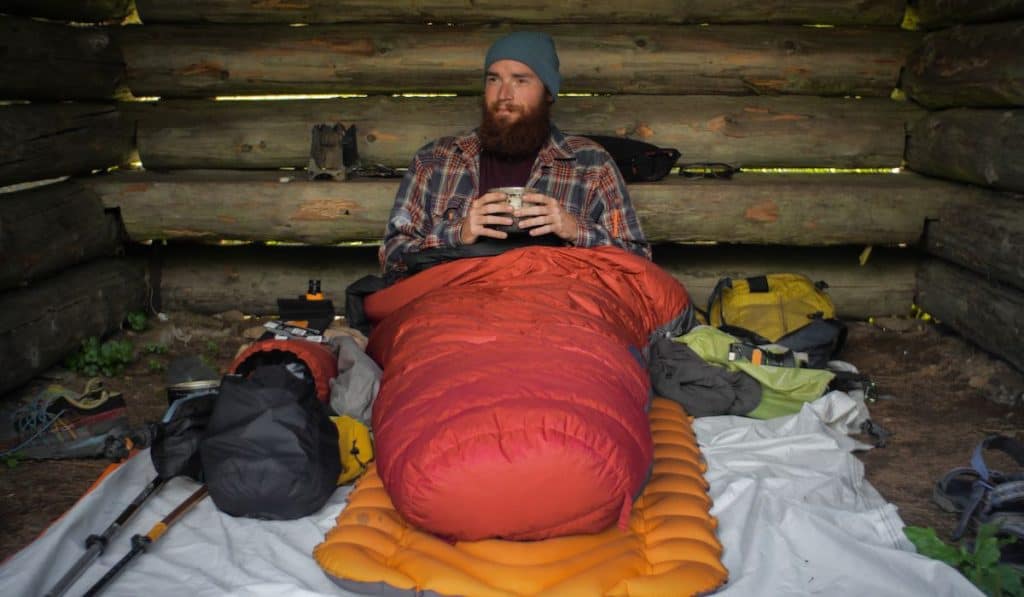 Assuming you're not the type of camper that wants to sleep in a hammock, you need to add a sleeping bag and a sleeping pad.
They complement each other. A sleeping pad makes the ground more comfortable while a sleeping bag keeps you warm.
When you shop for a sleeping bag, start light. As a hobbyist, you may not be camping a lot.
You might only be packing for a few days. Light sleeping bags reduce your luggage.
Check the insulation factor. If you camp around the colder months, thick sleeping bags with higher insulation will keep you warm.
The ideal rating starts at about 20 degrees. That is comfortable enough to help you sleep well.
Camping clothes and shoes
Camping is typically tied with other activities such as biking and hiking. Get camp-ready clothes and shoes.
You also need to have weatherproof socks especially if you camp around marshlands.
Choose camping clothes depending on when you camp.
If you plan on hiking, keep a pair of hiking boots and socks.
Navigation Equipment
You never know when you will need to retrace your steps in case you go off the correct path while hiking.
Your camping gear should include a compass, a map of the area, a GPS-locator, and flares.
These items might take a while to collect especially if you're only limiting your camping to nearby areas.
However, as your hobby develops into a lifestyle, you might need to consider adding some of the things to your list of essentials.
Outdoor cooking equipment
Cooking equipment is one of the most important purchases you can make for your hobby.
Get kettles, iron cast skillets, and pans. You can also have a grille if you have room for it.
Grilles come in handy when you don't want to cook over an open fire. You will also need fire starters in your cooking equipment.
Iron cooking equipment lasts longer. Make sure all the cooking equipment you get does not pose a fire hazard.
Emergency kit
Your emergency kit should have first aid equipment and other basics that don't necessarily cover you getting any ailment.
Get knives, lamps, bear spray, bug spray, and tent repair tape.
The kit needs to have tools that will help if you experience any inconvenience that will compromise your comfort or safety.
You need spare batteries, extra cables, and portable chargers.
Water purifiers
Never leave for a camping trip without your water purifier. These could be in the form of tablets.
You might source water from questionable places during your trip.
Water purifiers work fast to make sure all your water is safe for cooking and drinking.
You also need water filters and water containers. Water filters are great for making drinking water out of river water.
Containers save you trips to water sources if you've camped far from a source.
Do I Need Skills to Take Up Camping as a Hobby?
You need to have a few skills for you to have an easy time camping. Fortunately, these skills are easy to learn.
Fire starting
The ability to start a fire at camp comes in handy if you find yourself in a tough spot.
Always pack a fire-starting kit in your camping gear. Still, you can learn how to start a fire without fire starters.
This skill takes time and patience. You should know how to put out a fire and hide the signs of a fireplace to prevent animal attacks and accidental flares.
Locating and purifying water
Camping is full of surprises. You might have packed what you thought was enough water.
Running out of water is common during camping. Finding water is a key skill during such times.
However, there are a few hacks you can always trust. You should camp close to water bodies.
Upstream makes a great spot. If you run out of water in a dry place, learn how to spot birds.
Birds typically hover around water bodies to get food.
Always make sure you have water purifying bottles. They come with filters that will keep most dirt out of the water.
Still, your water purification tablets will come in handy once you get the dirt out of the water.
First Aid
Whether you are alone or at a camping party, you need to have first aid skills.
A camping party needs to have a few people with basic and intermediary first aid skills.
This includes CPR, treating cuts and burns, and how to respond to allergic reactions. These are some common mishaps that happen at camp.
You should also have basic knowledge of how to handle animal attacks such as snake bites and bee stings.
Geography
Learn how to use track marks to get back to camp if you wonder off.
Since you might also be hiking, it helps you have skills in finding the safest route.
This also comes into play during the planning stage where you look for ideal camping spots.
Packing
Packing is a top skill if you intend on making camping a frequent event.
You should know how to pack the basics such that they don't become a burden during the trip.
By extension, this skill depends on the kind of bags you buy.
Tent setup
This should be one of the first skills you pick up if you want to go into camping.
You can practice setting up a camping area in your backyard.
Bigger tents, especially, require several people to put up the tent. Buy a tent and set it up before going on your camping trip.
Take it down as well to see if you will have problems after.
Cooking
Learn how to brew a good cup of coffee. Overnight camping calls for an energy boost when you wake.
You have to know how to make nutritious meals out of simple ingredients. You also have to learn how to find food in the wild.
Fruits, especially, can be a lifesaver if you find yourself in a compromising situation.
Survival Skills
Camping is fun. However, it has its dangers. Take survival lessons once you start camping as a hobby.
Survival lessons include carving, rope making, hunting without modern equipment, and finding water.
Most survival skills are self-taught through years of practice. You can also apply for practical classes.
When Do You Learn About Camping?
Camping is a practical hobby. You gather more knowledge the more you camp.
Of course, there are places where you can get trained in the basics of camping.
 However, the best time to learn camping is any time you are on an adventure.
There are schools where you can learn about camping by being in the wild. Boy Scouts of America have such a school that covers all the bases on camping.
Tips to Kick Off Your Camping Hobby
Start light. Camping doesn't need to begin in the wild.
Backyard camping with family is a great way to build your skills and experience the essence of camping.
Whenever it is possible, have a locator. This is necessary whether you are camping alone or with a group. Or makes you easier to find.
Always plan. If possible, explore the area where you'd like to camp.
This way, you can anticipate most emergencies and figure out quick solutions.
Have medical assistance on speed dial. Most campsites have rangers.
Maintain a communication device in case you need professional assistance.
Find camping buddies. Camping groups are great for community building and skill sharing.
It will also help you to ease into camping as a hobby if you have a support system.
---
Conclusion
Camping is a great way to reconnect with yourself. Developing it from a hobby to a lifestyle takes time.
It opens you up to more environments. Create lasting memories with your friends and family. Stay safe, happy camper.
---