If you are a pizza addict, you will know that you can never have enough dough and toppings on hand. And with a bread maker, you can alleviate the hard work of mixing and kneading the dough needed for a round of slices!
Bread makers have proven themselves capable of preparing elastic stretchy dough that would be the envy of any Neapolitan pizzaiolo and they are increasingly sought out by pizza fanatics who want a quick and convenient way of keeping decent dough on tap.
If you are looking for the best bread maker for making pizza dough, this 7-point buying guide will help you select the right bread maker for the job.
This concise buying guide for the best bread maker for pizza dough should help you pinpoint a bread maker that will perform consistently and reliably in making pizza dough just the way you love it.
So while your pizza oven warms up, read our short article. Once you have familiarised yourself with these key buying tips, purchasing the best bread maker will be as easy as pizza!
---
Top 5 Recommended Pizza Dough Makers
Stainless Steel Dough Maker
Budget Option
Best Online Seller
Large capacity
Editors Pick
---
Our seven-point guide for buying a Pizza Dough Maker
7.Buying a bread maker with a specific pizza dough setting is a massive head start!
To get great pizza dough from your bread maker, you will need a machine with additional functionality, control, and pre-set programs that can treat your flour, yeast, water, salt, and olive oil with the TLC they need to become flavorsome pizza dough.
A high-quality bread maker will come with specialty modes like pizza dough settings that deliver the precision cycles of kneading and resting to bring the dough to perfection every time.
6.How long should I expect the pizza dough setting to take?
Depending on the results you want to achieve with your dough, The kneading cycle of a pizza setting can last anywhere between 10 and 40 minutes with repeated cycles of kneading and resting the dough. When the dough is ready to use it will be formed in an easy-to-handle ball.
5. Size counts if you want to make large amounts of pizza dough
If you are looking for a bread maker just for making pizza dough, buying a large machine makes sense. Firstly the smaller models only make enough dough for a 900g loaf at most, which means that your pizza night will be rather limited.
Buy going large you can create a large batch of dough (1.5 kilograms or more), that you can use immediately for plentiful pizza or freeze for use later. Large bread makers will take up space on your countertop.
Typical dimensions for a large bread maker are 30 cm by 40 cm by 35 cm in height. This type of bread maker holds a pan with a 1.5 to 2-liter capacity, which is great for making lots of dough.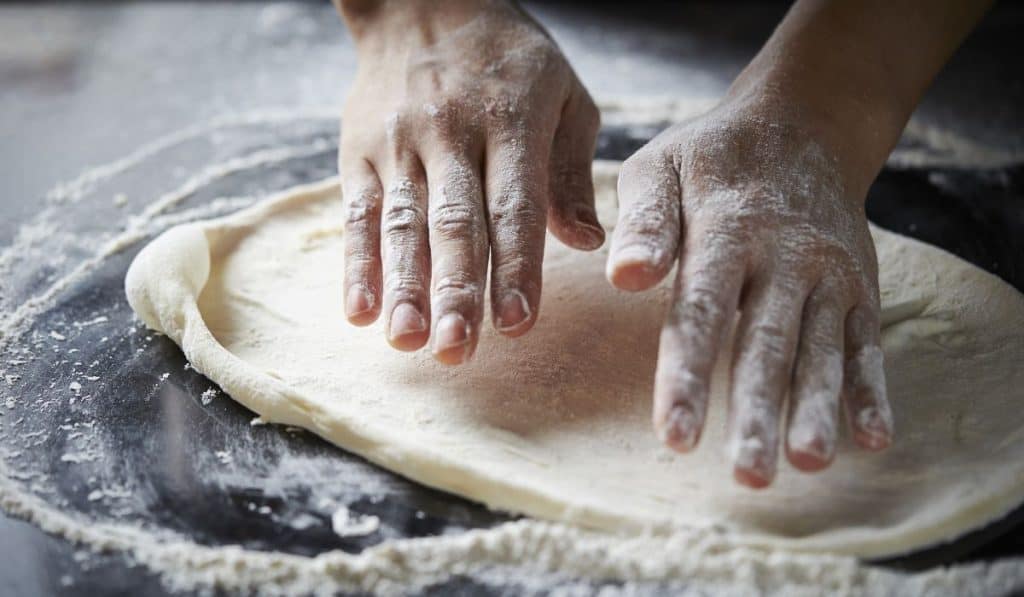 4.Delayed start timers are a must-have feature
The delayed start timer is a feature on most bread makers and allows you to add ingredients and set the machine to start at a specific time meaning you can wake up or come home to ready-made pizza dough.
Most timers work in 1-hour increments up to 12 to 13 hours. Some bread makers will also have an "add beep" function to alert you to your pizza dough being ready.
3.Look for viewing windows on your new bread machine.
Viewing windows are perfect for the impatient baker as you can monitor the progress of your dough. They are also useful if you have specific hacks or tweaks you need to make for your perfect pizza dough recipe as the program can be paused to allow the addition of further ingredients like olive oil.
2.How much does a bread maker for pizza dough cost?
A lot of the cost of a bread maker goes into its level of engineering and the range and quality of its pre-set programs. Starting prices for a decent standard size bread maker for pizza dough are in the range of $100 to $150.
Budget bread makers can come in at under $100 but often sacrifice a significant amount of functionality and performance for a competitive price. You should expect a manufacturer's warranty of at least 1 year to be included in the price.
1.Look for a bread machine that can make your pizza sauce too!
Did you know that quality bread makers also have a "jam" setting? This is a 1-hour 20-minute program that heats and purees fruit to make a delicious saucy jam.
If you want pizza sauce, simply swap your strawberries or plums for tomato, garlic, and oregano and enjoy a great hack that will definitely accelerate your pizza production.