If you are a younger person who wants to get into the hobby of Paintball, or you know somebody young who does, then it can be daunting to know which Paintball Gun you should be getting. It can be quite an investment for a younger person and so you don't want to get a product that isn't right for you.
Within this article, we will go over some of the best options out there for Paintball Guns for Juniors and some of the things you should take into consideration when shopping for a Paintball Gun.
Feel like learning more about Paintballing? Then why not have a look at our beginner's Paintball guide?
---
Top 5 Paintball Guns for Juniors
5. Most Popular
4. Fan Favorite
3. Editor's Choice
2. Budget Option
1. Must-have Option
---
Buyer's Guide: Paintball Guns for Juniors
What caliber is best for a Junior's Paintball Gun?
Finding the right caliber for Junior players is important, as you wouldn't want to put them off with a harsh first game with calibers that are too high for them to handle and might cause a little too much pain when hit with.
Generally, it's accepted that .50 Cal is the ideal round for Junior Paintball, and this is due to the fact that it is a low-impact round that won't hurt so much. At around 140 feet per second, this round will allow you to get the feel of paintball but without unnecessary pain or discomfort.
With the lower speeds, it will also make it easier to learn the basics and the flow of paintball as everything will be moving at a slower pace, giving junior players more time to get to know the intricacies of the hobby.
Of course, after a while of playing at this caliber, you may see fit to upgrade to a heavier caliber that will have a harsher impact and travel faster. This is totally up to the player's discretion and isn't necessary to enjoy the hobby, but can make for more exciting and tense games.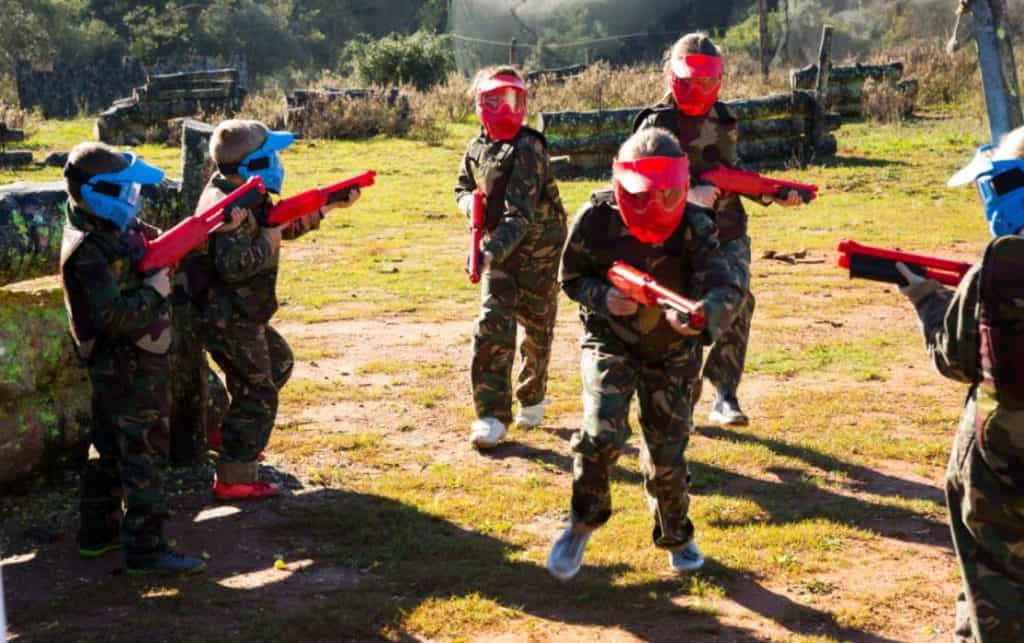 Which type of Paintball Gun is best for Juniors?
There are a few different kinds of Paintball guns and knowing which one to start with as a Junior can be a confusing thing to decipher. Well, we're here to tell you that we believe a pump-action paintball gun is the best place for a junior to start.
Pump-action shotguns will allow a junior paintballer to train in the fundamentals of patience, aim, and timing shots well. With a pump-action, you will have to make every shot count as you will not have quick follow-up shots to get the job done.
This kind of paintball gun is also usually cheaper and so therefore less of an investment for a junior player to make straight away.
Many of these guns will come with room for extra attachments such as optics, flashlights, and lasers to help with accuracy and visibility.
Of course, eventually, you may want to upgrade to a more substantial bit of kit that can hit harder and shoot faster and this can certainly be done, there are plenty of lightweight and ergonomic models of Paintball Guns that would suit a Junior, it is just a matter of learning the basics and getting used to taking hits.
Does the size of Paintball Gun matter?
The size of the paintball gun, and so indirectly the weight of it, can make a huge difference on the ergonomics and comfort of the paintball gun in the hands of a junior player.
Having a paintball gun that is too cumbersome and a pain to carry around all game can really sap a lot of the enjoyment out of the hobby for a junior player. This is why it is important to try and stay away from the larger and heavier paintball guns and instead stick to lighter and more nimble ones.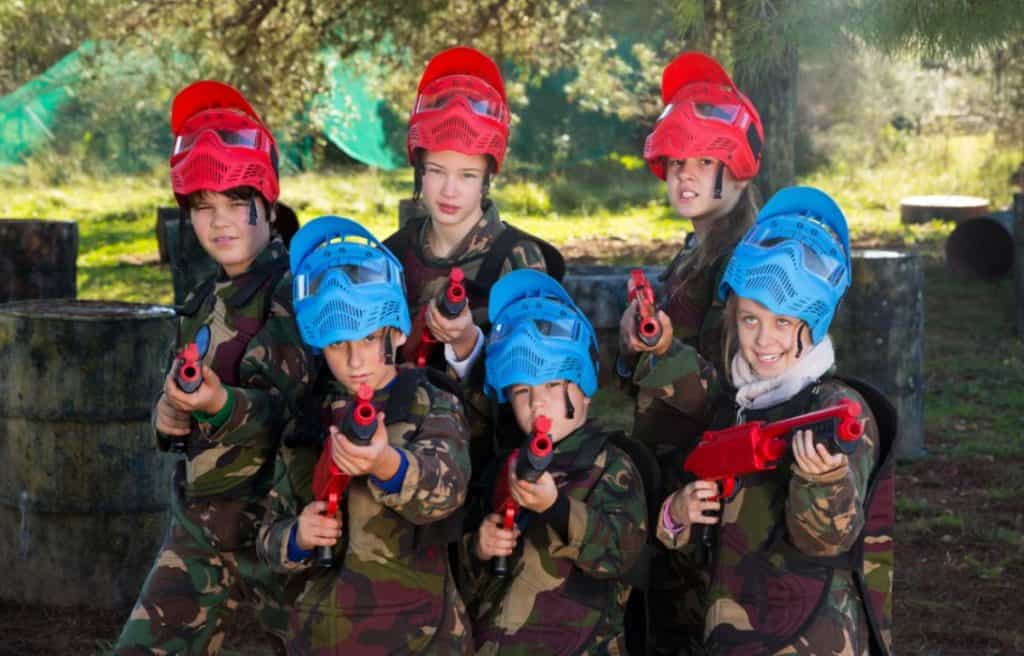 There are a wide variety of paintball guns that are well-sized or weighted for junior players, they will usually either be of a mostly polymer construction and come with a stock and grip like a full-sized paintball gun or will look something more like a pistol and be made of a mostly metal outer shell.
Either of these would do just fine and in the end, it is just personal preference as to whether you would prefer a shorter or longer paintball gun so consider which you would feel more comfortable with when trying to move around the paintball field and ready your gun to shoot at the enemy team.
Will a Junior Paintball Gun be compatible with hoppers?
Nearly all paintball guns for juniors will be compatible with hoppers and the ones that are not are usually mag-fed. If this is the case then these mags will come with the paintball gun and, if needed, more can be purchased from the manufacturer.
When it comes to hoppers, finding one that will fit may not be so easy until you learn a thing or two about the adapters that you might need to get them to function properly. Usually, manufacturers will make hoppers that are designed to be used with certain paintball guns, or at least made to a standard that a brand will adopt across most of its product line.
An example of this is that a hopper made for a Tippmann gun may not fit in a Spyder gun, at least not straight away. For some of these hoppers, you will need to purchase a universal adapter to make them useable with your current paintball gun.
Of course, you can just buy the hoppers that are made to work directly with your paintball gun but it is good to know that if the worst comes to worst and you cannot source one, that you will be able to use another kind of hopper so long as you have the appropriate adapter.
---
Final Thoughts
In conclusion, you should find that there is a wide array of different paintball guns for juniors that will allow them to have a great time paintballing in a slower-paced and less harsh game environment.
Hopefully, this article has been useful in showcasing you some great products and giving you some pointers on what to be on the lookout for when shopping for paintball guns for juniors.