Sewing can be a great creative outlet and an excellent way to create new things or recycle old ones to breathe new life into them.
You may have been sewing by hand and now, as you want to move onto larger projects, you will probably find that it would be much faster for you to make use of a sewing machine.
Embroidery is something you may have been doing by hand to give your sewing projects a creative flair and this too can be sped up by the use of the machine.
Within this article, we will go over some options for a sewing machine that can be used to embroider and some things to look out for when buying these machines.
If you would like the enhance your sewing knowledge even further, then why not visit our complete sewing guide?
---
Top 5 Sewing Machines for Embroidery
5. Editor's Choice
4. Fan Favorite
3. Heavy-Duty Option
2. Most Popular
1. All-Rounder
---
Buyers Guide
What price can I expect for a Sewing Machine?
For a decent sewing machine, you can expect the prices to be around the $300-$400 mark .
This of course depends on the feature set of any given machine, so a machine with more advanced features would be more expensive than a more barebones machine.
Features such as computerized sewing patterns, heavy-duty frames, LCD displays, and unique sewing patterns are all things that can influence the price of a product.
So, you have to ask yourself which features you need for your circumstance and if they are worth the asking price to you.
Embroidery Vs Sewing
What is Sewing?
Sewing is the joining together of two or more pieces of fabric to create something larger than its individual parts. You can make things like clothing, say shirts or dresses, or toys for children and it is a creative process.
Joining these pieces of fabric together and creating an end product is to give this product a function and allow it to be used as intended. This will then provide the material or product upon with you can embroider.
What is Embroidery?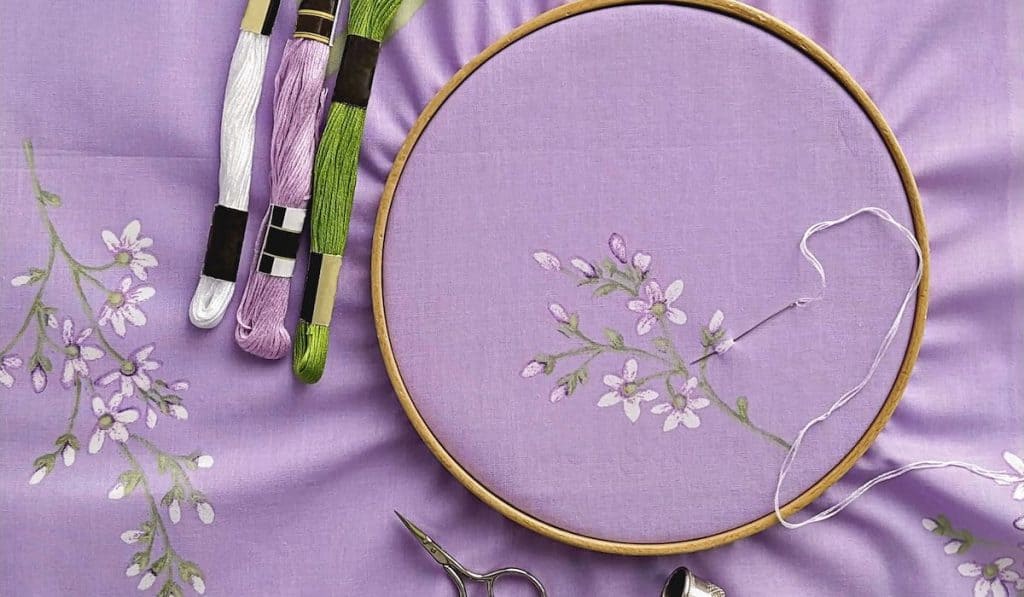 Embroidery is more about providing a sense of aesthetic value, rather than the functionality provided by sewing. So, you may use a shirt you have sewn together and then add some additional value and artistic flair by adding an embroidered design.
This will give you a further chance to express your artistic abilities and make the product of your sewing, even more, your own.
You can personalize your embroidery to as high a standard as you like, and the only limit is your canvas and imagination.
Can I do Embroidery on a Sewing Machine?
Yes, you can in fact do Embroidery on a Sewing Machine. You will need a few things to get started but embroidering on a sewing machine is not a particularly difficult thing to do and can be fun.
You will of course need a design to embroider on your material, so make sure you have made something you are happy to use.
Then you will need a stabilizer and you can then trace your design upon this to set out where you will need to stitch.
What Sewing Machines are Best for Stitching Thick Fabric?
When it comes to sewing on thick fabric, you will need to think about whether or not your machine is up to the task. After all, you do not want to sew a low-quality product if you can easily avoid it.
To make sure you get the best stitches possible when sewing on a project that uses thick fabrics, you should ensure that your machine is not too light as this would cause it to move around as you sew and disrupt your work.
Using a machine with a heavy base will make sure that you keep your lines steady as it will ensure that your machine doesn't judder around as you work on your sewing.
How Can I Stitch Thin or Light Fabrics Without Damaging Them?
Working with thin fabric, such as silk or satin, can be a difficult process and you can accidentally cause damage to the materials as you stitch them together.
Obviously, you will want to try and negate this as much as possible as it could potentially ruin your work.
To avoid causing any unnecessary damage, you will want to stitch these materials on a sewing machine on which you can adjust the foot pedal pressure.
Using a pressure that is too high can cause the feed dogs to mark the underside of the fabric and make it look untidy.
What is a Computerized Sewing Machine?
A computerized sewing machine differs from a regular sewing machine in that it comes as standard with additional software that can allow it to store many unique stitches and functions.
They will sometimes also have additional motors to allow the needle to move left and right so that it can carry out a design, that you input to the machine, automatically.
This can be a great way to save time and create amazing products even quicker than you could before. You can even use the software to create your own sequences, such as adding a monogram for adding to your work.
Do I need a Computerized Sewing Machine?
Having a computerized sewing machine can be a really useful tool and potentially speed up your sewing process. However, some like to take their time and really get into each individual part of the process to make it as unique as possible.
What you have to ask yourself is what do really enjoy about the sewing process. If you prefer the end result and would like the speed up the time it takes to achieve the said result, then you would likely want a computerized machine.
On the other hand, if you enjoy the time spent sewing and the end result is more of a bonus, then you will most likely enjoy a more manual sewing machine.