If you have ever considered getting into foraging then you may be wondering which tools and equipment will be important in making sure you can get the most out of your time.
Maybe you have already started foraging and are considering an upgrade to your existing pool of equipment. One of the best tools you can have for foraging is a good foraging basket for keeping all of your foraged items secure.
Within this article, we will go over some great options for foraging baskets and some of the things you may want to consider when looking at a basket to buy.
Want to expand your Foraging knowledge? Then you should think about having a look at our beginner's foraging guide!
---
Top 5 Foraging Baskets
5. Most Popular
4. Editor's Choice
3. Fan Favorite
2. Must-have Option
1. Budget Option
---
Buyer's Guide: Foraging Baskets
What is the average price of a Foraging Basket?
The price of a product will always be an important factor in your choice to purchase said product. In the case of foraging baskets, you can expect to pay anywhere from around $20 to around $50 depending on what you need from it.
The larger the basket, the higher the price will tend to be. Other things, like extra materials for straps or handles, the materials the basket is constructed from, and the process in which the basket is made will also tend to influence the pricing of the product.
You will have to consider which features are important to you and whether you wish to pay a little extra to accommodate them.
What are Foraging Baskets made from?
The materials used in the construction of any product are always worth your consideration. You will most likely want your product of choice to be made from durable and long-lasting materials, to get the most out of your money.
In the case of foraging baskets, they will typically be constructed using wicker, also known as a wooden weave, this has the benefit of providing a strong product as well as being better for the environment than a plastic basket would be.
Materials such as willow, bamboo, and reed are all used in making wicker products but for foraging baskets, you will most often find they are of willow construction.
How big are Foraging Baskets?
How long you forage for and what you are intending to pick up whilst doing so can be a large component in what size foraging basket you might need. If you are not out foraging for long it may be beneficial to get a smaller basket than if you were to spend a long time in the wilderness.
Foraging baskets come in many shapes and sizes and so you can really tailor your choice of the basket to the foraging experience you intend to have. The size, weight, and volume of the basket are all things that you can consider and an increase in any will reflect in the pricing of the product.
So when considering how large you want your basket to be, take into account how much you expect to forage and adjust your choice accordingly.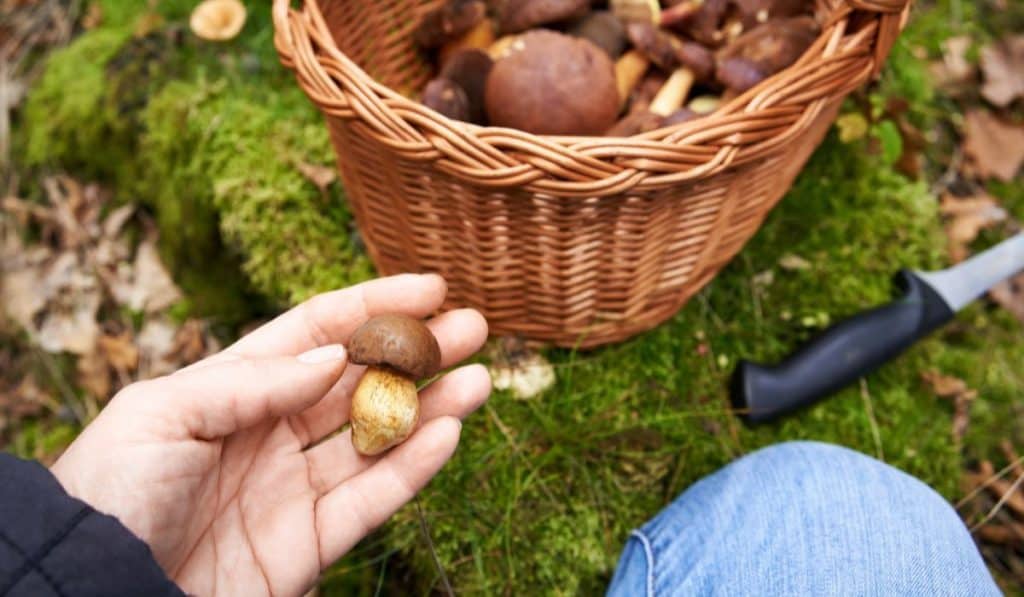 Should I get a Foraging Basket with a lining?
When browsing through potential foraging baskets to purchase, you may notice that some of these product will come with some kind of cloth lining. You may be wondering if there is any benefit to getting a product with this feature.
The main benefit of a feature like this is almost entirely aesthetic, in the case of foraging. If the way that your foraging equipment looks is particularly important to you then it could be a nice addition to have a foraging basket with a lining.
It may also prove useful in helping to dry out any damp foraged materials, although this won't have so much of an effect that is a necessity.
---
What are the benefits of using a Foraging Basket?
As you look for foraging equipment you may have noticed that there are multiple different types of containers that you could use for storing foraged goods, be it a bag, a pouch, or a basket.
You may be wondering what exactly the upsides are for choosing a foraging basket over one of the other options and if they may be enough to sway you to purchasing a basket over another choice.
We will go over a couple of these benefits in the paragraphs below, so that you can properly evaluate your choices.
Good for the Environment
Most of the foraging baskets that you will find will be made from more sustainable materials than bags or pouches made for foraging will be. This is because typically, foraging baskets are made from plant based products.
This also allows the product to be biodegradable and have a relatively low carbon footprint compared to some other materials, such as leather or plastic.
So if you would like to purchase a more environmentally friendly option, then a foraging basket should be a good choice for you.
Allows your foraged goods to air out
One other benefit that may not be available to you if you were to choose a foraging bag or pouch, is that with the baskets design that allows for air to circulate freely through the container.
This would mean that if you are commonly encountering damp conditions and would like for your foraged goods to dry out a little before you return home, then a foraging basket can allow this for you.
It may also help in allowing dirt to shake loose and clean your foraged goods a little for you, so that you have less work to do upon your return.
---
Final Thoughts
In conclusion, there are a great many options for foraging baskets that can help provide you with a better foraging experience.
Whether you are looking for a small and light basket for short amounts of time foraging, or a heavier and larger basket for those bigger hauls, there will be a product for you.
Hopefully, this article has been useful in showcasing you some interesting products and giving you some helpful information to consider when choosing yourself a foraging basket.