Have you ever thought about how an entire population can up and leave a city abandoned? If you're interested in travelling, you might have thought about visiting a ghost town to learn about its history. But where are the best ghost towns in America?
The top 10 ghost towns in America are scattered throughout the states. Whether you're from the east coast, west coast, north or south there is a ghost town for you to check out and experience some history from the town before it was abandoned. 
If you're looking to do a little bit of paranormal investigating in a ghost town, check out the complete beginner's guide to ghost hunting. 
What is a Ghost Town?
Before we go through each of the top 10 ghost towns in America, you might be wondering what a ghost town is?
A ghost town is a village, town, or city that was once thriving, and has been left abandoned by all of it's inhabitants.

This often happened during the 1800s and 1900s when these villages would pop up around a mine, or as a lonely stop along a long stretch of road. They were mostly abandoned when mines were emptied, new highways were built, or natural disasters meant everyone had to evacuate.

There are a few instances where there may be a couple inhabitants in a ghost town. This normally happens because a family refuses to move, they can't afford to move, or they believe they'll thrive in an empty city. 
If you want to find a full list of ghost towns so you can find one closest to you, check out this website. 
10. Thurmond, West Virginia
Thurmond, West Virginia was a coal town in the late 1800s. In its prime, this town produced more than 20% of the railroad company's revenue at $4.8million. 
The prohibition and Great Depression hit Thurmond pretty hard, but it was the invention of the diesel train that lead to the end of this town. With coal no longer needing to be mass produced, the coal mine shut down, shops closed, and inhabitants moved out.

Most people who come to Thurmond are only interested in rafting the New River Gorge National River. But while you're there, you should definitely take a moment to visit the old train station. It has been turned into a museum and visitor center for everyone who comes to visit. 
Check out Trip Advisors reviews of this town
9. Bodie, California
In the 1870s, Bodie, California was a booming gold mine town. 10,000 people followed Waterman S. Bodey to the town when he found traces of gold in the area, but as it turned out there wasn't much gold Bodie had to offer. 
Many residents left after learning that there was no gold available to make anyone rich. It wasn't until the 1930s when Bodie became a ghost town. There were two fires that caused residents to quickly evacuate the city. 
This has left Bodie in a state of "arrested decay". Stores are still stocked and diners still have dinners set up on tables for those who quickly left. 
If you're coming to check out Brodie, be sure not to steal anything! A curse is said to have been placed on the town, giving any thiefs incredible bad luck. 
8. Kennecott, Alaska
Kennecott, Alaska produced $200 million worth of copper ore in the early 1900s. There were 300 people employed in the mines, and 300 people employed in the town. They had a hospital, general store, a school, a tennis court, and a recreation hall. 
Kennott's success fell when the mine ran dry. It was also incredibly remote and difficult to access, so everyone moved to find different jobs. 
Now Kennecott is located in the middle of the largest national park in the U.S. You can find it at the end of a 60 mile road. Here you'll find the 14-story mill and the power plant. 
Visitors who have come for a guided tour have reported hearing voices of the miners. If you're looking to go ghost hunting in a ghost town, pack your equipment before you start the 60 mile trek. 
7. Centralia, Pennsylvania
Centralia, Pennsylvania was just a regular town until an accidental fire was started beneath the town. In 1962 a group of municipal employees started a trash fire in a cemetery. Unbeknownst to them, the fire accidentally spread underground to the old coal mines. 
This fire caused smoke and toxic fumes escaping from sink holes, but it wasn't until 1981 when the town was evacuated. The fire is still expected to burn for another 250 years, but there are still six residents in this town.
6. Rhyolite, Nevada
Rhyolite, Nevada emerged in 1905 with the promise of a huge gold mine. An investor spent a lot of money on the town, and by 1907 they had a hospital, an opera house, a church, and a stock exchange.
Only a couple short years after, Rhyolite was hit with a devastating financial crisis, and the San Francisco earthquake made all 10,000 people vacate their homes. 
Rhyolite was used for Old West films in the 1920s, but was never able to overcome its decline. The buildings there are now crumbling due to lack of upkeep. 
5. St. Elmo, Colorado
St. Elmo developed in the 1870s as a mining village and a railroad stop. With 2,000 residents, hotels, dance halls, schools, and a post office, it was definitely a thriving town. 
The closure of a railroad ended this little town in 1930, but you can still go see the buildings. You can shop for souvenirs and antiques in the old general store, rent four-wheelers to take on adventures, and stay a few nights in one of the old cabins. 
If you're heading this way, bring your ghost hunting equipment . The family who used to own the general store is said to haunt the store today. This store apparently has some of the most paranormal activity in the entire Colorado state!
4. Nevada City, Montana
Nevada City is another town that had a successful gold mine in the 1800s. With 30,000 residents and over $100 million in gold, it's no surprise that this town was doing well.  There were over 100 buildings developed before the mine ran dry. 
Now Nevada City is a living historical museum. Take a weekend in the summer to see what life was like in the 1800s. You can pan for gold, catch a few performances, and shop for some unique souvenirs. 
3. Glenrio, Texas/New Mexico
Glenrio was a small town sitting right on the border between Texas and New Mexico. It used to be a very busy road stop along Route 66 from the 1940s to the 1960s.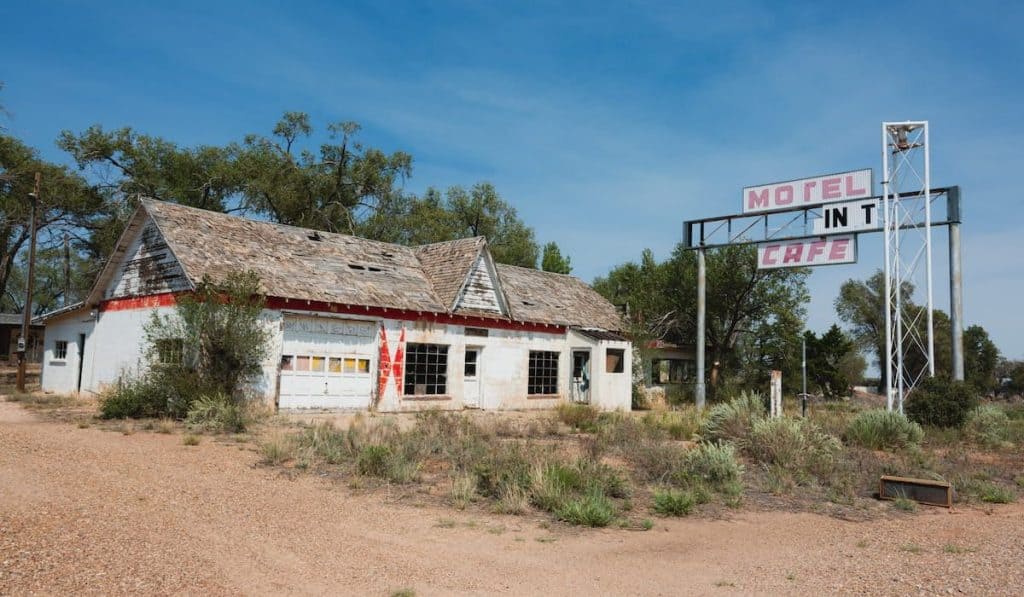 There were motels, gas stations, and restaurants for travellers to stop, unwind, and then continue their trips. It wasn't until the I-40 was built in the 1970s, and people started bypassing the overnight desert oasis, that stopped Glenrio from being successful. 
Now Glenrio leaves 17 abandoned buildings. You can still stop by to see some of the original buildings like the Little Juarez Diner, the State Line Bar, and the State Line Motel. Most of the other buildings have fallen into disrepair. 
2. Bulowville, Florida
Bulowville, Florida was a 2,200 acre plantation that was made in the area of a cleared forest in 1821. The plantation was to be used to grow cotton, indigo, rice, and sugar cane. It even had the area's largest sugar mill. 
Unfortunately, during the Second Seminole War, a fire was set to the plantation and the mill destroying everything. 
A small 150 acre area of the plantation has become a historic state park. You can visit to see the crumbling foundations of the old houses and slave cabins. Many people who go to see the ruins take more pictures of the way the oak trees have reclaimed the space after being cleared. 
1. Santa Claus, Arizona
Santa Claus, Arizona was an odd town. This desert town was developed to become a marketing gimmick to sell real estate in the desert, after all, who wouldn't want to see Santa throught the year?
Nina Talbot, who founded the town in 1937, put a Christmas theme everywhere. There were Christmas themed inns, restaurants, and signs. 
Unfortunately for Nina, the Christmas spirit wasn't enough to convince people to buy real estate in the desert. If you're in the area and want a detour, you can check out this ghost town. It isn't maintained, but you can see a couple graffitied Santa themed buildings, a derailed children's train, and and an old wishing well. 
Wrapping It Up
There are so many ghost towns all over America. Each one has a rich history that is just waiting to be explored – except maybe the constantly burning Centralia. 
If you're interested in learning how thousands of people can pack up, abandon their lives, and leave extremely successful towns, you should definitely check out these top 10 ghost towns throught America.