Are you looking for something new to do in California? Have you ever thought about learning about California's history by visiting ghost towns? Providing excellent day trips all over the state, ghost towns are perfect for families, couples, groups, or even solo adventure. But where can you find ghost towns in California? 
With almost 300 ghost towns in California, they are everywhere. Each one offers a unique experience for visitors, but we've chosen some of the best ghost towns to visit. 
If you want to try ghost hunting while visiting these ghost towns, but don't know how to get started, check out the complete beginner's guide.
Bodie
With a population of nearly 10,000 residents, Bodie was one of the largest mining towns in California. 
Miners followed Waterman S. Brodey to the area when he told tales of gold. Saloons, diners, a church, a schoolhouse, a hotel, and a library were all built in an attempt to keep the residents in the area. When no gold was turning up, many residents left.
It wasn't until the 1930s when two fires threatened the town that the remaining residents evacuated. This left Brodie in a state of arrested decay. Everything was left behind in a huge hurry, and there are still plates out on tables in the diners that were abandoned in the middle of a meal. 
You can visit Brodie but be warned; do not steal anything. Those who pocket even a rock to bring home are said to be cursed with bad luck. Some people think this was invented by the park rangers to deter people from stealing from the park so everything can remain preserved.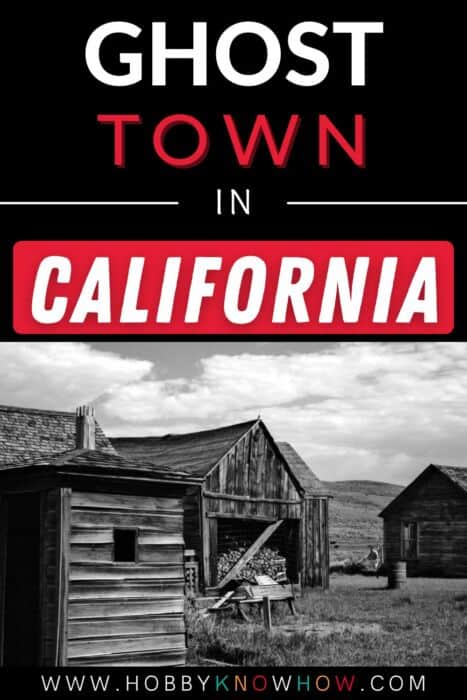 Allensworth
Allensworth was founded in 1908 by Colonel Allen Allensworth, a former slave. Allen wanted a place where African Americans could live without oppression and give them a place to thrive. 
The city became quite successful and had been featured in several national newspapers during the 20th century. 
Despite the town's success, the water supply started to dry up causing the residents to move out to find other work. From a population of over 200 to almost zero, Allensworth very quickly became a ghost town. 
You can still visit Allensworth today. It isn't quite the same as it once was because most of the buildings had to be torn down and rebuilt because there were trace amounts of arsenic found in the soil. You can book guided tours throughout the city and learn all about the former buildings. 
Calico
Calico is home to the biggest silver strike in California's history. Founded in 1881, it very quickly grew to 1,200 residents, 500 mines, a post office, three hotels, a newspaper, brothels, schools, and so much more. 
During its peak, Calico brought in $20 million in silver until 1896 when the price of silver plummeted. By 1904 Calico was left abandoned. 
Calico was purchased by Walter Knott in the 1950s and restored the entire city to its former glory. He then turned the abandoned ghost town into a theme park. Now you can tour the mines and learn how silver was extracted, explore the town, take an 8-minute train ride around the city, and even order a Starbucks drink in one of the old buildings. 
You can even take a paranormal tour of the city. Calico is said to be extremely haunted, so pack your ghost hunting equipment and check out the haunted mines. 
Amboy
Amboy was originally a railroad community but when Route 66 was built going through town, Amboy found its true purpose. The success of this town came when it became a rest stop for Route 66 travelers, providing a space to grab a bite to eat, take a few photos, and spend the night at the iconic Roy's Motel before they continued on their way. 
In the 1970s when highway building had been completed, Route 66 was made obsolete, and Amboy suffered. Ownership of this city was traded back and forth until 2005 when Albert Okura bought it. He has a soft spot for Americana and wanted to return Amboy to its former beauty. 
He reopened Roy's Motel, cleaned up the diners, and blasts music from the 50s and 60s throughout the town. 
North Bloomfield
North Bloomfield was a gold mine town that had almost 1,500 residents and more than 200 buildings. It wasn't always that successful though. When miners first arrived in the area, they were disappointed in how little gold they found, and named the area Humbug to express their disappointment. 
As they started exploring, they found more gold, and the population grew and grew. The name was changed to North Bloomfield in 1857. 
By the mid-1860s, the easily accessible gold had been depleted, and miners had to resort to hydraulic mining techniques to access more gold. This process was dangerous as it washed away entire mountains. 
It's no surprise that something so dangerous became illegal in 1883, which started the decline of North Bloomfield. 
If you want to visit North Bloomfield today, you can thank Malakoff Diggins State Park for preserving this town. Open from dawn till dusk during the summer, and on weekends in the off-season, you can visit to find out more about the history and explore the buildings. 
Cerro Gordo
If you have gone to Brodie, and you've been disappointed in how busy it is, you should check out Cerro Gordo instead. It is harder to get to and has fewer buildings, but because most people would rather visit Brodie, you can experience the emptiness of Cerro Gordo; the way a ghost town should feel. 
In 1865 silver, lead, and zinc were mined in Cerro Gordo, but the selling process was unlike any other successful town in the area. To sell the ore, it had to be loaded onto a mule-drawn wagon and hauled 275 miles to Los Angeles. This was a very expensive process, and only the highest-grade ores would turn a profit. 
Over the next 50 years, mines dried up, prices of silver fell, and the townspeople moved on to find their next opportunity. The people had moved out, but the ghosts stayed. Cerro Gordo was a violent place, being so far from larger cities it was easier for crimes to go unpunished. It's reported that there used to be a murder a week. 
Zzyzx
What an odd ghost town, and I'm not only talking about the name. 
Curtis Howe Springer bought the land in 1944 and decided to name this place Zzyzx so that it would be the last word in the dictionary. Now meaning "the last place on earth", Springer would capitalize on the last word to market his natural spring.
The land was originally purchased as a mine, but instead of using it as such, Curtis made camp along the natural spring's edge. He then bottled the spring water and sold it to travelers. 
As an evangelist, he would feature this water as part of his cleanse in his "health resort". But it was a spiritual cleanse in hopes of converting people to Christianity. 
Zzyzx now belongs to California State University and is home to the Desert Studies Center. If you'd like to visit, you'll be able to see the springs and a few abandoned buildings. 
Ballarat
In 1897, Ballarat was founded and for nearly ten years, it was a thriving town. Home to 500 residents, Ballarat was a place where miners could come to restock their supplies and relax before getting back to work. 
For a small town, they had seven saloons and three hotels, as well as a school, post office, jail, and a morgue, but there were no churches. 
Ballarat's decline started when a mine from the closest neighboring town closed. Soon after, most of the other mines were emptied and Ballarat was no longer needed. In 1917 the post office was closed, and the only thing left in Ballarat were spectacular views of the Panamint Range and the Argus Range. 
You can visit Ballarat now, but there isn't much left to it. The original buildings have started to crumble into ruins. There is however a store to purchase souvenirs and snacks. Ballarat is mostly used as a campground for people who want to explore the Panamints and Death Valley on their four-wheelers. 
Wrapping It Up
With so many ghost towns in California, you might be a little overwhelmed trying to choose which one to visit first. Packed full of history, you might want to visit them all eventually, as they each have something different to offer. 
The ones on this list are some of the most popular, most interesting, or the most well preserved. So, bring your family, your significant other, or just go by yourself and dive into your state's history. 
Wikipedia has a comprehensive list of Ghost Towns in California – why not use their list to make your own Ghost Hunting itinerary?