Deciding on a hobby involves a lot of work. A fun hobby doesn't require a lot of physical movement and there are many opportunities to learn something new: perhaps take a class, reading, video-gaming, journaling, crafting and cooking, to name a few. 
There are so many options out there for different hobbies that people in wheelchairs can try.
Being in a wheelchair cannot and should not stand in the way of you discovering new hobbies or learning new things.
There are many activities that you can try, be it out of doors with friends and family or solitary activities that you can enjoy on your own.
You can try out for group sports, you can learn to play an instrument, and you can cook, garden or read. You have the world at your fingers, as long as you're willing to be open to it.
Below is a list I've compiled of 7 fun hobbies for people in wheelchairs to try out and enjoy.
1. Fantasy League Sport
This is a great way to get in on the action in your own way. Fantasy League Football gives you the opportunity to create your own line-up, select your players and create your dream team, be it in football, basketball or hockey.
What is it about fantasy football that is really interesting? Is it the draft? Is it the trade? How does it work?
Every week, you watch your team of players play the sport and see how they do in those games. The scores on your fantasy team are based on their performance.
You compete with other people who have their own teams, and see who comes out on top. Fantasy League Sports are a fantastic hobby for you get involved in. Grab your friends and get started, because Fantasy League Sports are all-out fun.
2. Fishing
There's just something about the feel of the sun warming your face, of the gentle lapping of the water and the feel of a fish pulling at the bait that brings to mind an image of an ideal day.
Fishing is a great way to kick back and relax, and also a great hobby for you to try out if you love being outdoors without putting yourself through a ringer.
You will need a fishing license to fish in certain places, but that, and some basic equipment you can pick up at Walmart, is pretty much it. Oh, an d a water body preferably teeming with some nice trout or salmon.
3. Reading
Hold on just a minute. You've probably had people tell you to get into the habit of reading. But think about it. As an avid reader myself, I've realized that if there's somewhere I really want to go, someplace I really want to see, or someone amazing that I read about that I really want to become, all I have to do is look between the pages of a good book.
There's a whole different world out there for readers, so many characters that leave a mark on you, stories that make you laugh, cry and smile. 
Perhaps you could join a book club, either in person or through virtual platforms. Not only is it a great way to talk about genres and topics that you're interested in, it's a great way to meet new people who have similar interests.
Your local library will definitely be able to guide you, whether you're looking for a good book, or a book club to join.
Do you have a way with words? It might not hurt to consider writing your own book. Everyone has a story to tell, so maybe it's your turn to tell it.
4. Hippotherapy
Do you love horses and being outdoors? Over the last 30 years or so, research has proved the theory that horse riding is not just a hobby or a sport, but is also a proven form of physical therapy. 
The American Hippotherapy Association has explained how hippotherapy is a great way to get physical, occupational or speech therapy that utilizes equine movement.
Therapeutic riding involves assisted movement that contributes to cognitive, physical and emotional well-being of people with disabilities.
It can help improve posture, balance and sensory integration. Check out facilities like the Texas Tech Therapeutic Riding Centre and perhaps you will have found a new and beneficial hobby. 
5. Crochet and Knitting
I can recall many pleasurable hours that I've spent crocheting or knitting, a cup of hot coffee by my side and an audio book playing in the background. 
All you need is some yarn and a crochet hook or knitting-needles, whichever of the two you pick, and you're already half way there. There are a number of websites like Ravelry, or videos on YouTube and Pinterest that have beginner guides and instructions on how to start crocheting or knitting.
You can take your work with you anywhere you go, and you get a certain feeling of being productive when you're working on a crochet coaster or a dishtowel whenever you've got spare time.
You create something useful as well or perhaps something to gift a friend or a loved one. What can you crochet or knit? The list is endless: you can make blankets, coasters, mittens, socks, wraps, shawls and dishtowels for your kitchen to name a few. 
Crochet is inexpensive, as long you don't splurge like I do when you see all those beautiful skeins of soft and brightly coloured yarn.
It is a great mood-booster and the repetitive motions you use to crochet or knit has been proven to relax your body and mind until you're in a different place altogether.
6. Raised Gardening
If you love gardening then there are ways to modify your garden to make it easy to access. Soon, you'll be sinking your fingers into wet and fertile soil to plants all sorts of vegetable, herbs or flowers without worrying about mobility, or access getting to and tending your plants. What do you need to look out for?
You need to make sure you allow for a pathway that accommodates your wheelchair or walker. It should be level and wide and in good condition. Understand first that modifying your garden or making a raised garden from scratch involves a great amount of long-term effort and is not inexpensive.
You will need help from your loved ones, but once you're set, you'll get the hang of how to manage it in no time. Starting out with smaller plants is advised.
Remember when I suggested you read? Well, go to the library to pick up books on raised gardening, or download some material off the internet and do your research. These raised garden beds  are perfect for people in a wheelchair to reach and work on their own.
Checkout websites like Eartheasy, which explain in detail and offer assistance in setting up a raised garden for people in wheelchairs.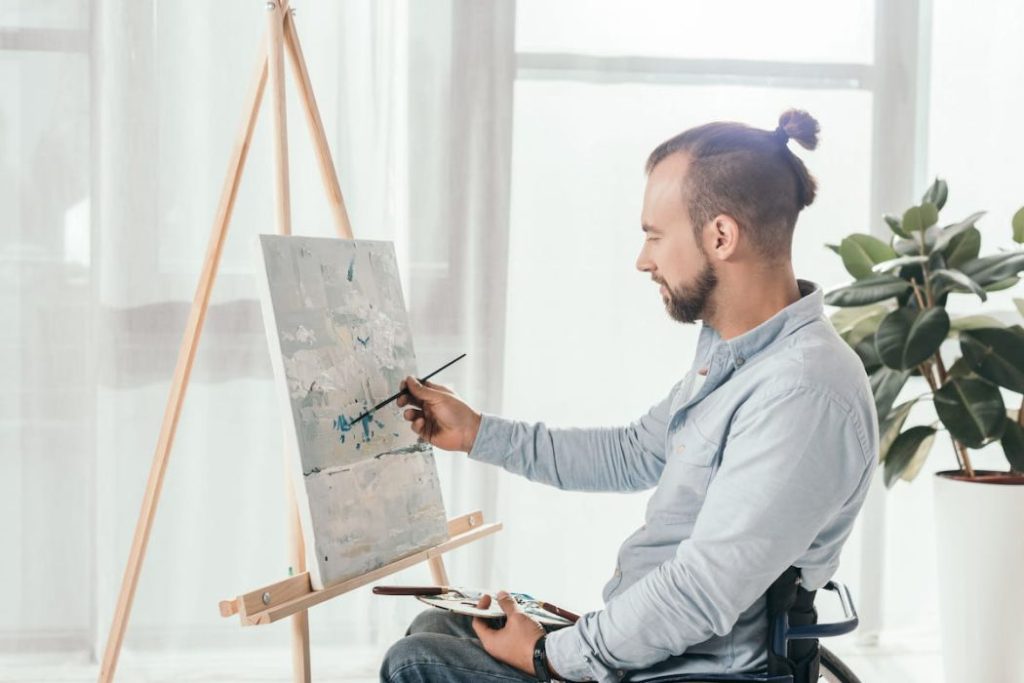 7. Wheelchair Painting
I saved the best for the last. I recently came upon this super fun activity when I was reading about different applications of painting. The process is simple, actually.
You tip the wheels of a wheelchair in washable paint and then roll across a canvas to create a design. This is a great way to discover the Jackson Pollock in you. Wheelchair painting is a great way of expressing your creative voice.
There are many expos across Canada and the United States that display wheelchair art. You can sign up with Agilities Expo and zoom your way across a canvas to paint something unique and fabulous like you!
Final Thoughts
There are always thing for you to learn, places to see, people to meet and new things to try. A new hobby or taking a class at your local university is a great way for you to get out there, yes.
But it's also okay to stay in with a good book and crochet yourself into a warm and cozy blanket. Being in a wheelchair should in no way stop you from living your life the way you want to, to the fullest.