Looking for hobbies for the partially sighted?
If you are partially sighted and are looking for hobbies and activities or searching for hobbies for a relative or friend with visual impairment you have come to the right place!
We have put our hobby heads together to curate a list of 11 engaging hobbies that can be enjoyed by partially sighted individuals.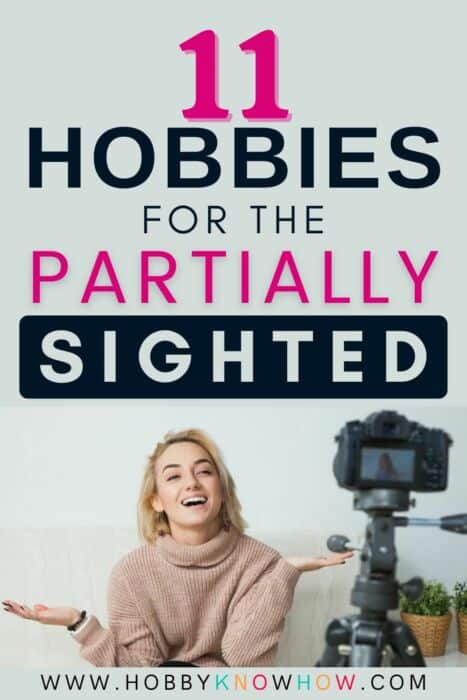 The causes and experiences of sight loss are diverse.
We don't expect this list of 11 hobbies to be a perfect fit for everyone. We understand that you may be:
dealing with sudden sight loss
coming to terms with a new diagnosis of vision loss
adjusting to progressive deterioration of sight
living with disabilities in addition to sight loss
a young person who is partially sighted
an older person who is visually impaired
If you have been through or going through a big adjustment with your vision, hobbies can help!
Hobbies are great for staying positive and motivated. Some may take time to master but once you see the level of expertise and productivity you can attain we are sure you will be delighted!
Better yet, our thinking is that some of these hobbies have the scope to become serious side-hustles and even generate a full-time income. 
Let's take a look at 11 great hobbies that the partially sighted can enjoy!
1. Blogging
Blogging is a really inclusive hobby that can also be monetized to generate good income.  
You can type your blogs if you are able or use a voice-to-text app on your computer or phone. 
You can publish and maintain your own website as a personal journal of your thoughts and experiences, or use your digital platform to create articles on a specific niche or topic.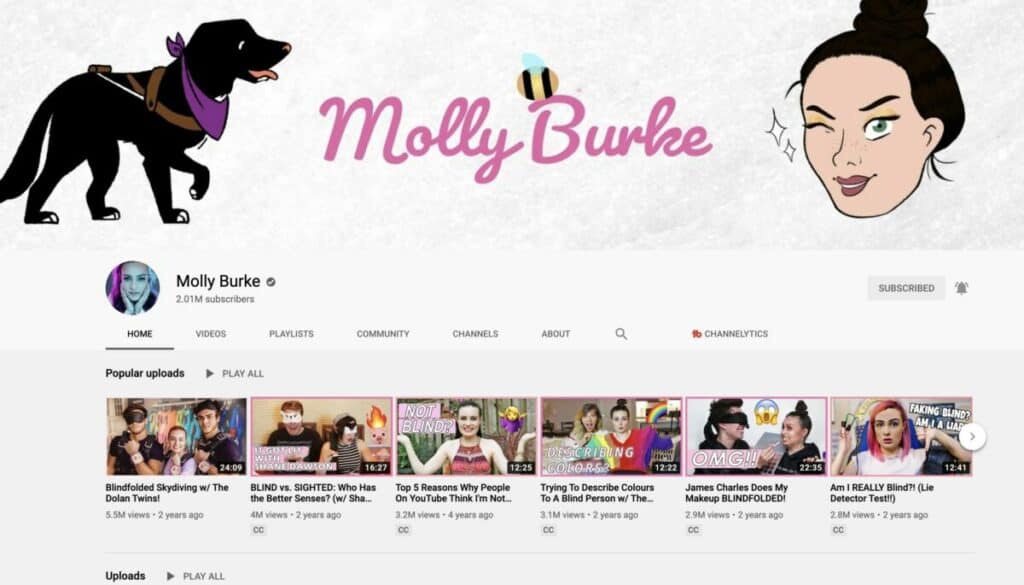 WordPress, a popular blogging platform has loads of adaptive features and accessibility plugins that support blind and visually impaired bloggers with building an impactful online presence. 
2. Sculpture
If you have an artistic leaning you can work with a variety of materials to create beautiful pieces of art.
Tactile hobbies like sculpture take the pressure off your eyes because you use your sense of touch.  
You could work with clay pottery-style, whittle wood, or perhaps create stacked items like legally-blind granite sculptor Chris Brown:
3. Podcasting 
Much like blogging, you can learn to create outstanding audio content to publish on platforms like iTunes and Spotify. 
4. Cooking
Cooking is a feast for all five senses, so it is no surprise that many visually impaired people are adept at cooking.
Experienced cooks who are partially sighted know that organization is key to staying safe when cooking. 
There are so many adaptive cooking gadgets, like nesting cups, silicone potholders, or the PenFriend voice-labeling system  to help you create a range of cuisines.  
Take a look at Texan Cole Johnson who hunt, butchers, and cooks his own meat despite suffering from Ring Scotoma:
5.Perfumery
We experience the world in so many different ways and the appreciation and study of fragrance will really hone your olfactory abilities. You can take courses that include sample fragrances, absolutes, aroma-chemicals, and essential oils. 
Your fragrance hobby can be anything from curating a collection of classic fragrances to curating and formulating perfumes of your own composition. 
Read our guide to making your own perfume here.
6.Gardening
Planting a garden is a really satisfying pastime that will get you plenty of sunlight and fresh air. It's a great hobby as it relaxes you and you can work on your garden at your own pace. 
Knowing how to grow your own fruit and vegetables is a great skill and you may find that you are productive enough to share produce with neighbors. 
Blind and partially sighted gardeners have loads of tips, tricks, and hacks for making a success of a garden. In particular, the arrangement of your garden space can make it easier to get to where you need to and monitor the condition of your plants. Raised beds and containers are often used by partially sighted hobby gardeners to stay organized. 
US organization Vision Aware has great advice on gardening with vision loss.
7. Leather tooling
Leather tooling or leather carving is the practice of creating three-dimensional patterns, shapes, and textures on leather using cutting and embossing instruments. It is a great table-top hobby that you can work on at your leisure. 
This traditional craft used well-tanned full-grain leather to create intricately patterned items like belts, book covers key fobs, or bookmarks.  
Leatherworking is quite cost-effective, with the main ongoing expense being leather remnants to work with.
The hand tools used are small and easy to handle and controlled meaning that with practice they can be used safely.   
8.Learning languages
Learning languages is a wonderful accomplishment and can open doors to travel, and interaction with different cultures. 
Even if you are going to struggle with the writing side, there is no reason that you cannot achieve proficiency or even fluency in languages as diverse as Russian, Japanese, and Arabic.
There are so many audio-based language courses that provide efficient learning and assistance with authentic pronunciation. In addition, you can enjoy e-books, radio, and film in the language of your choice to really immerse yourself in the learning experience. 
If your newfound linguistic skills become a real passion, you may want to pursue advanced learning and potentially a career as an interpreter or translator. Studies have demonstrated that blind and visually impaired people have enhanced performance in certain tasks associated with these professions. 
9.Dance
Being able to move your body freely is great for self-expression and there is no reason why vision loss should prevent you from developing aptitude in any of the leading dance disciplines. 
For example, Delaware professional ballet dancer Jamie Meyer of the First State Ballet Theatre has a condition called Stargardt disease, which means she is unable to see her reflection.
Crispin Gell a teen from the UK is gaining prominence as a blind street dancer!
Ballroom dancing is also a great choice as you will be dancing with a partner who can support you with the movements and of course if you have good rhythm and muscle memory you will soon find your feet!
10.Weaving / Loom bands
Weaving is a great handicraft to master and makes a great hobby for people of all ages and abilities. 
You can work with all sorts of materials, from yarn, to shredded fabric, straw or plastic. 
Start with a basic loom and create small wall hangings then build up in size and complexity of your weaving projects to potentially include the weaving of fabrics.
Create popular designs that you can gift or sell, or for children, loom bands are a great introduction to yarn crafts, making the popular textured bracelets! 
11.Oil Painting 
Art is definitely for everyone and working with oil on canvas may be the perfect hobby for a visually impaired person who had been painting when they had normal sight.
Because of the viscosity and texture of oil paints, you may find them earlier to work with. 
Oil on canvas paintings are typically built up in layers meaning you can return to your artwork again and again until you get the desired result. 
You can create landmarks and touch points in the painting so you can orient yourself as you paint.
Remember, your specific circumstances will determine the best hobby for you.
When you find a pastime you love you want to do it all the time. However, it's worth checking in with your ophthalmologist to make sure that any vision you have is protected and you don't become stressed or fatigued.
Don't set limits on what you can do!
Like the Two Blind Brothers on YouTube always encourage, there is almost always an adaptation or workaround to enable you to get involved with activities you enjoy. Here is their take on how they occupy themselves with hobbies in their downtime:
Enjoy your new hobby we're sure you'll find that a lot is achievable with patience and perseverance!