If you enjoy fashion art and creativity and are looking for a pastime that keeps your hands not only busy but looking great, nail art may prove to be a very addictive hobby!
These days, nail art is going from strength to strength in mainstream culture, with colorful, bejeweled, and sometimes outrageous nail designs being sported by celebrities, athletes, and contemporary music stars all over the world.
Having a hobby nail bar can be not only a creative outlet but a lucrative one too, as so many people are on the lookout for someone who can deliver a top-notch manicure.
Do you want to become a fully qualified Nail Technician from home? Check out this affordable online course.
Equip yourself with the right skills and techniques and we are sure that friends and family members will want to stop by and avail themselves of your fabulous nail extensions.
In this article, we will take a look at the interesting world of nail art and how it can make a fantastic hobby that has 'legs'.
We will show you how to get up and running with the essential kit required for achieving beautiful results with acrylic nails and curate some of the best resources online for holding down the basic techniques and developing your signature flair that will turn heads for all the right reasons.
Plus, keep reading to the very end and we will include some epic nail extension fails that we are sure you will learn to avoid!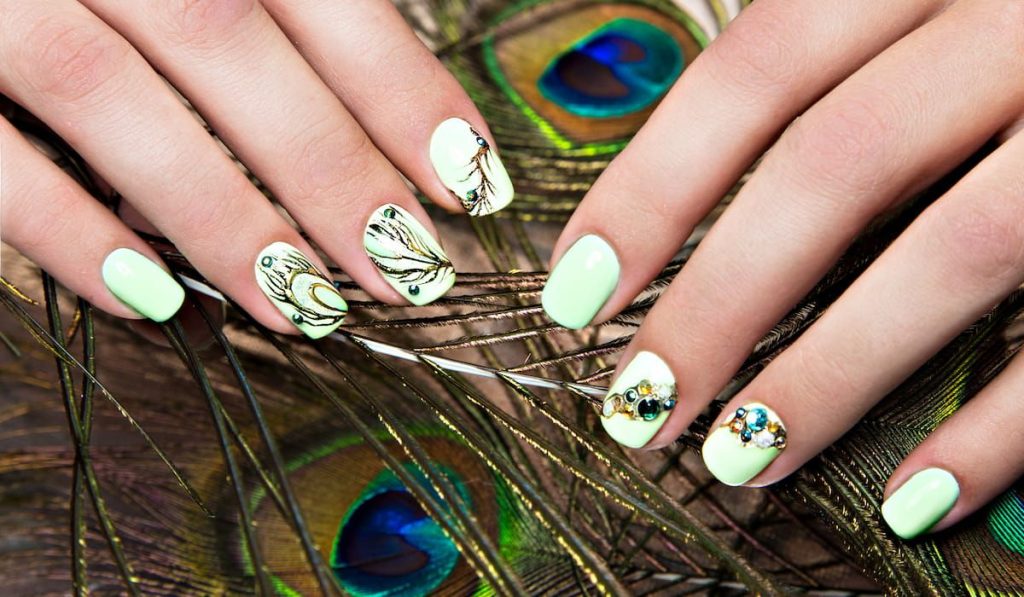 What is a Nail Art Hobby?
A nail art hobby is an amateur practice of decoratively enhancing fingernails and toenails.
This creative pastime builds on manicures and pedicures, the traditional cosmetic treatments for the hands and feet, by adding colorful adornments and embellishments to natural nails or nail extensions.
The History of Nail Art
Like many things we do today, nail art can be traced back thousands of years to ancient civilizations like those of Egypt and Babylon. Nails were often pared and cleaned with hands and fingertips being decorated with the rich henna dyes that we still see used today by many cultural groups.
Interestingly, China's dynasties were cutting-edge nail artists of their time, with the ancient Chinese being credited with inventing the first nail polish, made from gum arabic and beeswax.
They also would produce heavily armored and gilded nail protectors that would adorn the fingertips and dip their nails in gold dust! For some Chinese aristocrats, nails would be grown so long that servants were needed to complete all their daily tasks to protect their fingernails from breaking.
Thai classical dancers are also famed to this day for their long metal finger claw nails used in the classical Fon lep dance.
Adornment of the hands and fingernails has always been associated with wealth, status, and celebration of marriage and other special occasions.
These themes have carried over to the present day with nail art having initially been the preserve of the rich and famous but for many people becoming a part of everyday life and personal expression.
Contemporary nail salons developed as a broadening of the services of hair and beauty salons and spas (which often offer beauty treatments such as manicures and pedicures).
Since the 1980s, nail design has grown explosively in the US in recent decades, with nail bars now being a familiar sight in urban thoroughfares across the globe.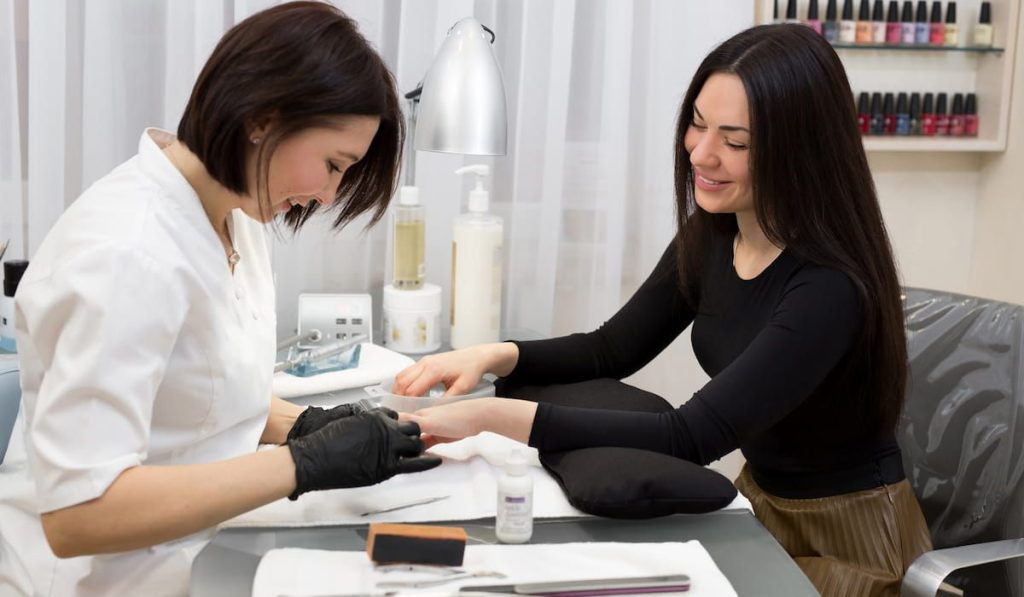 Start getting paid to do makeup! Get your certificate now with this online course! 80% OFF!
What Does Nail Art Involve?
Nail art builds on the basics of completing a good mani or pedi. Similar tools and products are used and if natural nails are properly groomed and prepared before undertaking nail art design, the results will be better and longer lasting.
Mastering a good manicure will involve giving the hands some good TLC. Think of this step as creating a blank canvas for your nail art experimentations.
Cleaning them, soaking them in a hand and nail soak to soften the skin and exfoliation to remove dead skin.
Then both amateurs and experts will turn their attentions to the nails themselves by pushing and clipping cuticles and any hangnails and shaping the nails for a clean and smart presentation.
Nail art can upgrade basic fingernails in several ways:
Nail extensions can be applied to the natural nail to add length. These synthetic nails are made from a variety of materials including acrylic glass, gel, plastic, or fiberglass. By adding length and strengthening the existing nail you are enlarging your canvas for creating your winning design.
Acrylics combine powdered and liquid chemicals that are combined to build up a resilient layer on a natural nail bed of nail extension. It sets to a hard finish that can then be shaped by filing.
Gel nails work on a similar basic, combining the powder with chemical solvents for a robust finish when cured under UV light.
Nail wraps, thin materials like silk, linen, and synthetic mesh can be layered onto natural nails to reinforce or extend the length of the nail for a more resilient or decorative finish.
Nail polish or nail varnish includes a range of liquid preparations that are painted onto the nail and dry to a smooth and usually glossy finish. They come in every color and shade, as well as nourishing basecoats and clear topcoats that protect the colored varnish layers beneath from chipping.
Embellishments Really Raise the Temperature of Nail Art Designs!
This is a continually evolving area of nail design and spans everything from nail art pens to:
Glitter – an absolute must if sparkle is your thing. Getting glitter right on nails involves choosing holographic glitter, jelly glitter, fine glitter, or chunky glitter with larger pieces. Glitter can be applied in gel polish or individual pieces or sequins can be added as you wish.
Crystals and gemstones – nail rhinestones and crystals are one of the hottest nail trends today, and as a hobbyist, you can learn how to apply Swarovski crystals and other sparkly stones to your custom nail art designs.
Piercings and studs – you can extend a nail art design by adding jewelry pendants via holes made in the synthetic nail extension by a nail piercing drill.
Acrylic gel moldings – enable you to take your nail art into the third dimension with flowers, bows, waves, and other textured designs created with special molding gels.
Stamps – stamping nail art is great for producing very precise, detailed designs on nails. This innovative technique involves creating or buying beautiful and artistic designs which then are transferred to the nail using a special device called a clear jelly nail stamper.
Decals – are an alternate method of transferring intricate detail to your fingertips. You can readily amass and curate a collection of beautiful salon-quality nail stickers or water sliders that sit on the nail and remain bold and opaque against other nail colors.
Beads – if you love hundreds and thousands of colorful and iridescent beads and pearls, you will enjoy hours of fun creating new designs by applying bright and bold beads to your nails.
Foils – can be used for an easily mastered technique that produces professional-looking finishes for nails. Gold- or silver-plated nails with a rich burnished effect are achieved by using a special nail foil which is applied via a transfer to your nails and finished off with some hardwearing clear gel.
Water marbling – will keep you entertained for hours as you master creating these truly psychedelic patterns by dropping colored varnish into clear water and creating a design on the floating varnish using free-dragging or free-dropping techniques. The floating pattern is then carefully transferred to a prepped nail and the excess polish removed!
As you can see a nail art hobby has almost unlimited scope!
If amateur nail artistry is your thing, we think you will thrive on the experimentation that this hobby really affords. You can master so many different nail art techniques and combine them for new and innovative looks.
If you are an avid hoarder, we mean "collector", you will find yourself filling boxes and organizers with trinkets, beads, and decals that you will definitely put to good use in a range of nail design projects.
There is really something for every ability and level of interest, from the hobbyist who wants a smart weekly understated set of nails to aficionados of weird and wacky talons with out-of-this-world embellishments!
Starting Your Own Hobby Nail Bar has Some Outstanding Benefits!
Nail art makes a great hobby, and if you and your friends are particular about your nails you will find yourselves using these new skills again and again. Here are some great reasons to get started with hobby nail extensions:
Hobby nail art is a great creative outlet.
Now folks are switched on to what really can be achieved with nail extensions, it has definitely expanded into an art form of its own. Once you have 'nailed' the techniques involved you have a limitless number of designs you can create.
You may want to create classic, natural, or nude designs or perhaps push the limits with ornate embellishments and themed or coordinated looks. It's all up to you!
If you always have to have your nails looking 'together' we are sure you will save hundreds of dollars every year with your nail art hobby.
In fact, one of the most common reasons for people getting into nail art is the expense of the regular visits to a nail bar that are needed to keep false nails well maintained.
In the States, a full set of acrylic nails will cost upwards of $35, excluding the detailing and embellishments that will make these manicures stand out.
Service and tips do add up too, so if you have the time and patience to learn to take care of your own hands, or at least keep them up to 'scratch' you will find investing in a top-quality nail bar will definitely yield great returns on your investment.
With a nail art hobby, you may find yourself making some dollars with a new side hustle!
When you start to sport your glam nail art designs around your local neighborhood, we are sure people will start to ask who is doing your nails.
If your hands are getting attention for all the right reasons you may find yourself doing the nails of paying clientele here and there to earn some cash and stretch your skills. Who knows in time you could become the next Mei Kawajiri!
You'll never be stumped for a Mother's Day present again!
And not just mom. Friends and relatives will enjoy being pampered while you take good care of their cuticles and keep their hands looking their best. If you have spent time in a nail bar you will know that sitting across from someone for a couple of hours is great for a good catch up and sharing a laugh.
Nail art is as much about socializing and community as it is about style and creativity. This is definitely a hobby to be shared.
If you are an Insta or YouTube fan you can share your designs and tutorials with nail art fans across the globe!
Nail art is tearing up Instagram and TikTok because people are always on the lookout for a new hot look!
Get your stripes by following tutorials from world-class nail artists like Jenny Bui and perhaps, share some of your own with other amateurs.
If you already enjoy nail art, you may have already been following nail artists and celebrities who rock beautiful nails and the great thing about sharing online is that there should be a stylish nail art design for every taste.
How to Learn the Skills You Will Need for Your Nail Art Hobby
So… You're set to make nail art your new hobby. But where to start?
Jumping in at the deep end with powders, solvents, and glitter could be the makings of a hot mess, so it is well worth doing a bit of research into how you can get some basic training in nail art.
Remember, techniques, tools, and materials used for nail art and nail extensions vary so you may have to focus on a particular type of nail art at first.
Thankfully, you have a lot of options for getting at least some basic nail art skills down-pat. From there you can practice and experiment to extend your expertise.
Here are your options for a nail art course:
Hang out at your local nail bar
If you are already a regular at your local salon, it is well worth paying just that little bit more attention to what your technician gets up to while they work on your hands.
Observe and ask questions, with follow-up research online at home so you have some basic understanding of the techniques that are used and perhaps the pros and cons of using them.
Complete tutorials of increasing difficulty
You may already be a fan of the nail art eye-candy on Instagram and other social media. One of the great things about the big-time nail artists is that they are not afraid to share their flair.
You can pick up ideas and skills bit by bit by following step by step tutorials from the best of the best online. Here are some of the best nail art tutorials available on YouTube:
Complete an online course
The world wide web is awash with cost-effective comprehensive courses that will teach you the fundamentals of professional nail art at your own convenience.
Beauty schools and online learning platforms like USA Open Academy are your first stops to become a nail art superstar.  There are many free nail art courses and premium home tutorial-based courses that can equip you for under $20!
We advise that you study the nail art course syllabi properly to ensure that the skills you will be learning are the ones you want to master.
Try a night school class at your local college
If you have ever dreamed of attending Beauty School, you now can go for it with an evening class in nail art at your local college. Community colleges are usually well equipped for teaching these practical techniques and your tools and consumables may be included in the cost of the course.
It may come at a premium, but you will benefit from having someone correct your technique in person, as well as meeting others who share your interest.
A Handy List of Equipment Needed for the Hobby Nail Artist
The list of equipment you will require for your nail design hobby depends on the type and level of nail art you want to do.
Here we have assembled a list of the kind of tools and gear you should be looking for if you want to achieve a salon-quality finish to your nails.
You may be wondering "is a nail art hobby expensive?" Nail art does not have to be pricey and as we mentioned above, over time you certainly will save on the costs of visiting a professional.
Our advice is to start small but always purchase good-quality materials and tools so that you will achieve impressive results every time. Why not start with a basic nail art kit and build out your collection from there.
One great thing about nail art is the beads, crystals, and varnishes can be collected over time and we are sure you will enjoy looking for interesting additions to your collection. Also, it is worth keeping a journal or scrapbook to keep ideas or photos of your completed nail art projects.
Here is our take on key items to assemble as part of your nail art collection:
A lamp when colors, textures, and tone make all the difference to how a nail art design turns out, it is vital to have good lighting while you work. A flexible LED lamp  that can be readily angled, will deliver light to where you need it for great attention to detail.
Drying lamps separate the professionals from the amateurs and can make all the difference to a nail design that has multiple sequential steps. If you are working with gels you will need LED UV light to cure (harden) the nails, look for a drying lamp  that delivers UV light and a reliable fan.
Nail files and buffers are staples of the nail trade and you will need them on hand to be able to shape, shine, and prepare your nails properly for your artwork.  Buy good-quality durable ones as buffers tend to wear out quickly if the quality is poor. 
A nail drill is a workhorse for both amateur and professional nail artists. Invest in a high-quality nail drill  that you can use to shape, clean, and backfill your nails precisely with a range of ceramic or metal nail drill bits and consumables.
Acrylic powder/monomer liquid These are used in combination to form the material that is the basis for winning nail extensions and moldings. If you intend to work with an acrylic nail system, you are likely to find that this will be your key consumable.
Acrylic brushes come in a range of shapes and sizes and can be used for the application of acrylic powder to the natural nail.
A quality base coat and topcoat are your go-to staples for providing a good finish to your work. Drugstore aisle nail polishes may not have the level of performance that you will need from these products – look for reputable brands like OPI Professional  which have high durability and are also easy to work with.
Nail polish remover is also essential for your hobby nail studio. Acetone-based nail polish remover can be used to remove acrylic nails by soaking your nails in the liquid. Dip Q-tips in it to tidy up edges and smears as you go too.
Isopropyl Alcohol may be needed if you prefer to work with a gel nail system.
Nail polishes of every shade and texture can be collected over time, though you must store and use them properly to get the very best performance from your collection. Professional love brands like OPI, Sally Hansen, and NAILS.INC and you will too as they use the latest technologies and formulations for a chip-resistant finish. When you are not using your polishes, they are best stored away from sunlight in a cool environment.
Manicuring tools like emery boards, a strong nail clipper, pleated cotton, Q-tips, cuticle nippers, and orangewood sticks will help perfect your nail creations!
Storage for nail polish and embellishments will be needed as you begin to amass all of your equipment. Keep everything smart, organized, and accessible with shelving systems for your nail polish and storage containers for your beads, pearls, gems, and other nail art embellishments.
A manicure nail table will provide an ergonomic space where you can work on your nails or those of others. Expect to spend upwards of $100 for the right desk, but it will make all the difference in being able to complete your nail art projects comfortably.
Is a Nail Art Set Worth It?
If you want to get up and running with your new hobby quickly, a nail art set  could prove cost-effective. Most sets will include a nail drill, polishes, files, varnishes, and embellishments at a minimum.
However, though you will be enjoying the value, depending on your price point, there may be compromises in the quality of some of the varnishes or tools.
The range of colors and embellishments that come with the kit may be limited too. You can always start with a nail art kit and start to replace components with pro or favored products and tools!
Perhaps you will want to retreat to a fully equipped garden studio as your very own nail spa
If you find yourself becoming popular for your nail art creativity, have a fledgling side hustle going on, or frankly, your nail gear is getting everywhere in the house, you may want to consider building a backyard workspace or garden studio where you can work on your nail art projects to your heart's content! A beautiful She Shed can be fitted and kitted out as your very own nail spa, much like the garden studio this very generous UK father built for his daughter.
Some Key Health and Safety Points for Undertaking Hobby Nail Art
It's important to stay safe as you undertake your nail art projects. Common sense is key, but it pays to keep in mind and minimize potential hazards that could become problematic for you or others:
Ventilation is a must – dust and fumes from solvents and polishes are an unavoidable part of working on nail design. You must take care to work in a well-ventilated area and clean up any specks of dust or spills once you have finished your session. A nail dust collector  can also be used to keep dust levels right down.
Keep your nail art gear out of reach of children – the bright colors, beads, and tools you use in your hobby will prove irresistible to little hands so they mustn't get the opportunity to access nail art equipment or chemicals.
Clean and sanitize your tools after every use – because you are using these tools on your skin, you should clean them properly after every use. Hygiene is important to prevent skin infections or allergies from developing on your hands or the hands of people you work on.
Be careful with cutting cuticles – overzealous cuticle cutting or ripping can introduce bacteria into this protective area of the nail. Always use very clean clippers for this job.
Take care of your posture – if you are working on your nails or those of a friend or relative, you want to ensure that you have a well-lit level surface ideally with integrated support for your hands and wrists. The best solution is a nail manicure table and chair  which can also keep your equipment at hand in a storage cabinet.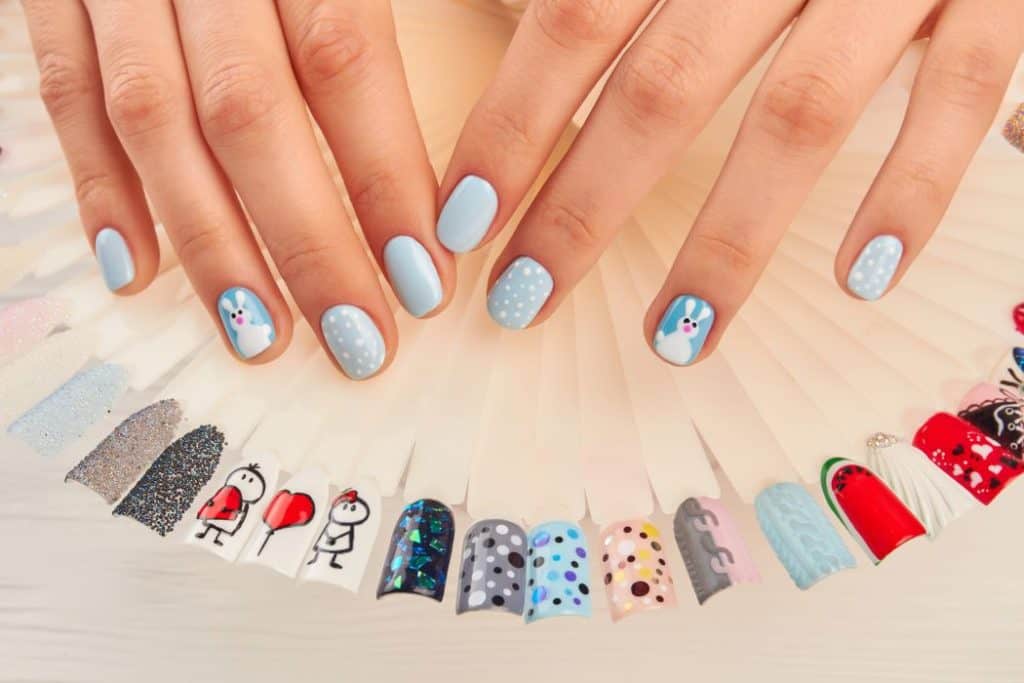 Inspiration and Ideas to Keep You Creative in Your Nail Art Hobby
As a creative hobbyist, you will want to keep yourself motivated and up to date by following the leading nail artists and studying the fashions and trends as they come and go.
Your nail art creations could take inspiration from nature (dried flowers, leaves), jewelry, or popular art and culture. To help you on your way we have included some of the best YouTube and Instagram accounts to follow as hobby nail artists.
3 of the best nail artist Instagram accounts
@mpnails: Madelin Poole: a great choice if you love block color and a precision finish to nails.
@nailsbymei: your muse for nail art that throws everything at your fingertips and more!
@aliciatnails: Alicia Torello is very editorial/high fashion, definitely one for your like list.
3 YouTube channels for nail art fanatics
CutePolish fun and easy to follow nail art design ideas and tutorials.
Paulina's Passions lots of smart tutorials and technical tips and techniques
Simply Nailogical Is the Nutty Professor or Dr. Spock of YouTube nail art. Drop by for great tutorials, and product reviews.
---
Rounding Up
We are sure that you are hyped and ready to take the plunge into the exciting world of nail art. We love that nail art is such a simple but effective creative outlet and can make both you and others feel great.
When the opportunity arises why not share your manicuring hobby with seniors, patients, or the disabled who may not have the opportunity to be pampered and appreciated in this way. 
Enjoy making the world that little bit more beautiful one fingernail at a time!
---