If you are looking for a simple, wholesome hobby that all the family can enjoy, Frisbee golf, more properly termed disc golf may be the perfect reason to get up and off of that couch! 
Its popularity will certainly surprise you, with over 40 countries having keen participants and the numbers getting involved growing rapidly around the world.
It's easy to see why this flying disc-based game would catch on as it boasts all the thrill of frisbees with the layout and rules of golf – what an awesome match!
Get good at this frisbee-based sport and you could turn Pro: The Professional Disc Golf Association (PDGA) has over 50,000 members and an annual Masters Cup where you can take home thousands in prize money!  Just make sure that you don't call these guys frisbee throwers, disc golfers is the correct term.
So next time dad is going to get the irons out for a few relaxing hours on the green you can swap that putter for a frisbee and get involved too! No more sitting in the buggy playing Pokemon Go! – with disc golf, you have every opportunity of nailing a hole in one.
Read on for all you need to know to go from zero to hero at frisbee golf. Our concise guide covers what's great about disc golf, the rules and gear you need, and lots of helpful pointers for more information on how you can get playing locally.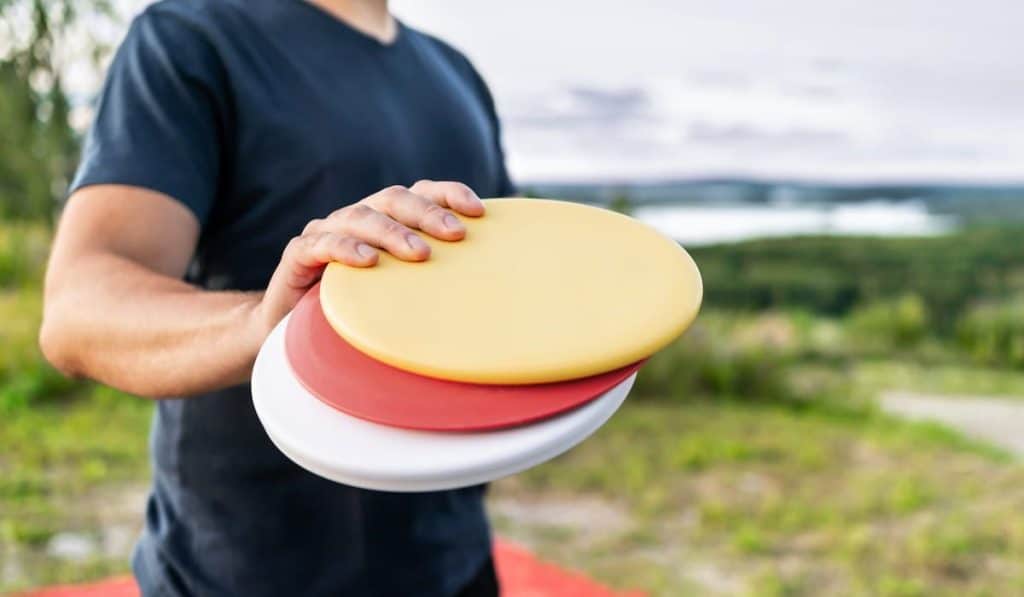 What is Disc Golf?
Disc golf is a sport played along similar lines as conventional golf but using a disc from a tee area towards a target, rather than hitting a ball towards a hole.
This flying disc sport is played on a 9 or 18 'hole' course, with players seeking to complete their hole in as few throws of their disc as possible. The discs are thrown towards the target and if they miss, the player will try again from the point where the disc landed, just like regular golf.
Disc golfers also have par values and handicaps, and birdies, eagles, and albatrosses are all part of the game. So, in summary, disc golf is pretty much a game of golf played with discs!
Disc Dolf Does Not Use Your Regular Frisbee!
The discs used in disc golf are not those thin, cheap dollar-store frisbees. They are heavier and calibrated for speed and precision. Like a set of golf clubs, a game of disc golf uses specific discs for diverse types of throws. We will take a closer look at them further on.
Who Came Up with the Idea to Play Golf with Frisbees?
We have the Canadians to thank for the invention of disc golf. In the late 1920s, a group of Saskatchewan school kids came up with Tin Lid Golf, which involved throwing tin lids onto large circles they had drawn on the ground.
After this youthful endeavor disbanded nothing more was heard of this new game until the 1960s where several unrelated groups started frisbee golf tournaments, using trash cans, water fountains, and other neighborhood landmarks to form courses.
Ed Headrick, a US toy inventor, is widely credited with creating the version of disc golf that is played widely today. He invented the flying saucer frisbee and in the late 1970s devised and trademarked what is now known as Disc Golf, also inventing the distinctive catch-basket that functions as a hole.
He also founded the Disc Golf Association which served to create the rules and standards for the game. This commercial endeavor eventually gave rise to the PGDA and the establishment of more than 7000 disc golf courses worldwide.
In recent decades, increasing numbers of newbies are taking up the sport. Disc golfers are known for their passion and expertise and local clubs are now having their ranks swelled by people looking for a physical hobby that works well with social distancing.
Refreshingly, the ponds which some of the disc golf courses have, are becoming filled with starter disc sets.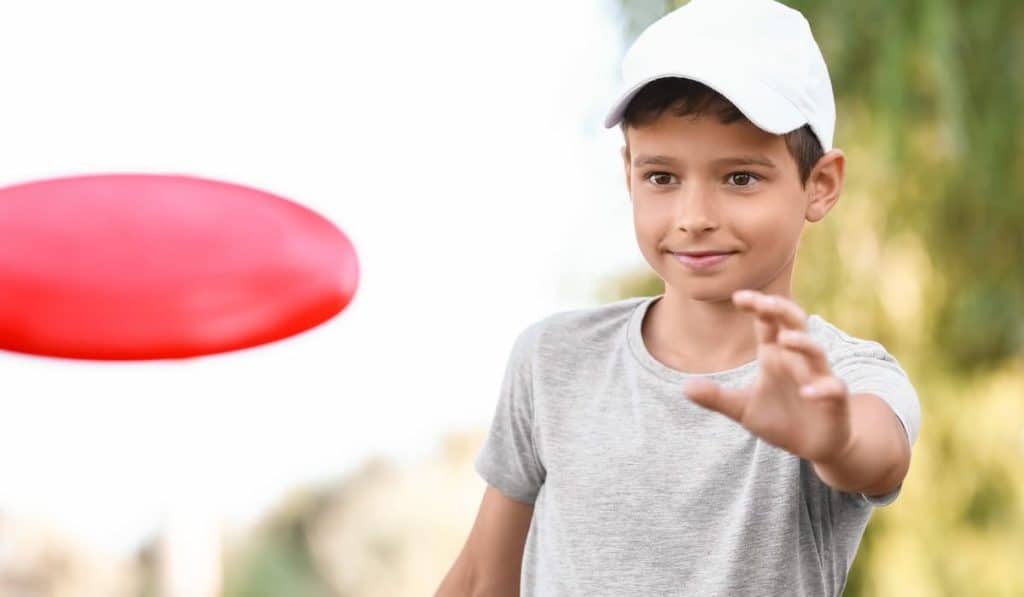 Where is the Frisbee Golf Hobby Blowing Up?
Disc golf is a well-loved sport in at least 40 countries and counting, around the world.  North America leads the way with the US and Canada having just under 80% of the global number of disc golf courses between them.
Scandinavia is home to a large disc golfing community too, with Finland having the largest number of courses outside of North America. Åland is unique in having the highest density of disc golf parks in the world, with one course in each municipality of the island.
Antarctica also plays host to a course! Other disc golfing countries include Estonia, Iceland, Japan, Australia, and New Zealand.
5 Reasons Why Disc Golf is a Great Hobby for Everyone to Enjoy!
There are so many great reasons to give disc golf a try as a new hobby. And the best thing about it is that you don't need to play alone. Gather friends and relatives for an enjoyable day out of the socially distanced sport that can be enjoyed all year round.
Disc golfers enjoy the fresh air and the great outdoors!
Just like hitting the green after a hard week of work, a day out at the disc golf course allows you to unwind and enjoy beautifully kept natural surroundings, often with the ponds and wooded areas you would expect on a golf course.
Spending time in environments like these is relaxing and restorative.  Disc golf is a hobby that gives you a great reason to get outside regularly and with so many courses to try you will soon be making a session part of your routine.
Frisbee golf is a great hobby to get you moving
If you desire to become more active but lack motivation, disc golf could be just the thing to coax you into shedding the sedentary lifestyle once and for all. 
Frisbee golf is a very accessible sport but as you play you will cover a considerable distance on your feet. Did you know that disc golf is simply exercise disguised as lots of fun?
Running, throwing, lunging, and diving as you aim to get your holes in the minimum number of throws is a full-body workout and over time your fitness and stamina will improve.
And do not underestimate the calories you will burn while playing disc golf. A two-hour session can burn over 900 calories. All that throwing and walking does add up!
Disc golf has a great sense of community – ideal if you want to meet new people
Frisbee golf has a thriving global community of participants who play at both professional and amateur levels or just for fun. When you hit a disc golf course you are certainly going to encounter fellow disc golfers of all levels and we are sure you will find them a personable and welcoming group.
You will certainly find that a disc golf park has a relaxed and welcoming atmosphere, and the game is played with exemplary sportsmanship and draws from the etiquette associated with traditional golf without having too many rules.
As you will see in the resources section we have included below, there are plenty of local, national, and international disc golfing organizations that you can connect with for information, advice, and tips for getting the most out of the sport. 
Frisbee golf is an all-inclusive sport
Setting up a satisfying session of disc golf with friends and family is easy as just about anyone who can hold and throw a frisbee can play.
Much like regular golf with patience and a sense of humor, players of different abilities can rub along together, and newbies do not need to be left behind.
It is easy to build disc golf skills for your new hobby
If you have thrown a frisbee in the past, you are well on your way to mastering the skills needed to deftly aim your discs towards the basket target.
If you have outdoor space or a local park, you can make a start on practicing your throws and getting used to the qualities and performance of the different discs used in disc golf.
You may even want to purchase an official PDGA portable frisbee golf basket for a realistic disc golf training experience wherever you go.
You will be surprised how affordable a disc golf hobby will be
We love that starting out in disc golf does not need to bankrupt you. If you want to try the sport, local disc golf courses will provide access and the hire of a set of discs for a low fee. 
If you are ready to become a member of a disc golf club or course you should find that fees are competitive with most courses requiring an annual membership fee with low prices for use of the green.
A good quality starter set of 3 disc golf discs can be purchased for under $80 and if you are keen on searching thrift stores and classified you may be able to find used equipment in a good condition.
If your budget is tight you can always buy one mid-range disc that can do distances and putting.
So How does Disc Golf Work?
Disc golf is easy to learn, and many hobby disc golfers pick up the game and its rules as they go along. As mentioned above the main principles are drawn from golf, so if you have any familiarity with golf, you should get the hang of disc golf quickly.
Two formal rulebooks published by the PDGA set out the official rules for competitive disc golf
A round of disc golf consists of a game covering either 9 or 18 holes. You can play alone, but usually, disc golfers play in small groups.
As in golf, the disc golfer tees off at a distance from the target hole. A throw is equivalent to a stroke in regular golf. Small hills, wooded areas, and ponds are common obstacles that are encountered during play.
After the first throw, the disc golfer repeatedly picks up the disc and throws it again from where it lands until it hits the target basket. This counts as completion of the hole.
Once the target is hit, subsequent holes are attempted, to complete the course with the lowest number of throws (strokes). The player with the lowest score takes the next hole from the tee box first, ensuring that they take their throw either within or behind the tee area.
Once the whole group has teed off, the player whose disc is furthest from the target will take their fairway throw first.
To hit particular targets, varying combinations of throws and discs are required, which accommodate the distance, weather conditions, and the terrain to be covered.
Disc golf courses commonly include Out of Bounds (OB) areas, where players incur a penalty if their disc lands there. There are also "Mandatories", areas of the course where the thrown disc must follow a demarcated path to the target to be valid.
Common sense courtesy also counts. Players should avoid crossing the line of sight of a player who is about to throw and give right of way to other users. Don't distract or make unnecessary movements when a player is throwing.
Disc golfers should never throw their discs in areas where a spectator or other player could be hit. Pro golfers often throw marker discs, to plan their throwing direction before they take their throw or to mark where a thrown disc has landed.
Disc golf is a great day out and most courses put in a lot of effort to keep it that way. Disc golfers will make an effort to clear not only their trash but any other litter or debris on the fairway to keep the course at its best.
The Selection of Discs is Key to Success in Your Frisbee Golf Hobby
It may be surprising to you but in disc golf, not all discs are the same, and a regular frisbee is not going to be up to the challenge of taking on 18 holes at the course efficiently.
The inventor of disc golf also created the frisbee and so was the perfect person to devise a set of discs for the sport that would have varying capabilities.
Firstly, you will find that disc golf discs are smaller and have a much more controlled design than a dollar-store frisbee. The official dimensions for disc golf discs, specified by the PDGA are between 21 and 22 centimeters with a weight of no more than 180 grams.
Three main classes of disc golf exist and form a basic set, though there are all sorts of niche designs that a collector or pro-player of disc golf may want to get hold of.
Designs vary in their quality, stability, and ability to fly true, so you may have to search carefully to find discs that you will be confident in using. The common classes of disc you will encounter are:
Driver disc golf discs:  These discs are designed to cover distances at speed. Driver discs are usually the disc used to tee off or if you need to cover the distance for a fairway throw. They are crafted with the majority of their mass distributed towards the circumference of the disc and an aerodynamic edge that cuts through the air as it flies. The main manufacturers of disc golf drivers all have their proprietary designs depending on the distances that can be achieved. Drivers (eg. extra-long or maximum range) do require experience to master throwing them effectively. As a beginner at disc golf, you may find it easier to use a mid-range disc as they are easier to throw accurately.
Mid-range disc golf discs can also cover distances but are far more controlled than drivers, meaning that players of all abilities can get good results with them. Part of the control built into the design comes from the disc having an edge that is duller and therefore moves more slowly through the air, but you will find them easier to fly straight. Experienced disc golfers will use these for approach throws.
Putter discs are probably the closest to a classic catch frisbee as they are slow and fly straight. You'll want these discs for close-range shots at your target. As you would expect, pros have all sorts of putters that have nuance performance characteristics, but as a new disc golfer a mid-range and a putter should get you off to a fantastic start.
What Gear do I Need for My Disc Golf Hobby?
You can separate the disc golf players from the disc golfers by the gear they carry. If you are serious about disc golf as a hobby, we're sure you will enjoy the process of stocking up on the key disc golf essentials that will set you apart from the rest.
Here are the key items you will need for playing disc golf regularly.
A set of disc golf discs – Most disc golf disc sets come in packs of three, including the driver, mid-range, and putter. If you are a collector or hoarder, you will find yourself acquiring way more than these, especially as they come in a range of cool designs and colors. For a day on the golf course, you will probably find yourself needing at least six, especially if your discs have an unusual affinity for water, long grass, or high trees. Keep a sharpie on hand to mark your discs as yours (or get them autographed)!
A disc golf bag – is a smart way of toting your selection of discs and all of your gear as you trek around the course. They are usually holdall or backpack style bags that are capable of stowing a large number of discs as well as any other gear you and your group will need for your day out. Most have a spacious inner compartment and outer putter compartment to store putters for that last-minute shot.
Marker discs – also known as mini-markers, allow you to mark the lie of your thrown discs. Have a number on hand in a bright distinctive color They are required for tournament games and you can usually buy them by the bag.
A pen and pad will help you keep your score on the course.
Friction disc gloves are designed to keep your playing and performance up even in the wettest of weather. These lightweight gloves deliver superb hold on the disc meaning you can throw as you normally would without a wet disc slipping from your hands. They are also great for high humidity and can be worn as a pair or a single glove for the throwing hand. 
Disc retrievers are well worth having on hand, especially in the early days when you may find yourself losing discs to trees, mud, or water as you perfect your aim! These long-armed contraptions can reach where you can't and keep your favorite discs from getting lost.
Water bottle – at a minimum, you should have water on hand as you are likely to work up a sweat playing disc golf, especially if it is a sweltering day,
Refreshments usually can be eaten as you go on disc golf courses, but you must take your trash and uneaten food with you. A disc golf park will usually prohibit the consumption of alcohol or barbecuing on the course.
Sunscreen and sunglasses may be needed if you are playing under strong sunlight for a prolonged period.
What Should I Wear to Play Disc Golf?
Disc golf does not have a stringent dress code, but Pro disc golfers will want to look smart while keeping comfortable and able to move freely. Typical clothing for disc golf includes:
T-shirts
Polo shirts
Cargo trousers and shorts
Hats
Layering garments and a good pair of all-terrain walking shoes will keep you game-ready in all seasons.
Here is Some Disc Golf Lingo to Keep You in the Loop when You Visit a Course for the First Time!
An ace: a hole in one!
Air bumps: where a gust of wind lifts a disc that is in flight.
Baggers: unsportsmanlike individuals who play beneath their ability level to win tournaments.
Circle: refers to the 10-meter circle around the disc golf basket. This determines the type of putting needed.
DNF: Stands for 'Did Not Finish' where a player enters a tournament but fails to complete the course.
Flippy: describes a disc that is very unstable in flight.
FROLF: slang for frisbee golf.
Holing out: getting your disc in the hole!
Kicks: changes in direction of an in-flight disc due to it hitting an object. Kicks can work for or against your throw.
Lay up: setting up an easy putt with a throw that lands close to the basket.
Mulligans: an opportunity to redo a shot.
Nose: the outer edge of a disc.
Pizza putt: a putting style where the disc is launched high above the head like tossing pizza dough.
Rating: the ranking given to professional disc golfers by the PDGA based on their previous performance.
Spit out: a disc that hits, but frustratingly bounces off the target.
Wuss: a weak attempt at a putt that is never going to make the basket.
Last-Minute Links to Help Get You Started in Disc Golf
Disc golf forums for questions and advice
Best YouTube channels for disc golf
National and international disc golf associations
---
Rounding Up
We hope you have enjoyed this in-depth guide to the world of disc golf, a fun hobby with loads of scope for keeping active all year round.
Now it's over to you to have a go. Don't get comfy on the sofa watching reruns of The Disc Golf Guy, get out there, hit your local course, and enjoy yourself.
You may find that like Donn Shinn, the world's oldest disc golfer, you will still be sending floaters into those chains as centenarian!
---