After the year we've been having, spending time outdoors has become a very meaningful way to relax and get away from daily news reports on Covid cases.
Camping is the ultimate getaway for when you want to get away from it all and just be one with nature.
Maybe you've already been camping in the woods and now you want to try camping out on a beach to watch the sun rise over the horizon, but is it legal to camp on the beach?
No, it is not legal to camp on most beaches. There are however exceptions to this, as there are some campsites along the beach that allow for camping.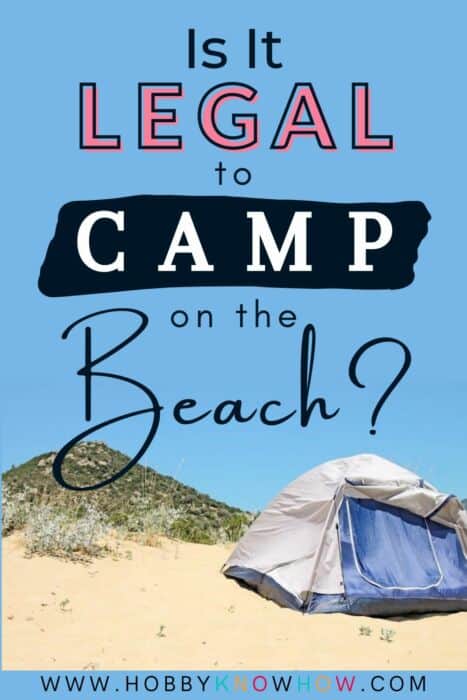 For more information on what you need to get started for a camping trip, check out the full beginner's guide.
Why Isn't Camping on the Beach Legal?
There are two major reasons why camping on beaches is illegal.
There is the environmental impact of careless campers who leave their trash and don't clean up after themselves.
There is also the safety of beach campers that has been taken into consideration as well. 
Environmental Impact
Camping on beaches might seem like the ultimate romantic date night. Sitting by a bonfire under the stars, listening to the waves crash as they hit the shore. The truth is most people don't respect the space and clean up after themselves. 
Even day-trippers who come to the beach in the morning and leave when it starts to get dark, leave their garbage scattered along the waterfront. This not only makes more work for city staff who have to come along and pick it up, but it makes a huge environmental impact. 
Leaving chemicals such as bug spray, sunscreen, or propane tanks for little stove tops can leak into the waterways, killing off entire ecosystems. 
The plastic garbage that gets left around could be picked up and eaten by any number of land animals or birds. Squirrels, raccoons, rabbits, seagulls, and owls are just a few different species that could easily mistake garbage for food. 
And those are just the animals that can pick garbage up off a beach. If a slight breeze blows by, plastic garbage can very easily end up in the water. This is where turtles, fish, dolphins, whales, otters, and many other creatures can be affected by trash. 
I'm sure by now we've all seen the photos of turtles with 6-pack plastic pieces around their necks, or whales being washed ashore caught in nets full of cans and other garbage. It happens because many campers are careless, and this is one of the main reasons camping on a beach is illegal. 
Camper Safety
When you visit a popular beach, there's normally a lifeguard or a team of lifeguards to ensure the safety of all swimmers.
The water here is tested often to make sure there are no bacterial hazards for swimmers. 
Bacteria and drowning aren't the only dangers.
If campers were allowed to camp on beaches, they could very easily fall victim to rapidly shifting shores. This can result in floods, and even drowning. 
Is There Anywhere I Can Camp on A Beach?
That all sounded pretty scary, but there is an upside! If you are determined to camp on a beach, there are many national parks and state parks along waterfronts that offer campsites on a beach. 
Some of the top recommended beaches you can camp on are in the following parks:
Assateague State Park
Bahia Honda State Park
Hammocks Beach State Park
Wai'anapanapa State Park
Olympic National Park
Cape Hatteras National Seashore
Cumberland Island National Seashore
Westport-Union Landing State Beach
If you want to learn more about what you can expect at each of these parks, check out the entire list here. 
What Should I Expect When Camping on the Beach?
If you're lucky enough to book a camping trip on a beach, you need to be a little more prepared than when you normally go camping. 
Cleanliness
If you hate getting dirt in your tent, you're in for an awfully big surprise while beach camping. Sand sticks to any bit of moisture and will end up all over the inside of your sleeping bag if you aren't careful. 
With sand, you can't even go wash off in the water and then hop back into bed, because you're tracking even more sand than you started with back with you after rinsing off. 
To avoid the itchy scratchy sleeping bag nightmare, wait until you are completely dry; hair, clothes, skin, and especially feet, and then just dust the sand off. 
Temperature
The combination of water and wind make for a big temperature difference while camping on a beach. 
If you're able, you should set up your tent in the sun, but out of the wind to keep the temperature at a comfortable level. 
Bring extra layers if you are camping on a beach and bundle up if you start getting cold. This cold is a dampness that you won't easily be able to shake off once it starts, so it is best to be prepared. 
Water Hazards
The obvious beach camping hazard that you have to watch out for is the water itself, especially with children. 
Keeping a close eye on wandering children, and always having a partner if you decide to go for a swim will help you avoid bad experiences. 
So. Much. Fun. 
It's not all bad, I promise. Camping on a beach where you can swim all day and listen to the waves at night is one of the best camping experiences you can have. 
If you're a fan of kayaking or paddle boarding you can bring those and launch directly from your site. Come back for a little bit of lunch, and then even go fishing!

Check with your park on what activities are allowed on your campsite and in the water before you head off.
Fishing and motorized boats may not be allowed in certain parks to protect ecosystems.
---
Wrapping It Up
Although camping on beaches isn't legal, there are plenty of parks that allow you to camp on a beach. 
Available beach sites are hard to find, so if you are wanting to try one of the best camping experiences, you will want to plan your camping trip in advance.
Check with your parks on how far in advance they will let you book a site and snatch it up quickly!
If you're camping near water, please be safe, clean up after yourself, and have a blast!
---