Budget Option
Complete set with bag
Best Seller Online
Editors Choice
Highest Ratings Online
---
Buyers Guide
A disc golf set comes in a set of 3 discs. Different sets target a unique skill level. As a beginner, some discs are set aside just for you.
You can still get the best set at any skill level and upskill until you attain competitive standards.
This guide should help you pick out a beginner-friendly disc golf set.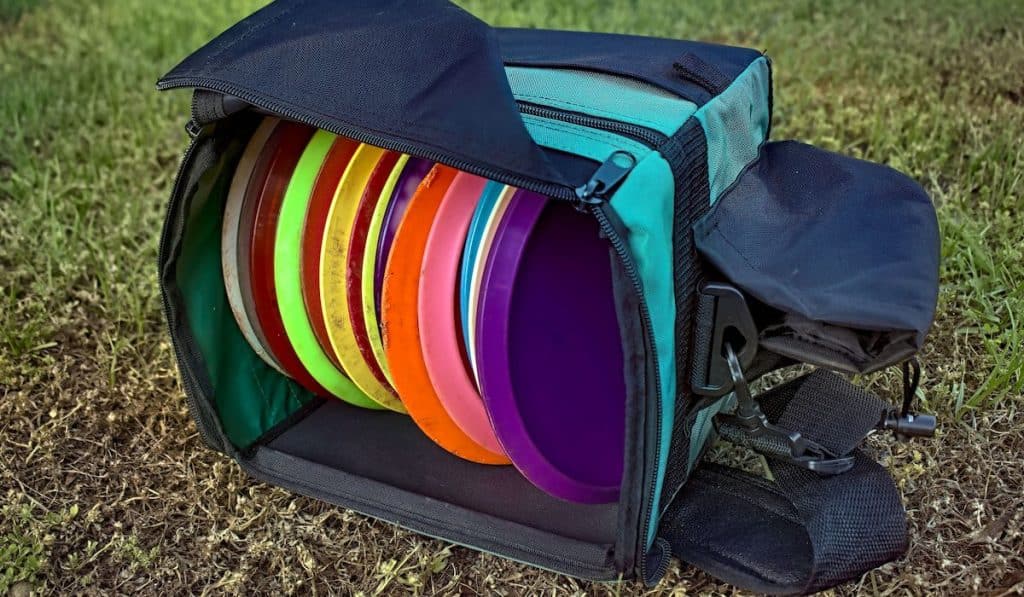 What is in a beginner disc golf set?
Your basic disc golf set has at least 3 discs. These help you either in approach, distance or finishing.
When you buy a set, check the accuracy of each disc based on your experience.
And while these disc sets are labelled as beginner discs, you can get a disc set up to tournament standards.
Still, some sets have more discs. These can be a value set that will help you develop the skill from beginner to tournament pro.
These are the 3 must-have discs in a beginner disc golf set.
A putter
There are two kinds of putters. Throwing putters get you close to the target. They fly straight and are typically stable.
A great throwing putter for a beginner has a distance range of between 100 to 200 feet.
For beginners, check the grip and flight path of a throwing pouter in the set.
A putting putter is designed to be thrown in the basket and latch on accurately.
Putting putters have a round edge and a small rim for a better landing. However, you trade landing precision for distance.
They have a range of 100 feet or less. They also have the least favorable aerodynamics.
Check the putter in your beginner disc golf set to see if it's a throwing or putting putter.
A midrange
A midrange is a must-have disc in every set. No matter your skill level, a midrange is one of the most critical discs in a set.
As a beginner, your priority when checking for a midrange is the grip. Midranges are wider than the other discs in the set.
A midrange will help you regain control of the course and get you closer to the basket.
The distance for a midrange can go up to 300 feet. They have a high glide and slow speed rating, making them excellent distance discs for beginners.
A driver
Here, you have the choice of 2 drivers. You can get a distance driver and a fairway driver. Distance drivers fly the furthest.
They cover long distances because of their sharp edge, thick rim, and thin profile. They have superb aerodynamics that would make them great practice discs for beginners.
However, you need a strong throw to maximize the potential of a distance driver.
Additionally, you require a fairway driver when you throw a disc, and it veers way off course.
Since it's slow but has great flight, you can use this to get to a great position that is within the basket range.
As a beginner, fairway drivers help you to develop a firm hand. You do not need too much effort to throw a backhand when you're handling a fairway driver.
Check the disc weight per set
Each disc in the beginner disc golf set has a different weight. The weight of each disc in the set determines how far you throw the disc and your throws' accuracy.
A beginner hasn't developed enough precision to throw accurately. A heavy disc set will set you up for inaccurate targeting and veering off course.
Consider two factors when it comes to weight. A heavy disc will likely fly lower distances than a light disc.
However, you can compensate for less distance with a strong throw. This brings you to the next important factor, arm speed.
You need a strong arm to not only aim, but also to release in time to reduce curving. Arm speed is how fast you can throw and release.
Should you throw big money at a beginner set?
One of the biggest mistakes beginners make is to go for the fancy set that's all speed and no technique.
Usually, the premium sets cost more than the average set. As a beginner, a modest budget will get you a good set.
If you want a 3 disc set, go for a mix of affordable, durable, and functional.
While the difference may not be much, it might save you a couple of bucks if you go for a durable set at a modest cost. However, this is a matter of choice.
Expensive discs don't translate to effective aim. However, it's a great consolation to know that premium discs can take damage on the course.
Check the ratings
Each disc has a set of numbers on it. They are called flight numbers.
These numbers are your guide to learning how to throw and when to use a disc.
They represent 4 main things that will influence the direction and precision of your throw.
Although they seem too technical for a beginner, learning them early makes you more accurate.
Speed
Speed indicates how far the disc is likely to fly and its rim width. It still requires you to know how much strength you will use.
The speed and strength determine the revolutions of the disc. Look out for numbers such a 3 speed on putters, 6 speed on a midrange, 9 on a fairway driver disc, and above 10 on a distance driver.
Glide
Glide tells you how long a disc is likely to stay on the air. If you're looking to cover a long distance with the least interruption by the wind, a disc with a high glide rating is great.
However, a glide rating of 2 is excellent for a putting putter that you'd use to land in the basket.
Turn
Turn describes how much to the right a disc is likely to turn when it's thrown.
A low number such a -2 indicates that the disc will turn only slightly to the right when thrown.
Nevertheless, your throwing hand matters.
If your right hand is the dominant side, you need to get a disc that will veer to the right when thrown.
Fade
The fade is the opposite of turn. It describes how much to the left a disc is likely to turn.
If you're looking for a straight flying disc, a 0 rating in both turn and fade is the right disc for you.
However, if you're looking a skill throw, you can get a disc with equal fade and turn, a 3 and -3 turn and fade rating produces an S-curve when it's thrown.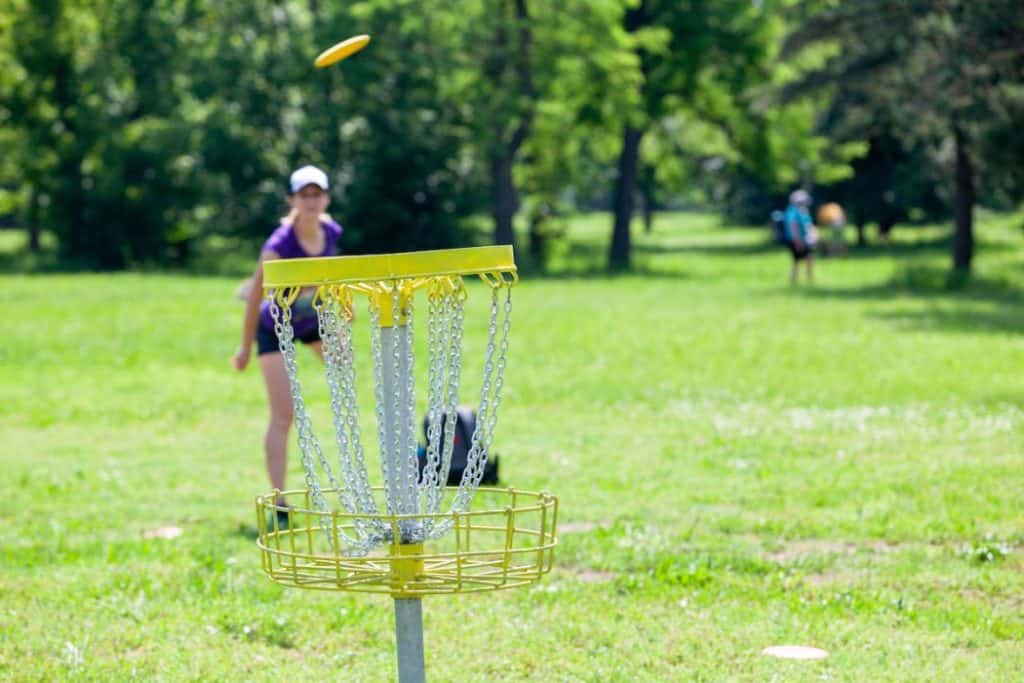 How important is plastic quality to a beginner
When you start with disc golf, no one tells you that discs are likely to hit trees, rocks, and sometimes land in places that will scuff them.
This is where you get the best grade plastic. You're going to throw some off-throws that will probably wreck your disc golf disc. Make sure you have top quality plastic set.
Durability is only one factor to consider when choosing plastic.
The grip and the weight of the plastic are also important considerations for a beginner.
Premium quality plastic sets from reputable disc golf companies retail at about $18.
Are there sets with more than 3 discs?
The 3-disc set is a great starter pack for a beginner. However, there are bigger packs that will give you more discs and a range of options.
With more options, you can create a great combo that takes you from beginner to skilled thrower. These disc golf sets can have 5, 7, or 12 discs. A 12-disc set retails for about $112.
Don't forget to read our complete guide to Frisbee golf here!
Conclusion
If you're starting with disc golf, all you need to know is how to balance strength and technique.
Make sure you are aware of the basics of how discs move. Most places will have disc golf set for beginners already packed with the best choices.
The key to getting better is to play regularly. Make your practice sessions fun by studying the techniques of more seasoned players. Best of luck.