No matter if you're a disc golfer or a regular golfer a bag is still an essential part of your equipment.
With hundreds to choose from it's difficult to buy the right one. Especially if it's for a gift or a loved one.
If you haven't got time to read all the reviews in this buyer's guide then you might just want to check out our Editors favorite bag here listed on Amazon. Latitude 64 Core Disc Golf Backpack 
But if you want more options and more information on what to look out for when purchasing a new disc golf bag then read on.
Budget Bag
Best Seller
Disc Bag Cart
Large Capacity Bag
Over the shoulder Bag
---
Buyers Guide
A sportsperson is as good as their equipment. For every disc golfer, half of your prowess is in the preparation for the event.
Before stepping on the tournament grounds, you need to make sure you have everything in place, and it is easily reachable.
A disc golf bag is one of the most important resources you can get as a starter and budding professional disc golfer.
As you rise the ranks from a disc golf hobbyist to a seasoned competitor, your need for better equipment storage and handling becomes more pressing.
A great bag sorts that out. So, how do you make sure you are securing your precious gaming tools and accessories in the best disc golf bag?
These are some of the things you should look at when you shop for a bag.
You might like to read our complete beginners guide to disc golf. Click here!
Tournament or hobby?
Your disc golf selection can be influenced by whether you are playing in a tournament or as a hobby.
If you're simply throwing a few throws for fun at a short course, you might not need a big bag.
However, that all changes when you step up to the big leagues. Tournament play requires you to pack more discs and more accessories.
The choice to carry a fun-size disc bag or a tournament-ready bag also counts when you consider comfort.
Heavy bags for light play will likely ruin your afternoon. However, carry a light bag to a tournament, and you might lose some of your stuff.
Bag Capacity
Bag capacity is an essential factor in selecting the perfect bag. The bag space determines how much stuff you can fit in the bag.
Pick a bag that can at least hold all your essentials.
Set aside all your important disc golf discs and accessories. These are the ones that you will always carry.
Then pick the secondary equipment and accessories.
The essentials should fit comfortably in the bag. The rest of the space should be large enough to accommodate any additions.
We'd advise that you pick a bag big enough for all your basics and back up.
Your extras
Your bag needs the capacity to handle all your essentials and extra stuff. Extras include water bottles, apparel such as hats, and other accessories that help you play at your best level.
Most bags have compartments specifically suited for extras. They are separated from the area where you would keep your discs.
Disc holding capacity
How many discs can your bag hold? In every line up of disc golf bags, there is a recurring factor.
Each bag indicates how many discs it can carry. This factor can cut down your selection time to a few minutes.
Read our golf disc buyers guide here!
If you only have 5 discs, you won't need to check bags meant to fit 15 discs or higher.
Also, if you have a big collection of discs, you can filter out bags that are only meant to carry a small number of discs.
Bag design
There are different disc golf bag designs in the market. Some bags are better carried by hand, while others would be better suited for shoulder carrying.  
Still, other bags can be carried on one shoulder.
These sling bags are great for beginners who don't have too many discs.
They carry a modest number of discs, and they have extra space to put necessary add-ons such as water bottles, phones, and personal effects.
Other bags have the classic two-shoulder strap design. They're better for players who carry more discs and more accessories.
These bags allow you to use your hands and probably retrieve what you want without removing the bag.
There is also luggage bags that are better designed to be carried by hand. These tend to be heavy when you load them with everything you need for your disc golf game.
They have segments, each designed to carry something specific.
Bag material
The bag material is a key factor in selecting the best bag for your disc golf needs. The material determines how long the bag lasts.
If you are lugging around heavy equipment, a substandard bag will rip and tear faster than one made from top-notch material.
You can have a canvas bag made out of strong material.
The outer and inner fabrics are important. Weak inner material means your bag will rip from the inside while the exterior looks okay.
The bag material can also mean the bag is waterproof. Sure, the bag mostly has plastic discs in it.
Still, there are sensitive things that go in the bag. Think about your phone, headphones, and cables.
You wouldn't want these sensitive things getting any damage if you are caught in the rain on the course
Consider your comfort
Bag manufacturers take comfort seriously. That is why some bags are padded inside and on places where you experience the most strain.
Shoulder padding and back padding are two of the most focused on areas in bags.
The back should be stable enough to keep you from having lower back pain.
The shoulder area is padded so that you can carry your bag comfortably for long periods.
Stability
You'll put your bag down when you play. It should have a stable base to make it stays upright all the time.
A sturdy base keeps your bag from toppling. This might be important when you have anything in the bag that can spill.
What is the price range for the best disc golf bag?
Once you have selected a bag using the above checklist, the price is the last thing that you need to check.
A wide range of bags means flexible price tags. You can get a bag for as low as $20 for a bag that holds up to 15 discs.
However, as your need for space increases, you may need to adjust your budget to close to $50.
Still, if money is no object and you would like to invest in a premium quality bag, your budget can stretch up to $100 for a camo bag that will fit up to 25 discs.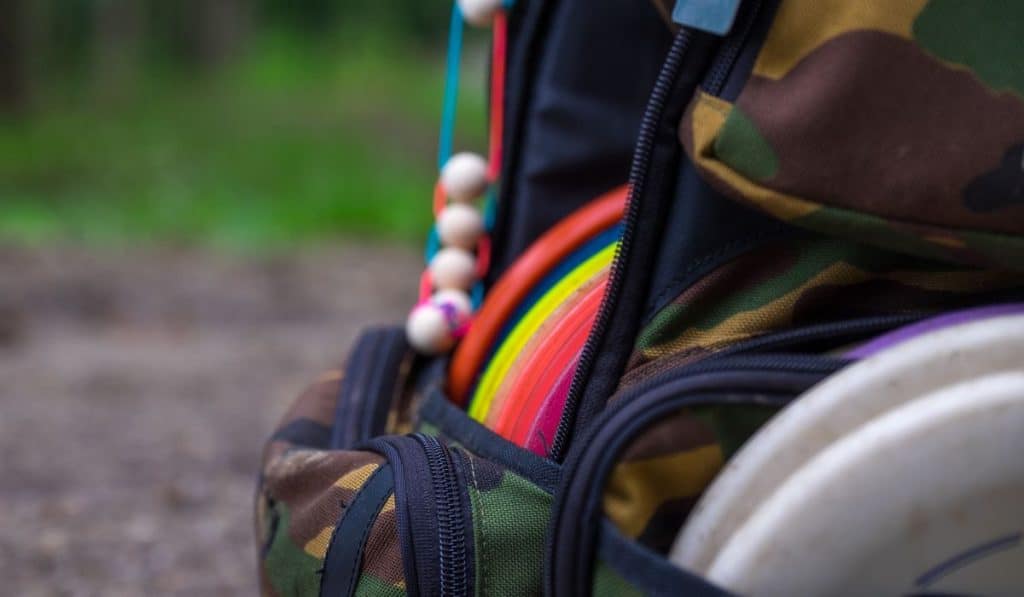 How do you clean a golf disc bag?
How you clean a bag might also influence your purchase. Most bags don't need machine washing to be clean.
Cold-water handwashing is enough to get your bag clean and keep it damage-free for a while.
Some bags may require you to buy special cleaning products. However, you only need to wash a bag when it's too dirty.
Frequent washing deteriorates the quality of the material. You may have to dig back into your pockets to get another bag.
Conclusion
A disc golf bag is a vital accessory. Choosing the right bag should be easy once you know what you will be packing.
Choose a comfortable bag that will last you for a long time and can carry all your equipment while keeping your discs damage-free. You've got a tourney to bag.