Growing in popularity over the past few years, flower pressing equipment has seen a dramatic rise in sales. Especially flower presses  that are used in microwave ones that not only press the flowers but also dry them at the same time.
We have taken the confusion out of purchasing a flower press kit by selecting 3 flower presses that are perfect for anyone new to this fasinating hobby.
Our Recommended Flower Presses
Microwave Press
Editors Choice
Traditional Style Press
Learn more about flower pressing and howe to get started in our complete guide here!
---
Complete Buyers Guide
What Should You Look for in a Flower Press Kit?
Flower pressing is a charming hobby that goes way back, and as new, innovative flower presses have become available, it's only gotten more popular. One of the best of these is the flower press kit.
These provide everything you need to get started: press, paper, and even accessories for creating pressed flower artwork. If you're one of the many interested in these kits and what they have to offer, what should you look for?
What's the Flower Press Made Of?
Some kits are made of plastic, but the best are usually made from wood. If the wood is recyclable, all the better. Why is wood preferable? Because it is durable, flexible, and lightweight. Wood can take the pressure applied by a flower press and not warp or break.
Lastly, wood is simply beautiful. It will give your press a lovely, rustic look!
Why Are Flower Press Kits So Great?
To create perfectly dried and flattened flowers, you'll need more than just a good flower press. You'll also need the proper absorbent paper, not to mention scissors and a few other useful supplies.
You can locate these separately, or simply opt for a flower press kit. These have everything you need and then some, to make your process much simpler!
What's Included in a Flower Press Kit?
You can find flower press kits online, particularly on Etsy and Amazon. These come in a variety of capacities, with different types of absorbent material, different ways of applying pressure, etc.
The best kits include the most important flower pressing supplies, and even some accessories to get you started making pressed flower artwork. So, what might a quality flower press kit have to offer?
Drying plates. All flower press kits are comprised of at least two drying plates. The flowers are pressed placed between these, along with an absorbent material, like a sponge, and paper.
Art knives. When you're pressing flowers, you'll probably find yourself needing some sort of cutting tool. Some kits will include art knives so that you can prune the flowers as needed, and shape paper or cardstock.
Absorbent paper. The majority of flower presses will use some kind of absorbent paper. While paper towels can also work, they may leave imprints and spoil the flawlessly flattened look. Most kits will include good, old-fashioned parchment paper!
Hammer shears or scissors. A few of the flowers you pick are sure to need a bit of touching-up. That's what hammer shears or scissors are for. These will allow you to shape both the paper and each flower. They are essential when it comes to creating pressed flower artwork.
Paintbrush. If you choose a kit that includes a mod podge, it's likely to have a paintbrush to go with it. This is nice and convenient. If you're interested in mod podging some of your pressed flowers, it's something to keep an eye out for!
Mod podge. Some flower press kits include mod podge (clear). Pressed flowers can be painted in this in order to help preserve their beauty and color. It can also add a cool texture if you layer it, lending a painting-like appearance to your artwork.
Blank notecards and envelopes. Some kits have you set with blank notecards and envelopes to decorate with your own pressed flowers. This a fantastic way to use them as decor. If you're interested in this, it may be something to look for!
Glassine sheets. Some flower presses will use glassine sheets rather than parchment paper, claiming that it's superior. In the end, it all comes down to what you prefer. 
Sponge sheets. To hurry the drying process along, some kits utilize ultra-absorbent sponge sheets rather than parchment paper. Most kits specify what they use if you look!
Instructions. Any flower pressing kit worth its salt should come with instructions. It's a simple enough process, but you still need a little bit of know-how! These will tell you things like how much pressure to use, how long to wait, etc. 
Tape. Flower press kits for kids will sometimes include tape, just to help keep the paper in place, so their careful arrangements stick. It can be quite useful for all ages, however!
Glue. Some flower press kits may include glue. Like tape, this is particularly common in kid-friendly flower press kits, to help them out a bit (as they are generally somewhat clumsier).
Who is the Kit For?
There are flower press kits for adults and kids alike, starting at ages 5+. Kits for kids are made of extra-durable materials, and many include jumbo-sized screws that small hands can easily twist off. These often come with glue or tape as well, just to make the process a bit easier. 
Most kits you'll find are for adults, but a smart kid could use them, too, as long as you share your know-how! In fact, flower pressing can be a lovely activity for the entire family to enjoy together. Pick flowers, press them, and remember the good time with some natural, homemade artwork!
What's the Size and Capacity of the Kit?
The size and capacity of a potential flower press are something else you'll want to consider. Ask yourself, how many pressed flowers would you like to make at once? Were you just thinking of pressing a few, or would you like a larger amount for crafts and artwork?
Some flower presses are multi-layer, which means that they have several slots in which you can press flowers to dry. Others are single-layer.
How Does the Press Work?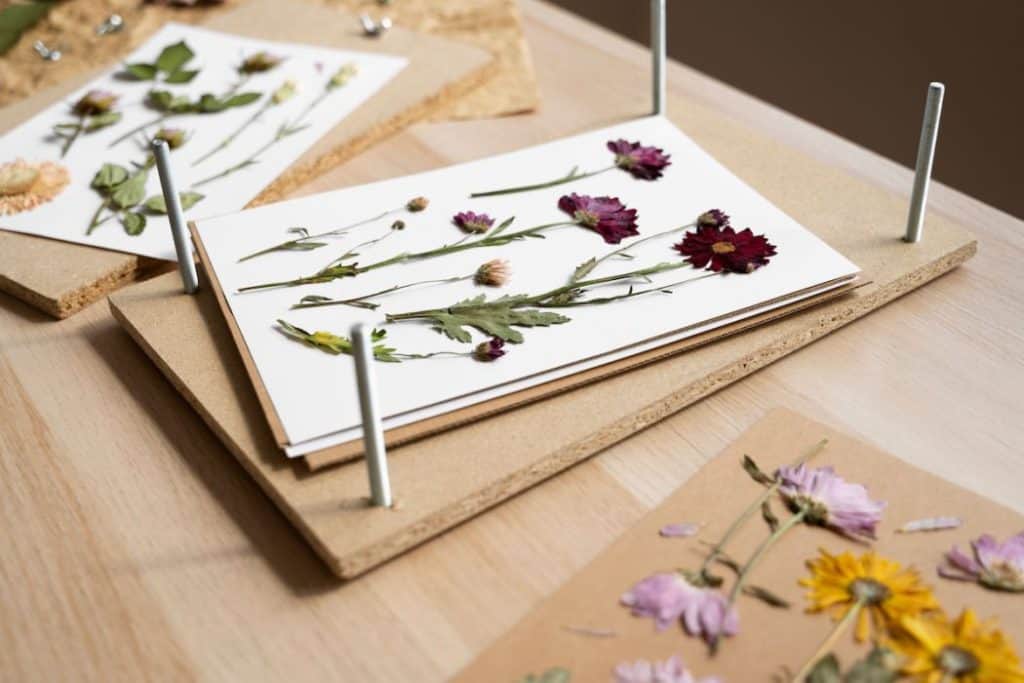 Most flower press kits include compact, user-friendly flower presses, which require just a cinch or a strap or the tightening of a screw to press down on the flowers and do its work. All that you need to do next is wait at least a week.
There are some microwave flower press kits that depend more on heat, but most are the former! 
What Can You Do With the Hand Pressed Flowers You Make With Your Kit?
Bookmarks. One of the most popular uses for pressed flowers is a bookmark. They are ideally flat for fitting between the pages, and seeing one of your beloved pressed flowers peeking at your while you read can bring a bit of cheer!
Jewelry. Combine pressed flowers with resin, and you can make an amazing amount of jewelry. This includes earrings and rings in particular, as they are big enough to really showcase a flower. 
Phone cases. You probably haven't seen a pressed flower phone case before. This can take your handy technology and give it a more natural look. 
Frame your artwork. Many pressed flowers are displayed by themselves, as their own artwork. You can even incorporate them into the frames, for an entirely elegant look.
Candles. If you're a candle lover, and an aspiring flower presser, you're in luck. These two hobbies go wonderfully together. Pressed flowers make excellent candle decor (especially for floral scents).
Soap. Pressed flowers can be displayed beautifully in clear glycerin soap. Simply pour a layer of soap, allow to cool, arrange the flowers on it, and pour another layer!