When it comes to picking the right bikepacking tent for you, you'll need to start with the proper size and weight. This will depend on a few things, from the number of occupants to the weather, to your preferred level of comfort.
See for yourself!
Why Do You Need a Bikepacking Tent?
So, why should you get a bikepacking tent, anyway? While some like to sleep in the open, many feel the most comfortable in some kind of shelter. Have a tent can go a long way to helping you sleep at night. 
Not only that, but it can offer you privacy from the curious eyes of other campers, and wildlife (such as bears). 
What's more, a tent is a necessity in any kind of inclement weather, so you can avoid getting unpleasantly and potentially dangerously cold and wet.
All in all, a tent will vastly improve your bikepacking journey. After a long, hard day, it's the perfect spot to kick back, store your gear, and relax!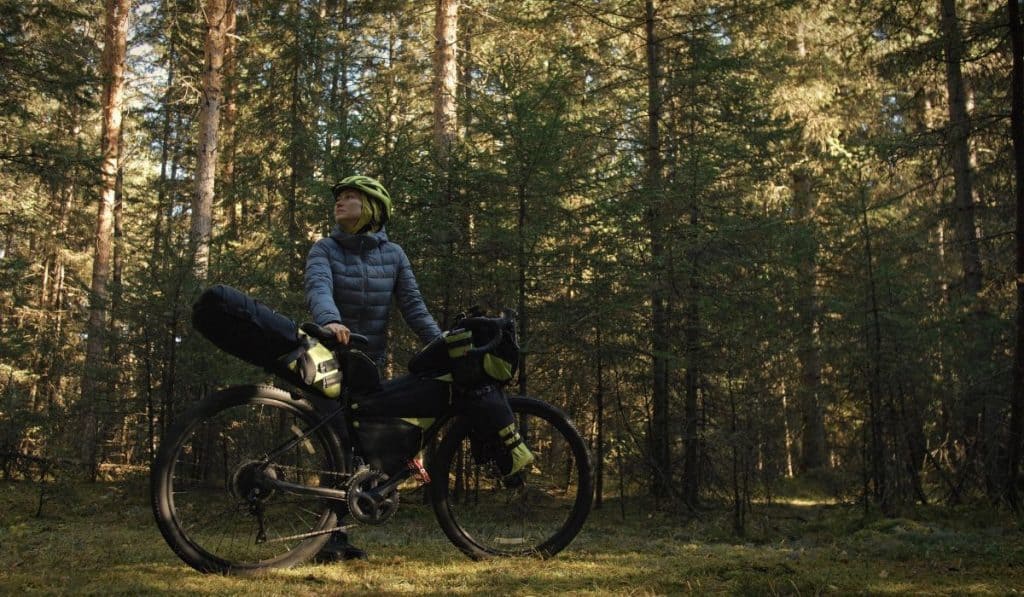 What Should You Consider in a Bikepacking Tent?
When it comes to the best bikepacking tent, there's no one answer. There are several important factors that you'll need to consider! This starts with the size and weight.
The Size of Your Tent
The first thing you will want to consider when it comes to picking the best bikepacking tent is its size. How many people will be using the tent? It will need to have room for you and your companions to fit with reasonable comfort.
If you're a solo bikepacker or have a tent to yourself, you can choose a smaller tent that's extra lightweight.
There are even 'bivvies,' available, which are one-person tents only slightly larger than a sleeping bag. This is a great option if you are looking to travel exceptionally light. 
Tent Weight
After its size, the next thing you'll want to consider in a bikepacking tent is its weight. As you can imagine, the bigger a tent is, the heavier it will be. This translates to more for you to haul. You'll want a tent that's just spacious enough and not any larger than is truly necessary.
This being said, some comfort may be worth a little additional weight. More luxurious tents may weigh a bit more, but they can improve your quality of life while you travel.
Pro tip: if you're traveling with companions, separate the tent parts into each pack. This will make your individual burdens lighter!
Backpacking Tent 2 Person -AYAMAYA
⩘⩘LightWeight⩘⩘ This two-person tent is specially designed 7001 grade aluminum poles allow for reduced weight, corrosion resistance, and high tensile strength.
⩘⩘Size⩘⩘ The camping tent has dimensions of 92.5″x59″x47″H, sleep area is 84.6″x51″x44.5″H. The tent is spacious enough for two adults with room for shoes and gear within the vestibule wall.
⩘⩘Easy Setup⩘⩘ Internal bungee cord along with interlocking pole mechanism coupled with easy snap fittings allow for no hassle set up, perfect for a persons first time camping.
The Durability of Your Tent
When you're bikepacking, you'll want a tent that is sturdy and weather-proof. Unfortunately, the more durable a tent is, the more it tends to weigh, as well. This is because the material is more insulated and water-proof. 
This is another instance where a balance is called for. Try to find a tent that can withstand the elements, while still being reasonably lightweight. You want a tent that can still easily fit on your bike racks or in your backpack!
A large part of what will determine just how durable your tent will need to be is the weather (see below).
What Will the Weather Be Like?
Tents exist first and foremost to shield you from wind and weather. Some are more insulated than others, as well as more waterproof. These are best if you are traveling somewhere you can expect cold or rainy weather.
If you're traveling somewhere consistently dry and warm, your tent can be comparatively quite airy and lightweight.
If you're traveling somewhere that could vary between the two, it's better to err on the side of a tent that is extra insulated and waterproof. Make sure that it has a rain cover!
Are You Camping at a Campground or in the Wild?
Where will you be bikepacking? Do you intend to camp at a campground, or in the wild? At a campground, it's rather ineffective to try to blend in, so it doesn't really matter whether your tent is camouflage or not. In the wild, you may want to blend in to avoid other folks, however (not to mention wildlife). 
There are tents in just about every color, including those that will blend in nicely (such as green, gray, and camouflage).
What Kind of Bike Storage Is Available?
The type of tent you bring will depend on what you can actually pack. For example, some bikes, like many gravel and mountain bikes, come with racks especially to store gear. These are able to carry more, which means that you can bring a more spacious and heavy-duty tent. 
Other bikes don't come with such a convenience and can carry a lot less comparatively.
Before you pick out a bikepacking tent, verify what storage you have available. It'd be a shame to not have room, or for your bike's balance to be thrown-off.
PORTAL 2 Person Backpacking Tent
Lightweigt & Big Space: Tent size is 7'3"x 4'3"x 3'6", large enough to easily accommodate two adults. The top and side of the tent are designed with gear pockets, convenient for you to store a variety of belongings. It uses 7001 series aluminum poles and lightweight fabrics, weighing only 5.5LB. As one of the heaviest items you' ll carry on your trip, nothing cuts pack weight like a PORTAL backpacking tent.
Blocks Wind And Rain: The Rainfly is made by 190T Polyester Taffeta and guarantees PU3000mm water-resistant. PU 2000mm PE floor and dual zipper can also ensure a dry interior. Classic X-shaped cross frame provides an excellent windproof performance.
Breathable & Comfotable: Full mesh backpacking tent designed with double D-shaped door and ceiling vents to strengthen the breathability even in the hot summer, you will not feel stuffy. On a clear night, you can enjoy the starry sky by removing the rainfly.
How Long Will Your Bikepacking Trip Be?
Are you going on a quick bikepacking trip, or taking it leisurely cross-country? The longer that your trip takes, the more you are likely to miss the comforts of home. When this happens, you'll probably find yourself wishing for a more comfortable tent. This means that, in these instances, the added luxury may be worth any extra weight.
Less-than-cushy conditions are likely to be more tolerable short-term, alternatively. It's also possible that on brief journeys, you'll want to shed any excess weight in favor of moving faster (and this means a less luxurious tent).
Leisure or Speed?
Some go bikepacking to race, and some do it as a personal hobby, cross-country. If you're all about speed, you're sure to want to streamline your gear, and this includes your tent. The lightest sleeping solution of all is probably a bivvy. Or, you can go for a small, ultra-lightweight single-person tent. Which do you prefer?
What Gear Needs to Fit in the Tent?
Besides fitting yourself in your tent, you will probably want to stow some of your gear. This will keep it from getting rained on, stolen, or lost. 
Clearly, if you've got a lot of gear, a bivvy is unlikely to hold it all. You'll need some manner of a tent. The security is well-worth a little extra weight. So, when considering the size of your tent, don't forget that you'll also need to stow your gear!
As you can see, there are a lot of things that can contribute to the ideal size and weight for a bikepacking tent.
There are also other aspects that you will need to keep in mind, such as your available storage, any companions and gear you might need to accommodate, and the sort of weather you can expect.
So, any idea what sort of bikepacking tent you're looking for?