Urban foraging is gathering food that grows in the wild, such as mushrooms, greens, berries, and herbs.
It also goes beyond merely gathering; it involves studying the plants, learning about every shrub, flower, or herb, what it's called, how it tastes, the best way to cook it, and so much more. 
There's a lot more to foraging than meets the eye. This article will explore in detail what urban foraging is all about. Let's get into it. 
If you'd like to learn more about getting into Foraging, check out the complete guide to starting it as a hobby. 
Where did it all begin?
Imagine a world where there were no shops or farms to get food. How would people get by? Sound unimaginable?
Think again; the early humans lived by hunting and gathering. They would go out into the forest to pick grasses, roots, mushrooms, and all sorts of plant life to eat. 
Urban foraging is a direct descendant of these hunting practices. In fact, to this day, in some parts of the world, people still forage for food. Fascinating right? 
As humanity developed, so did urban lifestyles. Concrete jungles replaced the plush forests.
However, food still grows surprisingly well in urban areas, and foraging works well now as it did years ago.
Is foraging helpful?
You can get all the food you need at the store or farmers' market, so what's the point of foraging? Well, here is why foraging is so great.
Enriches your diet 
Wild food is entirely organic, and it's filled with lots of nutrition. Moreover, it's not processed and has no additives or preservatives. It's like nature on a plate. 
It will help prevent diseases and keep you healthy. Research has shown that diets with plenty of wild plants aids in lowering cholesterol and reduces the chances of getting heart disease.
It also helps with lowering blood pressure and reducing inflammation.
Medicinal plants
Some of the naturally growing plants have extraordinary medicinal properties.
For example, Mullein (Verbascum thapsus)  is said to help in treating coughs and respiratory ailments. 
Cost of food
Food is becoming more expensive. As the cost goes up, the variety in your diet goes the other way.
With so many different options of greens and mushrooms in the wild, you'll get more variety in your diet at a tremendous cost, all free.
Great for the climate
You might not be able to lobby for climate funding. But foraging will be your contribution to saving the environment.
Growing and processing food uses chemicals that mostly harm the environment.
By opting for nature's creations, you help to reduce earth pollution.
Calms the mind 
Apart from being a great food source, foraging can be a wonderful hobby.
Connecting with the outdoors, taking long walks, and observing nature's wonders has a calming effect on the mind.
Not only that, but it also heightens observational skills and helps slow down things for when you feel the world is moving faster than you can handle. 
What does urban foraging entail?
Finding wild food is not simply a matter of going out and picking whatever you find. Here's what foraging involves.
Identifying plants 
Perhaps the most important part is telling the plants apart. This may seem daunting for beginners, but it's not an impossible task with a little help and research. Checkout the 30 Most Common Urban Weeds in this awesome book available from Amazon.
Sale
Use botanical names
Most plant species are identified by their scientific, Latin names, or common English names.
It's best to stick with the former when you're trying to identify wild plants. 
That's because English names evolve, and the same name can end up referring to both the safe plant and the poisonous one (depending on where you're from).
On the other hand, Latin names are more specific, making them more reliable.
For example, Hemlock can refer to the poisonous Conium Maculatum or the edible Tsuga Canadensis. 
Research
Researching the local area to understand flora and fauna is essential. It's the best way to guarantee safe foraging.
Plant life is dynamic; you can get two plants that look alike but have different properties.
That's why it's best to consult with multiple sources to get the right information and learn as much as you can. 
Regional field guides are excellent sources of information about wild local foods. Get your hands on a few of these to see what's around your area first. 
It will help you narrow down your research. Then, you can scout the internet to find as much information about the plants as you can.
Your local library will have some detailed reads you can borrow too. Here are a few examples, 
Eating Wildy- Ava Chen
The Forager's Harvest- Samuel Thayer 
Dandelion Hunter- Becky Lerner's
All That the Rain Promises and More- David Arora
To add to your research, get a foraging app or map. It will help you get a reference point when you're on the go, and you can study more about the plants. Like these:
iNaturalist app (National Geographic)
Society
Seek
Portland fruit tree project
Wild edibles
Falling fruit
Along with your research of the plant types, study the edible parts of the plant. For instance, some plants like elderberries have edible fruits but poisonous stems. 
Bottom line: Put in the work. You'll be safer for it. One idea is to keep a journal to record all your finds and their locations.
It will help you keep track and stay away from poisonous plants.
Get help
It's a good idea to consult with other foragers. When in doubt- always ask or leave.
It's even better to take classes or a guided tour to learn from the experts. Yes, there'll be extra costs, but it's a worthwhile investment. 
City Park departments or experienced foragers may offer lessons to new foragers and anyone interested in nature. These classes may sometimes be free or for a small donation. 
Sometimes, independent environmental organizations have tours that include a look at the local vegetation.
If you find one of these in your area, hop on to the chance and ask enough questions.
That way, when you go on your own, you have all the information you need. 
How do I find out about these? 
The internet is your best friend when it comes to all sorts of information.
A quick search on the internet should be able to help you find classes and tours in your area. 
It also helps to find social media groups to help you get more information, network with other foragers, and learn more. 
Is urban foraging safe? 
Eating locally foraged food is mostly safe. One study by a Boston research team found that most foraged fruits and leaves were safe for human consumption.
However, it's only safe if you take precautions and know what you're doing.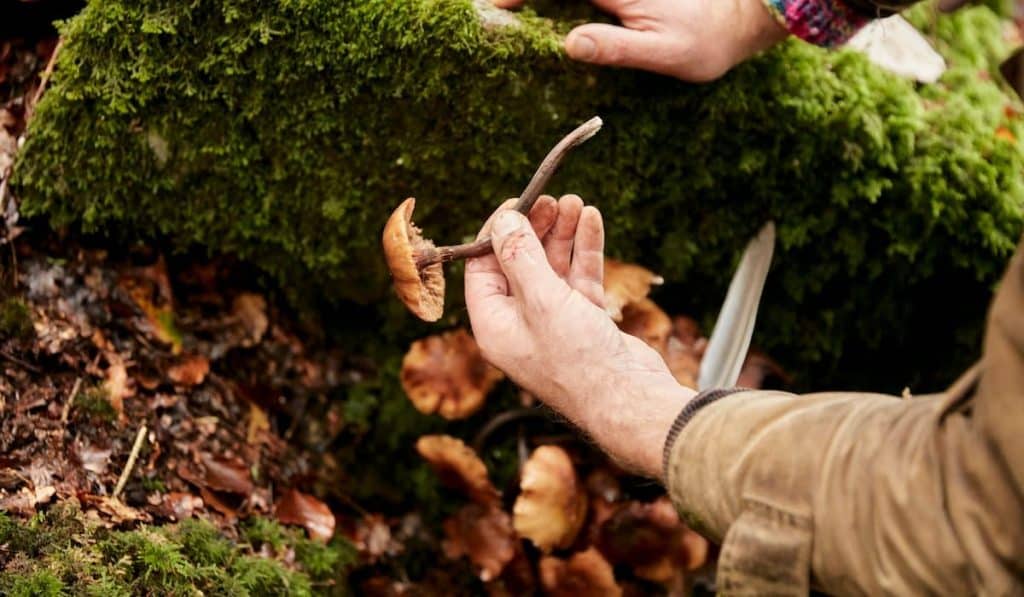 Know your location
Urban life comes with lots of processing and industrial activity that inevitably results in toxins in the soil.
That's why as part of your research, you need to find out about contaminated areas. Contact the local agency that handles pollution control.
They usually have a database of toxic places near you. Other foragers can also help you with more information.  
As a rule of thumb, avoid places with potential contamination like:
Golf courses and other commercial greens with chemical pesticide contamination 
Industrial sites, old dump sites, or gas stations that will have hazardous waste or burnt residue
Rail tracks and busy roads where chemicals and fumes can pollute plant life 
Polluted water usually near industrial sites  
Old demolished or dilapidated houses since they have high chances of lead contamination
Also, make it a point to wash the fruits and veggies you find before you eat them. 
Know your plants
Don't pick anything unless you're absolutely sure you know what it is. As mentioned earlier, plants almost always have look-alikes.
The worst part is one may be edible while the other is toxic (like an evil twin). So have your guide ready to double-check on any plants.
If you're still unsure, refer to the golden rule; if in doubt, ask or leave. 
For beginners, it helps to start with the more popular plants, which are easier to identify.
Here's a great guide with wild plants and their double-gangers. 
Raw or cooked? 
Some plants are safe when you eat them raw, but others you have to cook before consumption.
For example, you can't eat raw Hogweed (botanical name: Heracleum sphodylium). 
Find out the best way to eat the plant. You should never make any assumptions- your life literally depends on it. 
Is foraging legal? 
Unfortunately, the law doesn't allow foraging in all parts. Therefore, you'll have to find out the laws that apply in your area- you wouldn't want to break the law.
As a general rule, most city and county parks are off-limits for foraging. This also includes municipality property. 
However, each state has unique laws. Most states will permit foraging in some places.
For example, New York has designated a foraging garden in the Bronx. Many other states are catching on to this idea.
You will have to be vigilant in finding out the appropriate laws in your area. 
If you're venturing into private property, it's best to ask for permission before you take anything. 
Final Thoughts
Urban foraging involves lots of research, learning new things, exploring the great outdoors, not to mention the free food.
It's truly a lost wonder. That said, it's critical to take all the safety precautions.