Carving wood is one of the oldest professions in the world and it can bring you great satisfaction and a feeling of accomplishment that is only equaled by other hobbies from which you can hold the final product in your hands.
Before showing you which are the best 11 Wood carving projects for beginners, we should talk a bit about the wood that you should use.
Carving is done with hard wood or soft wood. The wood has different grain structures and beginners are better off with very little grain and a soft wood, as this pushes the blade in different directions and experience is required to maintain the carving direction.
The softest wood that you can find is Basswood and it's perfect for beginners as it has no knots, and the grain is easy to cut through. This means that you will be able to correct any mistake with ease.
Now that you have your material, let's start whittling.
If you'd like to learn more about getting into Whittling, check out the complete guide to starting it as a hobby.
11 Wood carving projects for beginners
Kitchenware is a great place to begin because once you carve something, you get to use it, and every time you use it, you will remember that you made it with your own hands and with some patience.
Also, it is great to actually use the products you make. It will make you feel like your work has more value.
11. A plate
Start simple with a plate. The good part about it is that if you fail at finishing it smoothly, it can become a decorative plate, or a peanut plate.
It's easy to hide your errors when it's ok to have an irregularly shaped object.
10. A platter
For this one you will need a bit more patience, as ideally you will end up with a flat, straight base, on which you can arrange a cake.
9. A cutting board
Every house has at least one of these. You can cut food on it, but since you will be making this one, you should know that the best way to take advantage of its value is by using it as a presentation platter for a perfect, medium rare roast. Jamie Oliver would probably agree with this.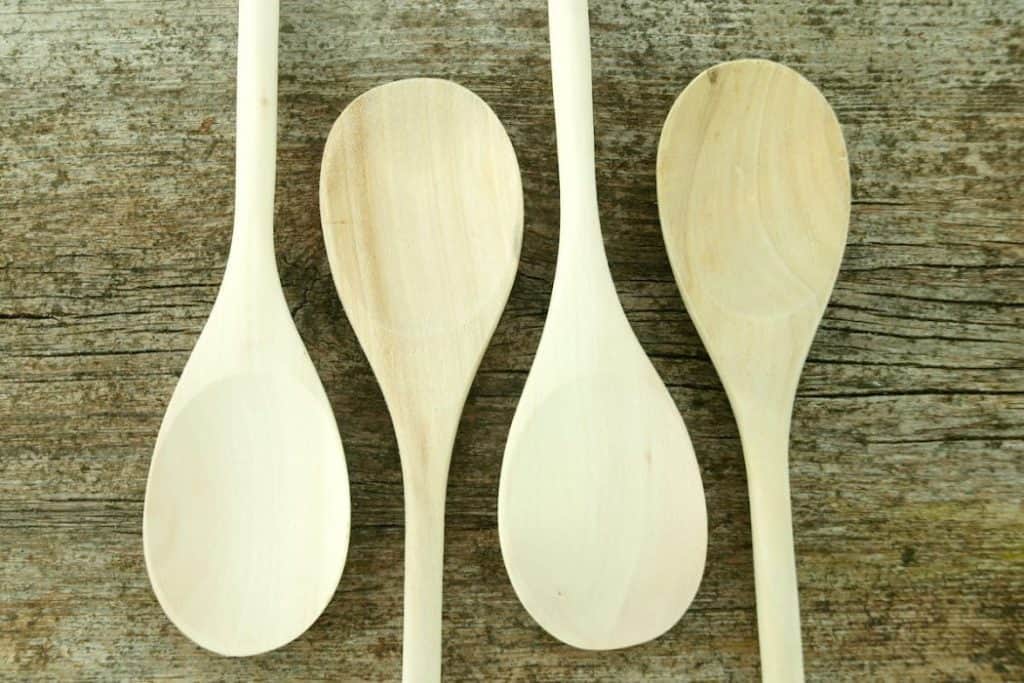 8. The humble spoon
Now that you have mastered lines, you can go on and learn how to go a bit deeper into the wood, to form the perfect wooden spoon that you can later decorate by carving, or by painting it.
7. A bowl
Bowls are a bit trickier, but they are still appropriate for beginners.  As long as you don't go too deep, so that you end up on the other side, you are on the right track.
Now that we covered pretty much every wooden object that you can have in a kitchen, let's move on to the next step: Ornaments and Gifts. Because everyone loves receiving a gift that you poured your heart and passion into.
6. An Owl
Even if it sounds complicated, simple owls have mostly straight lines with a few small details. So, make sure to choose a simple model that you are comfortable with.
5. Whistles
Depending on how much time you are willing to put in making a whistle, this could come out beautiful and it might actually whistle.
Make sure that you offer it as a gift to a youngster. The parents will love you forever, and you definitely won't be invited again.
Joking aside, wooden whistles are one of the first musical instruments, and creating one yourself is a journey worth taking.
4. Gnomes
Oh, the joy in carving gnomes can hardly be replaced. They are a staple for beginners and, if you keep them or offer them to family, you can see how you evolve as a wood carver, just by lining up your gnomes.
3. Animal figurines
Animals sound like they would be complicated to carve. But the fact that they are so well known by everyone, means that simple elements are imprinted in our memory, and we can recognize one even if there are just a few lines. There are many simple models that you can follow.
2. Fish
Many cultures consider the fish to be symbolic, and many people would appreciate a fish sculpture. Aim for a large fish, with a few small details, to start practicing the fine lines.
1. The pipe
There isn't a pirate or a smoker that doesn't want a pipe. Even if the concept is easy, carving it to perfection might take a bit of practice.
Pipes have been whittled for hundreds of years and still today are made for use by die-hard pipe smokers. They make great gifts if you can master the art of whittling pipes.
Final Thoughts
Wood carving is a beautiful hobby that connects one to the generations that came before us, and that can bring great satisfaction and also excellent products.
It's such a satisfying hobby. Start off with a piece of wood and end up with an object that is useable or decorative. Nothing beats that feeling!