We've all been there, asking ourselves that question. At least all beginner wood whittlers looking to wet their feet with this new hobby have.
It's easy to assume that pine, cedar, redwood or even cherry and maple— all of which are some of the most popular woods people pick to work with on woodworking projects — would be the best choice. 
But would it be the easiest wood to use for carving? 
Basswood, or Tilia Americana, is a species of tree from the family Malvaceae that is native to the eastern part of North America and is the easiest wood to whittle. Soft, moldable, low density and with very little grain, basswood is a popular beginner wood whittler's choice, seeing as how light it is and how little effort it requires to work with it.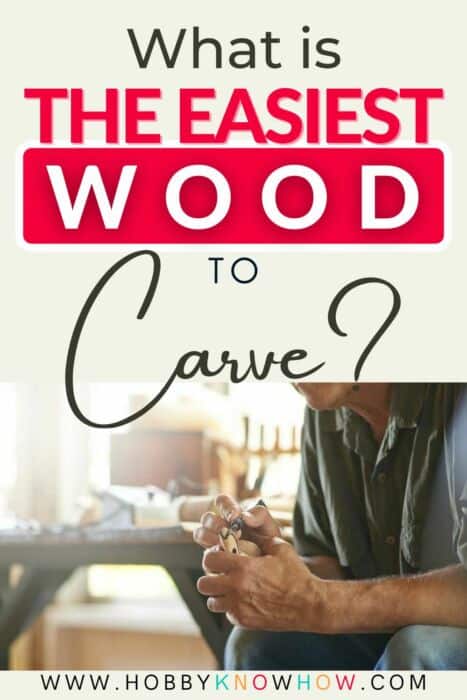 If you'd like to learn more about getting into Whittling, check out the complete guide to starting it as a hobby.
Characteristics of Basswood 
Texture: a nice, even texture with a moderate, natural luster.
Shrinkage: radial of 6.6 %, tangential of 9.3%, volumetric of 15.8% and TR ratio of 1.4.
Grain: fine and straight grain.
Sustainability: not considered to be a threatened species, as listed on the IUCN Red List of Threatened Species.
Maintenance: low maintenance required, but only after polishing and coating the finished product.
Easy and fast drying.
Five reasons why Basswood is the best wood for whittling
1. No allergy or toxicity
Splinters, standard health risk involving any wood dust and scrapes notwithstanding, basswood is pretty safe and has not been associated with any other health reactions.
It is not known to trigger any allergic reactions either, like dermatitis, an allergic reaction which causes your skin to turn red and develop blisters.
In fact, basswood is used to make home remedies to treat colds, infections, inflammation, diuretic conditions, and headaches, to name a few. 
2. Zero smell
Personally, I love the smell of wood, but sometimes, lingering smells and prolonged exposure to it can irritate the nasal cavity, especially if you're new to wood carving and your lungs aren't used to all those woodsy smells. 
For example, woods like red cedar, Spanish cedar and Incense cedar have strong fragrances that take a while getting used to. 
3. Soft, supple, easy to carve and color
Basswood is known to produce one of the softest lumbers in the wood processing industry, because of the fibers that are hidden in the structure of the bark.
This means, as a beginner, you'll have supple wood in your hands for you to practice on with a knife, as opposed to needing an axe to hack away at a small block of wood.
Malleable wood like basswood and even aspen, are great for beginner whittlers to practice with.
But basswood also happens to be super easy to dye, as it is 'white' wood, and is a veritable blank canvas for you to go Jackson Pollock with your work if that's where the wind takes you.
4. Inexpensive
Basswood is indigenous to North America, yes, but this white wood is also grown throughout Europe and is popular among woodworkers for being easy to find, easy to use and easy on the wallet.
Unlike other woods like black walnut — which is more expensive than Aspen — basswood is cheaper. 
The most commonly debated question, though, is whether basswood is so cheap because it happens to be cheap, quality-wise as well. It would depend on what you want to make with the wood.
Instruments? Not a great choice and at the risk of using a pop-culture reference it is all about the bass. You'd be better off using mahogany.
But if you're looking for wood to practice with, without having to worry about messing up the wood, then basswood is what you're looking for. You can find it at most every local industrial store you pop into.
5. Tools
You don't need fancy or ever super sturdy tools to work with basswood. Beginners wood whittlers hardly ever invest in top-of-the-line tools. But the wood you use is important and will influence the tools you'll need. 
Basswood is not going to ruin your tools. Your whittling knife will cut through basswood with ease and allow you to familiarize yourself with the technique, without having to worry about your wood and your tools.
Basswood is also more tender, which means you can practice complicated cuts or carving on it using your basic tools. 
Final Thoughts
As a beginner you want to be able to easily whittle and carve wood into something you can be proud of. By using a soft and easy wood to whittle it will make the hobby easier and more enjoyable.
When you're just starting out in any new hobby it's easy to be put off or discouraged when it's too hard at the start.
Nothing beats the feeling of whittling something you will be proud of and can show to your family and friends.
Who knows it might end up becoming more than a hobby for you.
Many people make a good living from whittling.