Foraging offers a more exciting experience than going to the farmer's market or grocery store.
Americans are now more than ever interested in eating healthier and knowing the real source of some of their food.
Forage tours are a great way to experience nature, enjoy the outdoors and partake of nature's purest delicacies.
These 10 locations will offer you the culinary and travel experience of a lifetime.
If you'd like to learn more about getting into Foraging, check out the complete guide to starting it as a hobby.
1. Willamette Valley, Oregon
Wine is not the only product Willamette Valley is famous for. Its truffles are a big attraction for foragers.
This highly sought-after food grows in forests all over the valley. Truffles are subterranean fungi that grow underground at the base of various types of trees.
Although they look similar to mushrooms, they don't have gills or stalks. Most truffles have a bulbous shape, and their size falls between a walnut and a potato.
Foraging for truffles on public land in Willamette Valley requires officials' direction because some areas are out of bounds while other spots require a permit.
Since truffles are underground, you may need to dig a little, but you can only use a ladle, big spoon, your pup's paws, or your hands.
No rakes are allowed as they ruin the quality of the soil. Winter and spring are the best foraging seasons in this area.
2. New York City, New York
New York City is rich with edible wild plants and fruits growing in 66% of its woodland area. Wild plants include apples, beach plum, blackberries, black walnut, burdock, chicory, dandelion, and so much more.
You can also find several types of mushrooms like morels, boletes, honey mushrooms, oyster mushrooms, inky caps, and a lot more.
The best way to forage in the city is by going on a foraging tour with an expert.
'Wildman' Steve Brill, an environmentalist and foraging expert, has been foraging in New York for over 30 years and holds tours from March to December.
He teaches children and adults about the medicinal and edible wild plants that we discount as weeds.
His program also aims to get people in touch with nature. He holds these tours for schools, day camps, scouts, and birthday parties.
3. California's Central Coast
Even for beginners, foraging for seaweed on California's central coast is not as risky as foraging other plants with poisonous lookalikes.
All seaweed is non-toxic, and several varieties exist on California's Central Coast.
This alga is more nutritious than several vegetables that grow on land. It is a popular dish in most Asian countries.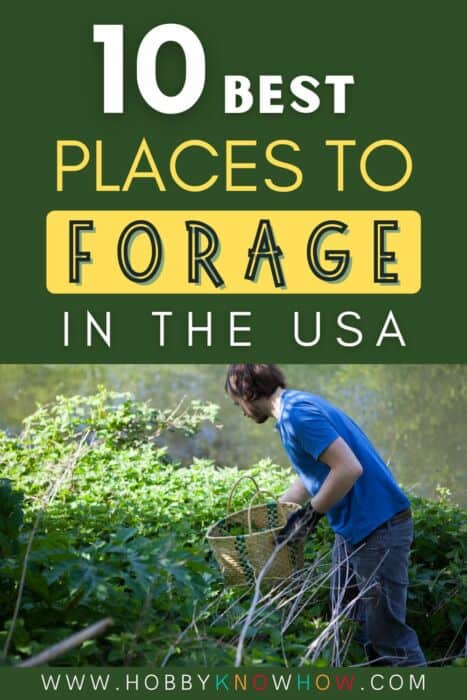 Spencer Marley owns Marley Family Seaweeds, a company that harvests, dries, and supplies wild pacific seaweed to restaurants and farmers' markets in the area.
He leads group seaweed foraging tours along the shoreline once a week, and it includes a ramen lunch, which he charges per person.
Some of the seaweed types on the coast include kombu, Big Sur wakame, nori, olive rockweed, grapestone, and golden rockweed. 
4. McCloud, California
Every year on Memorial Day weekend, McCloud hosts a mushroom festival to celebrate mushroom hunting.
This 3-day event features mushroom vendors, mushroom cooking demonstrations, entertainment, and a lot of fun.
The event also hosts a herbal and medicinal workshop that helps dwellers explore local weeds and native plants they can use for first aid and other ailments.
It wouldn't be a real mushroom festival without a mushroom foraging experience.
For over two hours, visitors to the festival explore the area's wild mushrooms.
This experience also provides participants with information about other wild local plants.
You will require a permit to gather mushrooms for personal use.
The morel mushroom is the most sought-after in this area by foragers and gourmet chefs for its distinct taste.
5. Ithaca, New York
Buttermilk Falls State Park in Ithaca offers a scenic view for hikers. The falls, the lake, woodlands, and playing fields aren't the only attraction.
A 90-minute wild foraging hike is a popular activity led by local foraging fanatic and ecologist, Sarah Kelsen of FLX Wild.
This hands-on experience teaches you to identify various wild Northeastern plants while maintaining and observing the forest ecology.
These foraging tours take place between April and November and are usually paid. It's free for children under 5 years old.
The trail is easy to moderate, and the hikers depart from and return to Firelight Camps.
You can continue unguided to the lower Buttermilk Falls. Bookings for the foraging tour must be made in advance by email.
6. Austin, Texas
Pecans are plentiful in Texas and Austin specifically. They are nuts from pecan trees and are most abundant during fall.
Their sweet and tender flesh can be eaten raw or cooked and is packed with protein and carbohydrates.
Hunting for pecans is a Texas tradition, and the hunters either do it for fun or to make money.
Other fruits and nuts that grow well in Austin include figs, peaches, pomegranates, mulberries, persimmons, and loquats.
Foraging urban neighborhoods most months of the year is common practice as the law permits you to pick up nuts or fruits from any public property like sidewalks and streets.
Make sure not to over pick and leave the unripe ones to grow first.
7. Mesick, Michigan
Spring is the perfect time for various spectacular activities in Michigan, including mushroom hunting.
Whether you're a beginner or expert forager, Mesick is the perfect little town to visit for this activity, particularly the coveted morel mushrooms.
The abundance of mushrooms in this town led to its title "Mushroom Capital of the United States."
Mesick hosts an annual Mushroom Festival with lots of activities, including Morel mushroom hunting contests.
Morel "lookalikes" are poisonous, so you must be able to identify them correctly.
If you forget your hunting gear, the festival officials will provide you with a kit.
When you find these elusive mushrooms, do not pull them from the ground. Instead, cut them at the base to keep the roots intact.
8. Missoula, Montana
Huckleberries: these tart wild berries grow in forests and mountainous areas. They are abundant for a short season in Missoula (mid-July to early September).
Thus, August is the best month to go huckleberry foraging.
Foragers and businesses take advantage of that little time and carry a few buckets with them to harvest the purple gold.
They gather as much as they can from the branches hanging heavy with huckleberries to preserve and enjoy them after the season in the form of jams, candies, syrups.
Huckleberries are a great source of vitamins A, B, and C. They range in color from red to blue to purple and even black.
Therefore, before you go out and about picking berries, make sure you're not gather potentially toxic berries.
Also, avoid berry picking in the dark. You may encounter a grizzly bear as they enjoy huckleberries and tend to snack at dusk or dawn.
9. Appalachian Mountains, West Virginia
The presence of ramps and ramp festivals in the Appalachian Mountains is indicative of springtime.
Ramps (wild leeks or wild onions) have a strong garlicky taste and smell.
Ramps are more dominant in moist and shady spots of Appalachian forests.
This wild vegetable appears in late March when its plant grows a circle of smooth broad leaves.
Foragers collect both the leaves and bulb.
When harvesting ramps, it's best to cut only one leaf, leaving the second leaf and bulb to continue growing.
This way, the soil, plant, and colony are not negatively affected. The past few decades have seen a demand for ramps from world-renowned chefs and local farmers' markets.
The ramp festivals aren't just for fun. Their purpose is to raise operations funding for community services like local fire departments and churches.
10. Washington
Razor clam digging is a popular activity by diggers looking to harvest this shellfish in Washington.
Thousands of people harvest up to millions of clams during spring.
Mostly, clam digging occurs on pacific beaches, including Twin Harbors, Long Beach, Copalis Beach, and Mocrocks.
This activity is fun for children as well as senior citizens.
You only need a clam license, a clam shovel or digging tube, and a container for your clams.
Nighttime clammers wear headlamps and light up several miles of the Washington coastline, making it a beautiful sight.
Plan for your adventure by checking the Razor Clam Society website for important updates.
The site usually publishes designated times and locations for safe digging.
Clammers below 15 years old don't require a license. Strictly keep your clams to 15 maximum, or else you'll be fined.
Final Word
As you plan your foraging adventure, ensure that you have all the tools and gear you need.
Make your bookings a couple of months in advance to confirm availability.
Always check the rules and guidelines of a specific destination so that you're not breaking any laws.
Most importantly, educate yourself. Read whatever literature is recommended or available for you to get acquainted with the specific area and plants you're going to forage.