The beautiful coasts of southern California are home to a variety of species of plant and animal life.
Foraging along the coastline is sure to give you plenty of meals without paying a dime. Intrigued?
Let's talk about coastal foraging in Southern California.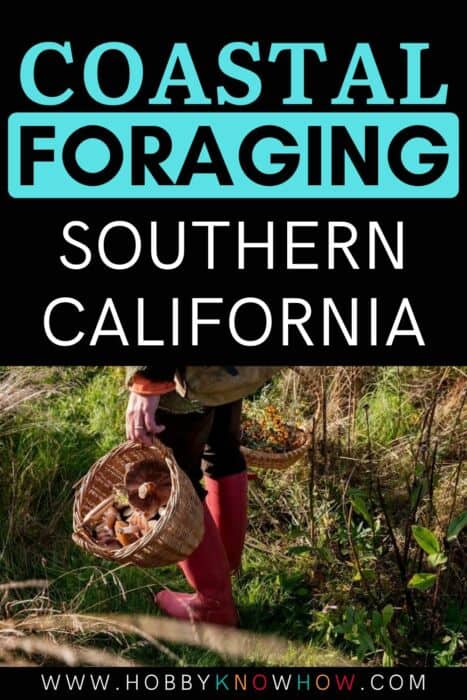 If you'd like to learn more about getting into Foraging, check out the complete guide to starting it as a hobby.
What Is Coastal Foraging? 
Simply put, coastal foraging refers to gathering a wide range of wild food that you can find on the coast. 
From seaweed and algae to clams and shrimp, the beach is a rich pantry.
Whether you're a vegetarian, seafood lover, or somewhere in-between, you'll find something for you. 
You may be wondering where exactly on the coast to find all this good stuff. Here's where you can look.
Where to Forage on the Coast
Tide pools
Tidal and rock pools are a great place to find seaweed, algae, sea urchins, crabs, mussels, snails, and so much more – you might even stumble on some lobsters.
To get the best haul, try to move as far away from the big beaches as possible. 
In Orange County, you can look for rock pool areas like:
Rockpile and Fisherman's Cove on Laguna Beach.
Little Corona Del Mar Beach.
Treasure Cove
Dana Point Headlands
In the San Diego County area, some of the best places to find tide pools for foraging include:
Point Loma area (think Cabrillo National Monument and Sunset Cliffs) 
La Jolla waterfront like Hospital Point
Table Top reef
Cardiff Beach.
Terramar Beach
For Los Angeles County are here are some ideas:
Abalone Cove Shoreline Park 
Coves on the Palos Verdes Peninsula Point Fermin in San Pedro
Sequit Point in Malibu 
Point Dume
You can also forage on rocks near the edge of the water, where you can find sea beet and other seaweeds.
Hidden inside the sandy beaches, you will discover wild leeks and other goodies like dewberries. 
If you venture a bit further from the shore, you can find other wild plants like mushrooms and wild garlic.
Benefits of Coastal Foraging
Just like its cousin, the land forage, scavenging along the coast has lots of great benefits, including: 
Free food
Nothing beats a low-cost meal full of delicacies. Getting your everyday dinners to look like 5-star luxuries is easy with the wide range of creatures and plants you can find along the coast.
It will help improve your diet and put more variety on your plate, at a low cost. 
Nutritional value
Natural foods are rich in nutrients, more so than store-bought and processed food. Seafood like shellfish that you pick along the coast are protein-dense, and seaweed is packed with vitamins.
You'll get a richer diet and improve your overall health.
Fun outing
The outdoors is always a great place to relax and unwind. Far from the madness of traffic and screens, you can reconnect with nature. 
What's more, discovering and identifying all the different species of sea life will make for an exciting day. 
Exercise
Going on a sea scavenge is not your ordinary day at the beach. Some coves and rockpools are not easily accessible.
It will take some effort to climb, meaning good exercise for you. 
Reconnecting with nature
Some species of plants and animals are invasive and, if left alone, may take over the coast.
As you forage, you play your part in promoting the circle of life and keeping things in balance. 
How to Start Foraging on the Coast
Research as much as you possibly can about the local plant and animal life.
A biodiversity atlas will help you identify the different flora and fauna on the coastline.
Books will have a lot of information you can use. So, consider getting a few. 
Apart from books, the internet is a useful resource; check out YouTube videos.
Find a few good ones (shot on the southern California coast), and they'll help you identify where and how to forage. 
While books and videos can tell you a lot, taking a course will help you understand the ins and outs of the hunt from an experienced forager.  
Another great idea is to find online forums for coastal foragers.
They'll have lots of information, and most will be happy to answer all your newbie questions. (there are a lot, aren't there?)
Coastal Foraging Tips
No room for doubt
If you are not a hundred percent confident in your identification, don't take it home with you.
You risk poisoning yourself or, at the very least, displacing a protected animal. 
Also, stay away from polluted water. This includes busy beaches and places where raw sewage effluent and chemical waste from industries is poured.  
Likewise, go as far as possible from areas near heavily fertilized places.
Take only what you need
Always be sensible when you forage on the coastline. Apart from suffering at the hands of pollutants, there's only so much the seas can produce. So, you can't take too much of anything. 
Imagine if everyone harvested more seafood than they need every day; there wouldn't be anything left soon.
So, it's a great idea to get even less than the daily limit.
Make safety a priority 
The weather at sea is unpredictable, so you have to make sure you check the weather forecast before you go. 
Steer clear of bad weather like storms and sea mists.
Moreover, it's safer to head out during a receding tide, so you'll have more time to leave when the tide turns.
It's always a good idea to plan several exits so an incoming tide won't cut you off.
Additionally, you need to take extra care when you're climbing on the rocks. Be careful of rockfalls and cliffs. 
To make sure you're safe, go with someone else or join another foraging crew. It will be easier to watch out for dangers together. 
Know the law
Southern Californian law limits the species you can forage for and how much of each you can take. 
For instance, you can't take more than 35 purple sea urchins. You're also limited to 10 pounds or less of mussels every day throughout the year.
The law similarly restricts when you can scavenge for certain species.
Like lobsters, you are only allowed to take lobsters from October to mid-March. Any other time, it's illegal. 
There are limits to the plant life you can harvest. Take seaweed, for example; you can't gather more than 10 pounds per day.
So, you need to research the exact laws that apply depending on your county. 
Foraging Gear
Here's what you will need:
Beach shoes or rain boots
Depending on where you'll be foraging, you need to protect your feet.
Non-slippery beach shoes will give you some traction over rocks covered in seaweed. 
For places with sharp seashells like mudflats, put on some rain boots to protect your feet from cuts. 
Breathable cloth bag 
You will need somewhere safe and secure to store your stash (you wouldn't want things to fall out when you're climbing). 
Carry a bag or basket, preferably one that closes properly and allows the water to drain out. You may want to take a cooler to keep your finds chilled. 
Gloves
Some shells are sharp; you'll need a good pair of quality gloves to protect your hands. 
Digging tools
You may need small digging tools like shovels, rakes, and forks to dig out shellfish and clams.
Remember to check with the authorities first; you may not be allowed to use tools on certain parts of the coast. 
What You Can Expect to Find Along the Coast
Seaweed
Seaweed is a nutrient-packed water alga that grows in rocks like sea lettuce, Irish moss, dulse, and some types of kelp.  
Some say it's even more nutritious than most greens grown in the soil, with many vitamins, minerals, some amino acids, and iodine. 
Don't pick the washed-up old seaweed, instead go for the fresh one that's still growing.
Just be careful not to pull it out by the roots (the holdfast), so it can keep growing. 
Shellfish
You can get shellfish like clams and mussels in tide pools. They are a healthy, low-calorie source of protein and good fats. 
However, you should be extra careful to get these in clean waters since they can filter the water and retain all the toxins that cause shellfish poisoning and diseases like typhoid and hep B.
Keep your ear on the ground for quarantine information from the California Department of Public Health.
You're not allowed to take mussels, clams, oysters, and scallops if there's a quarantine.
Crustaceans
The southern coast is beaming with crustaceans. You can get tasty and nutritious crabs, shrimp, prawns, or even lobsters.
These will need a little more foraging expertise since you'll likely have to dig a little to get them out. 
How to Get A Fishing License in Southern California 
You can take home some of your forages like seaweeds without a problem.
However, you'll need a license for some of the other sea creatures.
The good news is that a fishing license's cost won't break your bank and is easy to get. 
You can buy your license from the California Department of Fish and Wildlife or any other licensed retailer like Walmart or Big 5 Sporting goods.
You have the option of getting a permit valid for a day, two days, ten days, or a year which you can renew. 
If you don't like the idea of having to renew all the time (which you'll probably forget and get yourself into trouble), you have the option to get a lifetime license. 
They cost between $500 and $950 depending on your age, and you can only get these from the department. You can do this online, so it's not much of a hassle. 
To Conclude
Foraging along the southern coast of California is an enriching experience that promises fun, exploration, and good food.
Get your gear ready, buy your license to stay out of trouble with the law, and enjoy nature's gifts.