3D printers have become smaller and widely available to the point of them being fairly common household items for creative people. It isn't unusual for creative people to want to turn their hobby into a stream of income.
This begs the question; can you make money with a 3D printer?
It might take a while, but….
You can make money with a 3D printer. You can make money by selling items you've designed and printed yourself, items you've been hired to make for someone else using your equipment, or even paid for files made for 3D printers! 
---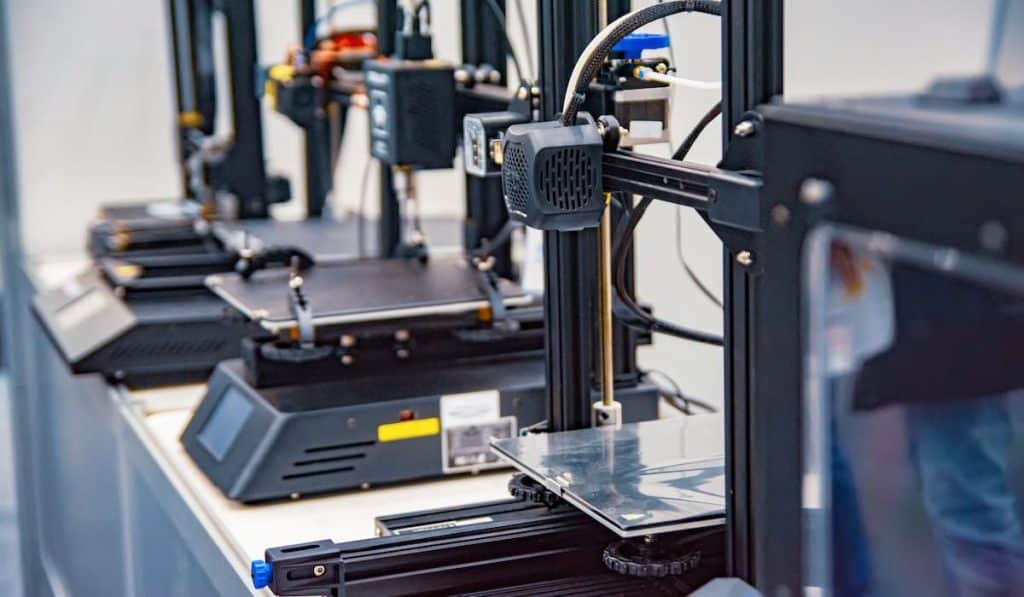 Knowing Your Startup Costs
3D printing isn't like knitting where you can spend $20 to pick up all the necessary tools and materials and start making items to sell. There are two main different types of 3D printers; resin printers and filament printers.
Whichever you choose, a low-end 3D printer can cost about $200 – $500, whereas a high-end 3D printer can cost up to $6000.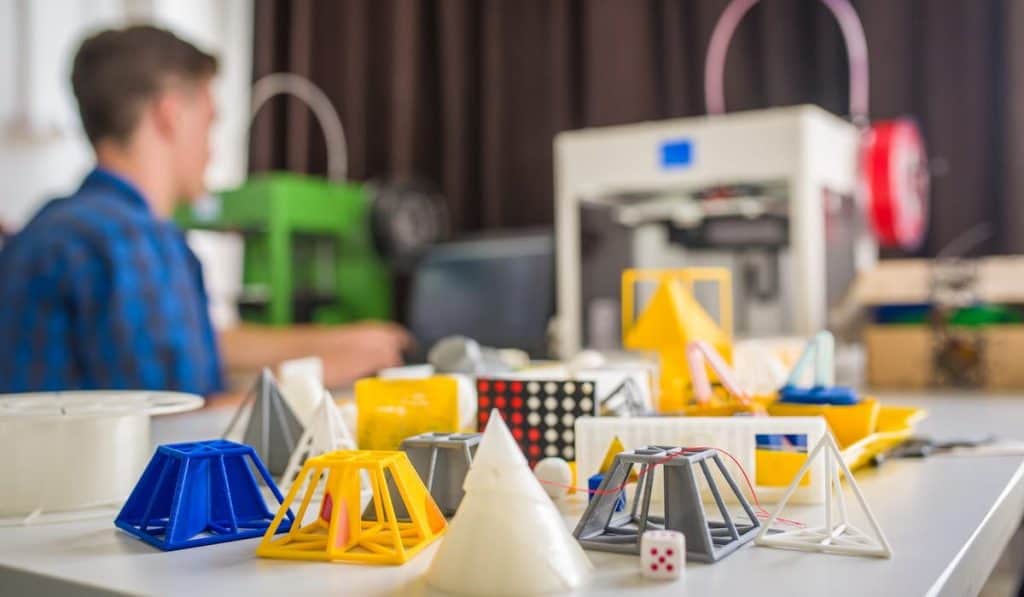 You also need material to print. Depending on which 3D printer you have, you will either need resin or plastic filament.
The quality of the material will determine the cost. In general, the resin will be cheaper than plastic filament when comparing the same project. 
What can you sell?
The sky's the limit when it comes to what a 3D printer can make. If you can think it, and you can design it, you can make it. If you're looking for some ideas, why not try one of the following things to make and sell.
Custom parts for equipment
Dungeons and Dragons miniatures
Jewelry
Christmas tree ornaments
Lawn ornaments
PC cases
Board games
If you're not the creative type, but you have the equipment, you can use your 3D printer to make things for other artists. There are plenty of people looking to make prototypes or make blanks to customize themselves, some people are looking to purchase custom pieces but don't have their own 3D printer.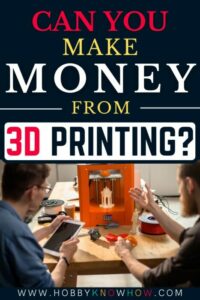 Here's a list of places where you can find people who will pay you to print something for them on your 3D printer.
3D Hubs: 3Dhubs.com is a website where engineers can order custom printed parts. There are requests for 3D printed items, laser cutting, and injection molding requests. 
MakeXYZ: makexyz.com makes it easy for customers to upload their file for 3D printing, they check it to make sure it is a printable file, and then the website finds an appropriate 3D printer in the area that can make the file. This 3D printer could be you making products for other people in your area. 
Shapeways: shapeways.com caters to people who need 3D printing done for their small business. They boast about having fast turnaround times and reliable quality, so if you're just getting started with a 3D printer, this might not be the first website you try. 
Fiverr: fiverr.com is an easy-to-use website that allows freelance workers the ability to post their services for sale and have customers seek you out. This option gives you the choice to set your own wages, showcase your products, and 
If you're the creative type, and you don't have a 3D printer, you could always design 3D printer files. 3D printing at home is growing in popularity and 3D printing files are in demand. You can use the list above to network with clients who want to pay you to make them a 3D print file. 
For more information on 3D Printing for beginners visit our complete guide to starting 3D Printing as a hobby.
Where Can You Sell
Now that you've spent time figuring out what items to make, designing your items, and printing your items, you are going to need somewhere to sell them.
The easiest place to post your items to is Facebook Marketplace. Unlike other places, Facebook Marketplace does not take a percentage in fees for using their platform to buy. Although it is very easy to post to Facebook Marketplace, it does limit who can see your posts.
It will also only show your post in a certain region. If you want to post to specialty handmade sites, consider one of the following
Etsy
eBay
Shopify
Wix
Squarespace
Weebly
Big-Commerce
Challenges You Might Face
This section isn't meant to deter you from wanting to make money with a 3D printer, but to inform and educate you of the challenges of doing so. 
3D printers come with a lot of very pressure sensitive moving parts. They work with heat, melting plastic, and fans. It's no surprise that there are often pieces that break or stop working.
These problems normally arise in the lower end 3D printers, but not exclusively so. The pieces aren't expensive but replacing them frequently might start to add up.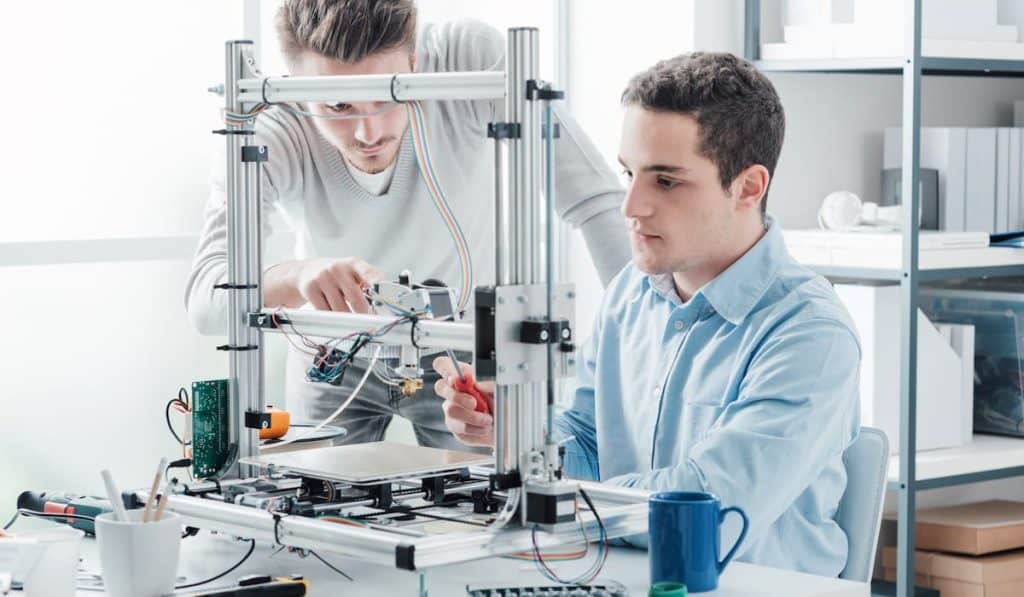 The other challenge you might face is finding something to make that people want to buy. You can make a specific product all day long, but if people don't need it, don't like it, or don't want to buy it, then you've spent your time and resources on something that won't sell.
This is true with any business. There's no easy solution to this except trial and error, and only make one item at a time if you can to gain interest. 
Final Thoughts
Owning a 3D printer doesn't guarantee you a successful business. As with any hobby that you are trying to monetize, hard work, and finding the right products or services to offer is the only way to turn your passions into income.