If you are looking for a retro or vintage hobby that will keep you and your friends entertained for hours, the childhood favorite of slot cars is a great pick!
Many of us can remember the thrill of setting up slot racing cars on a track and using the trigger controls to leave opponent racers trailing.
The angst and frustration of a slot racer's car coming off the tracks was a frequent occurrence and completing a loop-the-loop was a joy to behold!
You may have missed out on slot cars as a child or may be looking to relive the good times you enjoyed with your own slot car racing set. We are sure that you will find that slot cars make a versatile hobby, with a significant global community of enthusiasts.
If your budget allows, slot cars is definitely a hobby that can grow, as you have a wide range of collectibles with the track, cars, and electronics to create custom racing experiences complete with acrobatics and multi-lane rallies with tribute track layouts. 
So, without further ado, we will explore the slot car racing hobby. Think competitive racing, collectors' fairs, and even epic design and build projects!
This comprehensive guide to the hobby of slot racing has got it all for you, and is jam-packed with supplies, resources, and links to get you burning rubber in no time.
Let's Start at the Beginning. What are Slot Cars?
Slot cars are electrically powered, motorized model cars that have a pin or blade projection that comes from the base of the car. They have nothing to do with slot machines! The blade fits into a slot on a specially made track, on which the slot car runs.
Much like an electric toy train set, contact between woven metal braid pads on the slot and the electrified racing track provides the connection that supplies power to make the slot car move.
These miniature automobiles come in a range of designs and can be fashioned as famous, contemporary, or futuristic racing cars.
Cars can be built and purchased from the leading commercial brands discussed below or alternatively model slot cars can be self-build from kits or sourced components.
Slot car hobbyists who competitively race may work on their cars to improve their racing performance.
How are Hobby Slot Cars Powered?
Slot cars carry can-shaped direct current motors. These small motors measuring only a few centimeters in length, supply the car with the rotation power needed for movement via an armature and pinion.
High-speed motors have speeds of more than 20,000 rotations per minute and are a critical component for controlling how the car performs. The electricity to supply the motor comes from the guide slot in which the car is positioned to race.
The supply of power is regulated by the classic trigger controller which raises or lowers the voltage of the slot car's track. This in turn controls the speed of the car with a tight squeeze on the trigger increasing the speed of the car. Overdo it on a bend or before an obstacle and the slot car will de-slot, coming clear from the track – wipeout!
Slot Car Racing: How does it Work?
Slot car racing is a competitive sport that involves the racing of slot cars on custom-built tracks. It is distinct from the toy car racing setups that come in boxed sets.
Slot car racing was extremely popular in the 1960s and 70s where many public courses were set up across the US and UK for race meetups. The multi-lane tracks for these races are custom build or routed and competing cars must meet stringent size and voltage standards to perform in specific classes of race.
A number of national and international bodies govern and convene the races. Racers can even turn professional.
Slot car races have a range of formats that we will take a look at further on.
Slot Cars have been Good, Clean Fun for Generations!
The first slot cars were more of a hack than a direct invention. Toy cars were adapted to draw power from an electric train rail and were sold commercially in the US in the very early 20th century.
From there, the speed controls gradually became more sophisticated and the size and design of the racing cars began to decrease in size as hobbyists began to model and adapt the small electric train motors with a variety of customized chassis.  Clubs also were formed, and hobby slot car racers would build custom tracks and wire them to run group races.
It was not until the 1950s that the slot design began to become prominent. In time, it became seen that slot cars had many advantages over racing cars on tracks, especially when taking bends.
The late 1950s also saw the release of the classic Scalextric line of slot cars, using injection-molded plastics to build 1:32 size model race cars with contemporary designs.
Across the Atlantic, US company Aurora Plastics Corp created its own, phenomenally successful line of slot cars that took America by storm in the 1960s. Many of the generations of young boys and girls who enjoyed those first racing cars are still enthusiasts and collectors today!
From there, improved designs, electronics, and manufacturing techniques have made slot cars increasingly realistic with a refined racing experience that has supported the transition of slot car racing to a competitive sport.
Popularity waned with the rise of video games but currently, slot cars are experiencing a resurgence, particularly in adult racers.
As always, hobbyists and enthusiast slot car racers have been the ongoing innovators of the sport, with 3D printed cars, novel electric motors, and digital tracks being part of contemporary slot car racing.
5 Great Reasons for making Slot Cars Your Hobby of Choice
Slot cars can make a great hobby for participants willing to put in the time, effort, and investment to gain mastery of the racing skills involved and collect or build racing cars. Here are 5 key reasons to give slot car racing a go:
Slot cars is a very accessible hobby
Becoming a master at slot car racing does not require F1 driving skills and people of all ages and abilities can derive great enjoyment from racing these cars. As they are operated by a hand-held trigger control, the dexterity needed to squeeze the trigger is all that is needed.
Also, if racing is not your forte, you can still pique your interest in collecting cars and components or even building expansive race setups. Racing slot cars is also great as you can enjoy it indoors and it is still great fun if you pursue your hobby alone.
You can also start small with a slot car set and expand your collection from there.
For children, slot car racing makes fun imaginative play
Speed and racing cars of any type are a delight for children so slot cars will definitely wile away the hours on a rainy afternoon. It is also a great way of sharing quality time between the generations as parents or grandparents can take their children to races and fairs and start collecting together.
If you are introducing your children to slot cars don't just leave the activity at racing. Learning about how the cars are constructed and perhaps building your own slot cars offers great educational benefits and exercises skills in electronics and engineering.
Slot cars are a great hobby for those who enjoy building things
The technical side of slot car racing offers lots of creative scope for enthusiasts who want to build the perfect racing car. You can get started in building slot cars by purchasing slot car kits with high-quality resin bodies and chassis that can be assembled at home.
If you have a tabletop 3D printer, you can print your own chassis and bodies too. You may want to take second-hand or broken slot cars and get them working or improve their performance.
Many companies will provide the motors, gears, wheels, and other parts needed to refurbish cars.
Some slot car enthusiasts turn their efforts to building expansive, custom racing or stunt tracks. These self-built designs can be highly elaborate with model spectators, grandstands, trees, foliage, and flags; ideal for equipping a basement or attic man cave.
Fans of great racing tracks like Silverstone, Le Mans, or Circuit de Monaco have made highly detailed scale replica slot car versions.
You could build up a valuable collection
Slot cars could prove to be a highly lucrative hobby, as there is an increasing demand for vintage toys and racing sets.
Early or special edition slot cars change hands for substantial sums at auction or via the numerous websites, classifieds, and message boards set up by hobbyists.
Browsing, rummaging, and trawling the market for vintage slot cars is a hobby in itself and the rewards are great with certain models changing hands for thousands of dollars.
Participate in a packed calendar of events and races
If you excel at racing your slot cars, your next step would be to put your skills to the test in competitive races. Many countries have slot car racing clubs and racing organizations where you can enter yourself to race.
Participating in races provides the opportunity to try out larger and more challenging tracks than you may have at home. Most clubs will require you to become a member and pay a subscription to race with them.
Regional and national races and conventions also make a great day out and often have some amazing tracks to try out, as well as stunt shows and workshops. It is even possible to go pro, with world-class racers like Jaroslav Recek routinely topping the leaderboards of the International Slot Racing Association World Championships.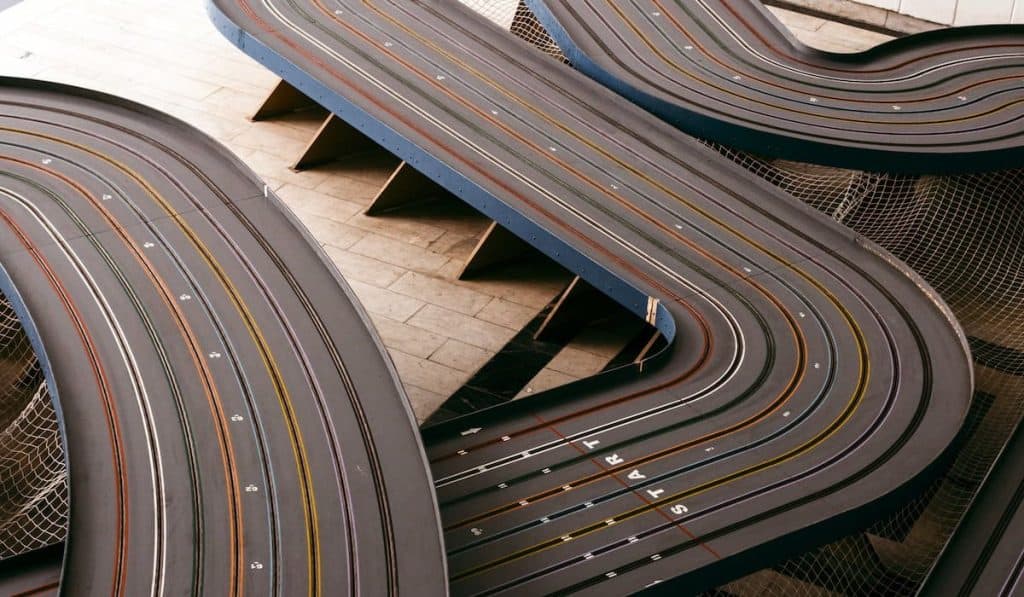 What does a Slot Car Racing Hobby Involve?
Slot car racing is only as complicated as you want to make it, but if you want to participate in races or use club racetracks, you will need to be familiar with the basics of how racing works.
It is well worth visiting your nearest club if possible, watching relevant YouTube guides, or communicating with other slot car hobbyists online or in person. This will help you decide the type of slot car racing you want to do or provide inspiration for starting a collection.
Keep reading for some helpful pointers to get to grips with your slot car racing hobby.
Types of racing: most mainstream races are either scale races where hobbyists create and detail accurate replicas of race cars (often vintage) and the more contemporary slot racing that uses aerodynamically designed cars that are built with the focus firmly on speed.
Size of car: The classes of slot cars available for racing are dependent on the scale ratio of the model car. The three most common sizes are:

1:24 scale (1/24) is a common size for model cars where one unit of measurement on the slot car is equivalent to 24 of the same unit on a real car. These are the largest sizing of slot cars, at up to 30 centimeters in length, and are too big for racing on a home course. Many of them are wing cars that are capable of achieving breathtaking speeds. Others are collector's items and raced on club tracks, often for exhibition purposes.
1:32 scale (also known as 1/32 or the three-eighths scale) slot cars are traditional or standard-sized with an average length of 5 to 6 inches (12 to 15 centimeters). They are used for both home and club racing.
1:43 scale cars are typically a child's toy but are increasingly sought after by enthusiasts for racing. 
H0 (or half-0) scale slot cars have proportions in line with traditional model railway trains and are equivalent to a 1:87 scale. Actual sizing can vary widely but these slot cars require their own track systems and are usually used for home racing.

Power requirements for racing slot cars. As the track supplies the power needed for racing your cars, it's vital that its voltage and amperage comply with the standards set for competitive racing conditions. 1:24 racing slot cars require between 12 and 14 volts, 1:32 cars usually use between 12 and 16 volts and H0 tracks use voltages that are higher still. Delivering the clean DC power required is a priority and a good quality power supply is usually a priority for a serious hobbyist. The power also needs to be constantly distributed through the track at all times for uninterrupted racing. Keeping track clean and corrosion-free makes all the difference to your racing experience.
Race formats

Round robins are the most common type of slot car race. They involve either clocking up as many laps as possible on the track within a fixed time period or racing with three other drivers in a heat arrangement. In a competition setting drivers are usually given a short period to try out the track prior to racing.
Heats are races run between small groups of racers with their total number of laps totaled for progression to the next stages of the competition.
Slot car drag racing takes place on a straight length of track on a scale quarter mile. It is extremely popular in the US.
Leagues for Hobby and Professional Slot Car Racing
There are national and international organizations that oversee slot races. Here are some of the leading ones:
United Slot Racers Association (USRA): This US-based organization sanctions annual National Championships for 1:24 and 1:32 racers. Races include wing car and scale car classes.
International Slot Racing Association (ISRA): convenes annual races with international entry, held in a different country each year. Competitors are 1:32 slot racers and all entrants must have their cars technically inspected before entering races. Regional delegates of the organization are present in participating countries as a point of contact.
National Slot Car Scale Racing Association is a US-based league for hobby racers offering classes that include vintage car races.
True Scale Racing Federation (TSRF): provides specifications and regulations for racing 1:24 and 1:32 slot racing cars. IN recent times they have developed their own line of slot racing cars and parts.
British Slot Car Racing Association (BSCRA): runs a packed calendar of UK based 1:24 and 1:32 slot car races. They provide the rules and guidance on tracks and cars for regional and national races in the UK. They also liaise with ISRA for World Championship races.
HOPRA (the HO Professional Racing Association):  is a US-wide racing association that convenes national racing meets for HO racers.
Key Kit and Accessories for Your Slot Car Hobby
These are the essential tools of the trade and supplies for a slot car racing hobby. Home and club slot car racers should learn how to set up a track or repair a car.
If you start competitive racing you will definitely need to have accessories like these on hand to maintain or customize your track and cars.
Most slot racing hobby tools are miniature, detailing slot car bodies, tuning motors, and preparing tires for races.
Track and borders are a key to building and extending your ideal circuit and help you include stunts and sideswipes. You can choose from branded or generic track pieces that can often be purchased individually according to need. Key track pieces include:

Straight converters
Side-swipe straights
Starter grids
90-degree hairpin radius
90-degree radius curve crossovers
Leap ramps
Straight-straight crossovers
There are also powerbase upgrades that can be made to your track, which include features like wireless control for a digital slot car racing experience. Power Booster tabs can also be attached to the underside of the track to improve the electrical connectivity between sections of the track. 
Hand controllers are critical to the control of your car and enthusiasts will spend time and money on fine-tuning or upgrading their controllers. Controllers should be selected according to whether they use a one or two-finger driving style and their electrical resistance (typically between 15 and 55 Ohm) determines the sensitivity of the controller. Spring tension in the trigger and copper contacts also make all the difference in how the slot car hand controller handles. Premium models can self-disconnect if they come with a length of connecting wire that can be plugged into your track system of choice.  Pro racing controllers are highly adjustable with additional controls and settings with multiple small dials
Power supply units are portable and can be used to precisely meet the power requirements of your slot car racing track. Home, club, and digital tracks will have different needs. Attaching a power supply to your track will help support a larger circuit and prevent the power drops and surging that may interrupt the consistent performance of your set-up. Your power unit can run your track, controllers, lap counter, and tools.
Lap timers can be dual-lane or multi-lane and allow you to accurately time laps for competitions. They are sensor-controlled and will record the lap time every time the slot car crosses the sensor. They can be programmed to operate for different race styles and often have a memory function so you can recall previous race statistics.
Tire truers and cleaners are necessary if you use your slot cars in professional races. Truing tires is a key part of professional races and properly rounded tires will enhance your car's performance and hold on the track. This mechanical device can be used to file and prepare both the rims and the tires. Tire oil can then be used to polish the completed tire.
Oil lubricants and cleaners are needed to maintain your cars. Only small quantities are needed and can be applied accurately to the small components of your car or track via needles or droppers. Service your slot car set with:

Tire cleaner
Gear and bushing oil
Gear grease
Motor oil
Lubricant spray
Tire traction oil
Track conditioner

 A pinion puller and press assist in the removal and replacement of motor pinions. Accurate alignment of motor pinions and the shaft is key to the proper performance of the car and can provide a competitive advantage in races.
Collecting scenery extras for your home track setup can be a hobby in itself and provide an added dimension to your racing experience. Specialist slot car and hobby railway retailers provide a range of props and figurines including figures of track officials, mechanics, and spectators for your raceway, pit stops, and grandstands. The track can be lined with scenery barriers reminiscent of any Grand Prix including branded barriers, piled tires, and cones. Bridges over the track are particularly popular and can be accessorized with model spectators too.
Hobby tools for slot cars are miniaturized to allow ease of working on the small components of the car. A precision screwdriver set is a basic requirement along with a precision oiler and fiber pencil, which can get into grooves and crevices for cleaning. Repairs to the slot are almost routine so a slot tools set should be carried with you to races. Tweezers are also regularly used, and you may need a slot car balance device, setup plate, and digital scale to ensure that your cars are properly leveled and race compliant. Hobbyists that are serious about building cars will need to equip themselves with a dedicated well-lit workspace where they can work on their modeling. Tools needed for building are similar to those required for other model building hobbies including magnification lenses, cutting mats, sanders, and craft knives. Paints, resins, and their attendant brushes can be used to add the finishing touches to scratch-build cars or kits.
Pit boxes separate the amateurs from the professionals and are your portable workshop for transporting your car collection and tools for races. These compartmentalized units vary in their complexity and are as large as a luggage wheelie depending on the gear you need to stow.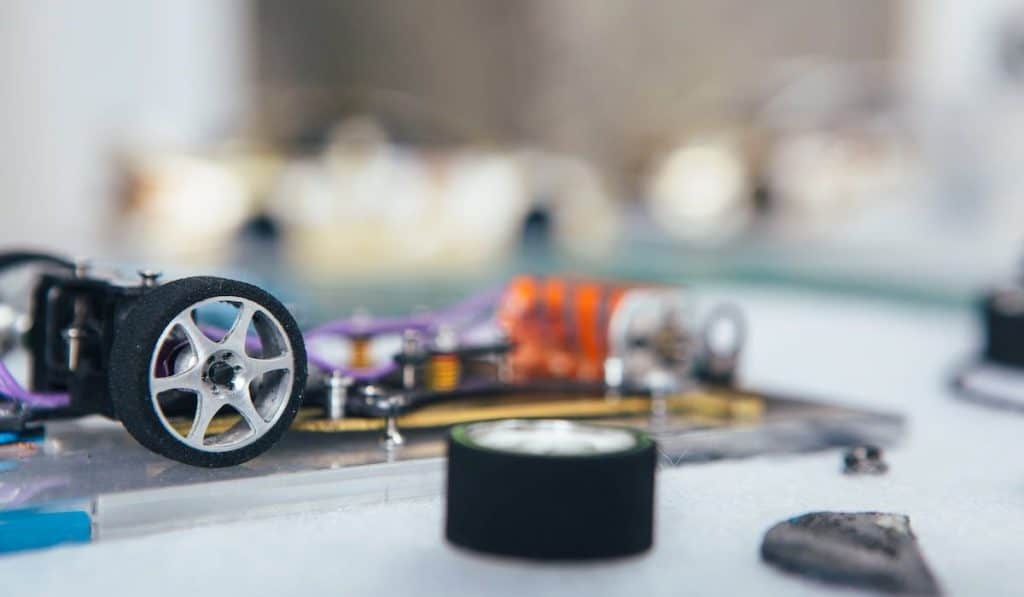 If Racing is not your thing, Collecting Slot Cars is a Great Hobby Too!
Buying and selling slot cars is a fast-growing hobby, and many racers may collect popular models of a particular scale. HO and 1/32 cars are in demand with many collectible models, made from the 1960s to the present day, changing hands for hundreds of dollars.
Collectors will search for specific varieties and series models as well as rare cars and prototypes from the leading manufacturers. Key slot car brands for building a collection include:
Scalextric is one of the world's leading slot car brands and since the 1950s has enjoyed great commercial success through its slot car racing sets. Marketed as the most complete model racing system in the world, its track and controllers are often compatible with other brands. Scalextric produced cars in 1:32, 1:24, 1:28 and even 1:64 scales. Early models included model Ferraris and Lamborghinis as well as British Jaguars and Aston Martins which are still sought after today.
Ninco 1/32slot cars, tracks, and accessories are also widely available and hail from Spain. They specialize in highly detailed scale models spanning vintage, F1, and off-road, which have a following of collectors.
Carrera is a German/Austrian slot car brand that started producing 1:24, 1:32, and 1:60 slot cars in the 1960s. Named after the iconic Porsche Carrera, they have produced innovative track systems including, slot free and third wire racing tracks. Carrera collectibles are popular because over the decades, they have negotiated to license deals with world-leading automotive brands like Ferrari, Bentley, and NASCAR.
Tyco is a division of the US toy company Mattel and produced a now-discontinued line of slot cars in the 1960s on a 1:64 scale. Designs included Corvettes, Buicks, and Pontiacs. They are a sought-after brand of vintage slot cars.
Slot Car Jargon for New Hobby Racers!
Here are some common slot car racing terms:
4WD: Four Wheel Drive: These cars supply drive to both axles.
Angle winder: The motor in the car is aligned at an angle to the car's rear axle.
Copper taping: This involves running adhesive-backed copper tape along tracks as an electrical contact.
Deslot:  This is where a slot car comes out of its slot. It can be caused by too much grip on the front wheels. Racers hate this as they lose time replacing the car on the tracks.
Feathering the throttle: This is a tactic for controlling the speed on bends and involves light smooth trigger movements on the controller.  
Magnabraid: A magnetic version of the conductive braid used by slot cars which helps to hold the track.
Mint: A brand new car, or a complimentary term for its condition.
Noob:  A new slot car enthusiast
NOS: New Old Stock:  Slot car racing stock that was never sold and is available in mint condition!
OTB: Out of The Box: Another term for box fresh cars.
Slot addict: self-explanatory
Scaley:  An affectionate term for Scalextric
Shelf Queen: A collectible car that is enjoyed for its looks in the cabinet or shelf rather than racing capabilities.
Resources and Links for Hobby Slot Car Racing
Slot Car Wiki: a great encyclopedic site for all things slot car.
Top forums for hobby slot car racing
SlotForum: A busy international forum for all things slot car!
Slot Racer Forum: This forum hosts an active community of slot addicts with boards dedicated to various sizes of slot cars and scratch-build projects.
Scalextric US Forum: Run by Scalextric with boards covering all aspects of the brand and slot car racing in general.
Best YouTube channels for slot car racing
Rounding Up
We hope that you not only enjoyed our whistle-stop tour of the world of slot car racing but learned something too!
Slot car racing is a surprisingly sociable hobby with a burgeoning calendar of activities, expos, and races. Most enthusiasts are happy to share tips and advice via the range of forums we have shared above.
All that is needed now is to get a kit and start racing. Enjoy your new hobby.