If you're into living a fit lifestyle, you may have dabbled in yoga practices and have a yoga mat at home. You recently may have developed the urge to take your fit lifestyle outdoors and go camping. Do you have to buy a sleeping pad, or is a yoga mat suitable for camping?
A yoga mat is not nearly as compact, comfortable, or as insulating AS A purpose camping sleeping pad. Using a yoga mat will leave you with body aches and pains all over when you wake up (if you were able to fall asleep in the first place), and won't keep you as warm. 
Compactness
If you're going camping, whether it's directly out of your car, backpacking into a spot, or portaging, you will want to pack your essentials as lightly as possible so it's easier to set up, take everything down, pack into cars, and have room for all the extras you want to bring. 
Let's take a look at the list of camping essentials for a second
Tent
sleeping pad
Sleeping bag
Pillow
Tarp
Cooler
Food
Hammock
Games
Camping stove
Pots, pans, bowls
Plates, bowls, cutlery
First aid kit
Bug spray
Sunscreen
… and that's not even including luxuries like a bike, a kayak or two, a boat, electronic devices. There's a lot you need to bring with you and it all has to fit in your car, backpack, or canoe. 
If you tried bringing a yoga mat, it will take up at least twice the amount of space as a sleeping pad. Yoga mats don't need to be compact. You use them at home, or you bring it to a yoga class with a water bottle and you don't need to carry anything else. 
Yoga mats are easy to roll up, put a couple straps on to attach it to a bag, and then roll out when you want to practice yoga, but they aren't meant for cramming into small trunk spaces.
For more information on what you need to bring camping, check out the full beginner's guide. 
Comfortability
Think about your yoga mat. It's relatively thin, offers support for your hands and feet, and is designed to not move around much so you don't fall during your yoga poses.
A sleeping pad, however, is designed to support the weight of your body, and the curves in your back so you don't wake up in pain. 
There are three different types of sleep pads; air pads, self inflating pads, and closed-cell foam pads. Each type of mat comes with different advantages and disadvantages. 
Air Pad
Air pads are essentially a blow-up mattress, but they are so much better than that sounds. These are the most comfortable, lightweight, and compact out of the three different types. 
MEETPEAK Camping Sleeping Pad
【Extra Wide & 3.2 – 4″ Thick Sleep Support with Pillow】- Our creative V shape design with pillow is made special with body mapping technology. The V shape air cells ergonomically support all of your pressure points, no matter lying flat or on side, 3.2 – 4 inch thickness & 27.6 inch width keep you body away from the ground and insulating the coldness, ensuring maximum comfort and warm for your sleep all night long. Let's enjoy a good sleep with pillow when outside!
【Only 30s Stomp to Inflate & 1s Deflate】- 2021 upgraded foot press sleeping pad, NO MORE inflating by your mouth, hands or carry a pump, just simply stomp on intake device at the bottom of the sleeping pad for only 30 seconds to inflate. Look, prefect camping mat, start your adventure. The newest single-layer air release valve design, just open the deflation plug, only need 1sec achieve super quick to deflate.
They are also the most expensive the lighter and more compact they become. 
If you're into camping during winter months, specialized air pads with insulation or reflective material to hold temperatures will keep you  much warmer than any other sleeping pad. 
Even though these are some of the best types of sleeping pads, there are a few disadvantages with air pads though. They are very easy to puncture which may not be a good thing to bring if you're planning on camping with a dog. 
Self Inflating Pad
Self inflating pads are the sweet spot between air pads and foam pads. They are more durable than air pads but heavier than foam pads. 
Clostnature Self Inflating Sleeping Pad for Camping
IDEAL COMFORT: When you're in the backcountry one comfort you shouldn't sacrifice is a good night's sleep. A sleeping pad is cheap sleep insurance that offers superior cushioning and support, you won't feel the ground with this foam sleeping pad. Do not be anxious about the thickness, 1.5" thick is just right to balance comfort and portability. What's more, we offer a limited ONE-YEAR WARRANTY!!!
EXCELLENT INSULATION: Waterproof fabric with 1.5" thick memory foam padding. The camping sleeping pad introduces environment-friendly material without any plastic or chemical smell, this inflatable sleeping pad helps you have a pleasant sleep at night by offering firm support. Up to 4 R-value provides ultimate insulation in cold weather
These sleeping pads provide great insulation but aren't nearly compact as air pads so they aren't great for backpacking trips. If you're going car camping, these would be great to throw in the car. 
Closed-Cell Foam Pads
Closed-cell foam pads are made of dense foam filled with very small closed air pockets. These are the sleep pads that look the most like a yoga mat which is where some people might get the idea they can use a yoga mat for camping. 
Sale
XCEL Extra Large Marine Roll, Closed Cell Rubber with Adhesive
Marine Rolls & Sheets: Made of closed-cell foam rubber, these pads are naturally non-absorbent, extremely durable and very buoyant. The rubber sheets and rolls can be placed on seats or under furniture to provide cushion and prevent sliding, or used to line hulls or cabins. The rubber sheets and rolls are a perfect tool for marine use in ships, sailboats, kayaks and many other applications.
Product Features: Our Marine Cushion rolls padding are a versatile DIY marine tool. The marine rolls are made from high-grade closed cell foam rubber, which makes them water/oil resistant, very buoyant and flame resistant. These rolls are ideal for adding cushioning or interior lining to the hull and cabins while providing acoustic and thermal insulation to the interior of a boat. Our foam rolls can be easily cut to make a perfect custom fit.
These sleeping pads don't offer the same amount of comfort as the air pad or the self inflating pad, but they are the least expensive and extremely durable. 
Foam pads are recommended for people who are thru-hiking, which is a form of camping where you backpack your way through a long distance trail from beginning to end. The distance means you have to pack light, and pack gear that is easy to set up and take down, but it also has to be durable. 
During normal camping trips, you set up at the beginning of your trip, and take everything down at the end. When you're thru-hiking, your tent and sleep system are set up and taken down daily which puts a lot of wear on your gear. 
Inflated pads are susceptible to holes which are difficult to find so you can fix them, and once you have a hole in your pad your comfort is compromised. With a foam pad, however, there is no risk of a deflated pad, and a foam pad is more comfortable than a deflated air pad. 
Insulation
Before explaining how the insulation of a yoga mat differs from a sleeping pad, you should probably learn what an R-value is. 
The R-value of camping gear measures the ability to keep camper warm by insulating against the ground (sleeping pad) or environment (sleeping bag). R-value is rated on a scale of 0-6, and the higher the R-value, the better insulated your sleeping pad and sleeping bag will be.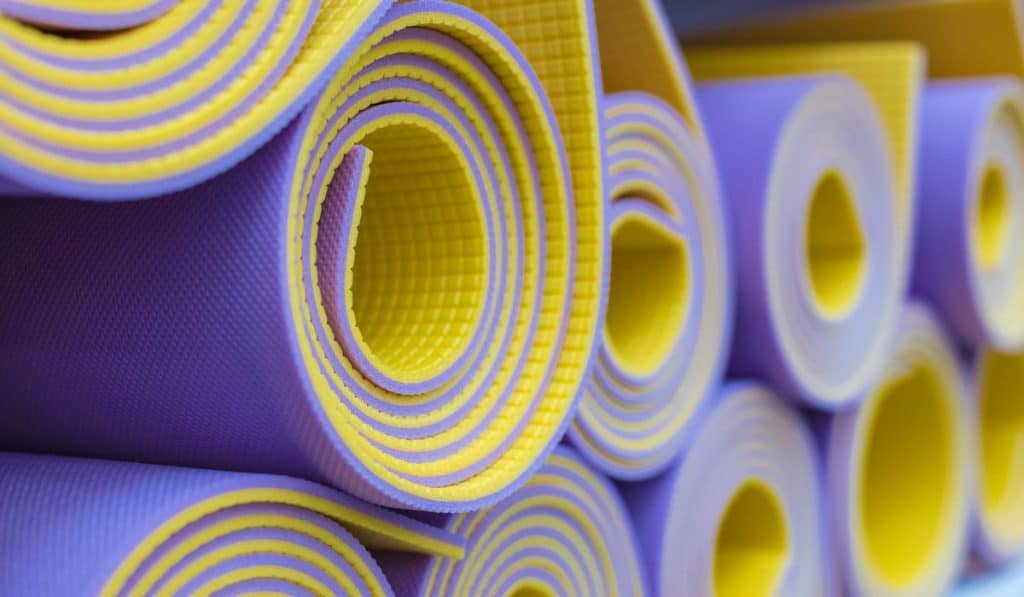 R-values are additive too, so if you sleep on top of two sleeping pads, you combine the total R-values from both sleeping pads to determine what temperature you can reasonably camp in. 
Now that you know R-value is rated on a scale of 0 to 6, a yoga mat places right at a 0, providing absolutely no insulation. If you're camping in temperatures of 60F or below, you're going to wake up cold. A typical sleeping pad has an R-value of 2, which will keep you comfortable with temperatures of about 30F. 
Wrapping It Up
Although a yoga mat might look like a sleeping pad, they are not interchangeable when it comes to camping with. 
Yoga mats are designed to support the body while moving through different poses without sliding. A sleep pad is designed to be compact, keep you comfortable, and keep you warm. 
If you have no problem with the size of a yoga mat, don't need to stay warm, and don't have any other options besides a yoga mat, you could use a yoga mat as a sleeping pad. Consider this a warning; you will not be comfortable or warm if you sleep on a yoga mat.