Having a convenient and useful space to store your items when Bikepacking is one of the most important parts in making your Bikepacking experience the best it can be.
Removing any unnecessary strain from your time Bikepacking is always a bonus and frame bags are a good way of doing so.
Within this article, we will take a look at what makes a good Bikepacking Frame Bag and of the best options out there when it comes to choosing one to buy.
Think you would benefit from learning some more about Bikepacking? Have a look at our Bikepacking Beginner's Guide to expand your knowledge!
---
Top 5 Bikepacking Frame Bags
5. Most Popular
4. Budget Option
3. Must-have Option
2. Fan Favorite
1. Editor's Choice
---
Buyer's Guide: Bikepacking Frame Bags
How much is a Bikepacking Frame Bag?
Price is a huge factor in most purchasing decisions, when looking at Bikepacking Frame Bags it will be just the same. For Bikepacking Frame Bags you will find that there can be a variance in the price of around $100 from an entry-level product to a high-end product.
Entry-level
For an entry-level, you can expect to pay around $30-$40, and for this, you can expect to receive a dependable product that will allow you to store anywhere from 6L to up around 14L of equipment and essentials.
These products will tend to have some sort of waterproofing, either my lamination or being comprised of a naturally waterproof material such as leather.
You may even find that they will employ tear-resistant materials, such as ripstop nylon example, and this will help to make a long-lasting product.
Higher-end
At the higher-end of available products, you will find features that can provide you with added stability, such as wiring in the lining of the bag and spaces for reservoirs to keep you hydrated on long bikepacking rides.
At upwards of $50 and sometimes reaching into the early $100s you will find that these products are made to last and will feature the same waterproofing and durable materials as entry-level products, but will also feature reinforcements to these features such as watertight zips and hard shell exteriors.
The capacity of these bags will also be similar to that of the lower-end products at their maximum volumes as they will be occupying the same amount of space in the center of your bike frame, at around 14L-15L at maximum capacity.
What kind of storage can a Bikepacking Frame Bag provide?
A Bikepacking Frame Bag provides you with an excellent place to store those items that are either too big to fit in something like a handlebar bag, or need a little added security and protection from the frame of your bike.
Large items such as tents, or sleeping bags would be easily fit within a Bikepacking Frame Bag and would allow you to keep them tucked away out of the way of your operation of the bike.
Items that may be easily damaged are also great to store within a Bikepacking Frame Bag. Keeping things like your cooking equipment and utensils or valuables like your phone and flashlight within your frame bag can provide them with the safety of being within a very stable and protected area.
The contents of the frame bag will move with the frame of the bike and so for most of your journey will remain quite still and undisturbed, even when going over bumps in the road you will find that your items tend to stay put as the frame bag won't be as prone to erratic movement as say a saddlebag.
There will also be external pockets on most of the models of frame bags that you encounter, these can be great places to store items of yours that you may require quick and easy access to, a wallet or set of keys for example.
How does a Bikepacking Frame Bag attach and secure?
The way in which a Bikepacking Frame Bag will secure itself to your bike frame is similar in a lot of ways to other Bikepacking Bags. However, there will be some difference in the effect this will have on transporting your cargo.
A frame bag will be attached to your frame by using a few different types of connectors. Some will use a series of elasticated loops that are secured with velcro, buttons, or toggles.
There may also be solid polymer clasps that will grasp themselves to the shape of the bike frame or in some cases you may find that clips are used.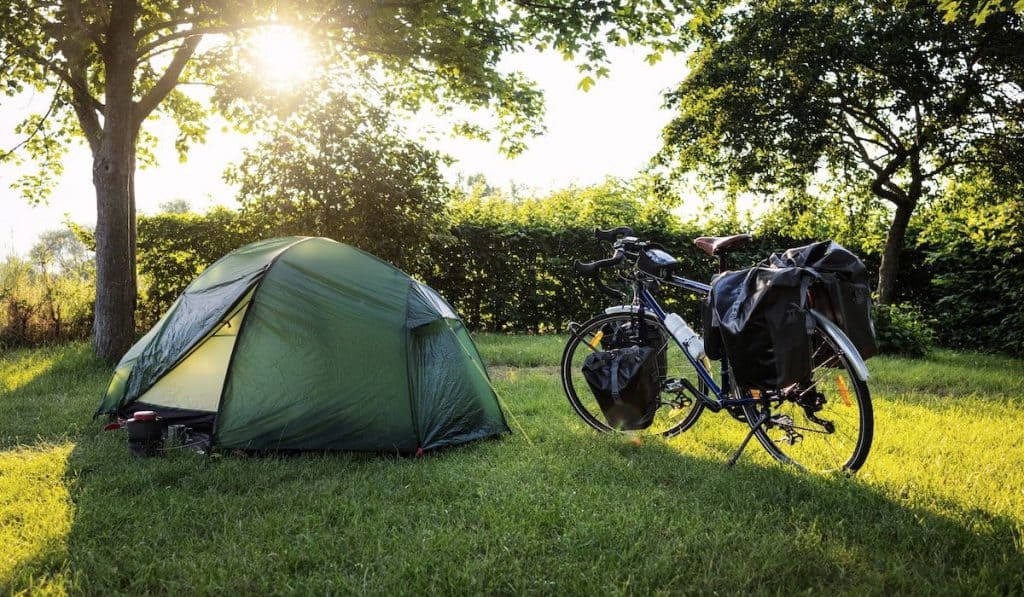 Whilst having just a few of these attachments may not seem like the most secure method, the strength of a frame back is that by the nature of its placement, in the center of your bike frame, you will find that it will have many points of contact to make use of and so can spread the weight of your luggage around the frame in a very efficient way.
This will result in storage that will hand tight to your bike frame and be quite difficult to dislodge either through vibration or more blunt forces.
This method also allows the luggage to mitigate a lot of potential damage that may occur through constant vibration as you travel, as the bag will be somewhat suspended in the air and only touching the frame through its various connectors.
Will a Bikepacking Frame Bag be durable?
Most manufacturers do recognize that their customer base is making use of their products in various weather and terrain conditions and so will often make sure that they are producing products that employ durable materials.
By using solid wires to keep the shape of the bag and materials such as ripstop nylon to increase the factor of tear-resistance in the product, you can be sure that your Bikepacking Frame Bag will stand up to the test of time.
---
Final Thoughts
In conclusion, you will most definitely be able to find a Bikepacking Frame Bag that can serve you well. Whether you needs somewhere to hold your more delicate equipment of a large space to hold a tent or sleeping back, you can find what you are looking for with these products.
Hopefully, this article has been useful in giving you some idea of what to expect from a Bikepacking Frame Bag as well as giving you a number of excellent option to purchase.