When out bikepacking, at some point you are going to want to set up camp, relax, and get something to eat. Bikepacking Cooking Gear offers you the utility to cook up a feast out in the wilderness and is oftentimes quite affordable.
Within this article, we will go over some great options for Bikepacking Cooking Gear and what you can expect from your set of gear.
Feel like expanding your knowledge of Bikepacking? Why not check out our Bikepacking Beginner's Guide?
---
Top 5 Bikepacking Cooking Gear Sets
5. Most Popular
4. Fan Favorite
3. Editor's Choice
2. Budget Option
1. Must-have Option
---
Buyer's Guide: Bikepacking Cooking Gear
How much is Bikepacking Cooking Gear?
For a good set of Bikepacking cooking gear, you could be paying as little as $30, although there are some sets of cooking gear that will end up costing more depending on what exactly you need from them.
Lower-end
At the $30 mark, you will find that most of the cooking gear sets that you come across will have everything that you will need when out Bikepacking. Items like cutlery, pots, and pans, and mini stoves are all included.
You will also find things like stove stands to keep your stove away from the dirt on the ground, ladles to help serve your food, and bowls and cups to hold your delicious meals which are usually made from plastic.
Most of the items in the set will be made of a durable material such as high-grade aluminum and often comes with an easy-clean or non-stick coating to help with the cleaning process after a meal is made.
Another thing of note is that most of these sets will come with some kind of carrying bag to make sure that your keep your cooking equipment together and organized for ease of use.
Higher-end
When moving to up to more expensive sets at upwards of $80 you will find that almost all of the items of the previous set are available within them. There will be some additions and changes to the existing material.
Most of the things that were plastic in the cheaper sets will now be replaced with metal counterparts to help provide a longer overall life for the product. This will be most notable with things like cups and bowls or plates which will now be made from a metal like anodized aluminum.
Some additions to the set could include things like collapsible water buckets and containers. These are great for washing up and extremely convenient as after they have been used you can simply dump out the water and they fold away too many times less than their size when in use.
So really, you could do just fine with a cheaper set and get quite a bit of use out of them, but if you are someone who loves to go Bikepacking often, then you may want to consider an upgrade to a more expensive set that can offer you some additional utility and longer-lasting products.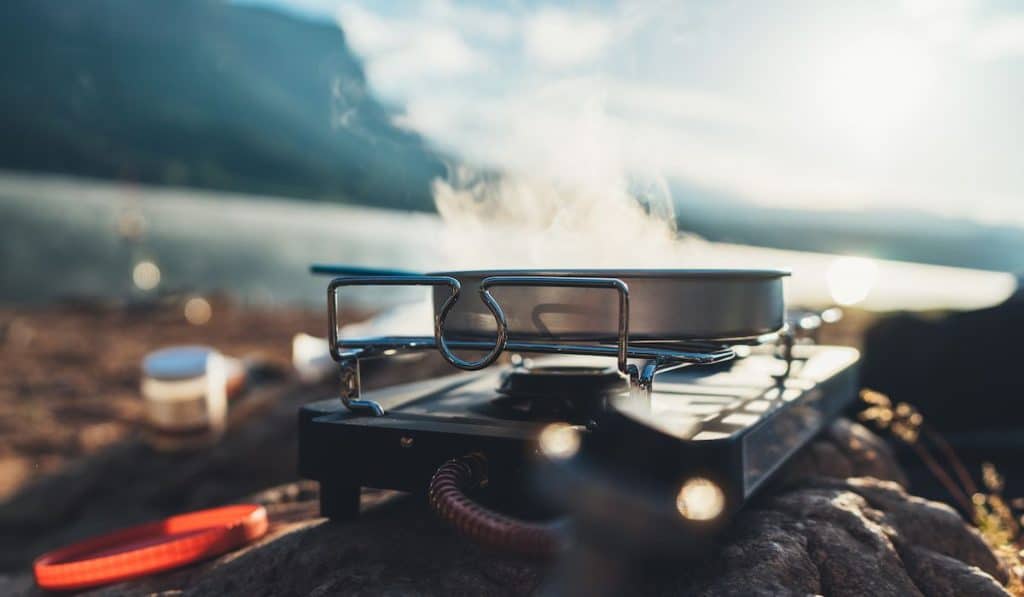 What can I expect in a Bikepacking Cooking Gear set?
Knowing what you are getting for your money is one of the most important things when purchasing a product. Whilst all sets of cooking gear will vary to some degree, what we can do is go over some of the most common finds within them and inform you about them.
Cutlery
Essential for enjoying the delicious meals you'll be making with your cookware, cutlery is included in nearly every camping cookware set. Often made to keep the set lightweight, this cutlery will often be foldable or sometimes skeletonized, which won't impact their utility but will save on weight.
Usually made from metal to maintain their durability and have a long lifespan, typically something like aluminum or stainless steel, you will often find multiple sets of cutlery within your set of gear and so you needn't worry about running out.
Pots and Pans
Another crucial component to cooking in the outdoors, camping cooking sets will often include multiple pots and pans of varying sizes to allow you to cook multiple parts of a meal at once.
This is really useful when you have more than just your own mouth to feeds and gives you a lot of freedom in how you approach your cooking.
Even if you are buying yourself, having multiple pots pans means that even if you forget to clean one up, you will have a spare ready to be used to cook yourself a tasty meal.
Mini Stoves
A huge benefit and a crucial part of cooking outdoors, mini stoves are incredibly useful for making a nice hot meal after a long day's ride. Usually, with a small form factor to save on space, these stoves might be small but they will still give off enough heat.
These stoves most often employ the use of piezo ignition, which means no electrical connection is required and instead ignites the flame by the use of an electric charge generated from the deformation from a crystal of what is usually quartz.
This is extremely handy as all you have to do to get your fire going is simply push a button in most cases and what could be easier and more convenient than this.
---
Final Thoughts
Whether you are out bikepacking solo or with a group, you will find that camping cookware will have you covered and preparing multiple tasty meals throughout your Bikepacking journey.
Hopefully, this article has been useful in highlighting what you can expect from your set of cookware and giving you some brilliant options to choose from.