One of the best additions you can make to a Cosplay outfit is a good quality wig that can really give you an extra level of complexity and a more professional look. You may be wondering what some of the things you need to look out for might be and what some examples of a good Cosplay Wig look like.
Within this article, we will go over some excellent products for those in the market for a Cosplay Wig and some of the things you should consider before deciding to buy one.
Want to learn more about Cosplay? Feel free to have a look at our Complete Cosplay Guide!
---
Top 5 Cosplay Wigs & Ideas
5. Most Popular
4. Fan Favorite
3. Budget Option
2. Must-have Option
1. Editor's Choice
---
Buyer's Guide: Top 5 Cosplay Wigs & Ideas
How much will a Cosplay Wig cost?
Knowing what the average price of a product is can be very helpful in letting you evaluate whether the product is right for you.
In the case of Cosplay Wigs, you will find that on average you will be paying from $10 to around $30 and there is a bit of variation between products at the lower and higher ends of the price range.
Lower end
At the lower end, you will find that there are some great basic wigs available, these wigs will usually not be very complex and will instead have very simple styles.
If your cosplay needs a style like this then you can save a buck by getting a wig like this or even if you can see that, with a few tweaks, the wig could offer you a great option for a more complex design.
For the lower prices, you will often find that the wigs are shorter than at the higher prices, and this is simply because the more material used in the creation of the wig, the more expensive it is going to be.
So, if you need to save money, you should take into consideration what length of hair on the wig you really need.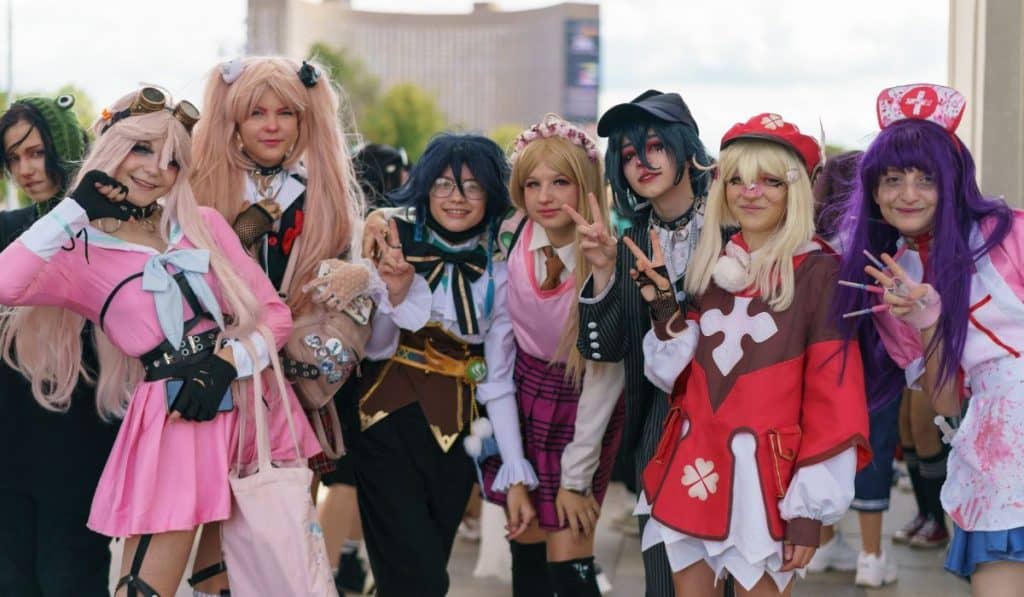 Higher end
When looking at wigs at the higher end of the price range, you will find that they tend to be of a longer length than the cheaper counterparts, as there is more money spent on the materials, and you can also expect some more intricacy on the design.
Another thing you may be seeing at the higher end is multiple colors being used in the design of a single wig. This can make for some really nice-looking designs to enhance your cosplay.
What can I use a cosplay wig for?
Using a wig for your cosplays can be useful for a number of reasons depending on what you need from them. For example, if you cosplay quite often and as many different characters, it's probably not a great idea to be dyeing your hair every time you put on a new costume.
Wigs can offer you the chance to be able to have any color of hair you like at any time with only a quick change of attire.
Wigs also prove useful when you have to change the length of your hair for cosplay. Obviously, you can't change the length of your hair back and forth at will, but wigs can offer you this with ease.
Many limitations on who you can cosplay can be lifted with the help of wigs and so they can prove very handy for cosplayers.
Do you want a product to work on or one that is ready to use?
This is another important distinction to make when considering which wig is best for your cosplay. If you plan on making changes to your wig to get it just right for a specific cosplay, then you will want one that has a lot of room to work with.
Sometimes it can be hard to find a wig with a specific length or style and so one of the things you are able to do is to buy a wig that is slightly longer than what you need and cut it down to size.
Some wigs will also be made out of heat-resistant fibers, this means that you can use conventional hair styling tools in order to manipulate the wig into a style that more closely fits the design that you require for your cosplay.
Of course, you may be able to find a wig that has the appropriate design already, though it may be more expensive than another option that just needs a few tweaks.
So, you should consider whether you would prefer a convenient wig that may cost a little extra or a cheaper wig that can be tweaked to make it right for you.
How comfortable are Cosplay Wigs?
Comfort is quite a crucial aspect of cosplay, after all, it can sometimes ruin the experience if you spend the whole time struggling with an uncomfortable outfit. In the case of cosplay wigs, you will find that wearing them for an extending amount of time may prove to be a little uncomfortable.
Low-quality wigs will often use cheaper fibers that can be itchy and cause discomfort to the wearer, so if this is going to concern you then it may be worth looking for a wig that can offer you softer fibers that aren't as irritating.
Some wigs also tend to trap heat in the same way that a hat might do, as you are essentially wearing another layer of hair on top of your existing hair. So having a costume that is breathable can be quite a good thing to have when cosplaying with a wig.
---
Final Thoughts
In conclusion, there are some great options out there for Cosplay Wigs, whether you need something simple and easy to wear, or a more complex wig that can be shaped to your cosplay idea more accurately, there will be something that suits your needs.
Hopefully, this article has been of use in showcasing some good products as well as giving you some ideas of what the look out for when choosing your perfect cosplay wig.