Probably the most important aspect of any Paintballers loadout will be the Paintball Gun (also known as a marker) that they use and it is the main way you can make an impact in a game of Paintball.
So, it goes without saying that when choosing a Paintball Gun, you have to do a little research and make sure that the one you choose is right for you.
Within this article, we will go over some of the best options for Paintball Guns under $400, as well as have a look at some of the features to look out for and considerations to make when deciding which to buy.
Want to learn even more about the hobby of Paintball? Take a look at our beginner's guide to find out more!
---
Top 5 Paintball Guns Under $400
5. Most Popular
4. Fan Favorite
3. Budget Option
2. Editor's Choice
1. Must-have Option
---
Buyer's Guide: Paintball Guns Under $400
Making the decision to spend hundreds of dollars on a product is never something to do lightly and you must make sure that you are informed and have done everything you can to make sure the product you buy is just right for you.
We hope that with this buyer's guide we can get you to consider everything that you need to so that you can narrow down your options and make a truly impactful purchase for your Paintball Gun.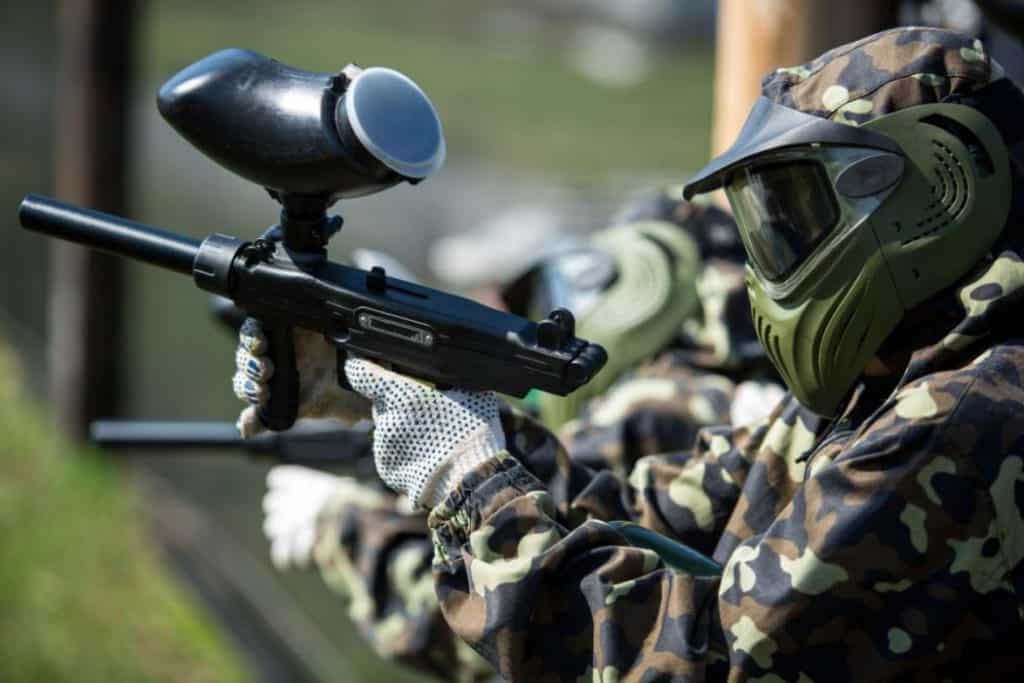 What is your preferred Playstyle?
The way in which you play can make a huge difference in which kind of Paintball Gun would suit you best. Someone who plays fast and loose will benefit more from one product and someone who plays slow and methodically will benefit much more from another.
We will go over what you might need from a product to match your playstyle and which type of Paintball Gun can best suit your needs. After all, some markers are made with specific playstyles in mind.
Fast and Loose
Those with a faster playstyle will be better suited to a marker that can shoot just as quickly and do so reliably. Typically, you can find markers that are used at tournament level play and these will boast features such as, a reliable feed, a high feet per second (fps), and several fire modes so that you can switch to full-auto should your site allow it.
Players who like to employ this playstyle would also benefit from a product that is durable and so can take a few hits and drops.
Faster playstyles often result in trips and falls that could damage your marker, and so it will be in your interest that you make sure you buy a tough product made up of strong materials so that you can take these hits and keep them ongoing.
The weight of the Paintball Gun can also affect the faster players and a marker that is unnecessarily heavy may slow them down and hold them back from playing at the best of their abilities. To avoid this, you should make sure that you keep an eye out for markers that boast lightweight constructions.
Slow and Methodical
Players who opt for a more tactical and slower pace of play would not be hindered by a fast-firing marker, however, a slower firing weapon may be more their speed. The ergonomics and the balance of the Paintball Gun will be of much more importance to a slower player as they will spend more time lining up their shots as opposed to the faster players' more relentless approach.
Where faster players may fire from the hip as they run about the field, a slower player will more likely be taking their time and try to aim their shots more accurately.
This is why a slower player should look out for Paintball Guns that offer an angled feed tube so that the hopper can rest at an angle and out of the sights of the gun to allow a slower player to take advantage of their extra time for consideration.
Of course, just like with Paintball Guns for the faster-paced players, slower-paced players will no doubt benefit from a durable marker that will last them a long time. Even though the likelihood of them dropping their marker is significantly lower than that of a fast player, it can still occur and it would certainly help if the product was strong and reliable.
Which type of Paintball Gun best matches your playstyle?
As mentioned previously, different playstyles benefit from different approaches when it comes to Paintball Guns. Of the markers you can buy, there are a few archetypes that each lend themselves well to one play style or another.
Slow and Methodical
For the slower players, there are a couple of types of Paintball Gun that they could use to great effect on the Paintball field. Guns that can work in tandem with a slower pace and provide a better experience are usually of these 2 kinds: Pump-Action and Mechanically Operated Paintball Guns.
In the case of Pump-Action, these can be an excellent addition to someone who plays as a kind of sniper or long-range support type role in a game of Paintball.
The pump-action allows the player to focus on every shot and the marker will give very little recoil when fired which will make shots more accurate.
Mechanically Operated markers are also a great choice for methodical players, as they usually come in semi-automatic firing modes which can let you take your time between shots and be accurate but with the ability to make quick follow-up shots if needs be.
Fast and Loose
There is really only one type of Paintball Gun that a faster player should consider, and that is a Battery Powered Paintball Gun. These markers are capable of full-auto fire and so you can really lay down fire as you sprint across the field. Less accurate but with a much much higher RPM, these markers are sure to allow you to make the biggest impact that you can upon the enemy team.
---
Final Thoughts
Whether you play with speed or with precision, you can be sure that there is a Paintball Gun out there for you within the price range of $400.
Hopefully, this article has been useful in showing you some great sub-$400 options for Paintball Guns and given you the tools to narrow down your choice in marker based upon what you need.