Best Online seller
Budget Kit
Editors Choice
Easiest Kit to Make
Best Gift option
Candle making kit buyers guide
If you've recently found yourself interested in the hobby of candle making, you may be wondering what exactly you need to get started. While you can purchase your own supplies separately, it is much easier to purchase a kit that comes with everything a beginner could need.
While each candle making kit will vary slightly, you can generally expect them to include all the basics you need to begin learning this craft.
That being said, you may have some questions about the kits and what exactly they include. Here is a simple, yet in-depth look at what you can expect from a candle making kit for beginners. 
The Difference Between Candle Making Kits For Beginners vs. Experts
Beginner candle making kits are focused on the basics of candle making, while expert kits allow for more customization. As a beginner, you will be focused more on learning how to make the candles and the process of doing so.
A beginner candle making kit will guide you through a step by step process that is easy to learn and follow along with.
Once you become an expert, the basics of candle making become second nature and it is then that you can start adding personal touches to your candles.
An expert kit may focus more on details such as creating unique scents, adding decorations, and applying colors. Expert kits may also include fewer instructions and will expect you to use your creative freedom much more.
What's Included In Most Kits
Most candle making kits for beginners will include everything you need to get started making candles. You can expect to find most of the following included in your kit:
Candle wax flakes
Thermometer
Pouring container
Candle tins
Candle wicks
Glue dots
Stirring sticks
Fragrance
Instructions
These materials are the basics for candle making and you will need most of them to successfully make your first candles. There will be variations in each candle making kit that may include different candle tins, wicks, wax, and fragrances, however, they will all work just the same for making your candles.
What To Look Out For
When you are looking for a beginner candle making kit there are a few things that you will want to look out for. You will always want to make sure that your kit includes the basic materials needed to create candles.
This includes everything on the list above, with exception of the last three materials.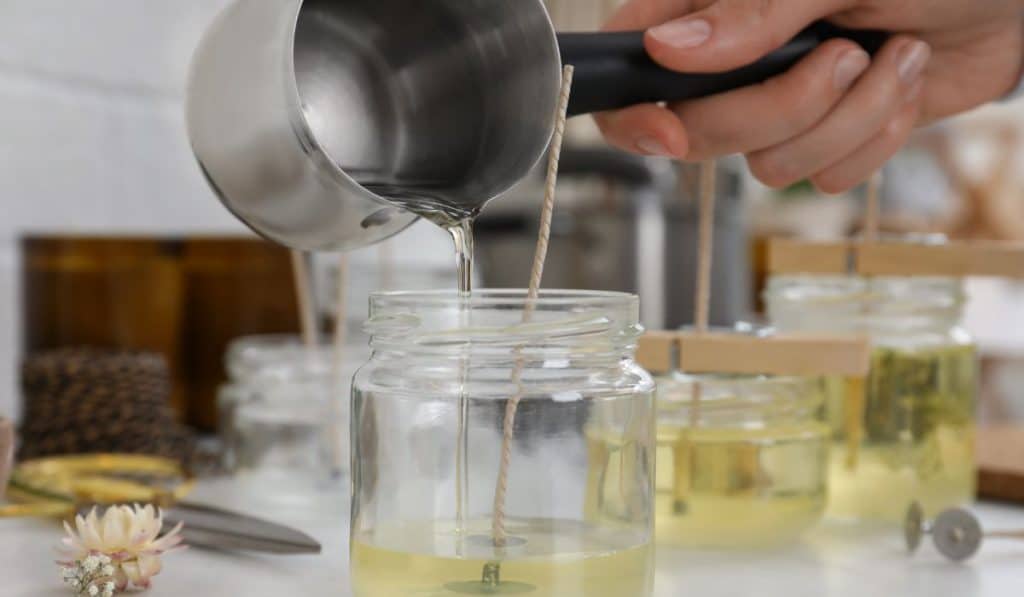 If you are looking for a specific type of wax, wicks, or fragrance to use in your candles, this is something you will also when to keep in mind when purchasing a beginner kit. 
Age Ranges
While candle making kits are designed to be used more by adults, kids can also participate in making candles with adult supervision.
A child should be supervised during the process because it involves using the stove to heat your candle wax and working with small materials that can be a hazard to small children. Overall, beginner candle making kits are easy enough for most ages to participate in. 
Price Ranges
Candle making kits for beginners are very affordable and are a much better option than buying the individual materials you need separately. On average, these kits cost about $50 more or less.
A basic kit will be around this price or less due to the limited amount of materials they will include. A more in-depth kit may cost more than this price, however, they may include more decorating options, better quality materials, and more. 
Regardless of what candle making kit for beginners you decide to choose, you will have everything you need to get started in this craft.