You already know the bare requirements of safety gear at this point; a mask. You might also know that you can rent everything you need from the field you're going to play at. But what else should you bring?
What should you wear to paintball?
Headwear, layers, and good shoes! None of these are essential for playing paintball, but by bringing these recommended items, you'll have a much better experience. The shots will hurt less and you'll find you aren't being eliminated as much as other new players. 
If you didn't know the bare minimum for safety was a mask, you should check out the complete guide to paintball to learn all the basics before you start your first game!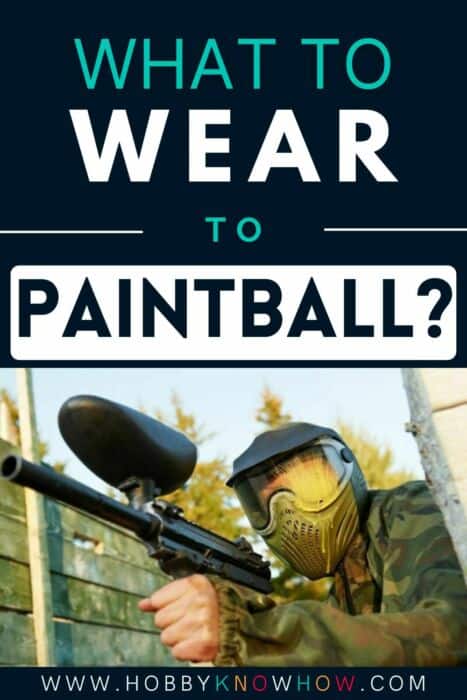 Baseball Hat or Beanie
Wearing a hat has many benefits while paintballing. 
It provides a soft layer to prevent paintballs from bursting upon impact on a headshot but also lessens the sting that might accompany that hit. 
A baseball hat will also help keep the sun out of your eyes in the summer, and a beanie will keep your ears warm in the winter! 
Even though the paint will wash out of your hair, wearing a hat means you don't have to scrub the paint off of your head, you just need to wash your hat. 
Mask
Masks are a mandatory piece of safety gear while playing paintball. Its job is to protect the eyes from any stray shots that could leave you blind. 
Neck Protector
Neck protectors aren't mandatory, and many avid players won't wear one, but for your first time out on the field, you might want to bring a scarf, a gaitor, or a specialized neck protector.
The chances of being shot in the neck are slim, but the pain is major and can leave you recovering at home for a couple of days. 
Sweatshirt
Most paintballers choose to wear sweatshirts or hoodies. They wear them in dark colours or camo and wear them a size too big. The extra fabric creates a padded surface for the paintballs to bounce off instead of exploding. This means you'll be eliminated less and will be able to play more. 
Paintball Vest
Paintball vests are multi-purpose. They provide a hard layer to prevent injury against shots to the chest and back. Many experienced players won't use a vest because the hard surfaces mean that paintballs are more prone to exploding, though. 
They are, however, a great tool if you are playing paintball in the woods. You can store extra paintballs, air tanks, a map, a flashlight, or a walkie-talkie so you can play longer without having to call it a day. 
Gloves
Fingers are one of the most painful places to get shot because they are all bone and there isn't much on them to soften the blow of a shot.
Unfortunately, they are one of the most exposed areas of your body.
Even if you're hiding behind an obstacle, if you lift your gun to shoot an opponent, they can shoot your hands. 
There are so many different options for gloves, but it's recommended that you stay away from winter gloves, welding gloves, or latex gloves.
You want to protect your hands and fingers, but those gloves are far too bulky to be able to properly control the trigger.

Instead, opt for paintball-specific gloves which either have less padding on the trigger finger or have the tip removed off the trigger finger for better control. 
Sweatpants
Very similar to sweatshirts, sweatpants are worn to create a soft padded layer. Not only do they protect against the paintballs, but your legs are also at risk of injuries from rocks, twigs, thorns, poison ivy, and other dangers depending on where you play. 
It's important that you wear pants that offer a wide variety of movements, so jeans aren't recommended. If you don't have sweatpants, you can wear cargo pants, jumpsuits, or pants designed for paintball. 
The darker the fabric the better! It helps camouflage you so you're hit less often.
Running Shoes, Hiking Boots, or Cleats
Shoes are probably the most underrated on this list!

Your shoe choice should be comfortable, functional, and something you aren't afraid to get dirty. 
The best choice for footwear is cleats. They provide a grip if the ground conditions are slick with paint, or if it has rained.
Combat boots are also a good choice, as they provide a lot of ankle support so you're less likely to injure yourself while wearing them. Sneakers are a decent choice if you don't have cleats or combat boots.
They'll be comfortable, but you might find yourself slipping on wet ground, and might sprain your ankles if you fall. 
You won't enjoy your game very much if your feet hurt the entire time. Consider all the standing, running, squatting, jumping, sliding, rolling, and maneuvering you'll be doing on the field. If you bring bad footwear, you won't be playing for very long. 
Trash Bag
If you put your dirty clothes right into your bag to go home, you're going to have to wash that bag fairly often. Instead, bring a trash bag with you to put your dirty clothes and shoes in. This way, you won't get any paint, mud, or water in your good bag. 
Change of Clothes
Speaking of putting your clothes in a bag to bring home, make sure you bring a change of clothes and shoes. 
Some people will choose to wear multiple layers and just go home in their base layer. In the summer this might not be ideal because your base layer is going to be soaked in sweat. That won't be a very comfortable ride home. 
Extra Tips
A few tips to consider while finding the best pieces of clothing to bring with you: 
Dark colours and camouflage will help you hide. Depending on your game style, this might be the difference between being eliminated and winning. 
Each layer you wear will reduce the intensity of a welt from a paintball shot. 
Soft layers will cause paintballs to break less often. Since you're only out if the paintball leaves a mark on your clothes, you'll find you can play longer.
Even though the paint in paintballs has been designed not to stain clothing, wear something that you don't mind getting dirty. Grass stains and mud stains are much harder to get out.
Bring towels or rags with you to wipe down your gear and your clothes before putting them back in your bag. 
Check the weather a couple of days before, and a few hours before leaving the house. Change your footwear and bring a jacket if it looks like there will be rain.  
Bring cash. There are some fields that won't have a debit or credit machine. 
Final Thoughts
If you want to make the most out of your time out on the field, it is recommended that you wear the items on this list. They will help you avoid injuries, and from being eliminated. 
Keep in mind that everything except the mask is optional. If you don't have a paintball vest, and you only have jeans, wear what you have!