Could there be a better place to cosplay as a Disney Princess than at Disney World? It seems like a fantastic idea, but can you cosplay at Disney World?
Unfortunately, no, nobody over the age of 14 is allowed to cosplay at Disney World. While this seems harsh, it's actually to keep the magic feeling of finding your favorite character at the park, and if adults are dressing up as characters it can be confusing. The good news though, is that there is still a way to dress up to go to Disney World! 
What Are The Rules
Disney World defines its dress code very clearly on its website. 
Disney reserves the right to deny admission to or remove any person wearing attire that is considered inappropriate or attire that could detract from the experience of other Guests. Attire that is not appropriate for the parks—and which may result in refusal of admittance—includes but is not limited to:
Costumes and masks, which may not be worn by Guests 14 years of age or older. (Exceptions: Specific Halloween and Christmas events, Some outfits inspired by Star Wars.)
Clothing with objectionable material, including obscene language or graphics
Excessively torn clothing
Clothing which, by nature, exposes excessive portions of the skin that may be viewed as inappropriate for a family environment
Clothing that touches or drags on the ground
Clothing with multiple layers is subject to search upon entry
Objectionable tattoos
There are three events that you are allowed to dress up in cosplay for: Mickey's Not-So-Scary Halloween Party, Mickey's Very Merry Christmas Party, and Disney Villains After Hours. There are still a few rules that might inhibit your ability to dress in full cosplay, but this will be as close to a full cosplay that you'll be allowed.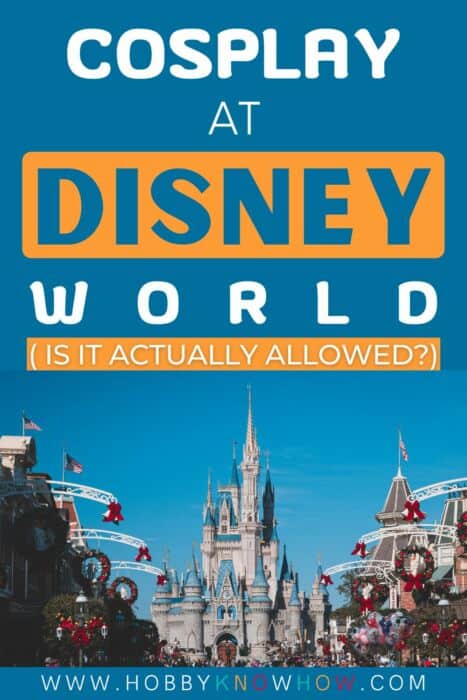 For Guests ages 13 and under:
Costumes and some masks may be worn; masks must provide unobstructed peripheral vision at all times with openings that allow the eyes to be fully seen.
For Guests 14 Years of Age or Older:
Costumes may be worn according to these guidelines. Guests who do not adhere to these guidelines may be refused entry into, and/or removed from Disney parks, unless his or her costume can be modified to meet the above standards:
All Guests may dress as their favorite character, but may not pose for pictures or sign autographs for other Guests.
Costumes must be family-friendly and may not be obstructive, offensive, objectionable or violent.
Costumes may not contain any weapons that resemble or could easily be mistaken for an actual weapon.
Costumes may not contain sharp objects, pointed objects or materials that may accidentally strike another Guest.
Layered costumes or costume props that surround the entire body are strongly discouraged and may be subject to additional security screening.
Costumes may not reach or drag on the ground. (for example, full-length Princess dresses) 
Capes may be worn if the length does not go below the waist. 
Themed T-shirts, blouses, sweatshirts and hats are acceptable.
Acceptable accessories include: transparent wings, plastic light sabers, toy swords and tutus. Headwear may be worn as long as it does not cover the face. 
Masks of any kind may not be worn (unless they are for medical or Guest safety purposes)
As long as you follow the rules, feel free to use your complete creativity to enjoy these events at Disney World! 
Take a look at some amazing Cosplay costumes here!
It Ruins The Magic
So, why can't you cosplay at Disney World? It ruins the magic for the kids! 
There's a special kind of magic that happens when you see your favorite Disney character at the park. This is true for both kids and adults, but the kids won't understand why three Rapunzels are standing outside the castle. Suddenly that magic encounter seems less special now that there isn't just one Rapunzel. 
The cast members that dress up as the Disney characters also have to stay in character the entire time they are in costume. This adds to the magic! When you talk to these characters, it is almost as if you're living in your favorite movie.
Adults in cosplay don't have to stay in character, and if the wrong adult dresses up in costume, this could really damage the character's image.  
Disney Bounding
If you had your heart set on dressing up to go to Disney World, here's some good news; you can! But before you go and put on that full-length ball gown, take a minute and read about Disney Bounding. 
Disney Bounding is a very creative way to dress up as characters. Instead of doing a full cosplay of a character, Disney Bounding takes the colors and accessories and makes it look like a character. 
If you want to see what Disney Bounding is, check out this website. They post different outfit ideas for Disney characters, and even some non-Disney characters.
How do you get into Disney Bounding? The first thing you are going to want to do is choose your Disney character. This could be an extremely popular Disney character, a villain, someone from the Marvel Universe, Star Wars, or even the lesser-known sidekick. The possibilities are endless. 
Now, look at the colors. From head to toe, you are going to want to create a color palette that matches your character. Let's take a look at Mickey Mouse for example.
He has back ears, a black tuxedo jacket, a big yellow bowtie, a white dress shirt, big white gloves, red pants and big black shoes. 
A cosplayer would try to match his entire outfit to look exactly like him, but that's not going to be allowed at the Park. Instead, you could wear a black hat, or leave a pair of black sunglasses on your head.
Wear a white shirt with a black jacket over top, wear a yellow bow tie, white gloves, red shorts, and black shoes. 
The accessories make the outfit. The black hat, yellow bowtie, and white gloves don't seem very important, but they are major costume identifiers. Finding or making these types of accessories can be so much fun! 
The accessories also don't need to look just like what the character wears. Just because Mickey Mouse wears a bow tie doesn't mean that a yellow tie wouldn't also work. It's too hot for white gloves? What about making them fingerless gloves instead?
Don't quite know how this differs from cosplay? Check out the complete beginner's guide to cosplaying to learn more! 
Final Thoughts
As long as you follow the dress code and don't try to dress just like a Disney character you can use your creative fashion styles to make a unique Disney look-alike.
Just because you can't cosplay at Disney World doesn't mean you can't still dress up and experience the magic!