Hobbies are an excellent way to spend your free time having fun, but how awesome would it be to have a fun hobby that also stimulates your mind?
Fun and educational hobbies will enrich your life and make you more productive. Here are 11 fun hobbies you can choose from that are also educational: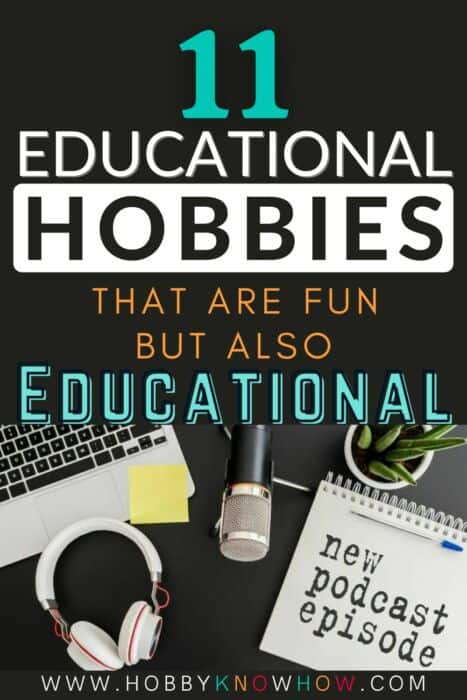 11. Foraging
Foraging is a fun adventure because you never know what wild edible plants you'll find along the way.
Doing it as a small group makes it more interesting as you can have conversations and share experiences.
Some foraging sites have a guide who will tell you everything you need to know about the area, making your experience easier.
You will learn to correctly identify various plants using a guide book or an experienced forager so that you don't pick up anything poisonous.
The rules of foraging teach you to respect nature and be considerate by only taking what you need, leaving as little damage as possible, and getting permission from the landowner where you intend to forage.
10. Metal detecting
That exciting moment when a detector makes a clear alarm is what most metal detectorists look forward to.
It might mean that they've found a metallic button or a gold ring. Either way, it's a fun experience.
Metal detecting allows you to enjoy nature, like walking along the beach, where many detectorists find their treasure.
This hobby teaches you how to use different types of detector technology.
Metal detecting enriches your knowledge of national history as some people find historical artifacts and ancient coins that have been buried for centuries.
9. Muay Thai
Unlike a lot of workouts, this intensive martial art is far from being boring and monotonous.
You're always learning a new technique, which makes you more likely to stick to your fitness goals. You'll build fun friendships with other Muay Thai enthusiasts at the gym.
Besides the benefit of lean muscles, Muay Thai will teach you to adapt to changing situations in your life quickly.
This will help you manage daily stresses and remain calm during tough experiences.
It also teaches you leadership and responsibility as you're expected to use the skill not only to defend yourself but others who might be in danger.
8. Learning a Foreign Language
Learning a new language is fun when you're more interested in learning the logic behind different words and sentence structures than in memorization.
Also, you'll have fun if you're genuinely interested in learning that particular language. In a group class, you get to practice and test your skills with other students.
Learning a foreign language will teach you about the culture connected to that language either through research or traveling to that specific country or city.
You will learn how to appreciate and respect other people's perspectives on various issues.
It will also teach you patience, and hard work as learning a new language takes time.
7. Listening to Podcasts
Listening to podcasts is not like reading a book.
While you can tell what's coming up next with the book, you never get to know how the conversation on a podcast will turn out. That makes it exciting.
You can listen to any subject you're interested in, from anywhere, even while doing your house chores.
There's no limit to learning when listening to podcasts.
Celebrities, entrepreneurs, creatives, and professional corporates all have something to offer to benefit you in several areas.
For example, leadership, fashion, agriculture, business, technology, creativity, personal growth and development, and a lot more.
6. Photography
Telling stories is fun, and that's what photography is all about. After all, a picture is worth a thousand words.
Sometimes, photography will lead you to travel to new places and have new fun experiences with capturing once-in-a-lifetime moments which you can immortalize with your images.
The evolving photography technology challenges shutterbugs to learn about the different lenses, newer and better camera models, and the latest photo-editing techniques.
Also, traveling photography teaches you about other cultures and traditions.
5. Pottery
The thought of using your hands to create a beautiful object from scratch by molding clay is immensely satisfying.
What's even more fun is the part where you get to paint your pottery project. In a pottery studio or café, this activity is more fun and relaxing when doing it as a group.
Pottery will teach you to use your creative abilities and not limit what you can create. It keeps you focused on the task until it's done.
You learn to persevere and be patient until your project is finished. However many times you might fall, you can always get back up and keep going.
4. Bird Watching
In most cases, bird watching or birding will force you to walk for miles through the woods looking for rare species.
This low-impact workout is a fun form of exercise even for people with arthritis and stiff joints.
Being in the midst of nature has proven to reduce stress by inducing awareness and relaxation.
Bird watching will teach you more about nature. You'll be able to tell the different bird types and species apart through research and continuously observing them.
You'll also learn their feeding, migration patterns, nesting behaviors, and what they go through to survive in the woods.
3. Genealogy Research
Genealogy isn't just fun. It's fascinating, too, especially if you're into telling family stories.
It's like a scavenger hunt for information, photographs, documentation, and personal information about family members that lived decades and even centuries before us.
It takes you on a journey going back in time and allows you to re-live the experiences of your ancestors.
Your minimal research skills will grow to new levels. Genealogy also teaches you to become more patient as it takes time to find most of the information.
You will learn about traditions, cultures, and major family events that have shaped your family into who they are now.
2. Watching Documentaries
For lifelong learners, it's always fun when you gain new knowledge.
Whether you like nature, history, crime, food, business, or biographies, there's a documentary out there you can watch.
Watching documentaries will improve your social life by giving you conversation starters.
Don't be afraid to hear alternative views to what you think you know. This makes the discussion more enriching and fun.
Watching documentaries gives you a depth of knowledge on subjects you may or may not have known about before.
It also educates you on the world's real issues like child trafficking, extinction, global warming, and new technology.
1. Sight Seeing
Visiting the famous places you only read about while you were in school and other areas of interest is exciting, especially if you're doing it with a group of friends.
Sites like the pyramids in Egypt, the Taj Mahal in India, the Eiffel Tower in France are all worth saving up for and keeping memories of.
There's always something to learn about the history and origin of the specific place your visiting with sight-seeing.
For example, we've read about the Taj Mahal story, but there's an authenticity in hearing it in detail from the mouths of keepers of the story.
Final Word
Which fun and educational hobby will you take up from this list?
Why not settle for one that suits your interests, whether it's creative, outdoor, exercise, or recreational. It will refresh you and expand your mind at the same time.
There's something special about the Christmas season where all of a sudden, interests that people have, pick up and become a craze.
It might be the excitement of the season, the weather, traditions, or the fact that people have a lot more time for that specific hobby.
Here are 9 hobbies that become popular at Christmas.
9. Decoupage
The art of decoupage is suitable for any time of the year as there's no limit to making surfaces look beautiful.
The word découpage originates from the word 'decouper' in French, which means to cut from, cut away or cut out.
Decoupage is the art of using colored paper cutouts to decorate a surface or an object using glue.
You can also combine it with other decorations like gold leaf and special paints.
At Christmas time, all decoupage novice and experienced take this hobby to the next level.
They refresh their home décor with Christmas-themed ornaments and make Christmas gifts for their loved ones.
They cover and decorate items like gift boxes, empty bottles, porcelain mugs, photo frames, napkins, Christmas cards, and furniture pieces, making the season all the more special.
8. Guest Hosting
Some people have that superpower of hosting guests for several hours or even days without losing their minds.
Having people over for food and drink or a sleepover is their favorite thing to do.
No matter what time of the year it is, hosting takes a lot of preparation.
You have to plan the menu, clean the house, make repairs, fix the guest room, but there's no preparation like when hosting guests at Christmas.
Christmas time is that season of the year when guest-hosting is at an all-time high.
You might be hosting a special Christmas dinner for family and close friends, a caroling night where you get to sing together, or it might be that your in-laws who have never visited your city come to stay with you for the holidays.
Several households will host a lot more during Christmas. But some people do this for fun and enjoy it!
7. Singing
Whether you have a great singing voice or not, you can still sing along to your favorite song at any time of the year.
You might join your local church choir to sing during Sunday service, or maybe you enjoy karaoke nights with friends at the neighborhood bar.
During Christmas, singing becomes even more popular as a hobby.
Christmas carolers go from door to door in their warm wooly hats and scarves, spreading joy and cheer by singing hymns to everyone in the neighborhood.
It's also that time of the year that families come together and gather around the piano playing and singing all their favorite Christmas songs.
6. Volunteering
Helping people and taking part in community service is a great way to spend your free time.
It puts a smile on the faces of the needy and less fortunate people.
A lot of charities need help with their projects, especially during Christmas time.
Christmas is usually when families come together to celebrate and share gifts.
Sadly, for many people, that's only a dream.
This is one reason why many families and individuals look for volunteering opportunities during Christmas time.
They volunteer, especially on Christmas day, serving food at soup kitchens, giving people gifts at homeless shelters, spending time with seniors at nursing homes, and entertaining children at orphanages.
5. Baking
In 2019, a world-renown vanilla and flavor extract company, Nielsen-Massey Vanillas, undertook an online survey of 1000 Americans.
The survey found that over 50% of U.S millennials and 87% of Gen-Xers will bake during Christmas.
While the millennials take to baking as a way to connect with their loved ones, the Gen-Xers do it mostly to enjoy what they've baked.
The survey further revealed that 50% of adults prefer to receive homemade baked goods as a holiday gift.
This explains why hobbyist bakers don't bake as much during the year as they do during the holidays.
The tradition of baking cookies at Christmas started centuries ago when they were baked as a treat to share with guests and give away as gifts.
Although cookies are still a Christmas favorite, the baking goodies at this time of the year have grown to include pies, cakes, muffins, gingerbread houses, and a lot more.
4. Board Games
Games nights with family and friends are fun all year round, but there's even more opportunity and more time to spend with each other at Christmas time.
Children are off school, spending most of their time indoors.
Most adults are on holiday with no work pressures and distractions, making it the perfect time to unwind with a board game or two.
After a sumptuous Thanksgiving dinner or Christmas barbecue, the host may pull out a monopoly or chess set to play.
Some board games are Christmas-themed making them especially popular during this season.
For example, Holiday Charades, Christmas Bingo, and The Santa Claus Game.
What better way to have fun and bond with family and friends!
3. Glamping
Camping has always been associated with the warmer months of the year.
However, it has now become more popular during the colder months, especially at Christmas time.
This type of camping comes with a touch of glamor, hence the name 'glamping.'
There's no pitching your tent by yourself or peeing in the bushes. The inconveniences of traditional camping are not a concern here.
You're still enjoying nature but with a homely and cozy atmosphere.
There's nothing better for adventurous individuals and families than curling up and bonding in a log cabin or shepherd's hut in front of a fireplace, telling stories, and drinking hot chocolate.
Those interested in glamping tend to book accommodation early because many popular glamping sites get fully booked for the season.
2. Theatre
Watching a play or concert on screen is one thing, but theatre lovers worldwide will experience the energy and emotion at a live performance, making it exciting.
Although these productions do occur at other times of the year, you can't deny that more of them happen during Christmas.
Some theatre enthusiasts attend several times to watch their various favorite plays and musicals.
Stages across the world usually embrace the Christmas spirit with a lineup of plays from kid-friendly titles to holiday classics, musicals, and dance extravaganzas.
These productions typically go on non-stop for the whole month of December, and all you have to do is pick a date that you're able to attend.
1. Traveling
One of the most popular times to travel is Christmas time.
Many people have been working so hard throughout the year and deserve a real break where there's no cleaning, cooking, and hosting guests for Christmas dinner.
All they need is some pampering and adventure, so they book a holiday for that much-needed rest.
Other times, people travel to get away from the cold weather that most U.S and Europe experiences during Christmas. While winter is not all bad, not everyone enjoys it.
They might go for a safari in Africa or a sunny beachside resort in another exotic location.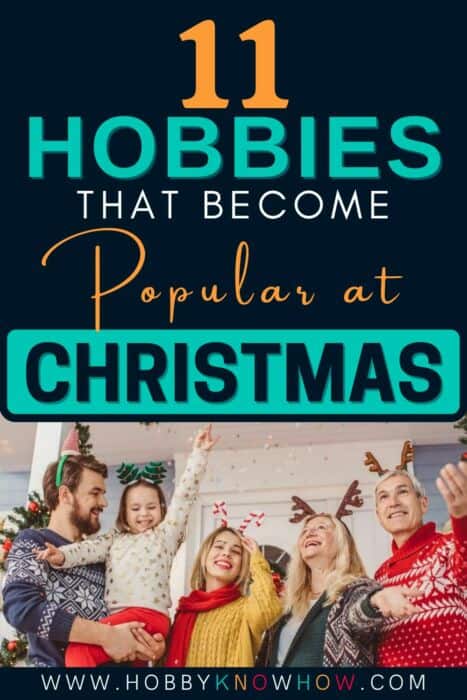 Bottom Line
The goal is to have fun during Christmas time. So choose a hobby that is sure to give you that and much more.
You could try some of the above hobbies before Christmas to see if they interest you as much.
Do you have a hobby that you love?
You're not alone. Millions of people around the world enjoy hobbies as a way to relax, unwind and indulge their creativity. But what if your hobby could be more than just a pastime? What if it could actually become your career?
Here are 12 easy hobbies that can turn into a Full-time career.
12. Blogging
Do you blog for fun? Do you enjoy writing and publishing your thoughts on the Internet? Have you ever considered becoming a professional blogger as a career? Read on to learn more about what it takes to become a successful blogger!
Bloggers work hard to keep their blog interesting and updated with new content on a regular basis. The hours can be long but the rewards are worth it!
But how do you make money from blogging I hear you ask. Well, you monetize your blog with display ads and also by recommending products to people and if they purchase it you'll make a commission.
11. Photographer
If you're reading this, then chances are you've been thinking about a career in photography but haven't yet made the leap. Perhaps there's something holding you back like it is for many people.
The photography world can be a competitive one. Lack of self belief is often something that stops you from sharing your photos with the world. Many people are now turning to blogging as a way to share their images and ideas with the world, but how do you go from hobbyist photographer to full-time career?
Sharing your photos on platforms like Adobe images or Upsplash and seeing the reactions from people who have downloaded your images can be a great inspiration for you to push on and consider turning your hobby into a career.
Starting you own photography blog would mean you have full control over who and what people see. It's also very lucrative when you monetize your posts with display ads.
10. Content Creator
The need for influencers has escalated with the popularity of social media. Brands are now looking outside their company to create content that's more authentic and relatable to their target audience. And with influencer-created content outperforming branded assets, it's no wonder they're in demand.
What are some of the steps to becoming a full time content creator?
1) Research platforms that have an audience you want to reach.
2) Make sure your work is up-to-date with current trends.
3) Review your analytics and identify what content performs well on the platform.
4) Schedule your posts for optimal performance, depending on whether or not it's intended as a 'top story'.
5) For videos, use editing software to enhance production quality while staying relevant within the platform's aesthetic guidelines. 6) Keep in mind that being consistent with delivering high-quality content will result in more followers who see themselves in what you're producing - but don't forget about yourself!
9. Graphic Designer
What if you could create videos, blog posts and other content to share with the world? This is exactly what a content creator does. If you have an idea for something that people want to read or watch, then this might be your dream job.
Have you ever wondered how much content creators make in a year?
The average content creator earns $500 per month. This is the result of a study by Mediakix, and it's not surprising to see that many people are turning to YouTube as a potential source of income. The median salary for those who work full-time in this field is between $30,000-$50,000
8. Social Media Manager
Social media managers are the new "webmasters," and they'll have a lot more to do than just post on Facebook. Social media manager is one of the fastest growing careers, with job postings increasing by 92% in 2017 alone.
If you want to become a social media manager, there are certain qualifications that will set you up for success. Your resume should be updated with your latest social media experience and any accomplishments that showcase your talent as a content creator.
You'll also need an understanding of how to use Facebook, Twitter, LinkedIn, Instagram and other networks in order to engage audiences and create brand awareness.
Once you land you dream job as a social media manager the opportunities are endless and it's a career that's only going to be in more demand in years to come.
7. YouTube
What if I told you that you can make a living from YouTube?
Wouldn't that be great?
With the internet's rapid expansion, there are now more ways to make money than ever before. In recent years, one of the most popular methods has been through YouTube videos. With a little bit of knowledge and some hard work, you too can become a full-time YouTuber.
There are more ways to make a living from Youtube than just making silly cat videos. You can promote and review products, make serious interviews and even teach your skills through the world of video.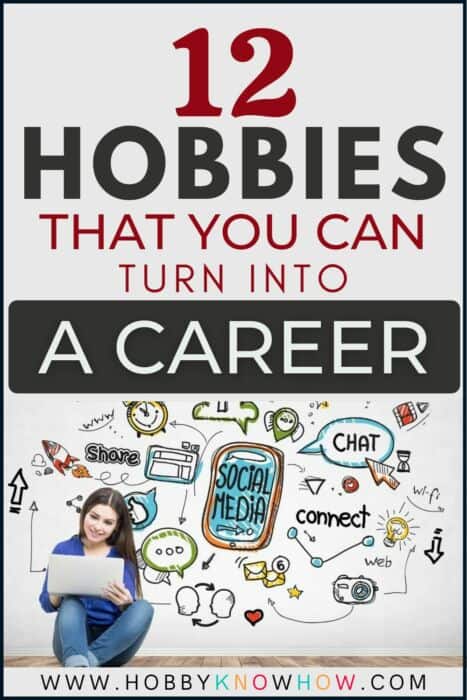 6. Artist (Painter, Sculptor )
How do you become a full time artist? It's not an easy question to answer. Artists and painters can tap into their creativity in many different ways, but it is important to find something that you love doing. Making art is like any other profession; it takes education, training, and practice.
Artists are the unsung heroes of society. They create beauty that is timeless and important to our lives, but they also get to live in their own world
5. Musician (singer-songwriter)
From singing to playing an instrument there are lots of possibilities when it comes to earning a living from music. Often ex-musician still stay within the music industry to make a living as a music editor or technical director.
But if you're just starting out trying to make a living from being a musician the best options are band members, background musician and even street music.
Many buskers and street performers earn six figure salaries from street performing. Even some of the biggest stars like Ed Sheran started on the streets playing to shoppers and passers by .
4. Sewing
Sewing is a great way to make money! If you know how to sew, you can help out with all sorts of jobs. You could work on clothes, making them more durable and attractive. Or maybe even working on the sails for boats or yachts.
You could even end up sewing and working on some of the latest fashion ranges in Milan and commanding a huge salary for your work. You could even bring out your own clothing range.
What about sewing astronaut suits. Yes, many suits and specialist workwear still need someone to stitch and sew them.
3. Teaching English as a foreign language (TEFL)
Teaching any language to someone is very rewarding. But earning a living from doing so must be very rewarding both financially and emotionally.
Other jobs that can pay handsomely for speaking another language is being an interpreter for official bodies like the police and also for large corporations.
Then you could be a YouTuber like Xiaomanyc who speaks chinese and mandarin to unsuspecting locals. With over 3.5 Million views he make millions from his YouTube channel.
2. Computer programming
If you're thinking about becoming a computer programmer, the first thing to know is that it's not as difficult or complicated as you might think. The second thing to know is that it pays well and has some of the best job prospects in America right now
The average programmer makes about $80,000 a year. Becoming a computer programmer is one of the popular choices for a career for people between the ages of 18-28 right now.
You need the right skills and enough experience in order to make it happen. However, if you're willing to put in the time and effort, becoming a programmer is an excellent career choice that will provide financial stability for years to come.
1. Video editing and production
o you like watching movies and TV shows? Do you have a passion for the video editing process? Then a job in video editing and production could be a great hobby to turn into a full time career.
Video is one of the most popular mediums nowadays. So, there are lots of opportunities in this film. Many people start their careers by simply editing videos at home or for YouTube before they decide to make it a full-time gig. The experience they gain from studying and performing video edits from home will serve them well in the workplace.
Final Thoughts
As you can see there are lots of hobbies that can be turned in to full-time jobs and rewarding careers. So, think about what you like to do in your spare time. Maybe your passions can become your career?
Doing what you like as a job is simply the best career you can have no matter what it is.
If doing your hobby or job makes you happy then it's the perfect career for you.
If you're trying to squeeze every little juice out of life, then living life on the edge is just the way to do it.
Are you looking for some fun and adventure? You're in the right place.
Keep reading for the most adventurous hobbies that are sure to get your heart racing.
13. Skydiving
Start off your adventures with an old-time favorite extreme hobby. Jump off a plane at 10,000 feet above the ground.
You'll start to fall at 120 miles per hour, then pull out your parachute and land safely on the ground.
The rapid fall is and intense pressure of pulling the parachute at the right time is enough to satisfy any adrenaline junkie.
Want to take it a notch up? Put on a wingsuit and get the plane to leave at the top of a mountain.
Now jump off the mountain and soar through the air. How's that for some superhero-type action?
Diving through the sky is super adventurous. Just remember to make sure your parachute is working properly; otherwise, it could be deadly.
12. Ice climbing
Think rock climbing is extreme? Well, you might think again after you try ice climbing.
Ice climbing is very similar to rock climbing, with twice as much danger. You'll climb up slippery glaciers and frozen waterfalls.
It's certainly risky, but nothing beats the breathtaking view of the ice.
Braving the slippery snow plus the cold is a sure way to get you fired up and get that adrenaline pumping.
You'll need to invest in ice climbing gear like ice boots, ice axes, and screws, ( < Amazon link ) and carabiners before your start your ascent.
Be sure to research all the different equipment you need so you can be safe- the point is to enjoy life not to put it at risk!
11. Zero gravity flying
If you've ever had dreams of going to space, you may want to try zero-gravity flights.
The process is simple; you get on the plane, it goes up and down a couple of times, and you get to feel zero gravity for about 25 seconds.
The floating feeling will give you a thrill like no other.
If you want to try this, find a certified zero gravity fight center near you, do not attempt this on your own
10. Wing walking
As far as extreme goes, wing walking makes the cut. You get on a plane; it goes up 10000 feet into the air. Sounds uninteresting so far?
Hang on, here's the fun part. You get out of the plane and walk on its wings.
If you're not faint-hearted, you can move from the wings of one plane to another.
It's actually a very old hobby that dates back to world war two.
9. Cage diving
Want to stare a shark dead in the eye? Cage diving maybe just a hobby for you. Plunge deep into the water in a cage and get up close and personal with the sharks.
You'll get to stare danger right in the eye; what can be more adventurous than swimming with the sharks?
If you dare to try, it's essential to follow safety protocols. Ensure the cage is secured tightly to the vessel that lowering you down.
Also, double-check the strength of the cage material and locks. You wouldn't want the sharks to be the last thing you see.
8. Scuba diving
Scuba diving is an extreme hobby sport that takes you deep into the waters.
You can escape the hustle and bustle of life and just spend some time with the underwater plants and animals.
It's a cross between feeling the adrenaline pumping as you dive deeper into the depths of the sea and feeling the peace and calm of the water that gives you a welcome break from reality.
Scuba diving is also a great way to connect with nature, and you might just find some amazeballs treasures down there.
7. Rally driving
Imagine racing through the dirt, maneuvering a car at top speed, pressing your foot against the acceleration, and not holding back. If you're all for the rush, that sounds like you.
You'll learn a lot about your abilities as your cruise through the dirt and mud.
Oh, and did I mention how hard it is to see through all the dust? It's the ultimate in fun, adventure, and adrenaline pumping.
If you prefer being on two wheels, you can do dirt biking instead. It'll give you the same thrill.
6. Winter swimming
Fancy a dip? Well, why don't you try swimming in freezing cold water?
That doesn't sound like much of a problem if you're wearing thermal gear.
But try doing it with nothing but your regular swimwear.
It's an extreme adventure for sure. If you like it, you might even take it pro and enter the championship.
5. Riverboarding
This extreme hobby sport is very similar to white water rafting; instead of using a raft, you ride the roaring water on a board.
You'll be carried away by the water at high speeds and then glide at calm speed when the rapids slow down, then pick up the pace all over again.
You'll enjoy letting the water give you a ride.
The terror of the high-speed rapids and then the soothing of the calm waters will have you floating on cloud 9.
Not to mention the view in-between.
4. Cliff camping
Climbing up a cliff is hard; getting to the top is extreme.
Now imagine camping on the edge of a cliff overnight. What can be more adventurous than that?
You'll enjoy the view from the top while you attempt to last the night.
Remember not to attempt cliff-hanging with any odd ropes and knots.
You'll need specialized equipment that won't give out. Plus, you should get experts to set up the kit for you.
3. Canyoning
This extreme hobby is a combination of different intense experiences.
Canyoning involves hiking, white water sports, climbing, and so much more all in one.
This hobby entails going across gorges, canyons, or ravines.
You will have to swim through the water, climb mountains or jump off cliffs.
Apart from the physical stamina you'll get preparing for and doing canyoning; it offers a mix of adventure.
It will give you the best of all extreme sports.
It takes a bit of practice to do it well enough while staying safe, so you'll need to put in some time before you start.
Also, it's a good idea to start small.
2. Martial arts
Martial arts is a thrilling and exciting hobby that is sure to get your adrenalin levels high; what's more, it's a beneficial hobby.
You can choose the style of martial art that you like from a variety of different types: Judo, MMA, Jiu-Jitsu, and so many others.
Most martial arts are physically demanding, but some are suited for people who lack physical stamina.
You can start learning through video online or find a brick-and-mortar class to learn.
Martial arts help to improve physical stamina and self-defense skills. On top of that, it's a great way to learn how to handle emotions and meet new friends.
1. Bungee jumping
This is a classic extreme hobby that involves you jumping down from very tall heights and hoping your harnesses can hold out.
It's certainly not for the faint-hearted. Bunjee jumping can help you connect with your inner self.
While you free fall through the air, you may just see a lot of things from a whole new perspective.
And that's it, some adventurous hobbies for you. Dice with death, get the adrenaline off the charts and feel more alive.
Conclusion
Life is for living, after all! Don't forget to stay safe and make sure you research all the safety protocols and get the right equipment for your chosen hobby.
Most importantly, always seek expert help before you attempt any daredevil hobby.
So try out these adventurous hobbies and get your heart racing; you'll be sure to enjoy these adventures!
To live a well-balanced life, you need to engage in activities that help you to zone out and just relax.
While many city dwellers choose to travel to the outskirts like the countryside or seaside to unwind and take time from the hustle and bustle of city life, there are a lot of exciting hobbies you can take part in right in the city.
The good thing about urban dwellers is that they like to keep up with the trends.
Therefore, you are bound to find various contemporary activities that will give you a perfect escape from feeling trapped in the concrete jungle.
9. Exercise
As more people move towards a healthier life, fitness groupings have significantly increased in most urban areas.
There is definitely something for everyone. You can decide to participate in aerobics, yoga, pilates, or just a regular morning jog.
If you prefer to sweat it out in a gym, you can do different exercises like weightlifting, aerobics, or just use regular gym equipment.
Participation in marathons is another growing trend that you can be a part of if running is more up your alley.
Exercising is a hobby that you can regularly do early in the morning or after a long day at work.
Working out releases feel-good hormones called endorphins, which will help you feel happy and more relaxed for the rest of your day.
It's also a great way to stay healthy and keep your body in shape.
Plus, it works wonders for the skin, helping you look as good as you feel.
Even if you don't have much time to spare, a 30-minute workout is enough to give you the kick you need to start or end your day on a good note.
If you decide to exercise, take care to follow the safety precautions for each activity.
Most importantly, start slow and work your way up.
For example, start with 15-minute sessions and gradually increase them to 20, 30, 40, etc.
If you start with a 2-hour exercise on your first day, you could seriously injure your body.
8. Dance classes
Get your adrenaline pumped up while also giving your body good exercise by joining a dance class.
Because of the cultural diversity in cities, you have an unlimited choice for dance classes to attend.
It's never too late to learn some new dance moves.
You might even be lucky enough to show off your newly discovered skills at recitals or other performances or even organize flash mobs with your dance team.
Dancing is a fun way to enjoy music and unwind. It also allows you to meet new people and learn about different cultures.
As with exercise, you need to start slow. Dancing for hours on end on your first day can make you really sore.
7. Theatre
If you are a lover of the arts and prefer a more laid-back hobby, watching theatre performances will be an ideal hobby for you.
Apart from being a spectator of the dramatic performances, you could also perform on the stage.
Even in the big cities, where competition to get a theatre spot is stiff, some smaller theatre groups can accommodate the aspiring actor.
If you really want to activate your creative flow, you can join an improv theatre class near you.
It's a great way to interact with different people and get over shyness.
6. Food and wine tasting
Whether you are of a refined palette or simply up for an adventure in the culinary world, this is one hobby that is guaranteed never to get boring.
You can create a map around your city's different restaurants or look up pre-planned events that celebrate culinary diversity.
One of the advantages of this hobby is that you can do it with a friend and enjoy sightseeing around the city at the same time.
You'll get to enjoy different flavors from all over the world and experience cultures other than your own.
Just remember to be careful about allergens, and if in doubt, don't eat.
5. Fashion
For the haute couture lovers, big cities offer a wide variety of options.
From fashion shows to high-end boutiques, vintage shops, or even chic and modern stores, there are plenty of opportunities to immerse yourself in fashion.
You can also freely express your individuality through fashion by creating your own designs and sharing them online.
If you like helping people dress better, you can start a Youtube fashion channel.
There's no limit to the fun, expressive outlet that fashion can give you.
4. Music
Enjoy listening to music, start a band, sing on the internet, bang some drums or make your own instruments - the list is endless.
In cities, you can find many performances by singers or bands all over the town.
Pick a few music genres you like and watch the live performances.
If you are a bit more adventurous, choose a different music genre every time.
It'll be fun exploring different types of music.
You take up a class and learn to play an instrument, get vocal lessons, try your hand on the DJ decks or join a band that performs at casual events.
Music has a way of connecting with the soul that is sure to keep you fulfilled.
3. Coloring and Scratch Art
Yes, coloring. Who would have thought that adult coloring would become a thing?
If you work in a stressful job, then this is an ideal hobby for you to take up.
Psychologists recommend coloring as a great relaxation exercise.
If you just want to spend a relaxing day indoors and help to refocus your mind, then get your book and coloring pencils out.
If you get bored with regular crayons, then add scratch art to your routine. You can buy some scratch art paper and scratch tools.
Scratch-art paper has a mystery to it that's fun and engaging; it helps keep your brain stimulated.
2. Social media
Nowadays, you can learn absolutely anything from the internet.
There is a tutor, coach, or mentor for almost anything you can think of.
If you feel you are talented or knowledgeable about any topic and are passionate enough to want to share it with the world in your free time, then having your own social media channel will be a great idea.
One exciting thing about social media sharing is that anything goes.
From teaching how to plait hair to extraterrestrial sightings, you can do whatever tickles your fancy.
There are so many platforms that you can choose from to share your content. If you are not camera-shy, then YouTube and TikTok will do it for you.
Or you could just write your articles and post them on your blog or even only host an audio podcast.
You can do all this in your spare time and in the comfort of your home.
1. Graffiti Photography
There is always something interesting happening in the city—what better way to capture these memories than through photography. Graffiti art is very popular in inner cities and people often travel just to walk the streets taking photos of all the graffiti art.
Luckily, technology has made it easy for us with smartphones to take great quality pictures.
Because of the diversity around cities, every day can be an adventure through the lens.
From appreciating architecture to just human interactions and anything in between, you can have a pretty decent gallery of photographs only from an hour's walk through your city.
Bonus Hobby ( My Favorite ) Parkour
An extreme hobby, that can be beneficial in enhance traits such as problem-solving, physical fitness, balance, and orientation, Parkour was initially developed for military training.
This hobby has you navigate from one point to another, usually in an urban environment, without any additional equipment or aid. You must carve a path across obstacles like buildings, stairs, and across gaps, to get to your destination as fast as possible.
As fun to observe as it is to take part in, Parkour is definitely worth investigating for those who want an accessible and exciting extreme hobby.
Read our complete Guide to starting Parkour here!
In conclusion
This list of hobbies is just the tip of the iceberg, but it does give you a starting point to help you decide how to spend those valuable free hours of your day.
Cities do have a lot more to offer than meets the eye.
To get to know other activities in and around your city, consider subscribing to your local cultural magazine and keep abreast of scheduled events, classes, or activities.
Traveling around the world for leisure or business is a fulfilling experience. But even while traveling you need some new pursuits; everyone needs something different to do now and again.
So what can you do to keep yourself occupied while on the road? Well, You're in luck. Here are eleven hobbies for travelers. Let's dig in.
11. Food tasting
One of the most exciting things about humankind is the fantastic diversity in cultures, dress, and food. When you go to a new location, you can start a food tasting hobby.
Dig into the different cuisines. You can use apps like TripAdvisor to find out where to go for the different meals.
Tasting the various food from diverse localities helps to improve your depth in palate.
On top of that, it gives you an inside view of the local culture and provides you with exposure to new things and a new way of life.
If you are not so much a food lover, try an alternative like wine tasting or chocolate tasting.
If you decide to test out this tempting hobby, just remember to try one meal at any given time.
That's because you may turn out to be allergic or get an upset tummy- it will be easier to keep tabs on your food this way.
10. Animal watching
Observing how animals interact in their natural habitats is always a thrilling activity. You can watch different animals depending on where you are.
Animal watching can include any animal from birds to fish or even ants. All you have to do is find a place where you can safely watch without disturbing the animals.
Remember to keep a safe distance. Depending on where you are, try to find a guide to show you the different animals. It's a great way to improve your appreciation for nature.
9. Rock climbing
If you have a knack for the outdoors, mountain or rock climbing can be a thrilling experience for you.
It's both challenging and exhilarating at the same time. What's more, it gives you a chance to get a breath of fresh air.
It's also a great form of exercise, especially if you've been on the road for a while.
It's important to remember to start slowly, especially if it's your first time.
Plus, you need to get all the right gear like sturdy shoes, harnesses, belay devices, and carabiners so that you can be safe at all times.
8. Yoga
Keeping fit while you're always on the go can be a challenge.
When you go to a new place, finding a jogging route or a gym, or any other form of exercise can take time. Yoga closes the gap quite nicely.
For one, you can do it from the comfort of your hotel room.
And secondly, you don't need to carry around much equipment with you wherever you go.
Practicing yoga movements will help keep you physically fit, and doing the breathing exercises can help keep your head on straight.
Also, a combination of yoga and meditation can help keep your mind at ease and assist you to stay focused.
This will help deal with the anxieties of going to different places and meeting so many other people.
Check out our complete guide to Yoga here!
7. Origami
If you're looking for a hobby that you can do anywhere, anytime, then origami is the ultimate choice for you.
This old-school hobby is ideal for travelers because you can do it from anywhere in the world.
Keep yourself occupied by learning all the new techniques. Make use of Google or YouTube videos.
If you don't want to carry paper around, you can still do origami with towels. Learn how to fold towels to make intricate designs and practice on the hotel towels.
Origami is a brilliant hobby for the business traveler because it enhances your mental concentration, improving focus in long business meetings.
6. Rafting
If you're traveling to a mountainous place with lots of water, try white water rafting as your new hobby.
It gives a great adrenaline rush and lets you connect with nature in its raw state. It may seem scary if you've never done it before.
The good thing is, you can go rafting with a team of experts to have the security of experience.
It's always best never to try white water rafting alone as it can be dangerous.
5. Post carding
Remember the day when postcards were the in thing? Nowadays, with technology, no one is using postcards anymore.
That's what makes them fun and exciting to collect.
You can start collecting postcards on your journeys from the different places you visit and sending them to your home address.
It'll be fun going through all the postcards when you get home.
You can even send them to your friend and get them to share the joys of your travel the old-fashioned way.
4. Paddleboarding
Paddleboarding allows you to form a tranquil connection with nature in its most mild form.
You can do the hobby on a board over a lake or slow stream.
To make it more adventurous, try paddling while you stand on the board with your feet.
If you're worried about falling over, you can use a canoe, small boat, or kayak in the same way you'd use a paddleboard.
Paddleboarding has a calming effect on the mind and helps improve your coordination and balance.
3. Kite surfing
If the peace and tranquility of paddleboarding doesn't suit your pace, try a more active hobby on the water like kite surfing.
Kite surfing will give you some fun-paced excitement on the water. The sites and sounds of the water plus the wind on your face can help clear your thoughts.
It'll help to keep your body active while getting some fun in the sun. Kite surfing is not usually a hobby you can self-teach.
For maximum safety, find a teacher or school before you hit the waters.
2. Collecting
Collecting is such a versatile hobby because you can do it anywhere, and you can collect anything.
You can collect expensive items like antiquities. Or you can choose simple souvenirs from your trips like pens or keychains.
For example, you can collect one keyring for every place you visit.
If you decide to go into collecting, remember to observe the laws of the area you're visiting.
Some sites won't allow you to collect or remove valuable objects or historical artifacts, so be careful not to break the law.
It's also a good idea to determine the immigration rules about carrying certain items back to your home country before you start your collection.
1. Photography or videography
Don't just take selfies on your trip; try your hand at professional photography. You can use your smartphone or carry around a small camera with you.
Some smartphones will give you more or less the same capabilities as professional cameras will.
Take photos of the landscape, museums, or any other fascinating features. To make it more appealing, learn how to edit photos or videos and try creating professional-level content.
You can use your photos or videos as a journal for your travels.
Your videos can also make wonderful keepsakes for all the new friends you may meet on your trips or for your family back home.
Final Word
A hobby completes your travels. You'll have lots to do while you see the world and enjoy the beauty of mother nature.
Whether you prefer your outdoor activities to be full of adrenaline or peaceful, there's something for you.
If you'd rather stay in your hotel room the whole time, you'll still be fully occupied. Try out these hobbies and enjoy your travels!
Life can get so busy. Now and again, you have to give yourself a break and take time away from your regular nine to five.
Hobbies are a great way to help you unwind and relax, or just fill up those days when you have extra hours on your hands.
Involving animals in our hobbies is a great way to bond with them. For animal lovers, there are a variety of pursuits you can enjoy in your spare time.
Ranging from high adrenaline activities to calm and relaxing options. Let's take a look at some animal hobbies that you're sure to love.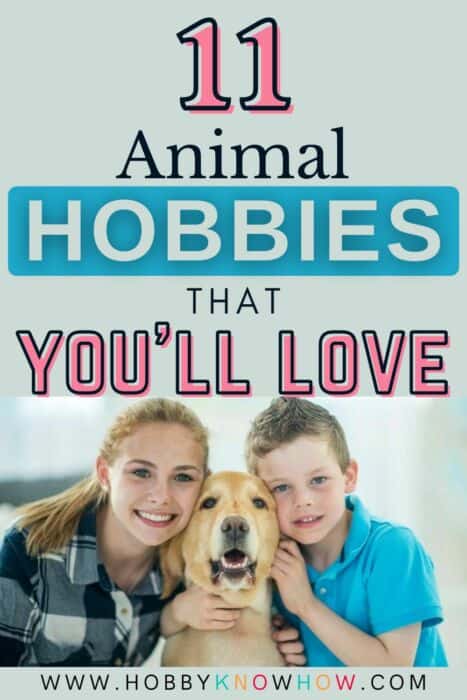 11.The safari experience
This one tops the list of must-do activities for the animal-lover. It may require a pretty penny, proper planning, and a couple of days off.
There are a few things as exhilarating as watching wild animals in their natural habitat.
If you are lucky, you might experience some of the rare moments that nature has to offer (like lions hunting down and catching prey or a zebra giving birth).
Although safaris are typical in Africa, you can get the same experience in some countries like India and Chile.
It'll give you first-hand experience of nature and everything around it. Throw in some camping and sightseeing while you're at it, and you'll have yourself a trip to remember.
10.Equestrian
Most of us admire the regal elegance of horses. Why not take up horse riding? While their height may be intimidating, trained horses are generally harmless.
You can choose to take a casual strut, a gallop in the woods, or possibly take part in show jumping.
You'll need a bit of practice and patience to get to ride like a professional, of course, but all in good time, you'll be enjoying horseback riding.
Apart from riding horses, you can opt to take care of the horses too. You'll love the feeling of grooming or feeding the horses.
Can't afford to buy a horse? Try volunteering to take care of horses - same feeling, maybe even nobler.
9. Apiary
You are probably wondering what this is, right? It's the buzzy world of beekeeping.
If you are not one to shy away from a little challenge, this activity is right up your alley.
With enough yard space, you can build hives and spend your fulfilling afternoons harvesting honey.
Plus, you get to wear those fancy white suits (you could actually pass for a scientist- a scary-looking one, though)
8. Scuba diving
Scuba diving is the perfect activity for thrillseekers who aren't afraid to get wet.
Who knows, you might come across a school of sharks, dolphins, octopuses, and seahorses.
With thousands, if not millions of creatures in the deep blue seas, every experience is guaranteed to bring something new to the table.
Scuba diving can be a pricey hobby to take up, but you can reduce your costs by renting equipment while gradually buying your own.
7. Fishkeeping
Another ideal hobby for water lovers but on the more relaxed end is having a saltwater or freshwater aquarium.
From the comfort of your home, you can enjoy the colorful marine life in a glass box, the closest thing to the actual ocean.
Another exciting element to this hobby is that you get to create your marine habitat piece by piece and watch it develop and thrive as the marine life co-exists in this ecosystem.
While setting up an aquarium can be a bit costly, you can look for second-hand equipment.
Remember to get all the information you need to get you started.
6. Wildlife photography
Experience the magic of nature and be at one with the earth through the lens.
This hobby can accommodate different budgets, from taking pictures of squirrels from a park bench to traveling to wildlife parks far and wide.
Of course, you will have to invest in good quality photography equipment, but then again, even your smartphone can do a pretty decent job.
You can choose to keep the photographs for your personal gallery or even get a following from sharing them on various social media platforms.
Learn how to edit photos, and your hobby can go to a whole new level. You might even make a few bucks out of selling your pictures on the internet.
5. Animal yoga
For the animal-loving fitness enthusiast, this can prove to be your ideal relaxing activity.
Animal yoga can be a fun way to spend time with your favorite pet or try out the recent trends that involve yoga with goats or alpacas.
Animal yoga is unmistakably a fun and unique experience that helps keep you and your pet fit.
4. Volunteering with animals
Hobbies are usually activities we do for our own benefit. When we act for others' good, sometimes it comes around to benefit us in one way or another.
Volunteering at animal shelters is one such hobby where you give something but end up gaining more from the fulfillment you get out of it.
The activities involved range from cleaning and caring for the animals and just downright fun and games when playing with them.
Volunteering with animal rescue teams is another way to give back to society while personally enjoying the outcome.
You can participate in preparing for the arrival of the rescued animals, assisting with transportation, adoption, and even rehabilitation.
3. Keeping animals
This hobby can be a lot of work but also rewarding.
You can decide to keep a couple of chickens that roam freely in your yard that you feed well with all sorts of natural goodies or increase your farm ( or backyard) project to goats, sheep, cows, and pigs.
One benefit of keeping animals is that you'll get lots of by-products like eggs or milk. The ideal hobby for the frugal! Plus, you'll make lots of new animal friends along the way.
If you don't have much space, don't worry. A small backyard coop is perfect for keeping cute bantam chickens.
2. Hunting
Now, this definitely tops the list for the marksman and adventure enthusiast.
Many legal hunts are organized annually across the globe for different reasons, the most common being population control.
Hunting is not for the fainthearted and will require a reasonable amount of skill, travel finances, and proper equipment.
There is something available for every hunter, from land hunts for antelopes, buffalos or lions, to sea hunts for whales.
1. Geocaching
If adventure is what you're looking for in a hobby, then look no further than geocaching.
This fairly new and fun phenomenon is like the world's biggest outdoor treasure hunt.
All you need to do is register on the geocaching website, turn on your Global Positioning System (GPS) and begin the search.
There are various animal challenges on offer for animal lovers where your search will involve something to do with animals or actual animals.
Geocaching is a fun and exciting way to enjoy the great outdoors and also what you love, animals!
To conclude
So, there you have it, some wonderful hobbies you can try. There is a hobby for every animal lover.
Nothing beats some relaxation and fun, especially when you're dealing with animals.
Enjoy exploring the diverse activities that will leave you relaxed, fulfilled, and content.
Remember, don't be cruel to animals; research more about each hobby to find out what it entails and all the regulations first before you dive headfirst.
Enjoy your prime with these 21 hobbies that more than fill the years after retirement!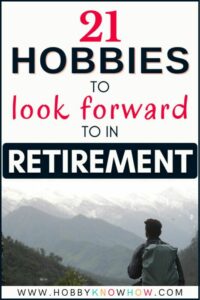 Retirement provides a new lease of life and plenty of time for pursuits that would not have been possible alongside the responsibilities of employment or career.
Hobbies are not only a great way of keeping occupied and productive, but they also contribute to your development as a person and as you get older will stave off isolation and lethargy.
Indeed, hobbies are credited with keeping seniors, physically and mentally fit. 
Read on for our suggestion of 21 stimulating retirement hobbies that will keep any retiree thriving.
As you will see we set no limits on what you can achieve and we are sure that with one of these hobbies, you will have your new passion in no time at all!
21 hobbies for retirees to look forward to pursuing
1. Fencing
If you enjoyed the Mask of Zorro and could imagine yourself swinging from chandeliers Catherine Zeta Jones-style while brandishing a rapier, fencing could be the hobby for you!
It's a great hobby for any age and will improve your balance, coordination, and spatial awareness. Choose from three sword-fighting disciplines, epee, foil, and the heavier saber.
You may think advanced age is a disadvantage to becoming an excellent epeeist, but you likely have something the youngsters do not - the time and money to stay the course and master this elegant sport.
Veteran fencing accommodates older fencers providing a competitive trajectory if you get good. For example, Jere Bothelio a top Vet60 fencer featured in the video below, started the sport aged 47!
2.Homesteading
If you are up for a challenge and have an interest in gardening and animal husbandry, the end of your employed years may be the perfect juncture to live a new sustainable life in the country.
Even half an acre of land can be used to develop a thriving and productive garden that will keep you and your family well fed. Add in some chickens and ducks and you have gone a long way to being self-sufficient.
If space isn't a problem, why not turn your hand to keeping a cow for milk and perhaps raising some lambs for meat?
3. Water Volleyball
Are you determined to keep active in your golden years? If so, Water Volleyball is an excellent low-impact sport that is not only aerobic but social too. Getting in the water is beneficial because the buoyancy supports your joints allowing you to achieve a greater range of movement safely.
As you get older, competitive sport is a great motivator. Team sports like Water Volleyball give you drive and have been shown to benefit seniors by improving mood, lowering blood pressure and a reduced risk of diabetes and arthritis.
4. Extreme Hiking
For some individuals, age is never going to extinguish the thirst for adventure. Retirement years provide all the time for exploring the great outdoors and some seniors love the challenge of doing this with the bare minimum of resources.
Take inspiration from the legendary MJ Eberhart (AKA the Nimblewill Nomad) or the remarkable Dave Roberts who has crisscrossed large portions of the US on foot with only a single pair of shoes a tent and a backpack.
5. Whittling
A knife and a piece of wood can be used to make a whole host of objects. Whiting is a good old-fashioned hobby and cheap too! This traditional handicraft is great for whiling away an afternoon on the porch and you can make useful items like spoons, mugs, or carved ornaments for gifting.
6.Bushcraft
Unleash your inner outdoorsman with the pursuit of bushcraft, the acquisition and use of skills for survival in the wild.
As a bushcraft enthusiast, you won't be enjoying sun loungers or the seniors discount at the local country club.
You will be pitting yourself against the elements as you hunt, trap, fish, and navigate in wilderness terrain.
Learning these survival skills and mastering the essentials of primitive camping will build resilience and character and provide you with great stories for the grandkids!
7.Filmmaking
Retirement is an opportunity to reinvent yourself and learn new things. After years on the career track, there is no better time to get in touch with your creative side and get a renewed appreciation for the silver screen by taking up filmmaking.
If you are a natural storyteller, learning how to compose a polished cinematic production may be the fulfillment of closely held dreams. Platforms like YouTube and TikTok, also make it possible to reach a large audience, much like Englishman Richard Vobes, who produces his films about Sussex in England.
8.Steamtrains
There is something about the sight and sound of a steam engine whistling by that takes you right back to your childhood days.
Why potter about the attic with a model railroad set when you can don your engineer's cap and drive the real thing?
Working on heritage railroads in the USA is a labor of love and draws locomotive enthusiasts from all walks of life.
If the arduous task of shoveling coal into a 100-ton engine is too much for you, volunteers on preservation railways across the globe are required for positions as guards, signalmen, ticketing clerks, and of course, cleaning and maintaining these magnificent trains.
9.Apiary
With worldwide bee and insect populations on the decline, you can do your bit and give a swarm of honeybees a good home by setting up and maintaining your hives.
In turn, your residents will earn their keep by providing you with delicious all-natural honey.
Apiculture has an easy pace and there are plenty of groups and beekeepers who can teach you the basics and help you source supplies.
Take a look at the British Beekeepers Association or Texas Beekeepers Association to get started.
10. Historybounding
If you enjoy historical dramas, period costumes, or civil war reenactments, you can take things a step further with this intriguing hobby. Historybounding sees enthusiasts integrate historical dress and styling into everyday life!
Historybounding is an emerging hobby that draws people who enjoy various historical periods and who make or purchase clothing to match. Some of the most famous adherents like the fashion designer Zack Pincent throw caution to the wind and rock full-time Regency apparel, while other hobbyists are more nuanced. Think cosplay for grownups and you'll have the right idea.
Take the time to source and sew elegant reproduction clothing and join meetups and historical tours with like-minded individuals.
Learn more about history from its founder Morgan Donner:
11. Raspberry Pi
No, we're not talking about that family recipe the grandbabies love…
... Raspberry Pi is an opportunity to leap into the world of electronics!
You don't have to let the fourth industrial revolution pass you by. These clever miniaturized printed circuit board computers will get you up to speed on the principles and practicalities of computing.
These nifty programmable computers can be customized to perform all sorts of functions and come with connectors, keyboards, and other accessories that teach you how software and hardware interface.
Working with these devices may take up a lot of your time as you invent electronic gadgets and solutions all from your dining room table.
12. Learn coding ( You're not too old )
Why not invest some time in improving your computer literacy beyond navigating Amazon by learning the fundamentals of computer programming.
As technology and the internet become an increasingly prominent part of daily life, understanding one or two programming languages like PHP, HTML or JavaScript is advantageous as you can build websites and basic software from scratch.
Learning online is easy with websites like W3Schools providing comprehensive coding tutorials.
Get good and you could even make your newfound skills into a side hustle or second career. You never know, you might just be the next Elon Musk.
13.Smoking meat, fish, and other tasty things
Seniors who consider themselves foodies and gourmets will enjoy the artistry and technicalities of using a smoker.
Smoking brisket, bacon, and decent slabs of salmon require the precision and expertise that takes time to acquire. Smoking meat is certainly an enjoyable process with very little that can go seriously wrong.
To make a success of your smoking hobby you can start by purchasing a smoker though, over time, you may appreciate the challenge of a rugged self build with thrifted items and homemade charcoal.
People who know how to smoke good meat will always be very popular and we are sure that everyone will want to come over to your smokehouse!
14. Learn an instrument
Retirement is the perfect time to fulfill your dream of mastering an instrument. Just because music lessons could not be accommodated in your childhood does not mean that you cannot start as an adult.
We all know how good music is for the mind and learning and practicing an instrument will go a long way to keeping you mentally supple as your years advance. Mike Evaniuk, an Idaho senior was able to master the piano to a high level of competence in just 15 months:
As with many other skills-based hobbies, the retiree has time on their side. With plenty of practice, you can master the basics and develop an entertaining repertoire.
15.Geocaching
Community-minded seniors who love to be out and about will enjoy exploring a new and hidden side to their locality with this GPS-powered treasure hunting hobby that is pursued right around the world.
All you need to get started is a phone or GPS-enabled device. You'll use these to navigate to the locations of "caches", weatherproof containers that contain a logbook of previous finders and rewards or treats.
You can pursue this hobby anywhere and even create and publish your geocaching location on Geocaching.com. Take a look at how it all works at the Geezercache 101 YouTube channels for geocaching seniors.
16.Upholstery
With upholstery skills, you will be able to upgrade and customize a whole range of furniture to a very high standard. If you love home decor or interior design, upholstery will take your decorating projects to another level.
You will be able to confidently and competently deconstruct reclaimed furniture and give them new lease of life with traditional stuffing, tufting, and padding techniques.
Upholstery can be self-taught or you can take evening classes at your local community college. The National Upholstery Association (NUA) is the US professional body that oversees upholstery in the US. They have a range of training sessions, webinars, and community events that hobbyists can participate in.
17.Paddleboarding
Retirees who love being out on the water but may not feel agile enough to surf or bodyboard will love the laidback pastime of paddleboarding. This watersport involves standing or kneeling on a surfboard or paddleboard and propelling yourself through the water with a long paddle.
It is very relaxing and you will be surprised at the distances you can cover in the sea or on other large bodies of water with Stand Up Paddleboarding (SUP).
You may not notice it, but paddleboarding will deliver a whole-body workout and of course, plenty of Vitamin D from the sun and fresh air.
18.Deep sea fishing
Brace yourself for the ultimate angling challenge and fantastic hauls of deep-sea fishing! This hobby may start as a one-off experience but it will soon become a way of life. You will be able to take on big game fish like Blue Marlin, Barracuda, and Kingfish and make friends for life who will back up the tall tales from your adventures.
You can see the world via deep-sea fishing trips with most continents having famed locations that attract anglers from all over the world. Charter a boat with an experienced skipper who will take you to all the best spots.
19. Adult Ballet
More and more people are taking up (or returning to) the elegant physical disciplines of ballet. This dance form is more than tutus and tiaras, it is one of the best strength workouts going and builds flexibility and bone health.
Modern adult ballet classes are centered on the warm-up and barre work aspects of ballet. You may want to grab a leotard and tights but you can do just as well in some comfortable clothing that allows your body to move.
20.Shoemaking
Shoemaking is a great creative hobby that is becoming rare due to the mass production of footwear. However, curating and learning the traditional skills needed to make footwear will mean that you can create your own comfortable and distinctive shoes, sandals, and slippers.
Working with supple leathers and fine materials takes years to master, but you will learn to appreciate the superiority of a handmade shoe.
21.Cheesemaking
Do you want to become more self-sufficient as a household and make your budget go further? Learning to craft delicious fresh and aged cheeses is a wonderful hobby that you can master at your own pace. This is a hobby where you can take your time and learn as you go, acquiring the equipment you need for specific cheeses as you develop your skill.
Cheesemaking has some great online communities where you can get help with learning the basics of this hobby. The cheesemaking Reddit is great for new fromagers who need advice or direction for a successful project.
Rounding up
We hope our take on retirement hobbies has given you plenty of food for thought on just how much you can achieve in your later years.
We love that with most of these hobbies you can set goals and enjoy a tangible sense of achievement and satisfaction at being productive. Diverse and interesting pastimes like these are great for sharing with family and friends too!
You may want to try more than one of these hobbies, but even a single pastime is likely to keep your diary packed.
For military veterans, service will always be at their heart.
After the responsibility and honor of serving your country, civilian life is never going to be the same.
As a military veteran, you have passed through the rigors of training and disciplining the body and mind, submitting your will to a greater cause as you and your fellows work to defend your nation. 
It's no surprise if you want to continue exercising your skills and discipline in a hobby, that gives you an escape from what may be a more mundane or slower pace of daily life.
Hobbies are a really productive use of your downtime and having something that you can put your energies into will greatly enrich your quality of life. 
4 key reasons hobbies are a great pastime for veterans
Patriotism: If your hand is on your heart when you hear the first tones of the Star-Spangled Banner you will definitely thrive on a hobby that continues your love of your nation and willingness to build up others.
Continue to give back: Military vets will always be ready to step up and serve and there are so many pursuits where you can help and encourage others.
Teamwork: Working with others to achieve a common goal is definitely fostered by military life. Hobbies, where you continue to exercise that team spirit, will be satisfying.
Fellowship: You may not have had a "Band of Brothers" experience, but vets often miss the camaraderie and company of their fellow servicemen. The right hobby will provide the building blocks for lifelong friendships, just like those of your army days.
Whether you have served in the Army, Navy, or Air Force, your sense of duty and work ethic will definitely influence your recreation choices and in many ways, veterans are uniquely equipped to excel at a new hobby.
Start your search for an amazing pastime with our 7 hobbies for veterans. These pastimes have been selected for you to continue to exercise your "BE ALL YOU CAN BE" attitude, either alone or with others.
7 Hobbies all military vets would enjoy
1. Create delicious outdoor cuisine with Dutch Oven cooking.
If your military days have left you with a love of the great outdoors, you will love the hard work and satisfying flavors that come with mastering Dutch Oven cooking. Did you know that the Dutch Oven is the official state cooking implement of Texas?
You will soon see why as you bring out your inner cowboy with delicious, roasts, casseroles, and baked treats cooked in cast iron over hot coals.
Using these large heavy iron lidded pans that are heated with hot coals may be reminiscent of heating your military ration in hot water, but you and your guests will be eating a whole lot better.
There are Dutch Oven cooking groups and organizations across the US where you can meet and share entrees with like-minded outdoor cooking enthusiasts. Take a look at the type of feast you can enjoy with these great videos:
2. Enjoy giving back by joining the Boys and Girls Clubs of America!
As a military veteran, you will be familiar with the transformative effect of getting the right training and support and you may want to pursue a hobby that allows you to help young people not only stay on the right tracks but thrive.
Boys and Girls Clubs of America is a great way of exercising your protective and nurturing instincts in activities including sports, cooking, and robotics. They have a very diverse range of programs and chapters in most metropolitan districts.
3.Harvest delicious seasonal game by Hunting alone or with friends
As a military vet, you will know how to safely use a firearm, and hunting is a great way to exercise those skills (and wear your camo). In the US, licensed hunters enjoy high-quality game from a range of animals including white-tailed deer, turkey, feral hogs, and doves.
Hunting is about much so much more than guns. You will have to learn how to field dress your prey and store and cook it too. Large animals like boar or bison will not only fill your freezer, but can be shared with others too.
The state-issued licenses are usually purchased for the season from the Environmental Department or Parks and Wildlife Department. All US hunters also have to complete a Hunter Education Course to ensure that they keep themselves and others safe in the field.
4.Create beautiful objects with woodturning
Woodturning is an all-American craft that is used to create beautiful objects and utensils. If you are looking for a relaxing hobby at an easy pace you cannot do better!
Traditional woodturning involves carving and shaping a piece of wood as it rotates on a lathe. You will develop the skills of a master craftsperson as you experiment on projects ranging from classic bowls to pens and even baseball bats.
If you cherish the outdoors and our great American hardwoods what better way to enjoy the grain and visual qualities of woods like Sequoia, Walnut, and Cherry.
Setting up a workshop for your woodturning is simple and requires only the expense of a lathe, a set of woodturning tools, and of course, some decent wood.
The Ashley Harwood channel on YouTube is excellent for beginner woodturning tutorials and projects.
5.Why not take up band?
Community concert bands and wind ensembles have a rich military heritage are a great way of being creative with others in your community. Wind bands are a real American tradition and may also include marching.
Dust off your bugle and polish your medals while you prepare a repertoire of classic marches with symphonic wind musicians from all walks of life.
Most amateur concert bands will meet up for rehearsals on a regular basis, gearing up for a concert once or twice per year.
Get inspired by the world-famous bandmaster Frederick Fennel conducting The US Field Artillery March by John Philip Sousa, the 19th century US Navy Sargeant Major famed for composing American military marches.
Maintain your military fitness and have some good old fashioned fun with Obstacle Course Racing!
Obstacle Course Racing known as OCR has come a long way since the hilarious Japanese game shows like Takeshi's Castle. The obstacle course racing format is more similar to Triathlon and has similar physical and endurance demands.
These timed races will pit you against a range of obstacles which vary in their elaborateness. You may find yourself having to swing, crawl, Wade and scramble much like you would do back in the army!
Races and groups are popping up right across the US, and there is even a push to have OCR included in the Olympic Games. Most games are convened by USA OCR, who can provide more information on how you can participate.
7.Keep time and formation while you tip your Stetson with Line Dancing!
If you are looking for a hobby that will give your social life a turbo boost, line dancing is definitely for you! You're probably used to keeping in time on a quick march, and with line dancing you take things a step further with coordinated routines of increasing complexity.
This hobby has all the ingredients to become a real passion and you are sure to make plenty of friends.
Rounding up
As a military veteran you have so much to offer and it's great when our ex-servicemen and women are thriving with enriching pastimes. We hope that one or perhaps a few of these hobbies for veterans will be not only good match but a great passion for the years to come!
Oorah!
Looking for hobbies for the partially sighted?
If you are partially sighted and are looking for hobbies and activities or searching for hobbies for a relative or friend with visual impairment you have come to the right place!
We have put our hobby heads together to curate a list of 11 engaging hobbies that can be enjoyed by partially sighted individuals.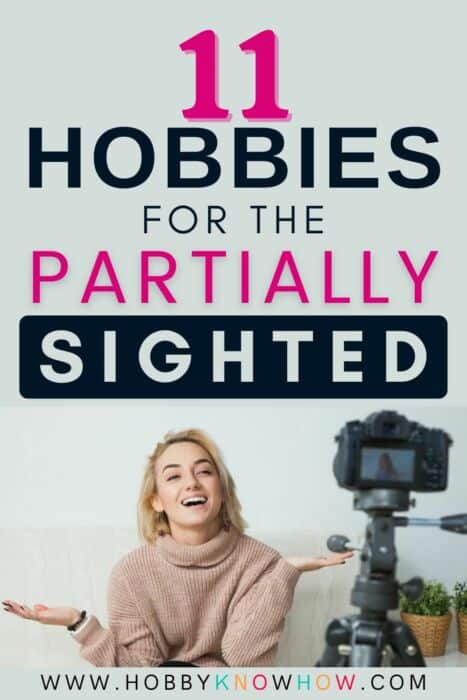 The causes and experiences of sight loss are diverse.
We don't expect this list of 11 hobbies to be a perfect fit for everyone. We understand that you may be:
dealing with sudden sight loss
coming to terms with a new diagnosis of vision loss
adjusting to progressive deterioration of sight
living with disabilities in addition to sight loss
a young person who is partially sighted
an older person who is visually impaired
If you have been through or going through a big adjustment with your vision, hobbies can help!
Hobbies are great for staying positive and motivated. Some may take time to master but once you see the level of expertise and productivity you can attain we are sure you will be delighted!
Better yet, our thinking is that some of these hobbies have the scope to become serious side-hustles and even generate a full-time income.
Let's take a look at 11 great hobbies that the partially sighted can enjoy!
1. Blogging
Blogging is a really inclusive hobby that can also be monetized to generate good income.
You can type your blogs if you are able or use a voice-to-text app on your computer or phone.
You can publish and maintain your own website as a personal journal of your thoughts and experiences, or use your digital platform to create articles on a specific niche or topic.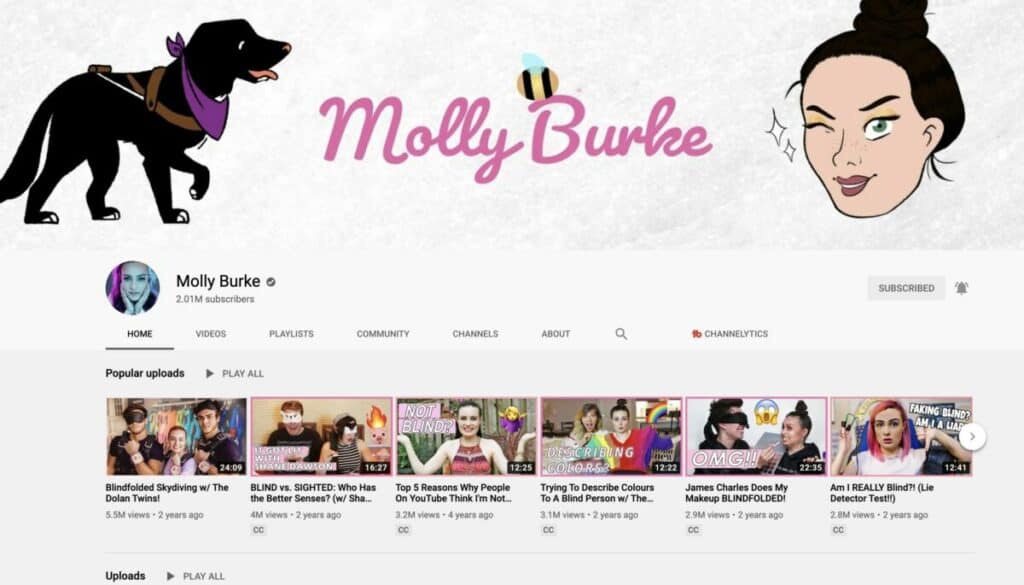 WordPress, a popular blogging platform has loads of adaptive features and accessibility plugins that support blind and visually impaired bloggers with building an impactful online presence.
2. Sculpture
If you have an artistic leaning you can work with a variety of materials to create beautiful pieces of art.
Tactile hobbies like sculpture take the pressure off your eyes because you use your sense of touch.
You could work with clay pottery-style, whittle wood, or perhaps create stacked items like legally-blind granite sculptor Chris Brown:
3. Podcasting
Much like blogging, you can learn to create outstanding audio content to publish on platforms like iTunes and Spotify.
4. Cooking
Cooking is a feast for all five senses, so it is no surprise that many visually impaired people are adept at cooking.
Experienced cooks who are partially sighted know that organization is key to staying safe when cooking.
There are so many adaptive cooking gadgets, like nesting cups, silicone potholders, or the PenFriend voice-labeling system to help you create a range of cuisines.
Take a look at Texan Cole Johnson who hunt, butchers, and cooks his own meat despite suffering from Ring Scotoma:
5.Perfumery
We experience the world in so many different ways and the appreciation and study of fragrance will really hone your olfactory abilities. You can take courses that include sample fragrances, absolutes, aroma-chemicals, and essential oils.
Your fragrance hobby can be anything from curating a collection of classic fragrances to curating and formulating perfumes of your own composition.
Read our guide to making your own perfume here.
6.Gardening
Planting a garden is a really satisfying pastime that will get you plenty of sunlight and fresh air. It's a great hobby as it relaxes you and you can work on your garden at your own pace.
Knowing how to grow your own fruit and vegetables is a great skill and you may find that you are productive enough to share produce with neighbors.
Blind and partially sighted gardeners have loads of tips, tricks, and hacks for making a success of a garden. In particular, the arrangement of your garden space can make it easier to get to where you need to and monitor the condition of your plants. Raised beds and containers are often used by partially sighted hobby gardeners to stay organized.
US organization Vision Aware has great advice on gardening with vision loss.
7. Leather tooling
Leather tooling or leather carving is the practice of creating three-dimensional patterns, shapes, and textures on leather using cutting and embossing instruments. It is a great table-top hobby that you can work on at your leisure.
This traditional craft used well-tanned full-grain leather to create intricately patterned items like belts, book covers key fobs, or bookmarks.
Leatherworking is quite cost-effective, with the main ongoing expense being leather remnants to work with.
The hand tools used are small and easy to handle and controlled meaning that with practice they can be used safely.
8.Learning languages
Learning languages is a wonderful accomplishment and can open doors to travel, and interaction with different cultures.
Even if you are going to struggle with the writing side, there is no reason that you cannot achieve proficiency or even fluency in languages as diverse as Russian, Japanese, and Arabic.
There are so many audio-based language courses that provide efficient learning and assistance with authentic pronunciation. In addition, you can enjoy e-books, radio, and film in the language of your choice to really immerse yourself in the learning experience.
If your newfound linguistic skills become a real passion, you may want to pursue advanced learning and potentially a career as an interpreter or translator. Studies have demonstrated that blind and visually impaired people have enhanced performance in certain tasks associated with these professions.
9.Dance
Being able to move your body freely is great for self-expression and there is no reason why vision loss should prevent you from developing aptitude in any of the leading dance disciplines.
For example, Delaware professional ballet dancer Jamie Meyer of the First State Ballet Theatre has a condition called Stargardt disease, which means she is unable to see her reflection.
Crispin Gell a teen from the UK is gaining prominence as a blind street dancer!
Ballroom dancing is also a great choice as you will be dancing with a partner who can support you with the movements and of course if you have good rhythm and muscle memory you will soon find your feet!
10.Weaving / Loom bands
Weaving is a great handicraft to master and makes a great hobby for people of all ages and abilities.
You can work with all sorts of materials, from yarn, to shredded fabric, straw or plastic.
Start with a basic loom and create small wall hangings then build up in size and complexity of your weaving projects to potentially include the weaving of fabrics.
Create popular designs that you can gift or sell, or for children, loom bands are a great introduction to yarn crafts, making the popular textured bracelets!
11.Oil Painting
Art is definitely for everyone and working with oil on canvas may be the perfect hobby for a visually impaired person who had been painting when they had normal sight.
Because of the viscosity and texture of oil paints, you may find them earlier to work with.
Oil on canvas paintings are typically built up in layers meaning you can return to your artwork again and again until you get the desired result.
You can create landmarks and touch points in the painting so you can orient yourself as you paint.
Remember, your specific circumstances will determine the best hobby for you.
When you find a pastime you love you want to do it all the time. However, it's worth checking in with your ophthalmologist to make sure that any vision you have is protected and you don't become stressed or fatigued.
Don't set limits on what you can do!
Like the Two Blind Brothers on YouTube always encourage, there is almost always an adaptation or workaround to enable you to get involved with activities you enjoy. Here is their take on how they occupy themselves with hobbies in their downtime:
Enjoy your new hobby we're sure you'll find that a lot is achievable with patience and perseverance!