Hobbies are an excellent way to spend your free time having fun, but how awesome would it be to have a fun hobby that also stimulates your mind?
Fun and educational hobbies will enrich your life and make you more productive. Here are 11 fun hobbies you can choose from that are also educational: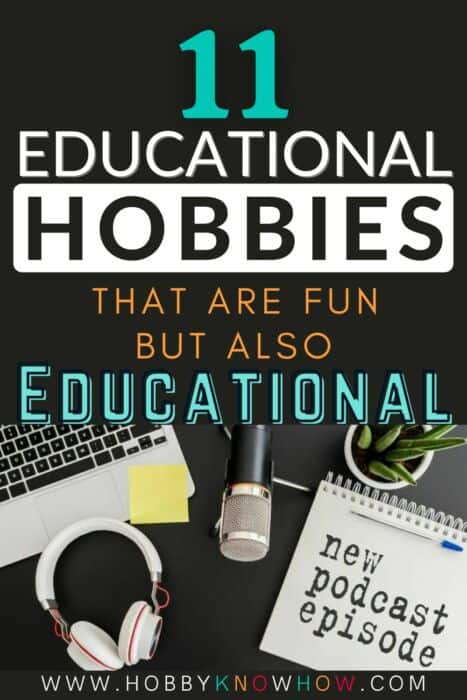 11. Foraging
Foraging is a fun adventure because you never know what wild edible plants you'll find along the way.
Doing it as a small group makes it more interesting as you can have conversations and share experiences.
Some foraging sites have a guide who will tell you everything you need to know about the area, making your experience easier.
You will learn to correctly identify various plants using a guide book or an experienced forager so that you don't pick up anything poisonous.
The rules of foraging teach you to respect nature and be considerate by only taking what you need, leaving as little damage as possible, and getting permission from the landowner where you intend to forage.
10. Metal detecting
That exciting moment when a detector makes a clear alarm is what most metal detectorists look forward to.
It might mean that they've found a metallic button or a gold ring. Either way, it's a fun experience.
Metal detecting allows you to enjoy nature, like walking along the beach, where many detectorists find their treasure.
This hobby teaches you how to use different types of detector technology.
Metal detecting enriches your knowledge of national history as some people find historical artifacts and ancient coins that have been buried for centuries.
9. Muay Thai
Unlike a lot of workouts, this intensive martial art is far from being boring and monotonous.
You're always learning a new technique, which makes you more likely to stick to your fitness goals. You'll build fun friendships with other Muay Thai enthusiasts at the gym.
Besides the benefit of lean muscles, Muay Thai will teach you to adapt to changing situations in your life quickly.
This will help you manage daily stresses and remain calm during tough experiences.
It also teaches you leadership and responsibility as you're expected to use the skill not only to defend yourself but others who might be in danger.
8. Learning a Foreign Language
Learning a new language is fun when you're more interested in learning the logic behind different words and sentence structures than in memorization.
Also, you'll have fun if you're genuinely interested in learning that particular language. In a group class, you get to practice and test your skills with other students.
Learning a foreign language will teach you about the culture connected to that language either through research or traveling to that specific country or city.
You will learn how to appreciate and respect other people's perspectives on various issues.
It will also teach you patience, and hard work as learning a new language takes time.
7. Listening to Podcasts
Listening to podcasts is not like reading a book.
While you can tell what's coming up next with the book, you never get to know how the conversation on a podcast will turn out. That makes it exciting.
You can listen to any subject you're interested in, from anywhere, even while doing your house chores.
There's no limit to learning when listening to podcasts.
Celebrities, entrepreneurs, creatives, and professional corporates all have something to offer to benefit you in several areas.
For example, leadership, fashion, agriculture, business, technology, creativity, personal growth and development, and a lot more.
6. Photography
Telling stories is fun, and that's what photography is all about. After all, a picture is worth a thousand words.
Sometimes, photography will lead you to travel to new places and have new fun experiences with capturing once-in-a-lifetime moments which you can immortalize with your images.
The evolving photography technology challenges shutterbugs to learn about the different lenses, newer and better camera models, and the latest photo-editing techniques.
Also, traveling photography teaches you about other cultures and traditions.
5. Pottery
The thought of using your hands to create a beautiful object from scratch by molding clay is immensely satisfying.
What's even more fun is the part where you get to paint your pottery project. In a pottery studio or café, this activity is more fun and relaxing when doing it as a group.
Pottery will teach you to use your creative abilities and not limit what you can create. It keeps you focused on the task until it's done.
You learn to persevere and be patient until your project is finished. However many times you might fall, you can always get back up and keep going.
4. Bird Watching
In most cases, bird watching or birding will force you to walk for miles through the woods looking for rare species.
This low-impact workout is a fun form of exercise even for people with arthritis and stiff joints.
Being in the midst of nature has proven to reduce stress by inducing awareness and relaxation.
Bird watching will teach you more about nature. You'll be able to tell the different bird types and species apart through research and continuously observing them.
You'll also learn their feeding, migration patterns, nesting behaviors, and what they go through to survive in the woods.
3. Genealogy Research
Genealogy isn't just fun. It's fascinating, too, especially if you're into telling family stories.
It's like a scavenger hunt for information, photographs, documentation, and personal information about family members that lived decades and even centuries before us.
It takes you on a journey going back in time and allows you to re-live the experiences of your ancestors.
Your minimal research skills will grow to new levels. Genealogy also teaches you to become more patient as it takes time to find most of the information.
You will learn about traditions, cultures, and major family events that have shaped your family into who they are now.
2. Watching Documentaries
For lifelong learners, it's always fun when you gain new knowledge.
Whether you like nature, history, crime, food, business, or biographies, there's a documentary out there you can watch.
Watching documentaries will improve your social life by giving you conversation starters.
Don't be afraid to hear alternative views to what you think you know. This makes the discussion more enriching and fun.
Watching documentaries gives you a depth of knowledge on subjects you may or may not have known about before.
It also educates you on the world's real issues like child trafficking, extinction, global warming, and new technology.
1. Sight Seeing
Visiting the famous places you only read about while you were in school and other areas of interest is exciting, especially if you're doing it with a group of friends.
Sites like the pyramids in Egypt, the Taj Mahal in India, the Eiffel Tower in France are all worth saving up for and keeping memories of.
There's always something to learn about the history and origin of the specific place your visiting with sight-seeing.
For example, we've read about the Taj Mahal story, but there's an authenticity in hearing it in detail from the mouths of keepers of the story.
Final Word
Which fun and educational hobby will you take up from this list?
Why not settle for one that suits your interests, whether it's creative, outdoor, exercise, or recreational. It will refresh you and expand your mind at the same time.