With the right hobby, there is nothing middle of the road about middle-age!
With family and career in cruise control, the middling years can feel more than just a little boring. 
Of course, there are the day-to-day responsibilities to tackle, but that young, reckless adventurer may not be who you find looking back at you in the mirror.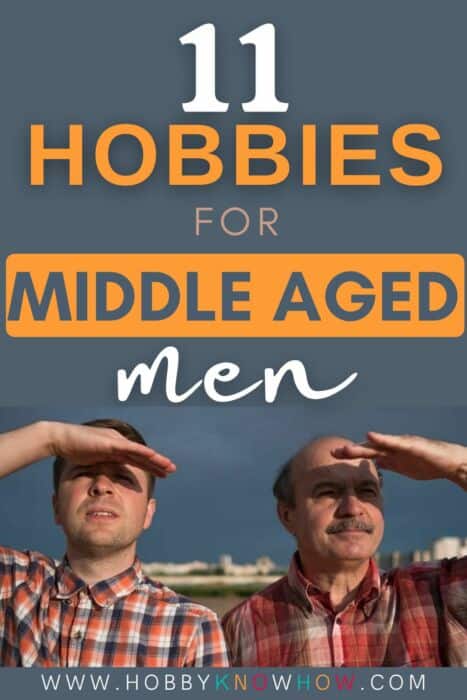 If you are looking to recover your sense of spontaneity and break the mold, taking up a new hobby your opportunity to get out there and do something completely different.
These eleven excellent hobby choices are far from mundane and perhaps allow you to explore an interest that you never had the time or budget to look into in your younger days. 
A new hobby can be life changing. 
Not only will you be experiencing a different side to life, but the social aspect of many hobbies also means that you will meet new and sometimes different people from your regular circle of friends and family. 
Get good at your new hobby and you may be in line for a career change for side hustle too.
No need for that midlife crisis…
Get comfortable in the man cave and read on for our take on ideal hobbies for the middle-aged man! We have 11 exciting hobbies for the middle-aged man, each of which should definitely take you out of your comfort zone. 
1. Auto Detailing
If you have already taken the plunge and purchased that shiny fast car, why not make a hobby of learning how to treat it right?
Car detailing is all about the skillful upkeep and maintenance of a vehicle, inside and out. 
We're not talking about a bit of Turtle Wax and using the vacuum.
Serious auto enthusiasts handle a luxury vehicle with technical precision welding products, procedures, and lots of insider know-how to keep a ride sales floor fresh!
Pro detailing, including body finishes with high-tech ceramic coatings, can cost hundreds if not thousands of dollars so becoming a skilled amateur is well worth pursuing. 
You will need to invest in some equipment to start your new hobby. A portable generator is often the most expensive piece of equipment but will be needed to power your tools whilst on the move.
Learn from the best with YouTube channels like The Detail Geek and comprehensive courses like Royal Car Care that equip you with both skills and insights. 
2. Longboarding
Those of you who remember rocking a pair of Vans and trying to Ollie like Tony Hawk may appreciate this laidback form of skateboarding which is easy to pick up. 
Longboards  are longer (35 to 60 inches) skateboards, which are designed for an easy-going, smooth ride that covers real distance. 
Rock your favorite tee, baggy shorts, helmet, and think freeriding an endless Californian esplanade!
These elegant maple plywood boards are not designed for tricks. Their pliability and impact absorption makes them a comfortable and stable ride for older boarders meaning you can look unflustered on your daily commute. 
Use them to cruise and if you still have a need for speed, downhill racing.
3. Join a Gospel Choir
Have you ever thought about lifting your voice in song? 
Singing as part of a choir is very forgiving even on the most tuneless of voices and if you enjoy the rhythm and energy of contemporary gospel music or jazz this is definitely for you:
The atmosphere, melodies, and harmonies of gospel music are infectious and traditional call and response choruses are easy to master.
As well-known gospel choirs like the Kingdom Choir have gained prominence in recent times more and more people of all walks of life want to know how they can have a go. 
Chorus America is a great hub for all forms of choral music and can direct you to local choirs and groups you can join.
4. Forming a Band
If guitar riffs, drums, or hanging back on the bass is more your thing, then you should take the plunge and fulfill that adolescent dream of forming a band!
At this stage of life, it is unlikely your parents are going to holla at you to keep the noise down, and even a simple three-piece band can produce some great music together if you work at it. 
When choosing your members commitment is key, you want to stick to your rehearsal schedule and have a tight-knit team who will also help out with any potential bookings and promotion. 
Stay confident and we are sure you can achieve a packed diary and potentially some side income that will keep your band on the road!
5. Circus Skills 
Run away to the circus and return juggling, unicycling, and clowning by completing a circus skills course, like this adult class:
Learning the performance skills of the big top is a great all-round workout and will improve your energy, balance, and interpersonal skills. 
Circus activities like the tightrope or trapeze have a massive overlap with gymnastics and you will likely have to spend some time building up your strength and flexibility before you take to those tumbles and rolls. 
6. Drones
Middle-aged dads who have been eying their kid's drones can go right ahead and get their own. 
This is one of the hottest tech hobbies allowing you to roam the skies and secure some amazing footage. 
There is nothing amateur or hobby about these performance aerial imaging devices which feature 4K cameras and powerful quadcopter engineering and electronics. 
Once you get the hang of using a drone you will find it is incredibly addictive. Prices for a decent drone are usually upwards of $200. It is easy to crash these babies so start with a cheaper model and purchase your performance model once you have honed your piloting skills. 
Check out a couple of middle-aged fellows getting to grips with their drones: 
7. Hand Tool Woodworking
Putting time and effort into learning how to masterfully work with wood is a goal of men of all ages. 
Most of us know our way around a power tool or two, but woodworking by hand with chisels, brace drills, and spokeshaves is a complete mystery to many people.
Having carpentry skills means that you can build beautiful furniture and fittings and your expertise will only increase as you tackle new projects and gain experience. 
It is also a great hobby to share with your children or grandchildren. Learn from the best by tuning into master craftsman Paul Sellers Woodworking channel on YouTube.
8. Tailoring
Learning the art of designing, cutting, and yes, sewing fine menswear, is a great hobby for men who consider themselves masters of looking good. 
One of the great benefits of taking a tailoring course or training in menswear design is that you will gain a greater understanding of how to identify well-cut clothing. 
Professional tailoring requires years of training and full-time work but setting a realistic goal like learning to cut a great dress shirt or pair of slacks is certainly attainable. 
You will also be able to customize your clothing for a crisp smart fit and finish wherever you go. 
Here, tailor Stylish D gives 5 reasons why every man should be tailoring their clothes.
9. Canning
No, we're not trying to make you into Ma Ingalls. But seriously, canning produce is an excellent way of introducing a little bit of self-sufficiency into an otherwise consumer-heavy lifestyle. 
If you and your family are already tending a vegetable patch or garden, canning allows you to put that summer glut to good use and ensure you have healthful preserves, spaghetti sauce, and pickles during the winter months. 
Even if you don't grow your own produce, veggies and fruits on special can be bought in bulk and canned. 
Learn the classic old-time techniques and use the tools, jars, and lids  that are designed for this specific purpose. This is one hobby where improvisation is an absolute no-no and fails can sicken or kill. 
10. RC Cars
Satisfy your need for speed by taking up performance RC Car racing as a hobby. These cars and trucks are not childhood playthings. 
Rugged designs and engineering mean these radio cars can take a real battering and some of them even run on gas. 
You may be interested in building your RC Car or learning to stunt with them. You will find that there is a thriving global community of enthusiasts sharing tips, tricks, spare parts, and collectibles. 
11. Tractors
For many homeowners, a ride-on mower is a real luxury, but you can take things one step further by entering the amazing world of sub-compact tractors. 
These nifty little tractors built by John Deere, Kubota, and others can make light work of grounds maintenance chores and building projects. No more raking leaves or shoveling snow for you, use your Deere as your personal workhorse:
You'll find that they are highly addictive, and you will want to purchase the range attachments and hydraulics they work with. You will be the envy of your neighbors and more than likely score a few paid jobs. 
We hope we've filled your middling years with some great hobbies!
One of the best things about these hobbies that they are easy to share with the kids or your spouse too.
Family, friends, and acquaintances are likely to be intrigued by your new pastime and will probably want-in after a period of watching from the sidelines!
The best thing about hobbies is that you can try them out, and if it doesn't work out, it's no problem at all. If you pick the right one, a lifelong passion awaits!