Enjoy your prime with these 21 hobbies that more than fill the years after retirement!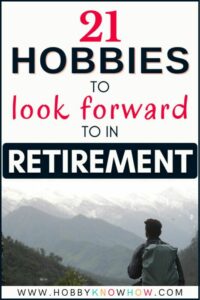 Retirement provides a new lease of life and plenty of time for pursuits that would not have been possible alongside the responsibilities of employment or career.
Hobbies are not only a great way of keeping occupied and productive, but they also contribute to your development as a person and as you get older will stave off isolation and lethargy.
Indeed, hobbies are credited with keeping seniors, physically and mentally fit. 
Read on for our suggestion of 21 stimulating retirement hobbies that will keep any retiree thriving.
As you will see we set no limits on what you can achieve and we are sure that with one of these hobbies, you will have your new passion in no time at all!
21 hobbies for retirees to look forward to pursuing
1. Fencing
If you enjoyed the Mask of Zorro and could imagine yourself swinging from chandeliers Catherine Zeta Jones-style while brandishing a rapier, fencing could be the hobby for you!
It's a great hobby for any age and will improve your balance, coordination, and spatial awareness. Choose from three sword-fighting disciplines, epee, foil, and the heavier saber. 
You may think advanced age is a disadvantage to becoming an excellent epeeist, but you likely have something the youngsters do not –  the time and money to stay the course and master this elegant sport. 
Veteran fencing accommodates older fencers providing a competitive trajectory if you get good. For example, Jere Bothelio a top Vet60 fencer featured in the video below, started the sport aged 47!
2.Homesteading
If you are up for a challenge and have an interest in gardening and animal husbandry, the end of your employed years may be the perfect juncture to live a new sustainable life in the country.
Even half an acre of land can be used to develop a thriving and productive garden that will keep you and your family well fed.  Add in some chickens and ducks and you have gone a long way to being self-sufficient.
If space isn't a problem, why not turn your hand to keeping a cow for milk and perhaps raising some lambs for meat?
3. Water Volleyball
Are you determined to keep active in your golden years? If so, Water Volleyball is an excellent low-impact sport that is not only aerobic but social too. Getting in the water is beneficial because the buoyancy supports your joints allowing you to achieve a greater range of movement safely.
As you get older, competitive sport is a great motivator. Team sports like Water Volleyball give you drive and have been shown to benefit seniors by improving mood, lowering blood pressure and a reduced risk of diabetes and arthritis. 
4. Extreme Hiking
For some individuals, age is never going to extinguish the thirst for adventure. Retirement years provide all the time for exploring the great outdoors and some seniors love the challenge of doing this with the bare minimum of resources.
Take inspiration from the legendary MJ Eberhart (AKA the Nimblewill Nomad) or the remarkable Dave Roberts who has crisscrossed large portions of the US on foot with only a single pair of shoes a tent and a backpack. 
5. Whittling
A knife and a piece of wood can be used to make a whole host of objects. Whiting is a good old-fashioned hobby and cheap too! This traditional handicraft is great for whiling away an afternoon on the porch and you can make useful items like spoons, mugs, or carved ornaments for gifting. 
6.Bushcraft
Unleash your inner outdoorsman with the pursuit of bushcraft, the acquisition and use of skills for survival in the wild. 
As a bushcraft enthusiast, you won't be enjoying sun loungers or the seniors discount at the local country club. 
You will be pitting yourself against the elements as you hunt, trap, fish, and navigate in wilderness terrain. 
Learning these survival skills and mastering the essentials of primitive camping will build resilience and character and provide you with great stories for the grandkids!
7.Filmmaking
Retirement is an opportunity to reinvent yourself and learn new things. After years on the career track, there is no better time to get in touch with your creative side and get a renewed appreciation for the silver screen by taking up filmmaking. 
If you are a natural storyteller, learning how to compose a polished cinematic production may be the fulfillment of closely held dreams. Platforms like YouTube and TikTok, also make it possible to reach a large audience, much like Englishman Richard Vobes, who produces his films about Sussex in England.
8.Steamtrains
There is something about the sight and sound of a steam engine whistling by that takes you right back to your childhood days. 
Why potter about the attic with a model railroad set when you can don your engineer's cap and drive the real thing?
Working on heritage railroads in the USA is a labor of love and draws locomotive enthusiasts from all walks of life. 
If the arduous task of shoveling coal into a 100-ton engine is too much for you, volunteers on preservation railways across the globe are required for positions as guards, signalmen, ticketing clerks, and of course, cleaning and maintaining these magnificent trains. 
9.Apiary
With worldwide bee and insect populations on the decline, you can do your bit and give a swarm of honeybees a good home by setting up and maintaining your hives. 
In turn, your residents will earn their keep by providing you with delicious all-natural honey. 
Apiculture has an easy pace and there are plenty of groups and beekeepers who can teach you the basics and help you source supplies. 
Take a look at the British Beekeepers Association or Texas Beekeepers Association to get started.
10. Historybounding
If you enjoy historical dramas, period costumes, or civil war reenactments, you can take things a step further with this intriguing hobby. Historybounding sees enthusiasts integrate historical dress and styling into everyday life!
Historybounding is an emerging hobby that draws people who enjoy various historical periods and who make or purchase clothing to match. Some of the most famous adherents like the fashion designer Zack Pincent throw caution to the wind and rock full-time Regency apparel, while other hobbyists are more nuanced. Think cosplay for grownups and you'll have the right idea.
Take the time to source and sew elegant reproduction clothing and join meetups and historical tours with like-minded individuals.
Learn more about history from its founder Morgan Donner:
11. Raspberry Pi
No, we're not talking about that family recipe the grandbabies love…
… Raspberry Pi is an opportunity to leap into the world of electronics! 
You don't have to let the fourth industrial revolution pass you by. These clever miniaturized printed circuit board computers will get you up to speed on the principles and practicalities of computing. 
These nifty programmable computers can be customized to perform all sorts of functions and come with connectors, keyboards, and other accessories that teach you how software and hardware interface. 
Working with these devices may take up a lot of your time as you invent electronic gadgets and solutions all from your dining room table. 
12. Learn coding ( You're not too old )
Why not invest some time in improving your computer literacy beyond navigating Amazon by learning the fundamentals of computer programming. 
As technology and the internet become an increasingly prominent part of daily life, understanding one or two programming languages like PHP, HTML or JavaScript is advantageous as you can build websites and basic software from scratch. 
Learning online is easy with websites like W3Schools providing comprehensive coding tutorials. 
Get good and you could even make your newfound skills into a side hustle or second career. You never know, you might just be the next Elon Musk.  
13.Smoking meat, fish, and other tasty things
Seniors who consider themselves foodies and gourmets will enjoy the artistry and technicalities of using a smoker.
Smoking brisket, bacon, and decent slabs of salmon require the precision and expertise that takes time to acquire. Smoking meat is certainly an enjoyable process with very little that can go seriously wrong.
To make a success of your smoking hobby you can start by purchasing a smoker though, over time, you may appreciate the challenge of a rugged self build with thrifted items and homemade charcoal.
People who know how to smoke good meat will always be very popular and we are sure that everyone will want to come over to your smokehouse!
14. Learn an instrument
Retirement is the perfect time to fulfill your dream of mastering an instrument. Just because music lessons could not be accommodated in your childhood does not mean that you cannot start as an adult. 
We all know how good music is for the mind and learning and practicing an instrument will go a long way to keeping you mentally supple as your years advance. Mike Evaniuk, an Idaho senior was able to master the piano to a high level of competence in just 15 months: 
As with many other skills-based hobbies, the retiree has time on their side. With plenty of practice, you can master the basics and develop an entertaining repertoire. 
15.Geocaching
Community-minded seniors who love to be out and about will enjoy exploring a new and hidden side to their locality with this GPS-powered treasure hunting hobby that is pursued right around the world. 
All you need to get started is a phone or GPS-enabled device. You'll use these to navigate to the locations of "caches", weatherproof containers that contain a logbook of previous finders and rewards or treats.
You can pursue this hobby anywhere and even create and publish your geocaching location on Geocaching.com. Take a look at how it all works at the Geezercache 101 YouTube channels for geocaching seniors.
16.Upholstery
With upholstery skills, you will be able to upgrade and customize a whole range of furniture to a very high standard. If you love home decor or interior design, upholstery will take your decorating projects to another level.
You will be able to confidently and competently deconstruct reclaimed furniture and give them new lease of life with traditional stuffing, tufting, and padding techniques.
Upholstery can be self-taught or you can take evening classes at your local community college. The National Upholstery Association (NUA) is the US professional body that oversees upholstery in the US. They have a range of training sessions, webinars, and community events that hobbyists can participate in.
17.Paddleboarding
Retirees who love being out on the water but may not feel agile enough to surf or bodyboard will love the laidback pastime of paddleboarding. This watersport involves standing or kneeling on a surfboard or paddleboard and propelling yourself through the water with a long paddle.
It is very relaxing and you will be surprised at the distances you can cover in the sea or on other large bodies of water with Stand Up Paddleboarding (SUP).
You may not notice it, but paddleboarding will deliver a whole-body workout and of course, plenty of Vitamin D from the sun and fresh air. 
18.Deep sea fishing
Brace yourself for the ultimate angling challenge and fantastic hauls of deep-sea fishing! This hobby may start as a one-off experience but it will soon become a way of life. You will be able to take on big game fish like Blue Marlin, Barracuda, and Kingfish and make friends for life who will back up the tall tales from your adventures. 
You can see the world via deep-sea fishing trips with most continents having famed locations that attract anglers from all over the world. Charter a boat with an experienced skipper who will take you to all the best spots. 
19. Adult Ballet
More and more people are taking up (or returning to) the elegant physical disciplines of ballet. This dance form is more than tutus and tiaras, it is one of the best strength workouts going and builds flexibility and bone health.
Modern adult ballet classes are centered on the warm-up and barre work aspects of ballet. You may want to grab a leotard and tights but you can do just as well in some comfortable clothing that allows your body to move. 
20.Shoemaking
Shoemaking is a great creative hobby that is becoming rare due to the mass production of footwear. However, curating and learning the traditional skills needed to make footwear will mean that you can create your own comfortable and distinctive shoes, sandals, and slippers. 
Working with supple leathers and fine materials takes years to master, but you will learn to appreciate the superiority of a handmade shoe. 
21.Cheesemaking
Do you want to become more self-sufficient as a household and make your budget go further? Learning to craft delicious fresh and aged cheeses is a wonderful hobby that you can master at your own pace. This is a hobby where you can take your time and learn as you go, acquiring the equipment you need for specific cheeses as you develop your skill.
Cheesemaking has some great online communities where you can get help with learning the basics of this hobby. The cheesemaking Reddit is great for new fromagers who need advice or direction for a successful project. 
Rounding up
We hope our take on retirement hobbies has given you plenty of food for thought on just how much you can achieve in your later years. 
We love that with most of these hobbies you can set goals and enjoy a tangible sense of achievement and satisfaction at being productive. Diverse and interesting pastimes like these are great for sharing with family and friends too!
You may want to try more than one of these hobbies, but even a single pastime is likely to keep your diary packed.