It's not all fun and games, being a woman in this world. There are few who don't need a bit more fun, not to mention some stress relief.
A hobby is a perfect way to escape day to day responsibilities so you can get a chance to relax!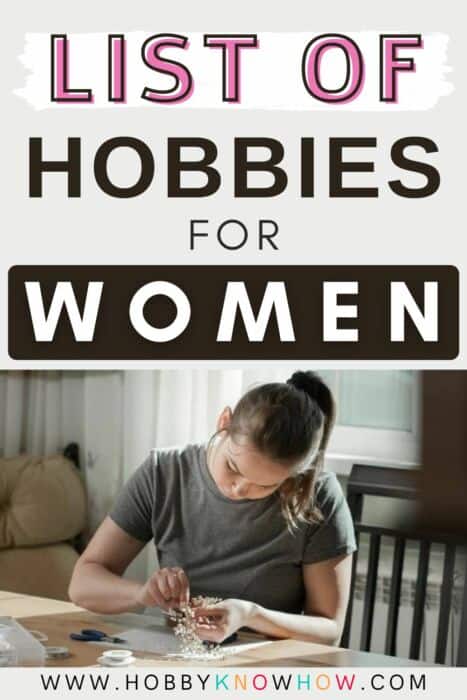 Here are 7 tried-and-true, popular hobbies women love, to start you off.
1.Candle Making
Have you ever considered becoming a candle maker? With just a few supplies, you can. The first thing you will need is your choice of wax. This includes soy wax, coconut wax, beeswax. and paraben wax.
The best are either one or a combination of soy, coconut, or beeswax. So, how do you turn these into candles? Simple: melt it along with the fragrance and pigment of your choice, in your choice of container or jar. 
Instead of being limited to the basic mango, ocean breeze, or apple spice scented candles, you can create custom blends, like violets and vanilla (and name it Evening Dream or some such).
You can use candles to make your home smell like a dream and to gift and sell. It's a rewarding hobby all 'round. What more can you ask?
Read more about candle making here in our complete guide to starting candle making as a hobby.
2. Soap Making
Soap making is a very popular hobby among women. This is a hobby that allows you to make practical, skin-friendly soaps by creating a magical homemade brew! 
When you make your own soap, you can choose the ingredients carefully, avoiding any unhealthy chemicals, parabens, and other undesirables. 
There are two main kinds of soap making: cold press and melt and pour. With the cold press method, you pretty much make soap from scratch, but you can add all kinds of ultra-moisturizing ingredients, like almond oil, shea butter, and avocado oil. 
You melt these together on low heat, creating a luxurious concoction for you to ultimately stir together. 
For cold press soap making, you will also need the skin-friendly fragrances and pigments of your choice, microwave-safe bowls, a glass bowl for the lye, and lye (this is antibacterial).
All that you need is a plain soap block, fragrances, and molds (pigments are optional), in order to create melt and pour soap. That, or a quality melt and pour kit that includes the necessary fragrances and molds. 
Homemade soap bars are incredibly good for your skin and those with sensitive skin will find it a lifesaver. You can gift the bars, sell them, and of course, enjoy them yourself.
Check out our complete guide to soap making here!
3. Kickboxing
Not every woman has considered kickboxing as a hobby, but it's actually grown quite popular. It's an excellent full-body work-out, building lean muscle and working as a fat burner. 
Most importantly, it's fun. Kickboxing is a great outlet for any stress, frustration, fear, or anger. You are also sure to become more confident as you get stronger.
Kickboxing may be the hobby for you if you're looking for one of the best workouts ever, as well as a natural confidence builder and one of the top ways to defend yourself.
4.Gardening
If you're a nature lover, gardening is sure to be right up your alley. Or, if you simply crave the taste of the fresh produce a garden can offer. 
No matter the case, you're sure to benefit from the light, endorphin-building exercise, and the natural light and fresh air. While you listen to bird song and give your attention to the earth, you'll see that this hobby seems made to help you relax. 
That's not to mention the harvest, where you can reap plump tomatoes, tender lettuce, and super-sweet berries tended by your own hand. Share your bounty with friends and family. This is a hobby that you can certainly be proud of.
5. Foraging
Do you love nature? How about garden-fresh produce? Then perhaps you'd like to become a forager. Foraging is a hobby that involves harvesting and gathering berries, greens, nuts, and other wild goods out in nature. 
These can then be made into incomparably fresh and rich berry pies, crisp salads, juicy smoothies, and more! 
There are some important things you will need to know before you can start foraging, however. First off, there are many poisonous plants out there, and some of them look quite similar to edible plants, called lookalikes. This makes them a real danger. 
Be sure to educate yourself on both poisonous and edible plants in your area, as well as any lookalikes to look out for.
Finally, be respectful, be careful where you step, try not to go too far off-trail, and gather no more than ¼ of what you find in any given area (so the wild animals can eat, too!).
6. Sculpting with Polymer Clay
Polymer clay is a somewhat new sculpting material that's rapidly rising in popularity. It's a super-malleable clay that you can bake to harden and preserve your creations.
This makes them ideal for creating decor, figurines, and jewelry, to sell (there's a real market for one of a kind, AKA O.A.K polymer clay sculptures), gift, and to enjoy yourself.
There are different kinds of polymer clay, with levels of durability. You'll want a tougher sort of clay for small details, for example, so that they don't break.
Types of clay also include glow-in-the-dark, pearlescent clay, sparkly clay, and every color in the rainbow. You can make miniature foods, decorations, figurines (like ball-jointed dolls, fantasy creatures, etc.), decor, and more!
All that you need are the clays of your choice, your hands, and some basic tools (optional).
7. Hiking
Last but not least, maybe you'd like to become a hiker. If you've not previously considered this hobby, it's worth a second look! There are hikes of all kinds of difficulties, including leisurely, even trails that are perfect for beginners. 
A hike is a fantastic way to escape the hassle and more depressing aspects of day to day life, trading it for pure sunlight and fresh air. 
Nature is a treat for the senses, with bird song, and a myriad of colors and scents, and refreshing breezes that pass you by. Just remember to bring some water, a first aid kit, some pepper spray (if you're in Bear Territory), a companion (if you can, for extra safety), and a calorie-rich snack, like Trail Mix!
Read our guide on hiking and backpacking as a hobby here!
Final Thoughts
Do any of these popular hobbies resonate with you? If so, maybe you should follow your gut, and give one or two a try! A good hobby can transform your life for the better. Have some fun and relax!