As a young woman, you might be pretty busy with your schooling or career. If so, you're probably in need of some fun and stress-relief. Or, perhaps you're simply bored and hoping to try something new?
Either way, this list of 17 hobbies for young women between 18 and 30 may have just what you're looking for: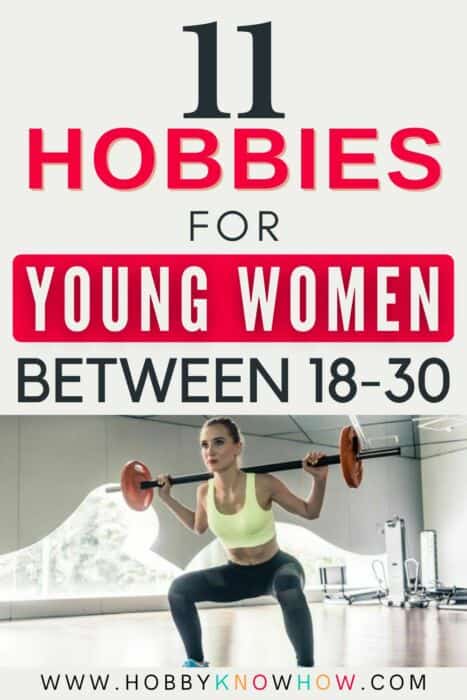 1.Nail Art
You've no doubt done your nails before, but have you experimented with nail art? There are not just nail polishes, but also stickers, spider gels, and even stick-on nails that will adhere to the surface of your nail like nail polish.
You can find all kinds of unique, easy-to-apply designs with the latter. Take a look!
2.Gardening (Indoor)
Gardening indoors can be a really lovely hobby. It's a learning process – we don't all start out with a green thumb – but it can be rewarding to have your own leafy pets to care for. 
When gardening, one of the biggest mistakes made is overwatering. This causes deadly root rot. To avoid this, let the soil dry before you go to rewater. Also, always use well-draining soil.
To garden indoors, you will need a few plant pots and plants of your choice, seeds (optional), fertilizer, and plenty of sunlight. Most indoor plants do best near a south or east-facing window. 
You can grow lots of plants indoors, including flowers, tropical plants, herbs, succulents, and even cacti.
Plants will brighten your spirits and add their beauty to your decor, all while helping to purify the air. 
Check out our Gardening Hobby Guide Here!
3.Soap Making
When you're thinking of hobbies, you might not first think of soap-making. You're looking for some fun, after all! Actually, soap making is surprisingly fun.
The fragrances, colors, and skin-healthy moisturizers can make you feel like you're creating a magical (and luxurious) witch's brew! 
You make cold-press soap, and create a completely from-scratch soap bar; or, you can stick to a simple melt-and-pour. 
For cold-press soap, you will need natural moisturizers like avocado oil, beeswax, palm oil, almond oil, coconut oil, and shea butter, as well as lye, and the fragrances and colors of your choice.
All that you need is a quality kit for melt-and-pour. 
You can enjoy your homemade, decadent soap bars yourself, give some as gifts, and even make some to sell (Etsy is a good place to start).
Check out our soap making hobby guide here!
4.Fish Keeping
If you're fond of fish, you might make a good fish keeper. There are all sorts of beautiful varieties that you can keep in your own tank.
Along with choosing tank companions that will get along, you will also need to know their preferred water conditions as far as temperature and pH. Provide these with a water filter.
Then, decorate the tank with plants and enjoy a beautiful aquatic display!
To learn more about fish keeping take a look at this helpful aquarium site Fish Keeping Forever.
5.Jam Making
Believe it or not, all that you need to make fresh homemade jam are heaps of berries, some pectin or gelatin, and sugar. You can pick berries in the wild (as long as you know the toxic berries to avoid), at home, or pick up some in-season at the store.
Just heat these berries (according to an online recipe or instruction) with sugar. Jam can also be made out of tree fruits, like apples, peaches, apricots, and more!
6.Candle Making
If you've got a keen nose, you may be a candle-lover. In which case, you might like to become a candle maker.
With some basic supplies, you can create your own custom candles to bring your scents of choice into your home. Perhaps you'd like fresh-picked violets and zesty mandarin fruit, for example? 
You can use candles to make your living space fragrant and cozy, and it's great aromatherapy. So, what do you need?
Your fragrances and colors of choice, and your choice of wax (one or a combination of paraben wax, soy wax, coconut wax, or beeswax).
Read our complete Guide to Candle Making here!
7.Calligraphy
If you have an artistic bent, you might be interested in calligraphy. This is an ornate style of handwriting that will lend a special flare to whatever you write.
Many will use it for stationery, wedding invitations, that sort of thing. Others do it for the simple enjoyment of creating a flowing, intricate artwork!
8.Meditation
Meditation is not just a hobby, it's also an extremely useful life tool. Why? Because, if you think about it, much of our lives are spent in fear. And the worry isn't always necessary or productive, either.
Sometimes, these negative thoughts are a waste of energy and thinking power.
Meditation is a simple but incredibly effective technique that can help you discipline these unruly thoughts and emotions.
It can give you a profound sense of peace and relaxation. All that it takes is practice, and meditation is a potent form of stress-relief. 
It's known to not only increase your emotional and mental wellbeing but even improve your health and longevity!
9.Bird Keeping
If you're fond of birds, you may enjoy becoming a bird keeper. To get started, you will need a proper aviary, as well as some basic knowledge of feeding, grooming (they will need a birdbath), temperature requirements (birds can get cold easily), and so on. 
Birds are not usually too fond of touch, but they will sing, fly, and (depending on the breed) land on your finger. With their colors and feathers, they create a lovely natural show!
10. Jewelry Making
If you have an eye for beauty, you might like to become a jewelry-maker. It's an artistic hobby that can potentially become lucrative if you develop your skill.
To get started in jewelry-making, you will need some plastic necklace twine, bendable 20-gauge copper or silver wire, necklace clasps and hooks, earring backs, and tweezers. And of course, the beads, stones, and crystals of your choice!
You can also invest in a soldering iron and some precious metals if you'd like to move into more advanced jewelry-making: metalwork!
Check out these Jewelry making online course below:
11. Sculpting
Maybe you would enjoy becoming a sculptor. You can make miniature food, figurines, dolls, animals, jewelry, and seasonal decor.
Getting started also couldn't be easier: all that you need are a few tools, some clay, and some inspiration.
There are also many online sculpting guides, such as 'sculpting a face,' or 'sculpting a fairy,' for the beginner!
12.Video Games
There are so many worlds to choose from, for the video (PC or console) gamer. If you haven't tried video games before, you may surprise yourself.
There are games for just about anyone, whether you prefer battles and adventure, living in a castle and dressing finely, real-life simulations, peaceful games about gardening or decorating your home.
It's fun to have so many experiences available and to design a miniature game character (Avatar) of yourself.
Read all about Gaming as a hobby for women here!
13. Foraging
Foraging is the perfect hobby for a nature-lover. It involves learning to identify common edible and poisonous plants in your area, so you know which ones to avoid (especially common lookalikes), and which to look for! 
Some foraging knowledge can open a whole world of wild foods to you, and dishes you've never tried before.
Just make sure to never take more than ¼ of the edible goods in any spot, and try not to go off-trail too far (this can do environmental damage).
Learn how you and your family could start foraging as a hobby right now!
14.Plushie Making
Did you know that you can make your own plushies and stuffed animals? This can be a fun ability to develop. With just a few basic supplies, you can make all kinds of cute plushies, including foods, like doughnuts, cupcakes, or pizza. 
Or, plants, like flowers, leaves, and mushrooms, animals, magical creatures, favored TV characters, and more! These are perfect for decorating your own room, gifting, and some will even make plushies to sell.
What do you need? Some sheets of felt or your preferred plush material, embroidery needles, thread, polyester fiberfill, and your choice of beads and other decorations (for eyes, etc.).
15. Gardening (Outdoor)
Gardening outdoors can be a great excuse to get some natural light and fresh air. It doesn't always have to be hard work, either. There are certain plants, like strawberries, daisies, or carrots, that are especially easy to grow! 
How? You will need a garden plot, a hand trowel, the plants and seeds of your choice, and a quality gardening soil. 
It's also important to know when to plant, and any requirements the plants have as far as light, soil type and water. The reward? Fresh fruits, veggies and greens or bouquet-ready flowers you grew yourself.
Check out this amazing website packed with indoor gardening ideas.
16.Kickboxing
You don't need to be an aggressive person to become a kickboxer. Anyone can benefit from this energizing full-body workout. In this dog-eat-dog world, who wouldn't feel better being a little stronger?
Kickboxing is a fun way to do it. Throwing punches and kicks can also be a fantastic form of stress relief. 
17. Bird Watching
You don't have to go all the way to the deep woods to become a bird watcher! You are sure to see these pretty little creatures on neighborhood walks, as well, and even in your own backyard.
In fact, if you want to attract birds to your home, all you need is at least one bird feeder. This will both bring birds for you to watch, and fill the hungry fellows' bellies. Win-win!
If you want to identify the birds you see, you can give one of countless, convenient guides online a look!
Final Thoughts
Did any of these hobbies catch your eye? You can always try a couple of them and see what suits you!
It's alright if not all of them stick, trying out new hobbies is half the fun.
Others you may find last a lifetime, or can even be potentially turned into a career!